This impressive 110L edition of the Cargo Hauler smacks of class, durability and versatility, benefitting from Eagle Creek's long heritage in travel equipment. They have employed their intimate understanding of the practical realities of travelling to create an ideal companion – spacious, rugged, and offering no protest to the unforgiving punishment doled out by life on the move.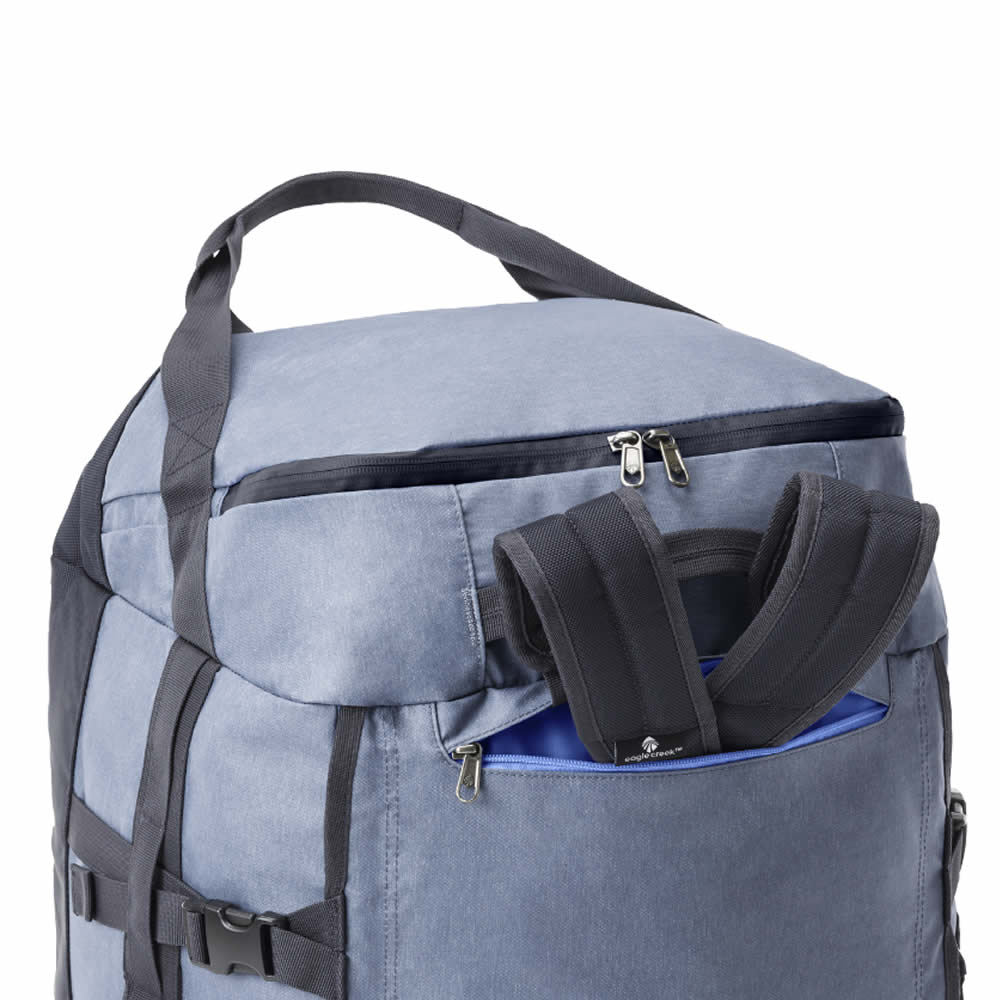 HIDDEN BACKPACK STRAPS
For Quick & Easy Carrying
The front top zip pocket on this duffel contains two hidden backpack straps which can be easily pulled out and attached to offer an alternative carrying option should the terrain not be suitable for towing.
Simply pull the straps out of the storage pocket and clip the carabiner tips onto the loops situated at the base of the bag.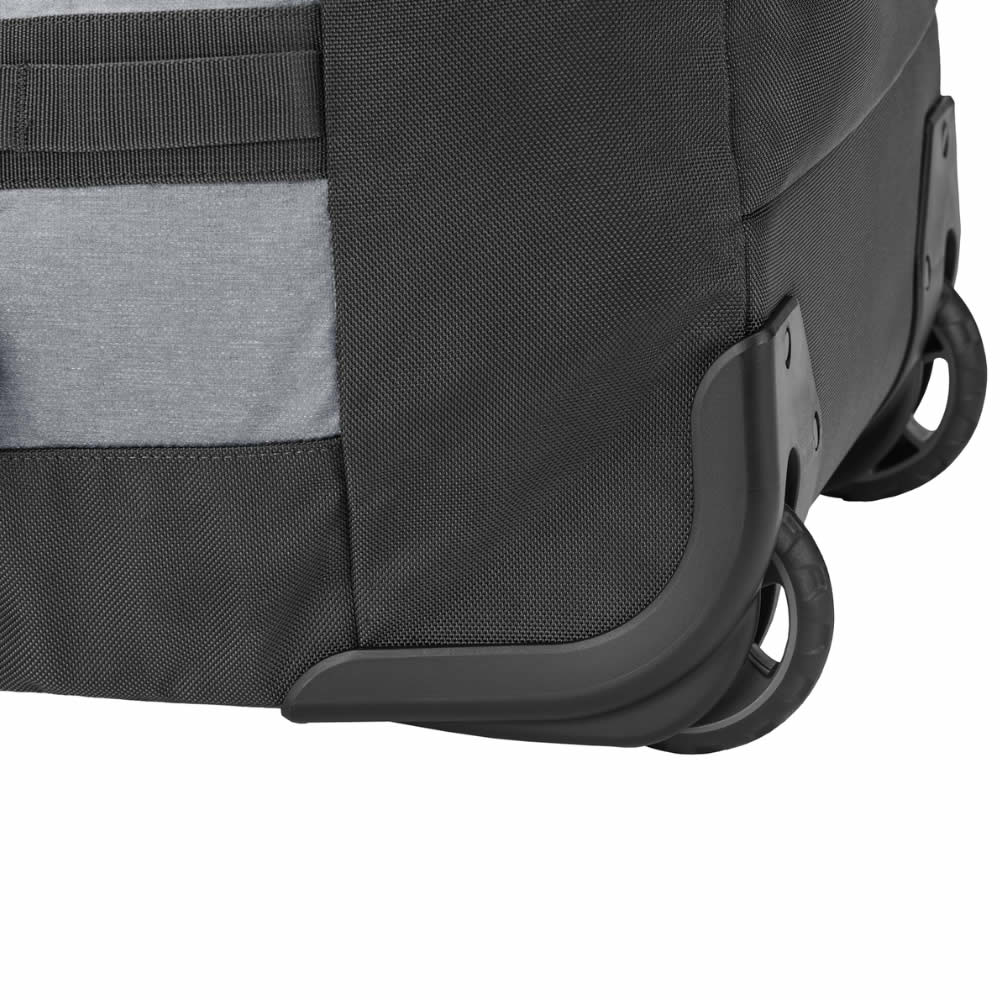 LARGE OFF ROAD WHEELS
For On and Off Road Travelling
The durable and large off-road wheels will allow this duffel to be pulled along tracks and paths as well as through airport terminals.
The reinforced wheel housing protects the wheels in transit and offers additional support when carrying heavier loads.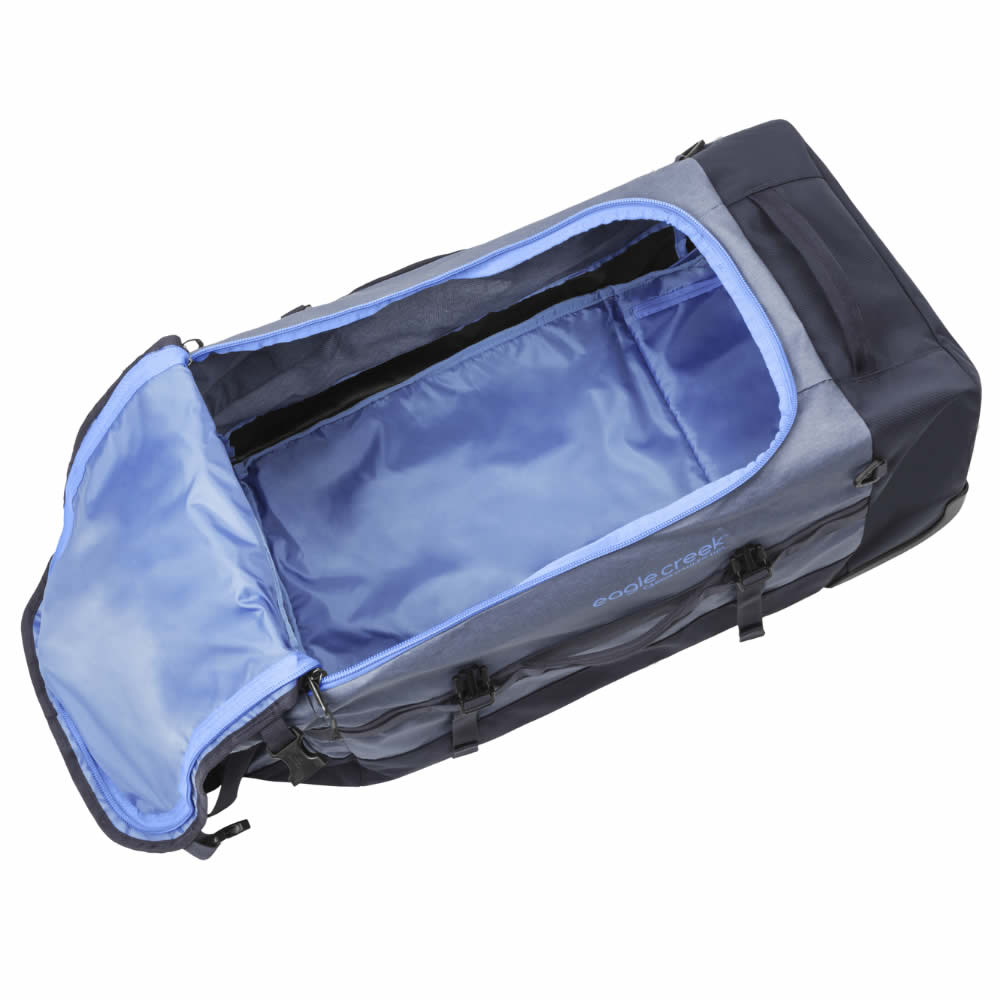 LARGE MAIN COMPARTMENT
Easily Grab Your Kit When You Need It
The large U-shaped opening to the main compartment makes packing and unpacking the Cargo Hauler 110 duffel nice and easy. Combined with Eagle Creek's packing cube range, it makes organising effortless.
The dual lockable zippers mean you can open one smaller section of the main bag to grab something or to check your kit open the whole top panel.
CENTRAL LOCK POINT
Secure The Zippers With Ease
The central locking point allows you to easily secure your wheeled duffel using your own travel lock. Simply pass the padlock through the zippers and then the lock point.
Offers protection from opportunist thieves with a visible and secure deterrent to pickpocketing and unauthorised access to your kit.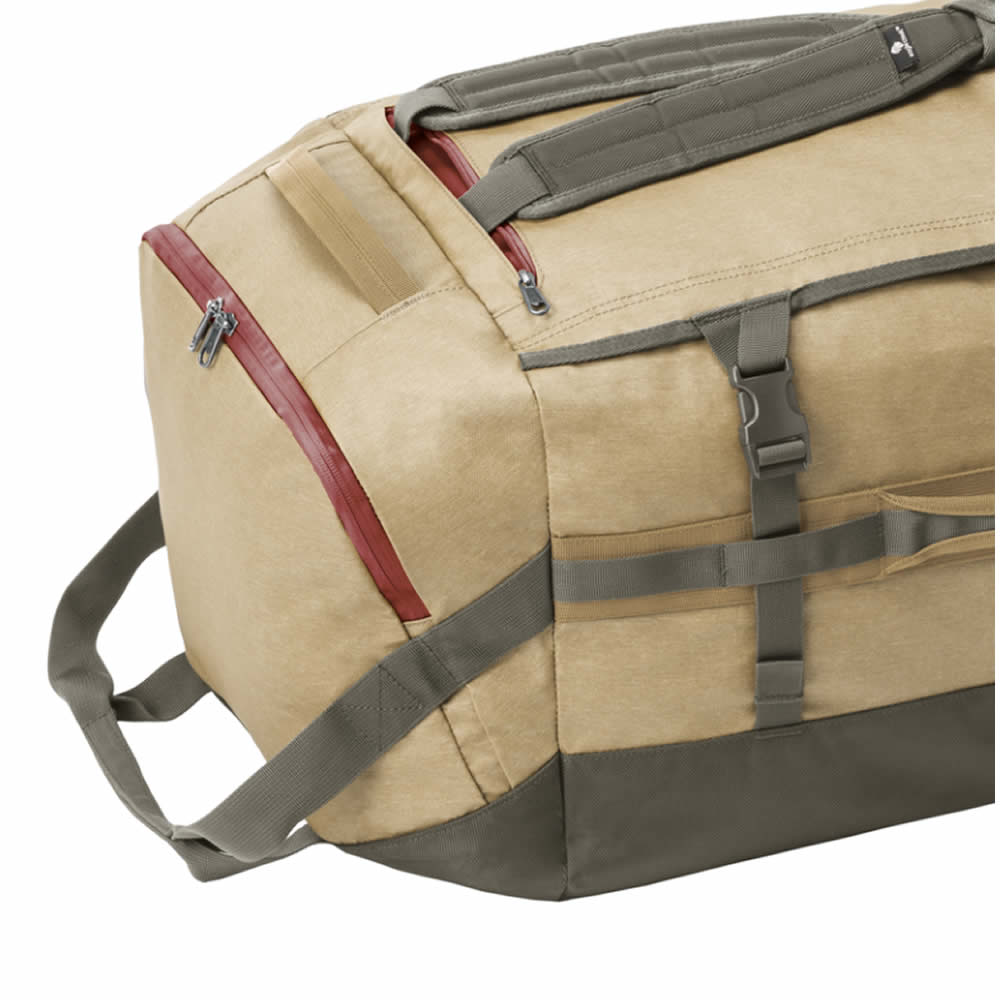 ZIPPED END POCKET
Quick access For Smaller Kit
The end of the Cargo Hauler features a zipped pocket for storing smaller accessories and bits of kit. Ideal for travel documents, washbags or your jacket when on the move.
DURABLE CARRY CASE
Compact Storage Back At Home
Also supplied with this duffel is a very handy zipped carry case which keeps the Hauler down to only 40 x 20 x 19cm when it's not needed.
Made from the same materials as the main bag it's built to last. Can also be used to store boots and shoes whilst away.
KEY FEATURES
Recycled Fabrics – made from a combination of 50% Recycled 800D Nylon Dobby & 100% Recycled 1680D Ballistic Poly
Hidden Backpack Straps – hidden in a zip pocket are two shoulder straps that can be deployed when needed
Multiple Reinforcement Points – the base section is reinforced with 100% Recycled 1680D Ballistic Poly and other areas are also strengthened around handles etc
Side & Top Grab Handles – easily grab off the luggage carousel whichever way the bag is laid. Also serve as lashing points when needed
U Shaped Top Opening – gives the maximum visibility and ease of access to your travel gear
Durable Treaded Wheels – designed for comfortable towing both on and off road
Zippered Top Pocket – for storing travel documents and other handy items
Foam Padded Base Section – for additional protection of your kit when in transit
Matching Carry Case Supplied – colour coded zipped carry case packs the bag right down for simple storage which is 40 x 20 x 19cm
The wheeled Cargo Hauler represents a truly three-in-one solution to your needs. It is happy having its extensive 110L body stuffed to the gills with sporting equipment, camping gear or all your supplies needed for a global getaway, and being dragged along on its chunky wheels to its destination. Alternatively, it's a smart duffel bag, excellent to have waiting by the door to stuff some clothes, some books, a laptop and some bottles for a short notice trip. And for longer treks, the Hauler can assume full backpack mode with its smartly hidden shoulder straps. It is a bag ill-suited to being stationary. The Hauler will challenge you to keep it on the move.
Eagle Creek clearly had a vision in mind when creating their duffel range, and it was one of hardship and thankless task. Anticipating this life, then, the Hauler has been bestowed with a thick 800 denier nylon dobby as its main fabric. Don't be fooled by its toughness, though. With a range of tasteful marle colours and a matt finish, the Cargo will easily cut through drearier luggage with its undoubted style. A thicker 1680 denier fabric adorns the padded base, a wise move given this is the area likely to suffer the most abrasion. This same fabric is also given to the wheel end of the bag, which is similarly likely to ensure the most contact with the ground as bag can be stood up on its base.
The main compartment is accessed from a wide "U"-shaped front panel, which opens a full three-quarters of the length of the bag, ensuring even your largest items, from cricket bats to roll-up tents, can be accommodated with ease. The entrance is kept secure by an extra heavy-duty lockable double zip, hidden and protected under storm flap, and which can be further secured using Eagle Creek's Central Locking Point. This unique feature allows the zips to be locked into an alloy eyelet stitched into the bag's main body, rendering the zip virtually tamper-proof. There is a good-sized side compartment at the end of the bag, separated from the main body with a waterproof partition which makes it an excellent vessel for the clothing and electrical you need to keep dry. Again with superb attention to detail, the zip to this compartment features a water resistant strip.
So you're not sure what your main use for the Cargo Hauler will be? Thankfully, Eagle Creek have ensured the Hauler is a true multi-tasker. As a rolling hauler, its oversized wheels give it a greater clearance, and a tough plastic moulding ensures it will cope with any terrain. As a duffel, it brings a practical reality to the concept of "living out of a suitcase", serving faithfully as both an impromptu wardrobe and laundry basket while you work out where your next move is. And for those longer trips over hills and dales, the Hauler becomes a fully-fledged backpack once the padded straps are released from their discreet housing. It is a bag equipped to deal with all landscapes and lifestyles.
Keeping your belongings tight and secure inside are four tough compression straps around the main body, and the Hauler is equipped with six further lash points through which bungees can be threaded, excellent for strapping on additional camping equipment or sports gear. When you find yourself settled and have decamped your kit, unlike many other rolling packs the Hauler folds down to around a sixth of its footprint, and be stowed in its convenient carry case.
Frequently Asked Questions
Q: Does the duffel have any internal pockets?
A: No, the duffel doesn't have an internal pockets, but comes with a large external end pocket, which is great for storing items you need to keep close to hand. We advise Eagle Creek packing cubes for organising your kit inside.
Q: Are the backpack strap adjustable?
A: The backpack straps can be adjusted using the webbing straps and buckles, depending on whether you want a looser or tighter fit.
Q: Does the duffel comes with a shoulder strap?
A: No, due to the duffel's size, wheels and padded backpack straps, a shoulder strap would not be a necessary feature.
Q: Does the bag come with an extending towing handle?
A: The duffel does not come with an extending handle, but does include a strong webbing handle so you can easily wheel the bag along without having to stoop down.
Q: What does the Eagle Creek No Matter What Warranty cover?
A: The Eagle Creek No Matter What Warranty covers their lifetime warranty promise, as well as the added insurance of repair or replacement due to product failure during the product's lifetime, regardless of the cause. During this period, Eagle Creek will repair or replace the product at their discretion. Contents of the bag are excluded, as are lost or stolen parts (such as backpack straps, storage bags etc).