A fusion of hiking pack technology and the convenience needed for short and long-haul travel, the Fairview Trek will appeal as much to the intrepid wilderness adventurer as it will the savvy global traveller. Whatever your destination or method of travel, it is no longer a matter of choosing a backpack depending on the occasion – it has it all covered.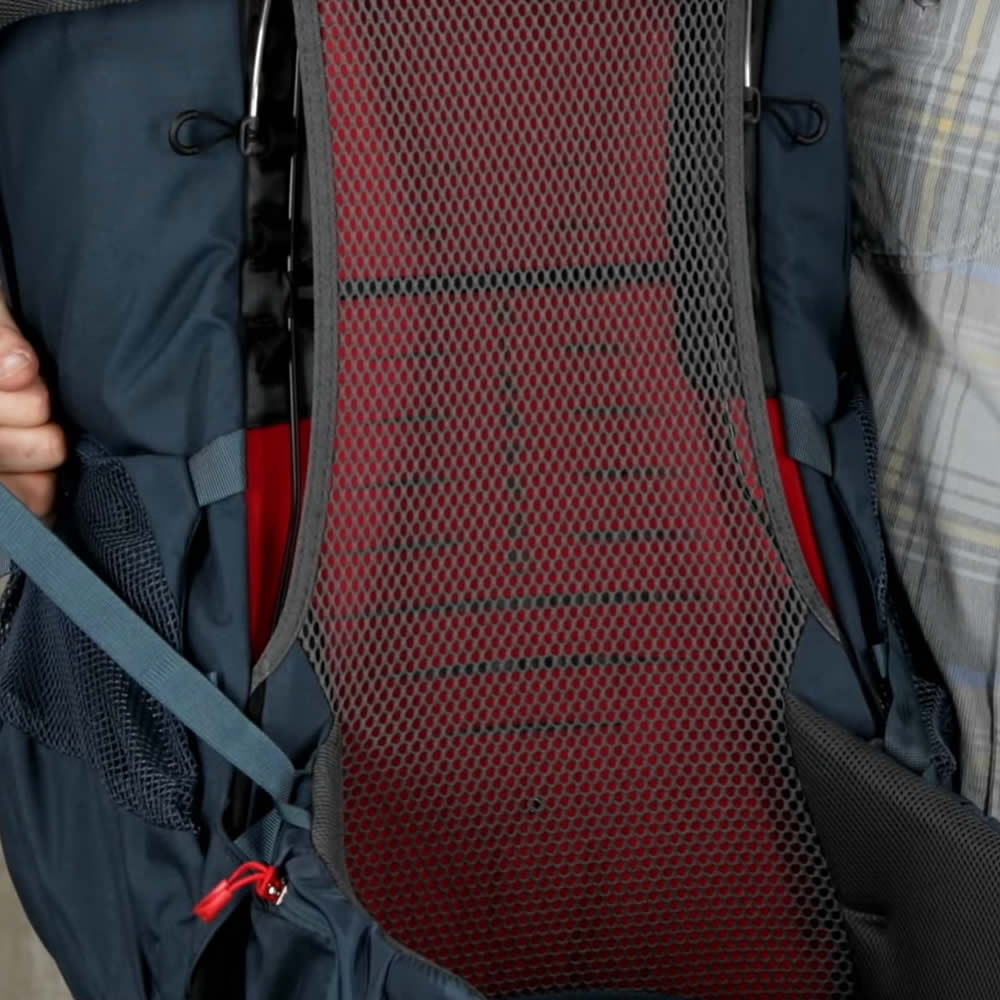 AIRSPEED SUSPENDED BACK PANEL
Suspended & Adjustable Back System
For the ultimate in carrying comfort the suspended back panel is easily adjustable to suit different heights using its ladder lock system. The large airflow cavity created by the Airspeed mesh suspended back panel makes it ideal for use in warmer climates.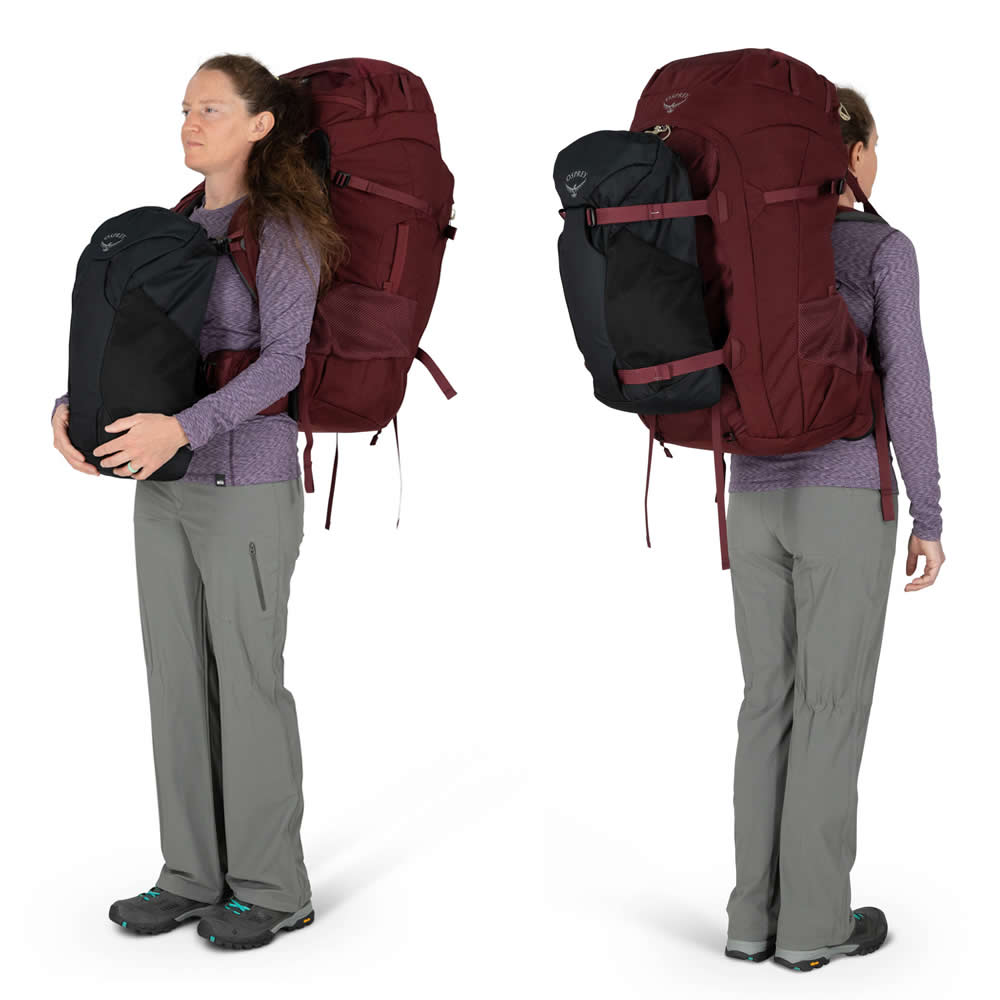 FARPOINT DAYPACK COMPATIBLE
For Additional Storage Space
The Farpoint daypack (available separately) is fully compatible with this pack and can either be fitted to the front of the Trek or piggy backed on the shoulder straps to keep it in front of you for quick access to essential travel accessories.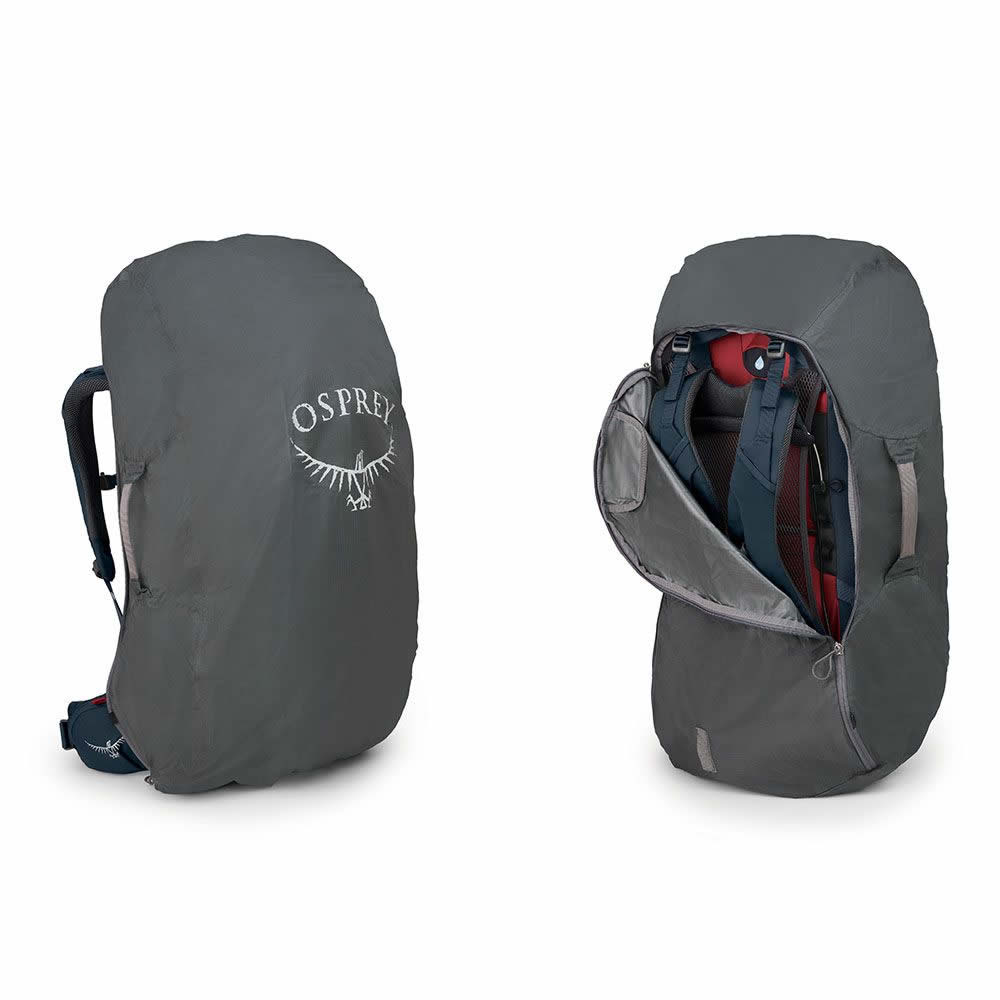 FLIGHT & RAIN COVER
Protection For Your Pack Wherever It Goes
The supplied transit and rain cover offers additional protection for your pack whether it's inside the luggage hold or trekking through your favourite trails in a downpour. Quick and easy to deploy, it ensures your pack keeps clean and undamaged.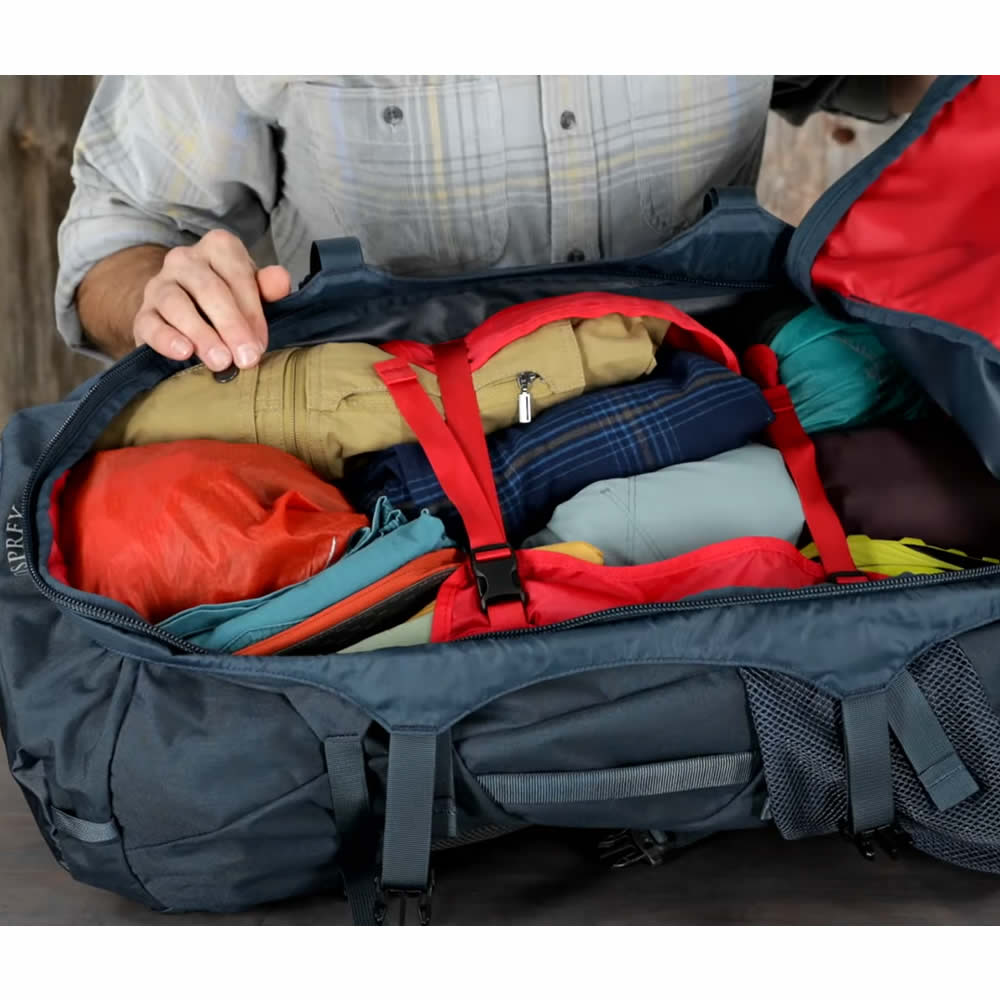 LARGE FRONT PANEL ACCESS
Quick & Easy Access To Your Kit
The large front access panel gives you quick and easy access to all the gear in your pack without having to rummage around. The winged compression straps will keep everything in place.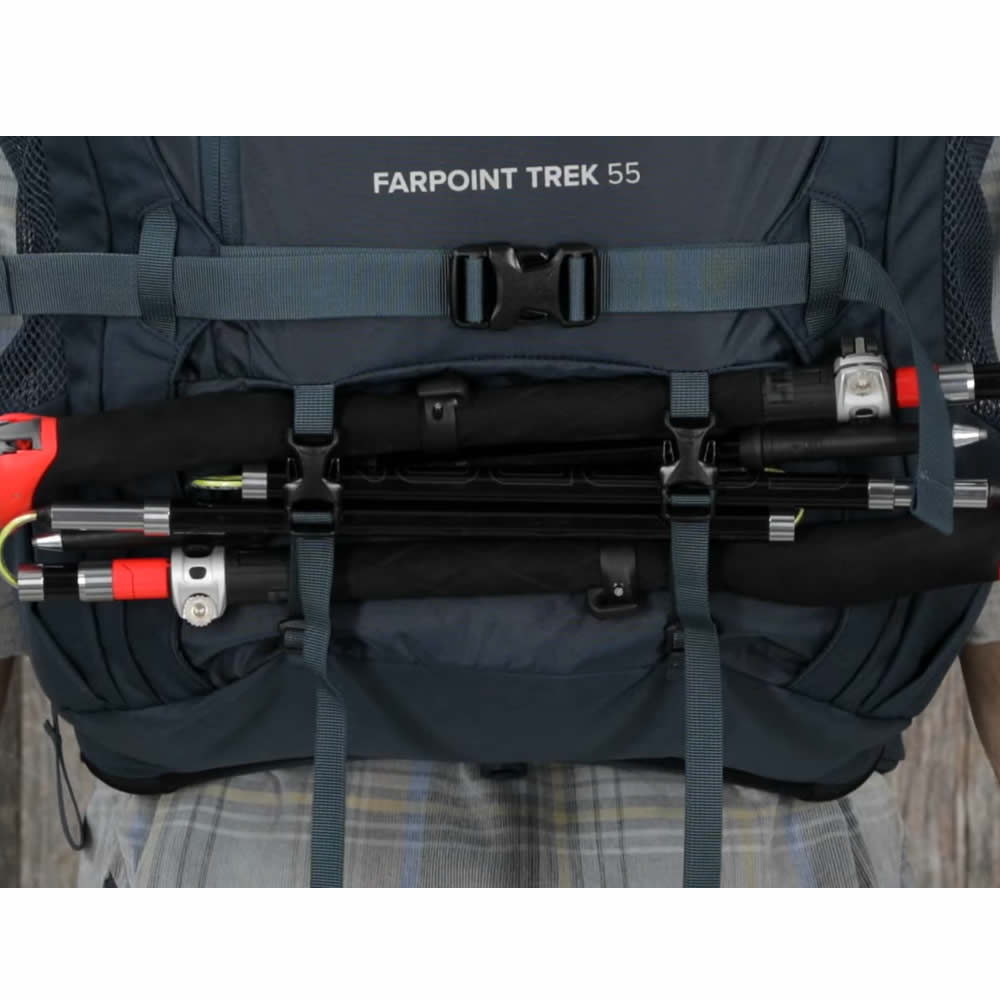 REMOVABLE SLEEPING BAG STRAPS
External Storage Option
Ideal for keeping your sleep pad and other rolled accessories from taking up excessive room inside your pack.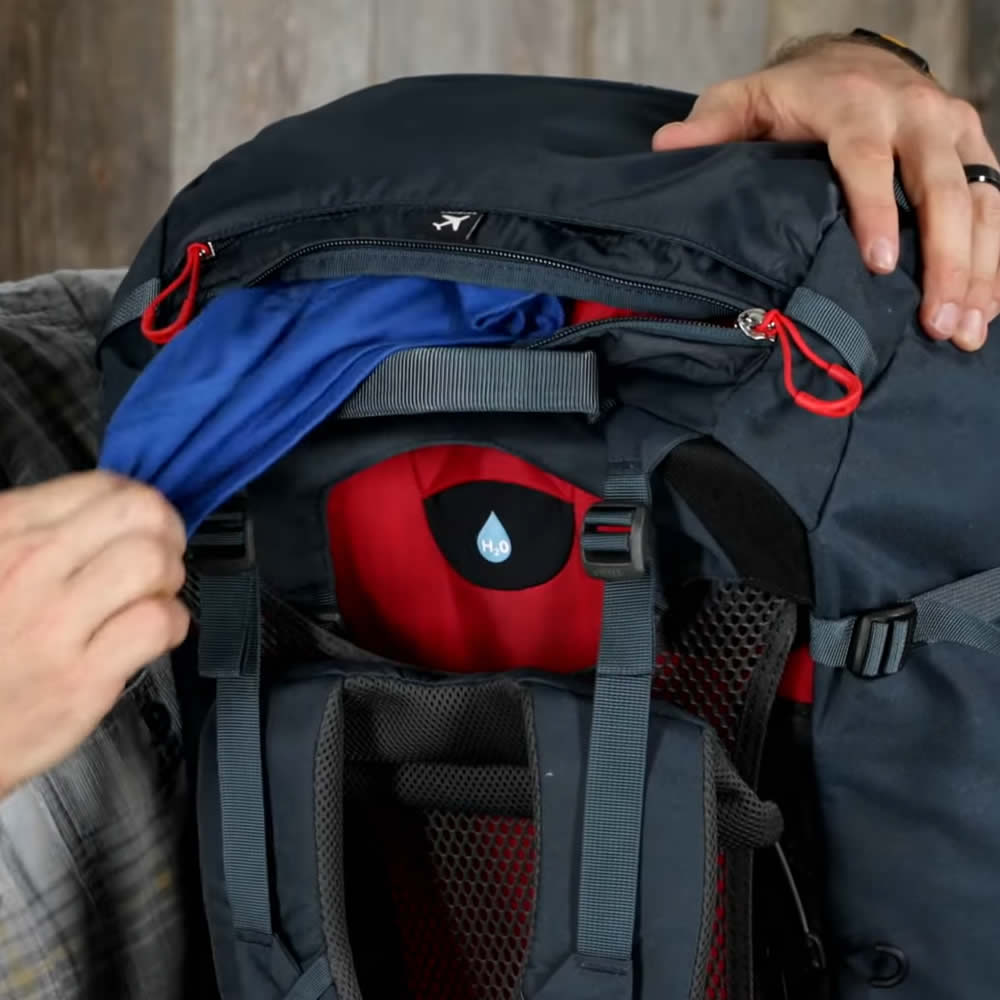 ZIPPERED TOP POCKET
For Travel Wallets & Accessories
The small top zippered pocket is ideal for keeping your travel wallet and other essential documents close to hand.
DURABLE STRETCH SIDE POCKETS
Hydration Access On The Move
Perfect for keeping your water bottle easily accessible wherever you are in the world. The woven stretch pockets are designed to keep your bottle in place even when you are on the move.
VERTICAL FRONT PANEL ZIP POCKET
Keep Smaller Items At Hand
Smaller travel accessories such as your washbag and guidebook can be kept in this section rather than getting lost in the main pack.
HANDY HIP BELT POCKET
For Repellents, Sun Cream & More
The zipped pocket on the hip belt is perfect for accessories you need whilst on the move including cash and travel accessories such as sun cream.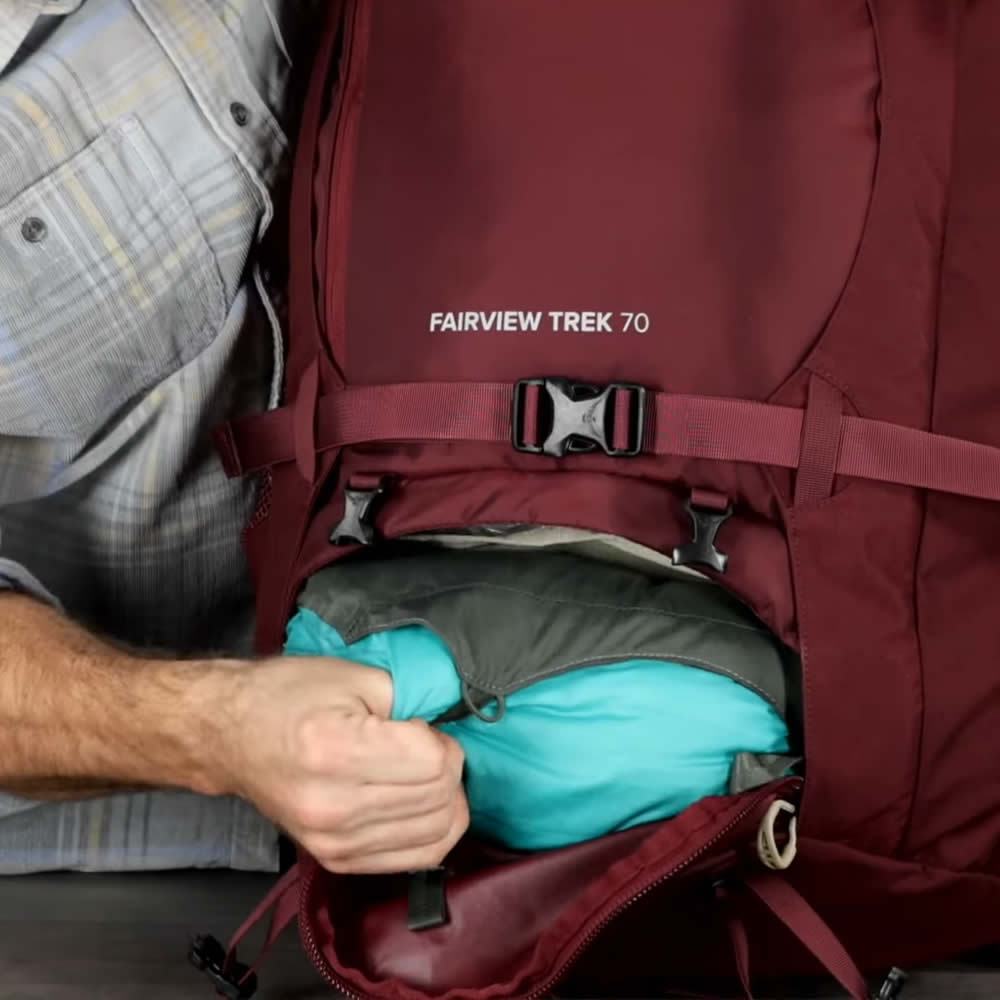 BASE ACCESS WITH DIVIDER
Separate Your Kit When Needed
The pack also includes a separate zipped base access panel with integrated divider which can be used to separate the main section of the pack if needed. It also includes a handy hidden stash pocket for cash or valuables.
At first sight, the Fairview Trek looks like a traditional top-loader rucksack, but actually access to the main body is gained by a large U-shaped front panel, opening up like a duffel bag. This opening is almost the full length of the bag, meaning any over-sized items are easy to pack rather than having to force them through as can often be the case with bags with smaller openings. An extra-thick zipper keeps the front of the pack secure, whilst chunky and lockable "kissing" zips gives the bag further protection. Finally, two tough compression straps enable the body to be strait-jacketed and kept secure.
Another benefit of the front opening, as well as its easy access, is that it allows you to better organise your gear. With the traditional top-loader rucksacks, there was an element of cramming everything in from the top then having to later rummage around later to fish out individual items.
Not so with this pack. Its main compartment is designed you to help keep your life organised whilst on the move, giving you the space and accessibility to plan your journey so you can get on with the pleasure of enjoying it. For your larger items, two large compression wings are given to secure everything in place and help prevent any dreaded "wobble" when walking with the pack. This spacious, luggage-style convenience and layout is counterpointed by a flash of it's hiking DNA, with a separate sleeve to house a water bladder (compatible with Osprey's Hydraulics range of bladders). Finally, with another feature found on traditional rucksacks, you can also gain access to the main compartment from the bottom of the pack from an external zip. This is especially useful when on the move – you may not wish to set the pack down, but your walking companions can access your pack contents nonetheless.
For access on the move, the pack is littered with convenient pockets to fit all your most-used items. The largest of these pockets runs the full length of the front panel, and is given a water resistant lining – ideal for keeping larger items such as jackets and removable trousers. You'll also find two zipped compartments at the top of the bag. One of these pockets houses the integrated rain & transit cover provided, but can also be used as additional storage. Finally, there are mesh pockets at either side of the pack, easily tall enough to enough to fit litre-sized water bottles or to stow any of those quick access items such as maps, tickets or food.
While the traditional Fairview model was renowned for its comfort and stability, the Trek takes this a step further. In order to provide a more thorough solution to the myriad of travelling conditions you may encounter, the back system is that which is found on Osprey's dedicated hiking packs. It boasts the Airspeed floating ventilated mesh back panel, which allows air to flow around your back and shoulders, and also keeps the weight of the pack away from your body to ensure none of the contents ever obtrude. The shoulder straps are cladded with thick padding and moisture wicking fabric, and a similarly thick pre-curved padded hip-belt channels the weight from your shoulders down through the hips where it is better accommodated. Both hip pads feature small zipped pockets, perfect for keeping your insect repellents, phone or loose change close to hand.
In addition to its floating structure, the back system is also made adjustable with Osprey's 4-point ladder lock system, ensuring the pack can be tailored to your exact back length. The height of the straps can also be adjusted using the load lifters, further ensuring it can sit optimally in relation to your neck, shoulders and hips. It is worth stressing again that these are features usually confined to dedicated hiking packs, and that they are bestowed upon the Fairview Trek is further evidence of its dual existence – a stylish, all-purpose travel pack, but which is also up to the feat of multi-day, multi-terrain hiking.
The Fairview Trek offers various compatibility and expansion options. There are six tough cord loop points around the face of the bag, through which bungees can be threaded to lash the likes of sleeping bags and extra kit. Similarly, there are two compression straps at the bottom of the bag allowing that classic housing of a bed roll. And if the 70L capacity is not quite enough, the Trek is compatible with the Fairview daypack. These can either be worn "kangaroo-style" using the clips on the Trek's shoulder straps, or attached to the front of the pack using the aforementioned cord loops.
Remarkably, for a bag bristling with features, it weighs just a shade over 2kg. It features two separate ripstop fabrics – a 420D nylon on the front face and top, then a tougher 500D on the base and sides which are more likely to receive most of the punishment, both with a water repellent coating. Finally, a grab handle is situated at the top of the pack, helping you to haul the pack on and off luggage racks or airport carousels.
This pack epitomises that yearning for an ultimate travel experience. It is civilised and tasteful, with the refinement you'd expect from high-end luggage. But it also allows – encourages, even – that agitation for the rugged outdoors that comes with adorning oneself with a capable backpack to be imbued. Whether it's bagging another few Munros, flirting with Milan fashion week, or skirting around the Killing Fields, it will keep you reassuringly comfortable.