This impressive 130L edition of the Cargo Hauler smacks of class, durability and versatility, benefitting from Eagle Creek's long heritage in travel equipment. They have employed their intimate understanding of the practical realities of travelling to create an ideal companion – spacious, rugged, and offering no protest to the unforgiving punishment doled out by life on the move.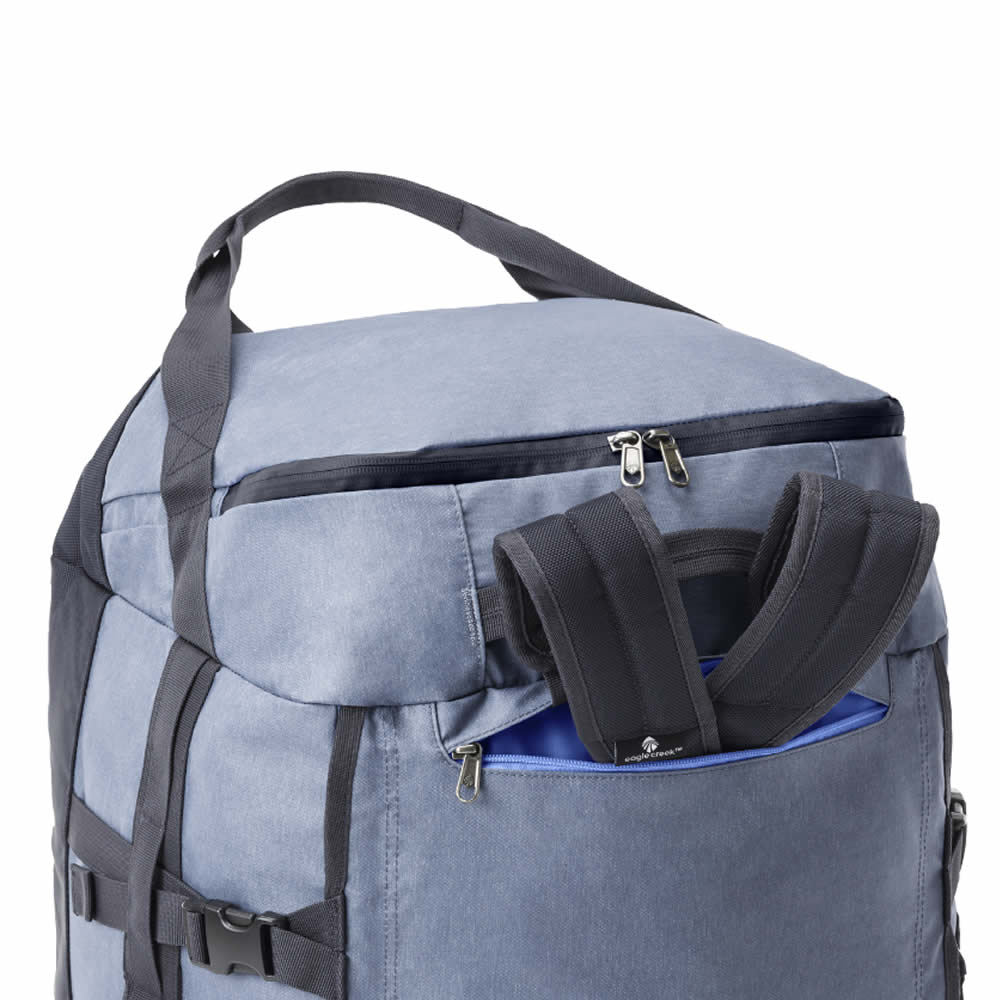 HIDDEN BACKPACK STRAPS
For Quick & Easy Carrying
The front top zip pocket on this duffel contains two hidden backpack straps which can be easily pulled out and attached to offer an alternative carrying option should the terrain not be suitable for towing.
Simply pull the straps out of the storage pocket and clip the carabiner tips onto the loops situated at the base of the bag.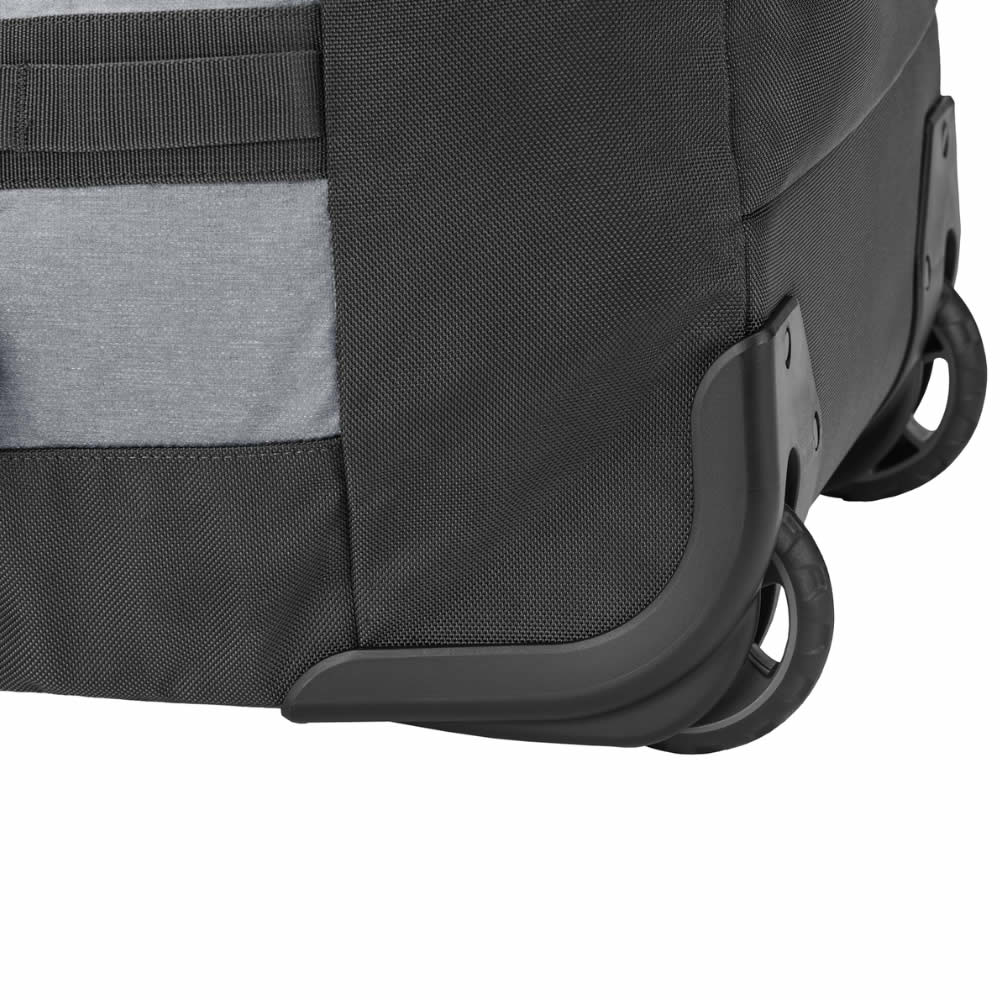 LARGE OFF ROAD WHEELS
For On and Off Road Travelling
The durable and large off-road wheels will allow this duffel to be pulled along tracks and paths as well as through airport terminals.
The reinforced wheel housing protects the wheels in transit and offers additional support when carrying heavier loads.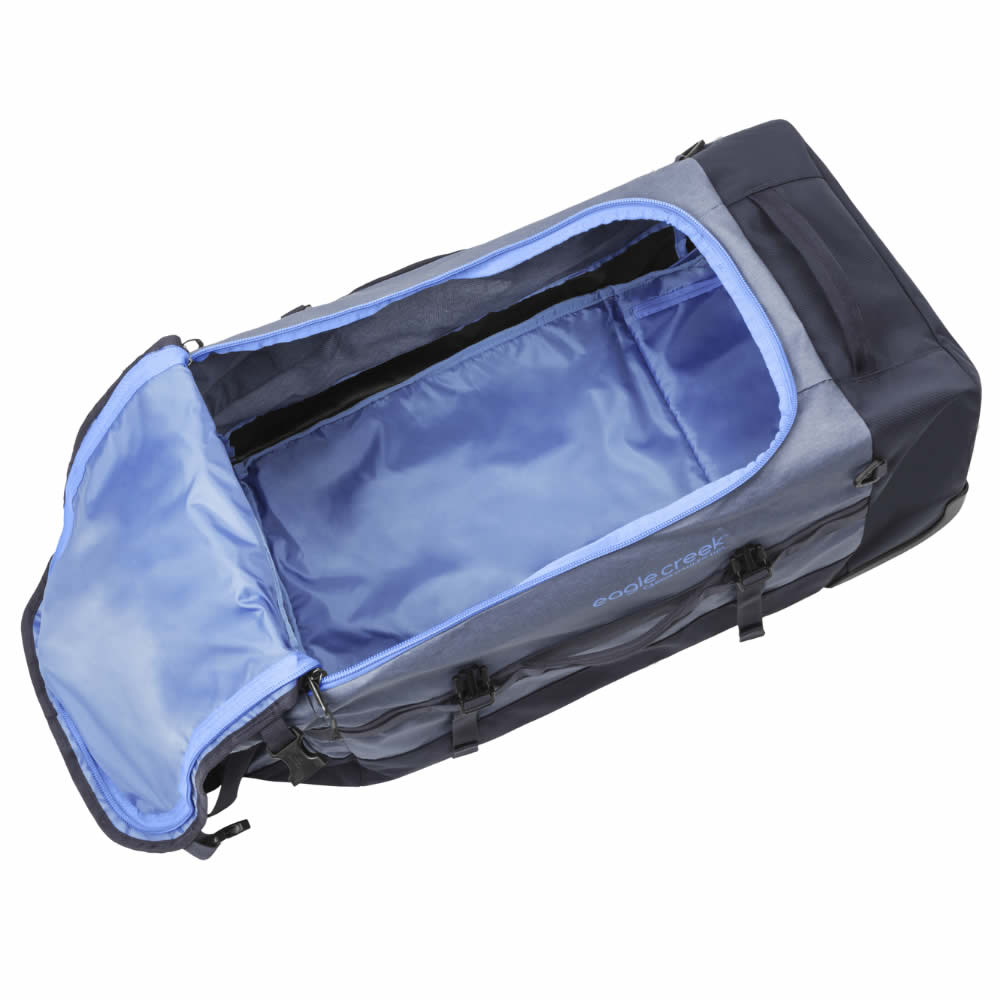 LARGE MAIN COMPARTMENT
Easily Grab Your Kit When You Need It
The large U-shaped opening to the main compartment makes packing and unpacking the Cargo Hauler 130 duffel nice and easy. Combined with Eagle Creek's packing cube range, it makes organising effortless.
The dual lockable zippers mean you can open one smaller section of the main bag to grab something or to check your kit open the whole top panel.
CENTRAL LOCK POINT
Secure The Zippers With Ease
The central locking point allows you to easily secure your wheeled duffel using your own travel lock. Simply pass the padlock through the zippers and then the lock point.
Offers protection from opportunist thieves with a visible and secure deterrent to pickpocketing and unauthorised access to your kit.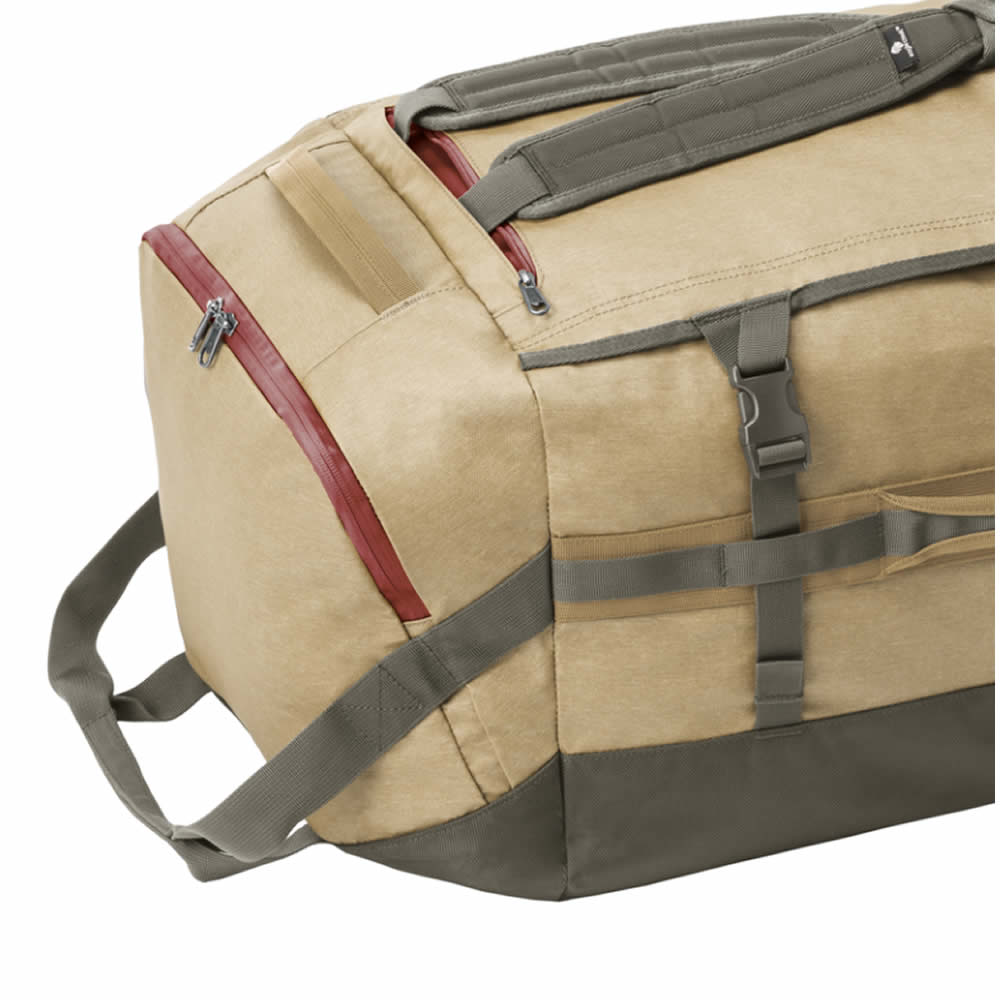 ZIPPED END POCKET
Quick access For Smaller Kit
The end of the Cargo Hauler features a zipped pocket for storing smaller accessories and bits of kit. Ideal for travel documents, washbags or your jacket when on the move.
DURABLE CARRY CASE
Compact Storage Back At Home
Also supplied with this duffel is a very handy zipped carry case which keeps the Hauler down to only 40 x 23 x 19cm when it's not needed.
Made from the same materials as the main bag it's built to last. Can also be used to store boots and shoes whilst away.
KEY FEATURES
Recycled Fabrics – made from a combination of 50% Recycled 800D Nylon Dobby & 100% Recycled 1680D Ballistic Poly
Hidden Backpack Straps – hidden in a zip pocket are two shoulder straps that can be deployed when needed
Multiple Reinforcement Points – the base section is reinforced with 100% Recycled 1680D Ballistic Poly and other areas are also strengthened around handles etc
Side & Top Grab Handles – easily grab off the luggage carousel whichever way the bag is laid. Also serve as lashing points when needed
U Shaped Top Opening – gives the maximum visibility and ease of access to your travel gear
Durable Treaded Wheels – designed for comfortable towing both on and off road
Zippered Top Pocket – for storing travel documents and other handy items
Foam Padded Base Section – for additional protection of your kit when in transit
Matching Carry Case Supplied – colour coded zipped carry case packs the bag right down for simple storage which is 40 x 23 x 19cm