Large off road wheels and the addition of hideaway backpack straps make this travel luggage very versatile. The water repellent 600D poly provides an extremely travelproof bag for all different terrains and climates.

Unlike standard Cargo Haulers this XT model has a solid structure and so keeps its shape even when half full. The reinforced framing creates an extremely durable wheeled duffel bag for travelling.
HIDDEN BACKPACK STRAPS
For Quick & Easy Carrying
The back zip pocket on this duffel contains two hidden backpack straps which can be easily employed to offer an alternative carrying option should the terrain not be suitable for towing.
Simply pull the straps out of the storage pocket and clip the carabiner tips onto the loops situated at the base of the bag.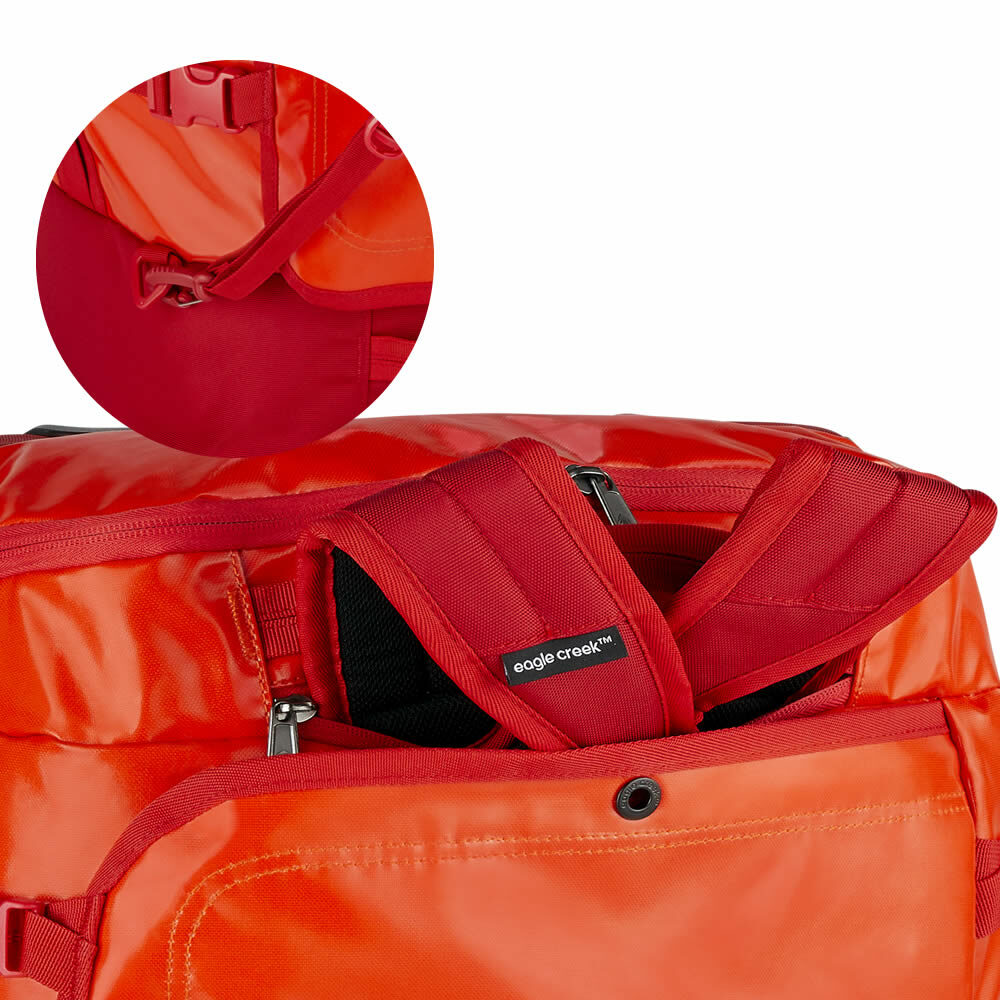 LARGE OFF ROAD WHEELS
For On and Off Road Travelling
The durable and large off-road wheels will allow this duffel to be pulled along tracks and paths as well as through airport terminals.
The reinforced wheel housing protects the wheels in transit and offers additional support when carrying heavier loads.
The front prop support on the base of the duffel allows the bag to sit upright when stationery so airport check in queues won't be an issue.
LARGE MAIN COMPARTMENT
Easily Grab Your Kit When You Need It
The large U-shaped opening to the main compartment makes packing and unpacking the XT90 duffel nice and easy. Combined with Eagle Creek's packing cube range, it makes organising effortless.
The large mesh pocket on the rear of the opening flap is great for dirty laundry or smaller travel accessories.
CENTRAL LOCK POINT
Secure The Zippers With Ease
The central locking point allows you to easily secure your wheeled duffel using your own travel lock. Simply pass the padlock through the zippers and then the lock point.
Offers protection from opportunist thieves with a visible and secure deterrent to pickpocketing and unauthorised access to your kit.