Bordered by two coasts, Auckland – although not the capital – is the nation's largest city and home to almost a third of its entire population. As urban populations go this city's isn't huge – just 1.5 million – but what does make it appear so vast is the way it sprawls on and on in every direction.
In covering such a wide geographical area Auckland's suburbs have become incredibly diverse and there are many places just a short bus ride from the centre which can make you feel the city is a long way away. Within this astonishing variety is everything you might expect to find in a major metropolis but there are large helpings of the decidedly unexpected too. Here are just 10 of the best things to do in Auckland!
1) Fort Takapuna, North Head, Devonport – A Date with Military History
For some reason this wonderfully evocative site complete with tunnel complexes, gun emplacements, fortifications and other relics of a coastal defence history doesn't ever seem to find its way into tourist literature. That means having it all to yourself is not uncommon – something which adds significantly to the whole atmosphere of a place which is full of shadows of times past. As a defence site Fort Takapuna dates right back to the first Maoris and then follows a history which passes through European settler times and onto WWII.
Touched by tranquillity and with occasional passing dolphins, it has hard to remember Auckland's bustling centre is just across the water although you will be reminded of this if you time your visit at sunset. As dusk descends you will see the thousand lights of Auckland wink into view.
2) The Sky Tower – Auckland's Skyline Icon
There is no way you can be in Auckland long without noticing the elegant and needle-like telecommunications tower which dominates the skyline – the Sky Tower. As the Southern Hemisphere's tallest free-standing structure, you can probably imagine the views from here fall into the realms of the spectacular. Vertigo sufferers might find the viewing platform's glass floor a little challenging but the 360° views of metropolis, ocean, islands and volcanoes serve as a great distraction.
If simply gazing from on high seems a little tame you can sign up for some serious adrenalin injection with a 192 m base-jump by wire or the 'Sky Walk'. This latter involves a stroll around a barrier-less metre wide ledge with Auckland's streets almost 200 metres below you.
Other Sky Tower attractions include a cafe and revolving restaurant at the top and a casino, theatre/cinema and a complex of bars and restaurants at the base.
3) Maori Guided Walks – Stories of Ancient Culture
While some cities thrive by accident, Auckland's highly advantageous geographical placement had it singled out from the very beginning as somewhere for people to settle and flourish. The arrival of European settlers is the point from which Auckland most rapidly expanded but long before this the Maori had identified it as a spot to be. For centuries several Maori tribes scuffled over territory here and the right to live off the bounty of the land and the sea. One of these was the Ngati Whatua tribe and today you can sign up for a tour with a tribe member who will lead you on a discovery trail of culturally and historically significant sites. As you go you will learn about how native plants were used and hear stories that have been passed down the generations, from ancient ancestor to present day.
4) Stardome Observatory – Journey into Space
For many New Zealand visitors the incredible night skies here are something of fascination even with the naked eye and particularly for Northern Hemisphere visitors; the moon is back-to-front and the constellations all stood on their head. However, head to Auckland's observatory and planetarium at One Tree Hill and grab yourself an opportunity for seeing beyond the ordinary to star clusters, gas cloud nebulae, planets and more.
The shows in the domed planetarium screen Tuesdays to Sundays and include a menu of adventure, entertainment and exploration with titles such as 'We Are Stars' and 'Beyond the Solar System' where you can journey into black holes or witness the birth of the universe. Laser light shows set to music are another regular offering. Unlike a regular cinema you get to watch it all from a reclining chair as the mysteries of the heavens are projected above and all around you.
If you prefer to take a peek at the real thing the Stardome has Tuesday to Sunday telescope viewings which are often tagged on for free to the planetarium shows. Experts are on hand to locate the gems – from the craters of the moon to Saturn's rings – and show you how to take a deep-space snap with your phone which will be the envy of all your Facebook friends.
5) The Hop-on/Hop-off Bus Tour – 16 City Highlights in One Trip
An Auckland hop-on/hop-off tour is a great solution if time is in short supply or if you are just looking for something to do while stopping-over in the city. It can also be a great starting point for those who intend to spend a little longer here but are a little bewildered by what there is to see and do.
Taking in a selection of city highlights, the Auckland Explorer Bus offers two different routes – the central city 'red' route which takes in such things as harbour, Sky Tower, the Auckland Museum and Kelly Tarlton's aquarium and the 'blue' route with stops at Mt Eden, the Winter Gardens, the Museum of Transport and Technology (MOTAT) and also the Auckland Museum.
Both routes take an hour, each includes a return ferry trip to the scenic seaside settlement of Devonport and also make it possible to switch routes midway.
The great beauty of hop-on/hop-off options of course is that you can pick and choose what you give attention to or opt to bypass something completely if it doesn't interest you. With buses departing every 15 minutes from 9 am to 5 pm in the summer (every 30 mins in the winter) it is super easy to hop on-board when you have finished exploring an attraction. The Explorer Bus offers ticket options which include entrance fees too and are valid for either 24 or 48 hours.
6) Beach Lazing & Surf Adventure
There aren't many places in the world where the words 'lovely' and 'city beach' go hand in hand but
Auckland not only gives you this but also a choice of beaches. Widely considered the pick of a pretty bunch is the park-backed sandy beach of Mission Bay. Quite how you enjoy this place is up to you – find a spot for a sun worship session, take a cooling dip in the safe swimming waters, tuck into a picnic or refresh yourself with a coffee, beer or snack at a beachfront cafe or restaurant.
If you want to get active hire some roller-blades, a bike or a kayak or take a hike to the western extremity known as Bastion Point, complete with Hauraki Gulf views.
If learning to surf happens to be on your wish-list head to the west coast where you'll find the black sands and moody churning waters of Piha. There is usually a choice of surf schools operating here and when conditions are right Piha serves as a surf Mecca for the resident Auckland wave riders.
7) Museums & Art Galleries – Picasso to Pacific Island Artefacts
As you might expect from the nation's biggest city, museums and art galleries are in great supply here. New Zealand as a whole seems to do museums in an exceptional way and some of the choices in Auckland most definitely fall into that category.
The principal museum is the Auckland War Memorial Museum which ticks all the boxes for mind-expanding, entertaining and incredibly well presented. Widely and justifiably acclaimed, this domed neoclassical building is home to a Pacific Island and Maori artefact section which includes a huge war canoe and an intricately carved meeting house which you can enter. Also in the whole mix are a volcano eruption simulator and several floors dedicated to military exhibitions.
The principal art gallery – the Auckland Art Gallery – is a melting pot of home-grown work rubbing shoulders with international artists; the latter includes some works significant on a global scale including such great names as Cezanne and Picasso.
8) Whales, Dolphins & Other Watery Adventures
Abundant wildlife and sprawling metropolises aren't two things typically heaped together but as with so much else Auckland is a little different. Forming the city's coastal boundary to the east is the Hauraki Gulf that just happens to be home to a marine park which is one of the most biologically diverse on Earth.
Living in or passing through these waters are a mind-boggling 22 different species of whale and dolphin as well as penguins, seals, countless sea-birds and more.
Watching wildlife tends to be something which excites a vast number of people and with such an abundance of marine wildlife here it is little wonder that a huge number of tours and trips are up for grabs. Most common cetacean species are bottlenose dolphins, Bryde's whales and pilot whales but orca and a host of other species are far from rare. In fact, your chances of a certain sighting are so high here most of the operators offer another trip for free if you don't see whales or dolphins.
Wildlife watching aside, getting out on the water while you are in Auckland is almost compulsory. This is the 'City of Sails' – a huge metropolis which has bodies of water on both sides, at its narrowest point just 2 km from each other. Around 33% of Aucklanders own watercraft of some variety and half of the nation's yachtsmen live here.
The water activity menu is incredibly diverse with pleasure trips offered in everything floatable – from the tiny and quirky to the grand and luxurious. You can take a sedate harbour cruise, strap yourself in for a high speed jet-boat ride, kayak or stand-up paddle board the coast or hop on a passenger ferry to one of the gem-like offshore islands.
9) Silo Park Cinema – Movies Under the Stars
Auckland can see you running through your funds pretty quickly if you're not careful but there are some super-cool free things to do to help you keep your budget on track. One of these is a summer's night at Silo Park where locals gather with beanbags, cushions and rugs and get themselves comfy for movie night under the stars. Of course this is New Zealand so things are often slightly skewed from the norm here. Silo Park is named for the giant silos on site and on Friday nights the walls of Silo 7 – the largest – become a movie screen with a difference.
And Friday nights are not all about the movies either because before the screenings begin at 9pm Silo Park is home to a night market. Aucklanders finish their working week and then head to Silo Park where they can wander the arts and craft or pop-up clothing stalls, grab a cheap dinner from a choice of food trucks, drink to a successful (or otherwise) working week at the park bar and tap their feet to music supplied by well-known DJs.
10) Rangitoto Island – Ultimate Tranquility Just a Stone's Throw from the City
If the bustle and noise of the big city start to get a little jarring we have the perfect solution. Less than half an hour on a ferry will have you arriving at the shores of a dormant volcano known as Rangitoto Island. This Department of Conservation island might be just 8 km away but suffused as it is with ultimate calm and serenity it might as well be 800 km.
The island is home to the world's largest pohutakawa forest (also known as the New Zealand Christmas tree because of its scarlet blooms which fill the trees in summer), lava cave networks and walking trails while having several Maori myths connected with it. For a double island dose made easy it is linked by causeway to Motutapu – an island beloved by hikers.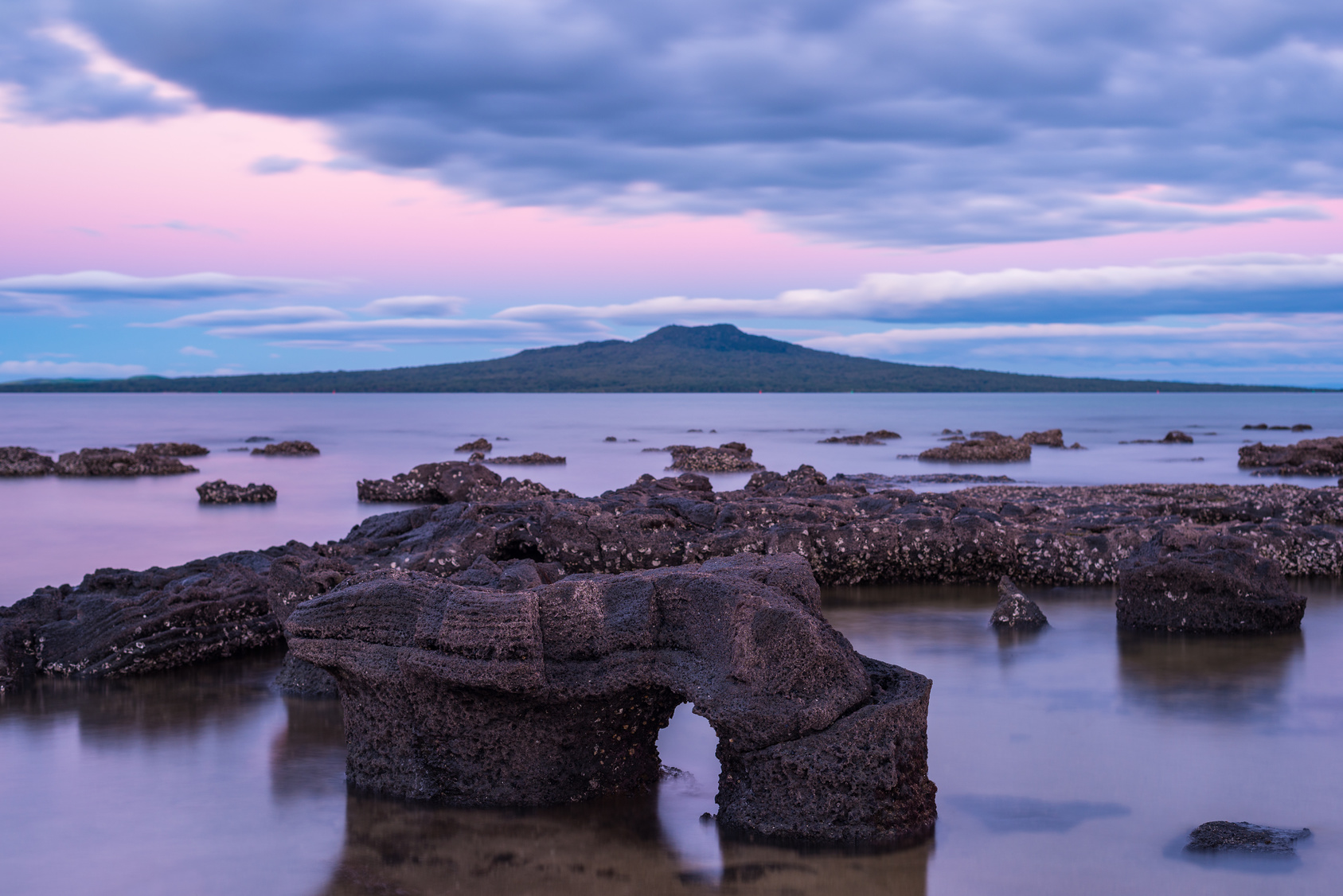 However, the island escape story doesn't begin and end with Rangitoto. In fact the Hauraki Gulf Marine Park has more than 50 islands – some of them a stone's throw from the city, others a few hours ferry ride away. Included on the ferry passenger circuit are vineyard-rich Waiheke Island with WWII relics and a canopy zip-line and the wildlife sanctuary of Tiritiri Matangi which resonates with bird song and has the country's oldest working lighthouse. A little further afield is Great Barrier Island which has natural hot springs, excellent bird-watching, incredible stargazing and wonderful swimming, snorkelling, kayaking and surfing.
And a Final Word on Visitor Centres
New Zealand is one of those rare places where you can completely ditch the guide book thanks to an outstanding and immense network of visitor centres known as i-SITES; the Auckland region has 13 of these i-SITES all to itself.
These essential stops are like an Aladdin's cave of treasure for the New Zealand visitor, rammed as they are with local tour information, free things to see and do, suggestions for rainy day activities, accommodation options (from tiny camp-site to luxury resort), thousands of inspiring ideas, maps and knowledgeable staff.