One of more than 17,000 islands in the archipelago known as Indonesia, beautiful Bali is an island of extreme contrasts – party animals head here in search of after-dark action as wild as you could want but so too do those looking for spiritual retreats and immersion into surroundings suffused with peace and calm.
Dubbed the 'Island of the Gods', dream-like Bali indeed offers up beaches as idyllic as you are likely to find anywhere and has some great fun things to augment any time spent at the beach such as world-class surfing, exceptional diving and snorkelling and the chance to learn how to free-dive. The scenery moves through atmospheric rice paddies, mountains, lush jungle and starkly beautiful volcanoes with the whole dotted about with temples, rural villages and archaeological attractions.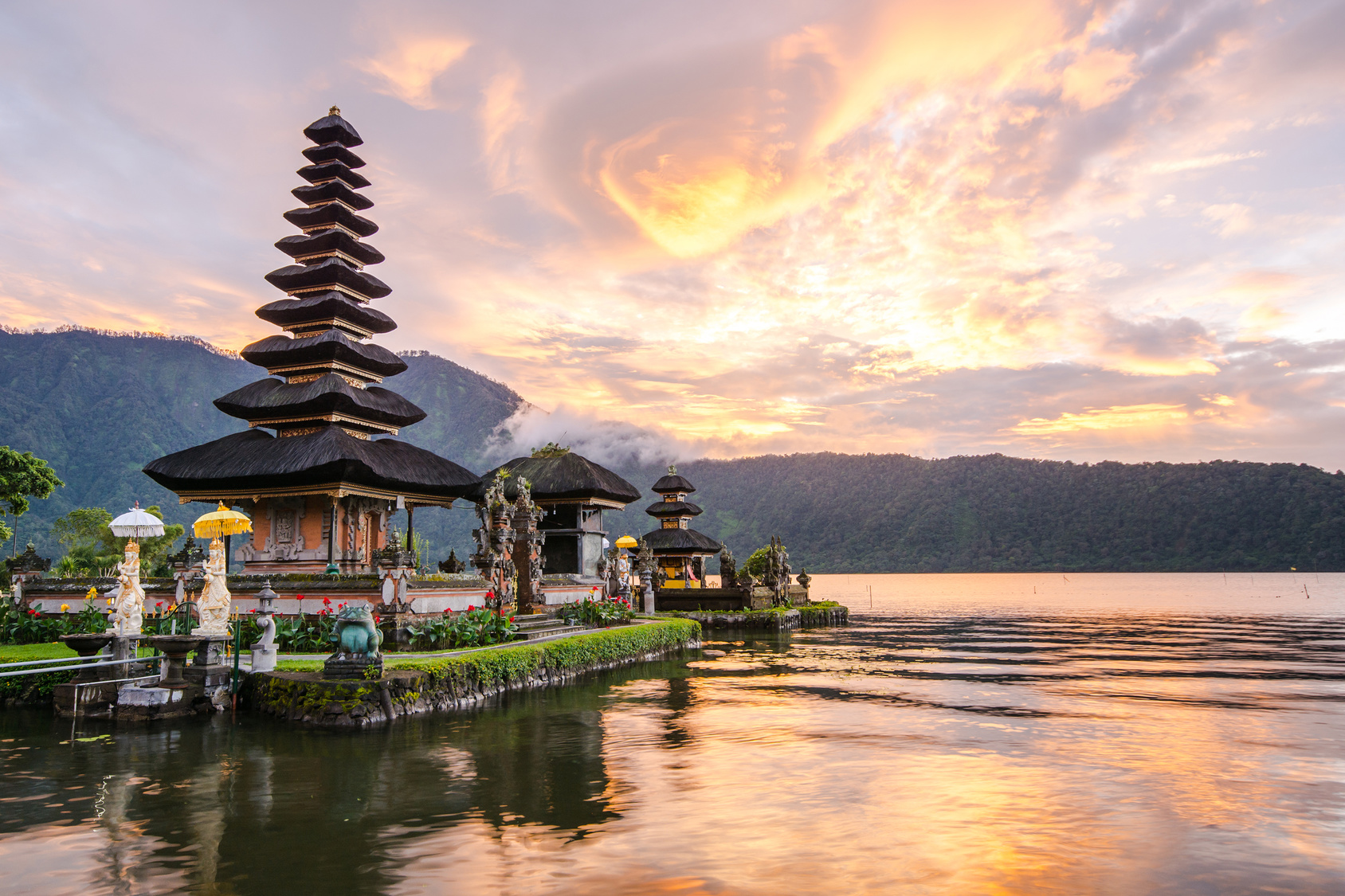 The culture is colourful to say the least and the whole is infused with a spirituality distinctly Balinese.
Little wonder Bali is one of the world's most visited islands and a haunt of the super rich. However (and just to go full circle to where we started) Bali is a land of contrasts and although it might be a millionaire's playground it also happens to be a darling of the backpacker and budget traveller set too, thanks to cheap-as-chips accommodation and food.
What is there to do here? Well what do you like doing? No matter how you answer you are likely to find something in that area on this slice-of-paradise island. Here are just a handful of your options.
1) West Bali National Park – Encounters with the Local Fauna
As Indonesian destinations go, Bali is not exactly famed for its wildlife experiences but to be fair it is up against such sparkling gems as the Komodo dragons of Komodo and the orang-utans of Sumatra. However, for those looking for some encounters with the local fauna a great place to head is the West Bali National Park. This, the island's only national park, covers an area of 190 sq km and includes habitat of coastal mangroves, coral reef, savannah, forest and jungle with several trails and tracks for getting your wildlife fix.
The whole is crammed with exotic birdlife – over 300 species in fact – the songs of which tend to act as a rather lovely soundtrack as you stroll or hike this natural chunk of the island. Fauna found in the area include three different monkey species, several species of deer, wild pigs, iguanas and pythons, to name just a few of the animals which call this home. The park is also home to one of the islands top diving spots – Pulau Menjangaan.
2) Learn to Surf or Up Your Surf Game
Warm waters, after-dark fun options, laid-back vibes and a tightly clustered density of highly consistent surf breaks of the world-class variety has made Bali a Mecca for the surf passionate. The experienced and kamikaze head here in high numbers but Bali is also a great place to learn to surf with plenty in the gentle and fun wave category too.
There are heaps of surf schools, surf camps, surf safaris and surf instructors on Bali and just about anywhere apart from the northern shores gets waves so is a potential wave-riding spot. However, surf central for the more serious surfer is without doubt the south shore Bukit Peninsula while Kuta (which rivals the Bukit Peninsula for popularity) and Legian tend to be the more popular hubs for beginners. Heavily developed Kuta is also where you'll find more concentrated shopping and night life options.
3) Natural Hot Springs and Massage – Indulgence, Relaxation & Therapy
Bali is home to more than one natural hot spring spot – perfect places for easing out all those body kinks you have picked up during your surf lessons or hiking adventures. One of the best is a lush garden-set complex of sacred pools tucked into the jungle near Lovina Beach called Air Panas. Giant naga (think snakes crossed with dragons) mouths act as water spouts and pass the water from an upper pool into a lower one. A third pool has 4m high spouts which are intended for giving vigorous water massages to those underneath them.
Also on the therapy and relaxation menu are an almost bewildering range of massage and spa treatments. The whole massage and spa phrase might typically conjure up an idea of luxury price tags but the costs on Bali mean everyone can indulge. Choose from body scrubs to fish spas and every kind of massage ranging from those soothing kinds which send you into a peaceful sleep to those which have more in common with a wrestling bout.
4) The Ubud Monkey Forest – Indiana Jones-esque Temples & Marauding Macaques 
Monkeys lazing around jungle-nestled temples (and there are three here) all sounds rather idyllic and such an idyllic scene is exactly what you will get at the Ubud Monkey Forest which is without doubt atmospheric and absolutely worth the visit. However, the Balinese macaques which live here are little better than the monkey-world equivalent of hooligans and muggers. Exploring the centuries-old temples here is not for the faint-hearted and anyone nervous of animals is advised to give this one a miss.
If you do run the macaque gauntlet you will be able to visit the Indiana Jones atmosphere soaked Pura Dalem Agung Padangtegal or Great Temple of Death, the peaceful Beji Temple, which acts as a site for spiritual cleansing, and the Prajapati Temple.
5) Learn the Art of Free-diving
Once an activity for the elite few, several places around the world now offer training in free-diving and Bali is fast becoming one of the go-to places for this.
Free-diving is diving entirely free of any apparatus – in other words, learning to hold your breath for a long, long time. Those who have been-there-and-done-that report the challenging but rewarding process is every bit as amazing as the incredible experience of free-diving itself; a process of finding and channelling inner peace.
If you want to make like a dolphin there are a handful of outfits around Bali for signing up for a free-diving course.
6) Take a Yoga Class or Hide Yourself Away at a Retreat
Bali has a super strong magnetic draw for many different groups – the surf-committed come here in the thousands every year, the partying crowd of South East Asia will make a beeline for it and those on the lookout for luxury spa treatments at backpacker prices flock here too. And Bali is famous for all of these things. However, it is also famous for its almost mind-boggling numbers of spiritual retreats and yoga set-ups. According to those who know about such things, Bali is right up there among the best yoga and well-being destinations on the planet and many yoga enthusiasts come to Bali to complete their teacher training.
Whether you are looking for a one day trial yoga session or want to hide yourself away somewhere amid nature for weeks on end, Bali has options for you. Ubud and Seminyak have good reputations for their yoga centres but you might stumble across outfits – both tiny and huge – across the entire island.
7) Tanah Lot – Bali's Most Popular Temple
You could argue endlessly about which is Bali's most scenic, picturesque, atmospheric or photogenic temple but when it comes to which temple is the most visited there is really no contest – it is Tanah Lot by quite some margin. Head here at sunset and you might have to jostle for space among the hordes – both Balinese and visitor – who have had the same idea as you. Additionally, the walkways which lead to the temple become almost a ridiculous circus of hawkers and souvenirs of the awful kind at set times while loudspeaker announcements crackle and screech almost constantly. So, why visit? Because this highly venerated rock temple, which becomes a tree-dotted island at high tide, is picturesque in the extreme and if there is a little ocean swell running and a bit of wave action it is truly atmospheric and exhilarating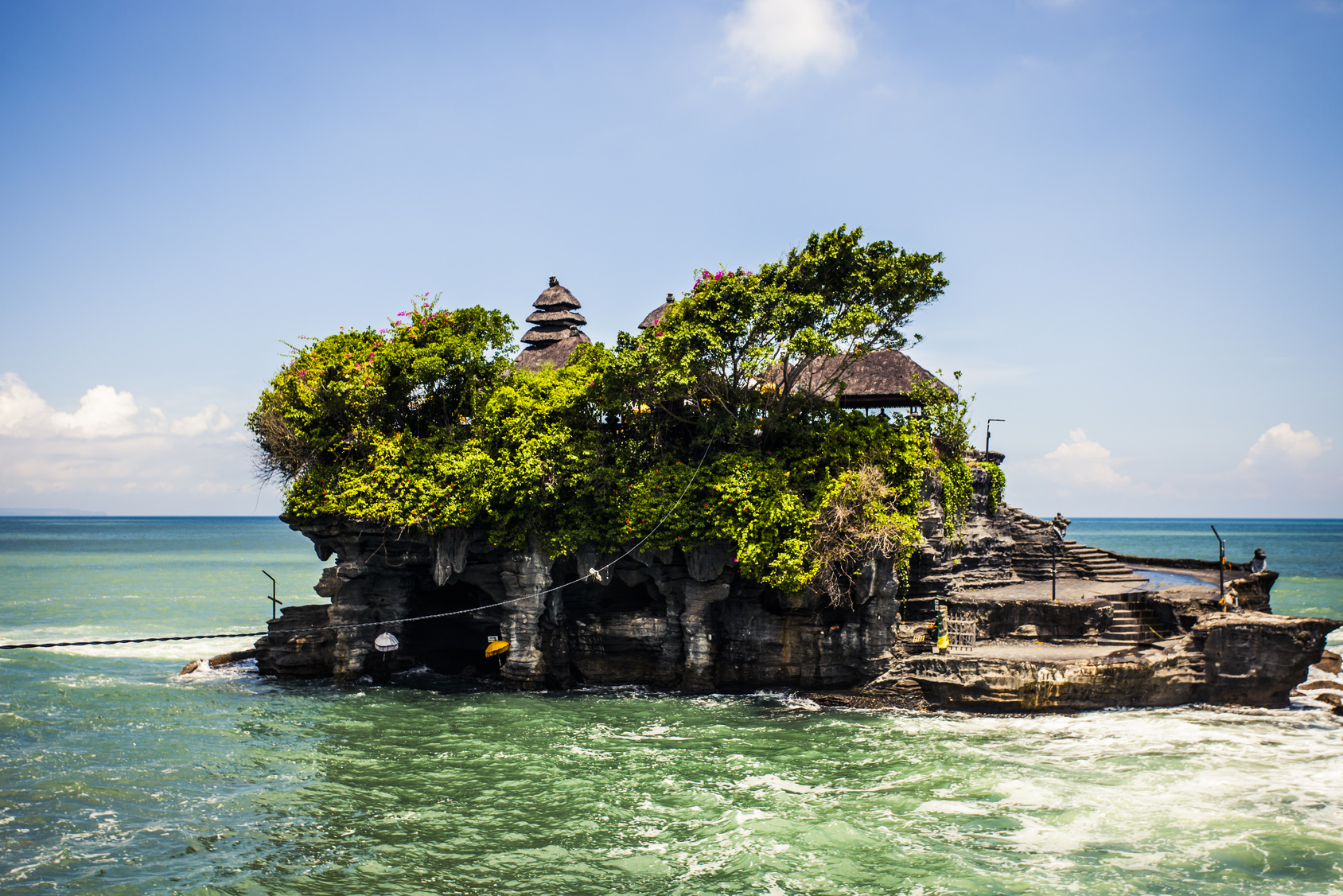 Tanah Lot is just one of a chain of  several Bali sea temples and it is said that each is visible to the next in the chain along the coast. You can certainly see Luhur Ulu Watu Temple picturesquely perched on its cliff to the south west (another temple worth visiting) from Tanah Lot Temple and the view of the coast is otherwise lovely.
8) White Knuckle Adrenaline Fixes – A-class White-water Rafting
Everyone knows Bali is a surfing Mecca but few are aware that white-water rafting is also possible on Bali. For the most extreme conditions and some truly thrilling white-water opportunities, head to the Ubud area in or just after the rainy season when rivers are at their highest and fastest flowing and their rapids at their most raging and challenging.
If you have any time to gaze around you as you are hurled, spun, twirled and catapulted along the rivers you will find yourself amid lush rainforest, impressive gorges or rice paddies which stretch off into the distance for vistas of the iconically Asian kind.
9) The Bali Botanic Gardens – Stroll Around the Tropical Rarities or go all Tarzan in the Treetops
Quintessentially Asian in design and layout, the Bali Botanic Gardens are a gorgeous helping of intricate (and outsize) sculpture, waterfalls, tranquil ponds and cool, shaded, twisting and turning pathways which at times appear to head nowhere. There are also of course hundreds and hundreds of exotic flowers and plants which include bamboos, orchids and Jurassic-type ferns. The 140 hectare whole – which is just as popular with nature lovers and bird watchers as the botanically inclined – sits at 1300 metres above sea level. This means lovely views of the equally lovely Bratan Lake which is close enough to visit while you are here.
And if the scenically lovely gets a little tiring (yeah right!) you can go play at Tarzan at the Treetop Adventure Park complete with swings, bridges, gut-wrenching jumps, zip-lines and any other number of challenges set at treetop level. Pick your thrill level from tame to those which will satisfy all with a leaning towards adrenalin junkie.
10) Or Pick Another Activity from the Bali Menu
For a relatively small island Bali really manages to pack it in on the activity and experience front. Besides the activities already listed there are a whole host of others for those who either want to get active or like their thrills at the extreme end of things. Sometimes you can go it alone and simply hire whatever equipment might be needed or alternatively you can opt for the same activity but watched over and steered by an expert guide. Possible ways to spend your time include relaxing on idyllic beaches (Gili Islands), mountain biking, stand-up paddle surfing, kayaking, motor-biking and touring, paragliding, jungle trekking, bungee jumping and horse riding.