Once-upon-a-time Colombia was better known for its drug cartels than for any of the 101 delights which today have tourists and travellers flocking here in droves. Still up-and-coming as a traveller destination – something which makes any adventure here extra rewarding – Colombia's treasures include exotic beaches, cosmopolitan cities and a landscape full of mountains and jungle.
The variety of things you can do here is mind-boggling – from learning to salsa in Cali to trekking in the Amazon, and from exploring the plateau-strewn sculptural art of a civilisation which thrived more than 1,000 years ago to sipping cocktails in Cartagena surrounded by some of the best preserved colonial splendour you are likely to find anywhere.
Buckle up your spirit of adventure, put on your dancing shoes and head to Colombia to discover its many many magical places before everyone else in the travelling world catches on.
1) Go All Indiana Jones – Hike to the Lost City
Located amid lush rainforest surroundings in the heights of the Sierra Nevada Mountain Range can be found the mysterious Lost City or Ciudad Perdida. Once an important hub for the indigenous Tairona people, the Lost City archaeological site sees little traffic these days as the only way to get there is by way of a multi-day hike or horseback trek. This element, though decidedly not for the faint-hearted, ensures the entire 5-6 day experience has more than a little Indiana Jones about it. So much so that many rank it as an as-good-as-it-gets adventure, not just as regards Colombia but in all of South America.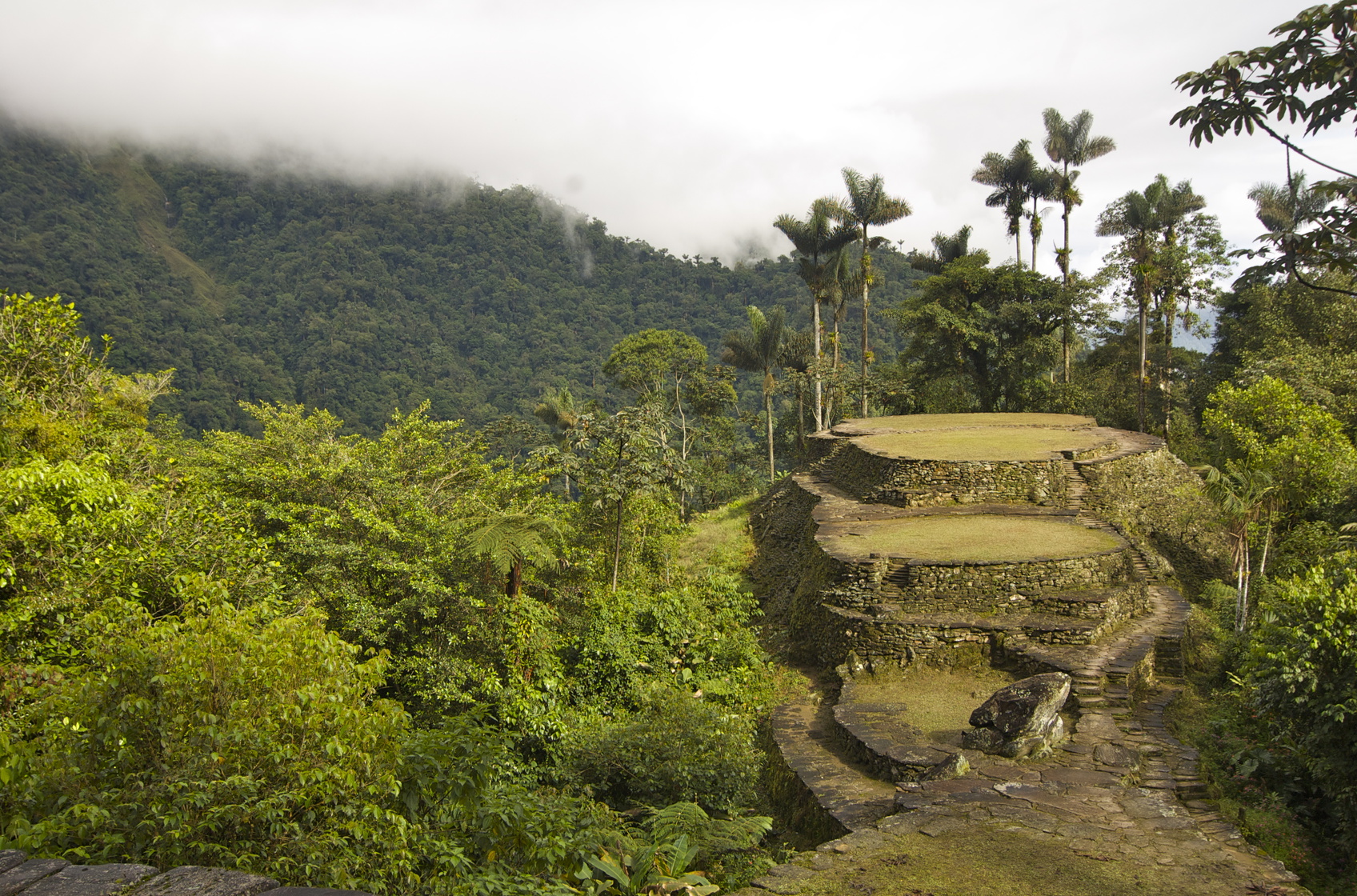 Founded long before Machu Picchu was even a gleam in an Inca eye – around 1,200 years ago – the sacred Lost City was indeed lost for a long long time. Abandoned by its thousands of inhabitants some time around the Spanish Conquest, this ancient site only came to light when treasure hunters stumbled upon it by accident and brought attention to their find selling the gold figures and ceramics they had plundered from the site.
Once you have completed your 32 mile hike you will find a Lost City made up of more than 160 terraces sculpted straight from the mountainside joined by way of tiled roads and interspersed with plazas. The final approach which is guaranteed to raise the suspenseful anticipation meter of even the most trek-weary is made via the ascent of 1,200 stone steps which rise in a multitude of magical  picturesque-ness through thick jungle.
Where – On Colombia's Caribbean Coast in the department of Magdalena. Treks can be organised from Santa Marta or Taganga.
2) While Away a Few Lazy Days in Minca
If frantic city life and practising your newly acquired salsa skills until the early morning hours on some Colombian dance floor has left you a little frazzled lovely Minca is the perfect antidote. If you want to do nothing except laze around watching the exotic birdlife that is perfectly acceptable and you will have the most stunning surroundings and pristine nature in which to do it.
However, if you are up for some healing at the hands of Mother Nature or want to get a little more active she has a lot to offer you here. The higher elevation of Minca's location in the Sierra Nevada Mountain Range also brings some welcome relief from the often suffocating humidity and heat of Colombia's lower level places.
Minca is especially famous for its organic coffee and as a bird-watching destination while the village itself is nothing short of charming. Outdoor activities abound to get you immersed into these stunning surroundings including hiking, mountain-biking, motorbike touring and nature watching. On the menu of beautiful natural sights are the lovely Marinka Waterfall with a natural swimming pool at its base and Pozo Azul which is another waterfall surrounded swimming spot. Both can be reached by less than an hour's walk from the village.
Where – Located around 15 km south-east from Santa Marta in the Magdalena Department.
3) Take in 3 Countries in 1 Day at Amazonian Leticia
Tucked into one of Colombia's southern-most corners is a base called Leticia which allows you to experience the unusual adventure of taking in three countries in one day – Colombia, Brazil and Peru. Located on the Amazon River, Leticia itself is really nothing to write home about and the parts of the Amazon you can see during this day jaunt are not as rich as can be found elsewhere as you simply don't have time to explore the further reaching tributaries which head off into deeper jungle. However, that really isn't the point here. There are few places in the world which allow so many border crossings within a 24 hour period and if you want to collect a few more stamps on your passport this one is a must-do.
If you do want to hang around longer there are an almost endless number of tours and activities offered here which include kayaking, indigenous tribe visits, hiking, swimming with river dolphins  and jungle tours.
Where – Leticia is a city located in Colombia's extreme south in the Amazonas Department.
4) Party 'Till You Drop Latino Style in Medellin
While Colombia in general has earned itself something of a reputation as a party destination nothing rivals the scale of Medellin's dazzling nightlife scene. As Colombia's second largest city Medellin has a multitude of attractions and things to see and do for the visitor including endless parks, extensive shopping, botanical gardens, global dining choices and museums but its principle draw for the younger (and not so young) travelling crowd continues to be its almost endless number of nightclubs, bars and after-dark antic venues. Whatever floats your letting-your-hair-down boat is on offer somewhere here in a city that never sleeps and even if you're not exactly a party animal yourself the energy found here once the sun sets is fun to be around.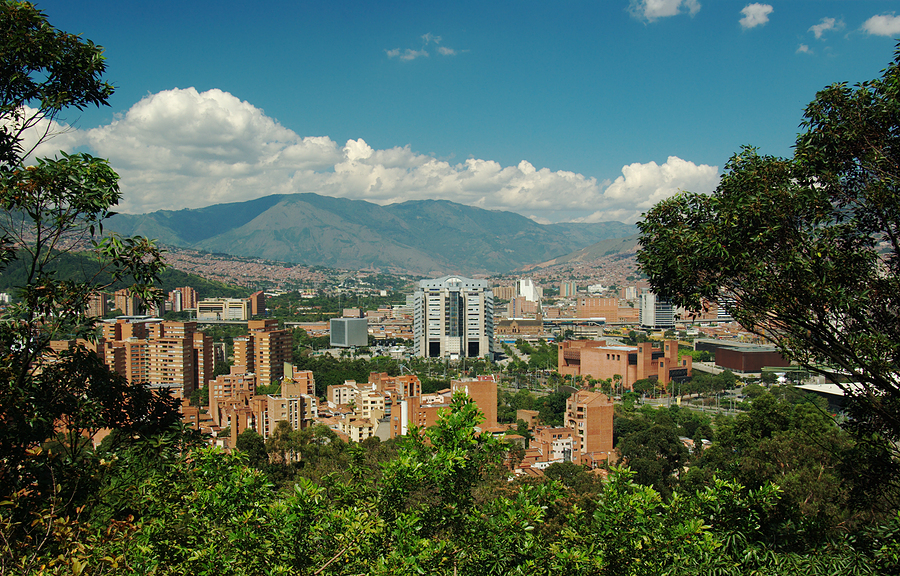 Medellin was once – and really not so long ago – classed as one of the world's most dangerous cities. Almost exclusively under the control of drug cartel super-lord Pablo Escobar, kidnappings and murders were a daily occurrence until his violent demise in the 1990s. If this side of the city's history interests you it is possible to take a Pablo Escobar-themed tour which includes a look around his mansion and centre of operations and the grisly sight of his bullet-ridden car. Today, the cartels are disbanded and Medellin is a very different place, visited by thousands of foreign tourists looking for fun. While you are here don't miss taking a ride on the city's cable car which dangles you high above the city, ascending to some of the mountain-surrounded city's highest points. The fresh air is a great hangover cure!
5) Pick a Palm-shaded Hammock to Sway in at Tayrona National Park
A plethora of coconut palms, dazzling white sands and softly-lapping azure seas – there are few who can resist such tropically idyllic scenes. If this sounds like your kind of heaven head to the wild jungles of Tayrona National Park located on Colombia's Caribbean coast.
Things are still very much undeveloped here so if you want full-helpings of home comforts and hotel-like amenities this is not for you. However, if miles of Caribbean blue, sweeping bays and jungle surrounds teeming with life covering an area of around 45 square miles is something you'd like to tick off your must-do list it gets no better than this. If you grow tired of drinking in scenes of the tropically idyllic at jungle-fringed beaches such as Neguange, Playa Cristal and Concha you can explore this natural wonderland on a variety of hiking trails, climb into the saddle for a horse ride which will see you traversing narrow ravines amid lush rainforest habitat or get wonderfully wet trying your hand at surfing. Of course simply swaying in a hammock surrounded by the sounds of tropical birdlife is also perfectly acceptable.
Where – Located on Colombia's Caribbean coast in the Magdalena Department around 6 hours from Cartagena.
6) Learn How to Salsa Like the Locals in Cosmopolitan Cali
While Medellin might have claimed the country's top ranking for general party central, Cali has its own claim to fame. This city is not just the nation's salsa capital but considered one of the entire globe's number one spots, home as it is to any number of professionals who claim superstar status in the salsa world. Salsa simply oozes from this city where you will find dancing in the streets and a constant musical backdrop of salsa beats wherever you go. Just checking out the locals doing their thing on the dance floor will leave you open-jawed with admiration but even more fun is learning how to do it yourself and there couldn't be anywhere better than Cali if that is what you have in mind.
Salsa academies, classes, schools and private tuition are all up for grabs in plentiful supply and if you really want to make progress either opt for 1:1 lessons or gather a handful of buddies and pay for small group private tuition. Once the sun sinks you can hit one of an endless number of salsa clubs – they can be found open 7 nights of the week – to put all that new knowledge into practice.
Aside from salsa Cali has the usual range of Colombian city attractions which include historical churches, museums, theatres, a massive water-park and even its very own smaller version of Rio's Cristo de Corcovado perched on a hilltop.
7) Immerse Yourself in Colonial Charm in Cartagena
Colonial remnants of every variety are found all over Latin America but Cartagena has to rank as one of the most finely preserved found anywhere in the world. So much so in fact that at times you'll be hard-pressed to believe you haven't somehow stumbled onto some movie set and the exceptionally pristine nature of this city means it has been designated a UNESCO World Heritage Site.
Although there is much to be explored in this lovely city including top-notch museums, wonderful cuisine and even beaches, its principle delights can be found in simply wandering the area known as the Old City which is a maze of cobbled streets flanked by curlicue-d iron balconies dripping with flowers. Getting wonderfully lost here is like stepping through a doorway to times past with brightly painted colonial buildings at every turn offering a thousand opportunities for snapping pictures. The whole is crammed with lovely features – picturesque churches and domed cathedrals abound including those painted in a riot of mustard and carnelian hues, the clock tower is an ornate delight, the cute plazas lit by fairy-lanterns after dark seem to crop up with great regularity while the horse-drawn carriages constantly clip-clopping past help to complete the air of yesteryear.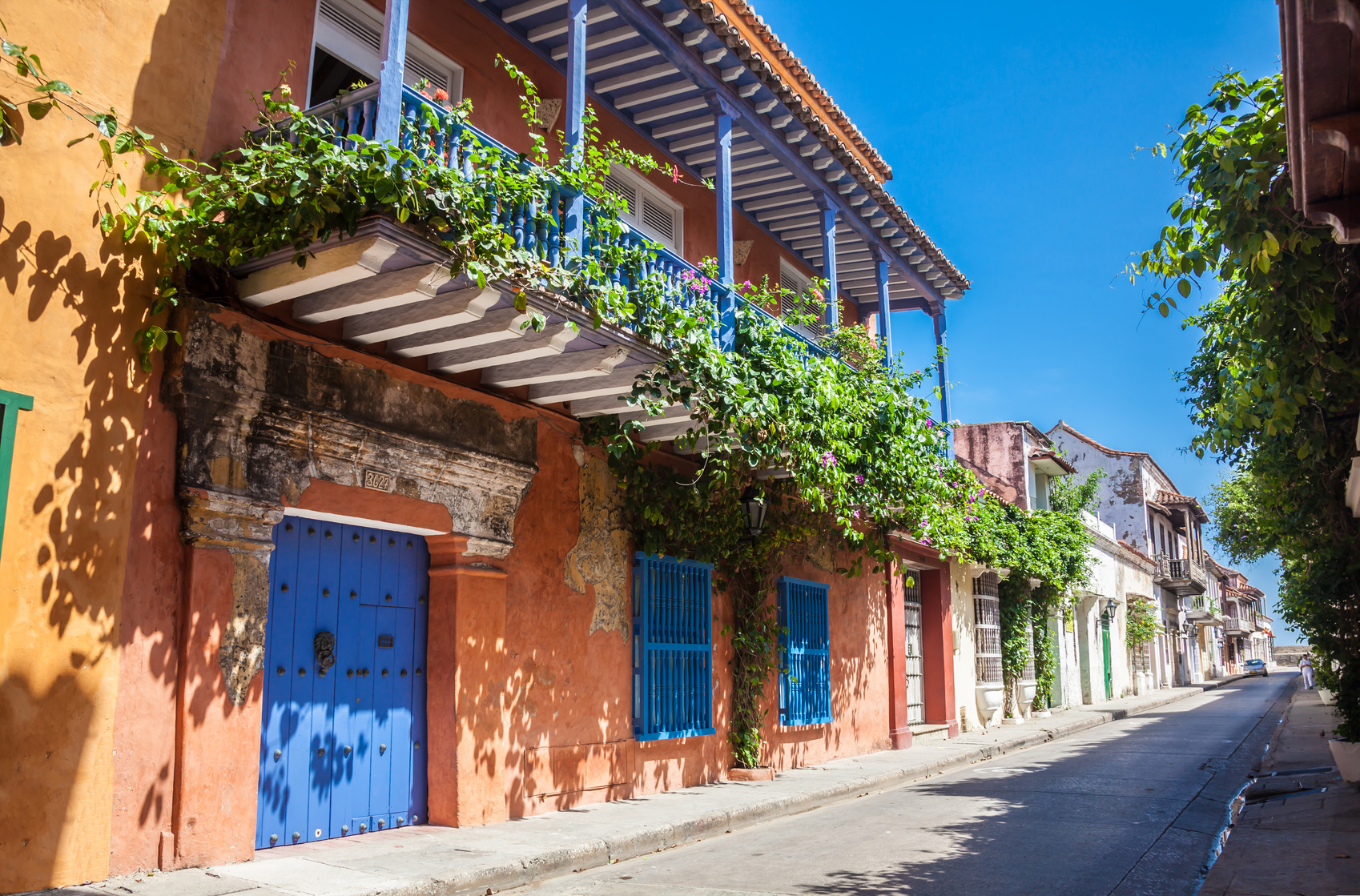 If the perfectly-polished starts to wear a little thin and you find yourself craving something rather more authentic, simply step outside the Old City walls to find yourself in the neighbourhood known as Getsemani. As wonderfully crumbling and romantically decrepit as the Old City is pristine, this area – once crime-ridden and the domain of drug dealings – is now a hub of street food vendors, little dive bars and salsa beats which exudes a vibe of hip and happening at every turn.
The delights of romantic Cartagena make it understandably something of a tourist hub which keeps prices a little higher than elsewhere in the country but every extra penny you may have to spend here is worth it ten times over.
8) Do Your Entire Souvenir Shop in Rainbow-hued Salento
Stunningly pretty and exquisitely charming as it is, lovely little hill-located Salento is not the only rainbow-coloured colonial town you will find in Colombia. However, if you are on the look-out for authentic and one-of-a-kind holiday keepsakes, souvenirs and gifts Salento is hard to beat with its thrumming community of artisans and crafts-folk almost clambering over each other to display their wares.
Salento's cute colonial balconied buildings come in a hundred hues – from lime green to rose pink and from aquamarine to ruby-red – sometimes all at once. Adding to this spectrum of hues are those of the rich fabrics and artisan goods spilling out into the streets from tiny shops which are interspersed with independent cafes – themselves often complete with fascinatingly decorated interiors.
As is so often true of places which become magnets for the artistically inclined, Salento has a certain air about it which is hard to define but undeniably special. Salento at its core is a sleepy place but it also hums with an almost tangible energy which more often than not is infused with impromptu music created by those who live here as well as those passing through.
Besides the charms of Salento itself, this wonderful town is an excellent base for a variety of travellers' adventures and experiences which include visiting local coffee plantations and horseback riding through the beautiful Cocora Valley – part of the Los Nevados National Natural Park. It is also possible to get an insight into the making of some of the stunning goods you can buy here at the Aldea de los Artisanos – just a stroll from the centre of town – where hard-sell has yet to become a known concept.
Also right on your doorstep is the viewpoint or 'mirador' which will reward you with a 360º panorama of your sensational greenery-covered mountain and valley surroundings once you ascend the coloured steps which lead directly from the town centre. Many come to Salento for a day or two and still find themselves here weeks or months later – it is that kind of place.
Where – Located in the Quindio Department, Salento is just a 45 minute bus journey from the area's capital – Armenia.
9) Wander Among the Ancient Megaliths & Statues of San Agustin Archaeological Park
Nestled into the foothills of the mighty Andes amid a wild and wonderful landscape can be found this fascinating archaeological park crammed with monuments and statues which date back to the times of a culture which thrived here more than 1,000 years ago. Hundreds of deities and magnificent beasts rub stone shoulders in a canyon which straddles both sides of the Magdalena River in this 50 km² area UNESCO World Heritage Site. Nowhere else on the entire South American continent can be found ancient monuments in such numbers. The exquisitely carved statues and megaliths found in clusters dotted around the plateau range in styles from abstract to realist with a whole which is in essence a giant art gallery set amid Mother Nature.
Besides the main statuary you will also find the marvellous Fuente de Lavapatas which is a conglomeration of carvings made directly into the rocks of a stream bed amid a whole of lovely terraced pools. This extra special feature full of human figures, lizards and serpents was thought to have served as a place for ritualistic religious cleansing.
The park's entrance is home to a museum full of artefacts which include statuary, pottery, household goods and tools. If you want a guide to lead you round this hauntingly lovely site and give you a more in-depth low-down on what you are looking at here is the place to find a reliable and knowledgeable one.
Where – The San Agustin Archaeological Park can be found a couple of kilometres west from San Agustin in the Huila Department in the country's south among the foothills of the Andes.
10) Enjoy a Day of Amazon Flower Power at Mundo Amazonica
Spread over 29 hectares can be found this wonderfully educational site which is filled to bursting with hundreds and hundreds of species of flora which are only found in the Amazon. Hitting the eco-tourism mark right on the button, the highly interactive Mundo Amazonica can teach you all about the culture of the indigenous people which call this area home as well as giving you the low-down on the efforts being made to preserve endangered species along with information on a wealth of ecological practices and recycling initiatives.
Differently themed 45 minute tours are available to take you around the various botanical gardens, aquarium area, sustainable processes and cultural set ups. Often touted as a great attraction for children, it isn't only the kids who will enjoy (and learn) from this wonderful place whose whole ethos is a profound respect for the environment and sharing that with others.
Where – Mundo Amazonica is located 15 minutes from Leticia in the country's far south in the Amazonas Department.