The island nation of Indonesia is strung like a series of emerald-studded jewels from the southern tip of Malaysia and Singapore almost to the northern shores of Australia. Straddling the equator and surrounded by both Indian and Pacific Ocean, this giant archipelago consists of more than 13,000 islands – around 6,000 of which are inhabited. Some of these tropical islands are mere specks in the turquoise ocean, others vast and jungle-shrouded such as Sumatra and Borneo (shared with Malaysia and Brunei).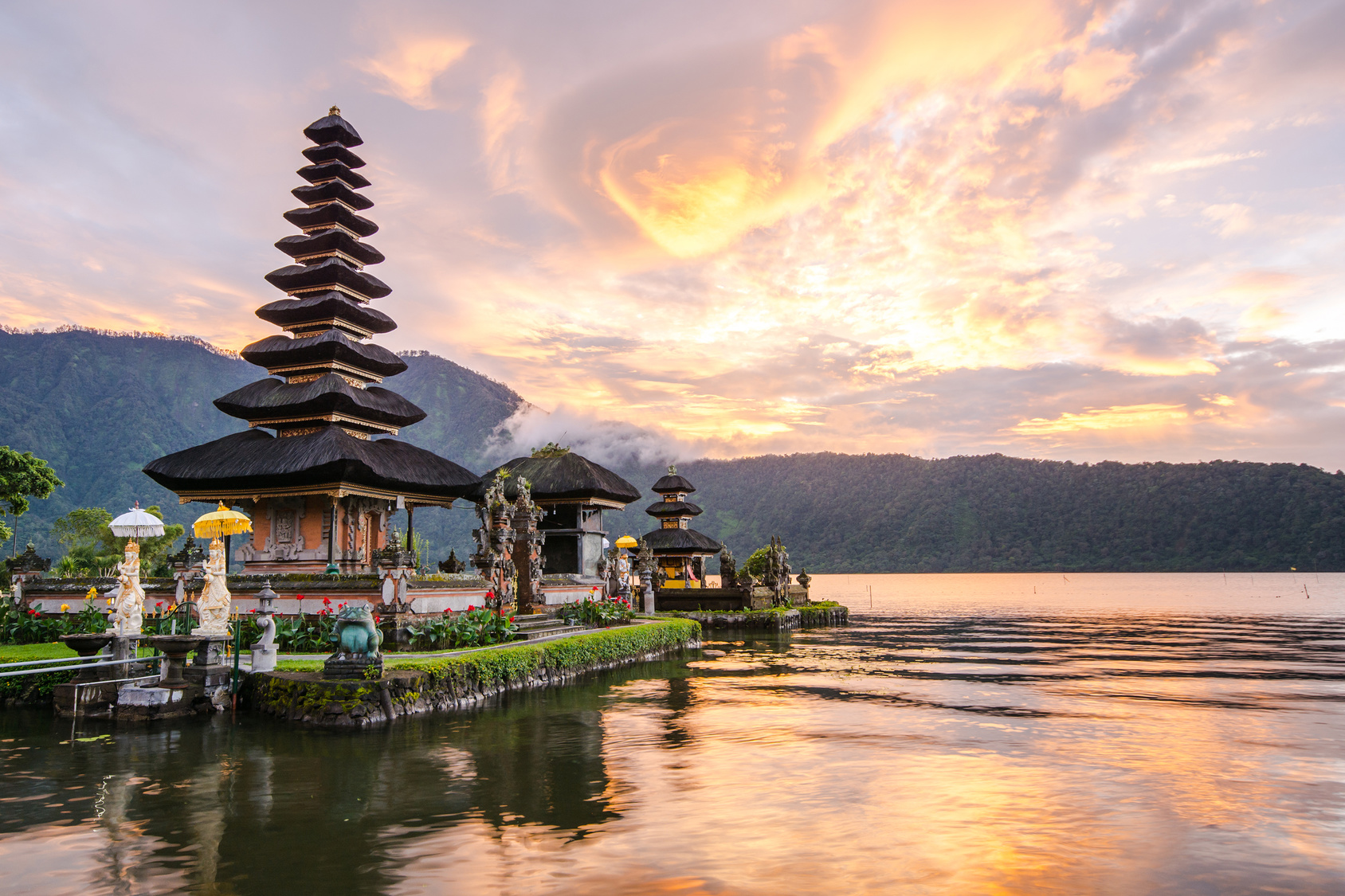 Indonesia happens to be the fourth most populous country on the planet but as more than half of its people are crammed onto the island of Java, elsewhere are huge areas of people-empty places. Playgrounds for the traveller here consist of tropical rainforests bursting with exotic flora and fauna, rainbow-coloured coral reefs teeming with marine life to be dived and snorkelled, soaring volcanoes to scale, endlessly changing and stunning landscapes of national parks to hike and 54,716 kilometres of coastline studded with palm-fringed beaches and world-class surf spots simply to enjoy. And although these may be the things for which Indonesia is best known there is so much more. Second only in the world to Brazil for its biodiversity, Indonesia offers the wildlife and nature lover some true once-in-a-lifetime rarities such as encounters with the critically endangered orang-utan, the Komodo dragon, a flower which measures 1 metre across (the world's largest) and jungle habitats which are home to elephants and tigers.
Culturally speaking – the diversity here is beautifully overwhelming. More than 700 languages are spoken by Indonesia's people who are made up from a centuries-old melting pot of ethnicities and influences. Civilisations have flourished and faded, mighty Hindu Kingdoms have thrived while animist tribes hid themselves away in jungle villages. Invaders, merchants and colonisers including the Portuguese, French, English and Dutch – who were the longest standing and most powerful – have left their mark all over these islands. Forts and imposing colonial buildings rub shoulders with ancient temples and the soaring minarets of mosques while the influences of the Indians, Chinese and Arabs can be seen in architecture everywhere. Expect to find your taste buds treated to previously unknown sensations, to catch yourself sighing endlessly at the almost impossible loveliness of it all and to fall hopelessly in love with this land of sunshine and welcome.
Essentials
Visas – Although there are a few exceptions, 30-day visas on arrival (VOA) are available to travellers from almost all Western countries once the relevant fee has been paid. You have to enter via specified points but these tend to be all the most common airport and seaport arrival destinations. It is possible to apply for a 30-day extension once you are in Indonesia and although reports vary on how easy this is to achieve, the general advice seems to suggest doing this about 10 days before your original visa expires.
Language – The official language is Bahasa Indonesian but there are more than 700 languages spoken on these islands. Throughout Bali it won't be hard to find English-speaking locals but elsewhere – and certainly if you stray from the well-beaten tourist trails – there may be none. As is good advice throughout South-East Asia, teach yourself a few key words and phrases which will make a world of difference.
Weather – Forget Western concepts of the word 'season' – here it is either 'rainy' or 'dry' (and that doesn't mean it can't rain in the dry season). Although there is some variation, typically speaking dry season runs from April – October and wet season from November – March. If you are at higher altitudes the climate can be cooler and you'll even find snow on the peaks of Papua.
Crime – As is the case the world over, cities tend to be the crime hot-spots. Thefts and pick-pocketing are common in crowded places in Indonesia such as markets and busy streets and you'll need to take extra care when using buses, trains or ferries where theft is rife. It can be easy to let down your guard during a long and tiring journey and this is the very reason thieves make these routes their stomping grounds for easy pickings. Snatches of laptops, phones or other electronic gadgets take place at wifi hotspots and also from taxis during traffic jams or red-light stops so hide your devices away in a money belt at such times. The other main crime hazard is credit-card cloning – a significant problem in Indonesia.
Money – In all of the Indonesian cities – along with the islands of Java, Bali and Lombok generally – banks, money exchanges and ATMs are not hard to find. If you are heading elsewhere you might want to stock up on Rupiah to avoid problems. Be aware some ATMs have low daily limits (around the £38/US$55 mark) and take care when using credit cards as cloning is rife in many places in Indonesia.
Drug possession and use – Drugs of all kinds are not hard to find In Indonesia but you need to be aware you're not just playing with fire but your life. Indonesia has hard-line penal policies with regard to both possession and use of drugs and the 'Death to Drug Traffickers' signs which will greet you on arrival at airports tell it just how it is. Foreigners have been executed for trafficking and if you are caught in possession of even the smallest drug quantities you might – at best – see out the rest of your days inside an Indonesian jail. You also need to be aware that any traces of drugs in your system on arrival in Indonesia – regardless of where they were consumed – is a crime for which you can be charged. Just to add to the hazard, drug-entrapment is common so you will never be sure whether that smiling local offering you drugs is a dealer or a police officer.
Cultural etiquette and respect – It always pays to do a little homework regarding your destination's local culture and customs to avoid either embarrassing yourself or offending the locals. There are many things in Indonesia which will be unfamiliar to Westerners such as – try and avoid touching anyone or passing anything with your left hand (this is the 'toilet' hand), don't walk between two people talking and take off your shoes before entering homes. With such a vast diversity of cultures in Indonesia it would be almost impossible to cover everything you might encounter but typically speaking the easy-going Indonesians make all kinds of allowances for visitors. You will need to be aware that Indonesia is a predominantly Muslim country and otherwise quite conservative with regards to dress. On the palm-fringed beaches of Bali and Lombok no-one will bat an eyelid at the bikini-clad but elsewhere – as a female – you might want to think about covering your shoulders and knees. This is more to protect yourself than anything else and to avoid being thought of in the same vein as a sex-worker.
Price-haggling – This is a way of life here with goods sellers. If you're good at it and keep things light-hearted and fun you will often find yourself at the receiving end of all kinds of mega-bargains.
Food – A few staples aside, there is really no such thing as Indonesian food – just as might be expected from a nation made up of thousands of islands and such varying cultures. Cuisine choices are vast – Javanese, Sundanese, Padang and Balinese to name but four – and eating cheaply at the huge array of street food stalls and from market vendors requires little effort. Outside of the pricier restaurants, eating with your hands is the way to go and although you might initially find yourself seemingly elbow deep in mess it's surprising how quickly you will adapt. The trick is to use your four fingers to scoop everything up and then use your thumb to push the food into your mouth. And don't forget – strictly right hand only for eating.
Transport – Typically speaking, getting from island to island is both straightforward and cheap with a ferry route map of the entire archipelago so extensive it looks like a drunken spider has crawled over the page. Several smaller companies ply the shorter routes while state run PELNI take on the longer journeys which can take as long as two weeks. The most popular crossings – such as those to and from Sumatra, Bali and Java – offer 24-hour services of high frequency. Indonesia's air connections are also extensive with hundreds of airports and around 17 international airports.Getting around the islands does not have such a general transportation description however and how costly, comfortable or easy it will be depends on the island in question. For example, Sumatra is not just huge, its infrastructure is far less developed than elsewhere so journeys on roads with pot-holes the size of baby elephants can be both bone-jarring and gruellingly long. A rail network exists in places – at its best in Java – while relatively comfortable AC mini-bus and shuttle services catering to the traveller are becoming more and more popular. Buses can be found in all of the most developed islands and include both local cheap versions and tourist-orientated options. You will also find motorbike taxis (often a little scary) or human pedal-powered bicycle cabs known as becak.
Accommodation – While Bali and the more touristy destinations will have plenty of cheap hostel options, this type of accommodation may be less easy to find elsewhere. The most commonly found choice for the budget traveller throughout Indonesia is the 'losmen' – a type of guest-house. Standards and facilities vary significantly but tend to be basic with shared bathrooms which might offer just bucket showers and squat toilets.
Things to See & Do in Indonesia
Go Diving – Home to one fifth of the world's coral reefs as well as a multitude of underwater volcanoes, deep trenches and wrecks from World War II, Indonesia's diving is considered world-class by those in the know. These habitats are simply swarming with life – the coral species number more than 600 alone while giant sunfish and rays, sharks, porpoises, turtles and eye-dazzling arrays of vibrant fish call these waters home. Better still, diving in Indonesia is ridiculously inexpensive. Some of the best diving can be found in the car-free Gili Islands where the snorkelling is also top-notch or the Bunaken National Marine Park in Sulawesi.
Explore the Temples of Borobudur and Prambanan – Central Java – Older than Angkor Wat in Cambodia, the UNESCO-listed Borobudur site showcases one of the world's largest Buddhist temples, packed to the rafters with hundreds of Buddha statues. Almost as ancient is the nearby Hindu ruins and statues of Prambanan whose 45 metre tall main temple actually soars higher than Borobudur.
Take in a Traditional Shadow Puppetry Show – Transport yourself instantly to another world full of exotic images and sounds watching a 'wayang kulit' – the most renowned of the quintessentially Indonesian arts. Incredibly intricate and sometimes huge cut-outs play the parts of characters from various folk tales and religious stories while music of the highly haunting variety accompanies the whole performance. You might stumble by chance on such a show anywhere but the art is especially popular in Java and Bali.
Walk Among Komodo Dragons – Komodo and Rinca – Measuring up to a whopping 3 metres in length, the formidable Komodo dragon is the world's largest lizard. Tour operators will most typically ferry you from either Flores or Lombok where you can head off in search of these enormous living 'dragons'.
Indulge Yourself with Spa Treatments or Massage – Elsewhere in the world spa and massage services might suggest a prohibitively high price tag or a rare occasion indulgence only but this is not the case in Indonesia. Lavish and luxurious, five-star wellness centres do exist here but so too do a wonderful wealth of possibilities for the budget traveller. High quality at backpacker prices mean you can pamper yourself silly over and again. Your setting might be a beach hut or simply the shade of a coconut palm on an impossibly beautiful and deserted beach.
Get Lost in the Chaos of Jakarta, Java – Permanently congested and home to 10 million people, Indonesia's capital of Jakarta heaves with shoppers, traffic, night-life venues and a cultural melting-pot of food choices guaranteed to satisfy even the most culinary bored. Watched over by very-much-active volcanoes – including the famous Krakatau – Jakarta is also crammed with colonial leftovers – most notably in the Dutch quarter around Fatahillah Square. Even if you're not an urbanite you have to visit here at least once to have your senses assaulted by the marvellously exotic chaos of it all.
Turn Beach Bum for a Day, Week or Year – This is the planet's biggest archipelago made up of thousands upon thousands of islands and kilometres of coast. Perhaps then it's little surprise many folk flock to Indonesia for the beaches alone and have been doing so for decades. Almost without exception beaches tend to fall into the stunning category with soft sands of blinding white sands and crystal seas of turquoise. Bali is the obvious choice for many but if you want to have things a little more to yourself there are tons of other options including the islands of Maluku, Nusa Teneggara, Sulawesi and the sublimely unmatchable Kuta beach of Lombok.
See the Planet's Largest Flower, Sumatra and Borneo – Blood-red and dappled with white spots, the highly endangered and rare Rafflesia arnoldi jungle flower is not easily found. However, this just adds to the experience should you be lucky enough to get taken to see one of these floral behemoths which measure 1 metre or more across. Be warned though – the other name for this flower is the stinking corpse lily – so called because it emits a highly powerful and unpleasant odour of rotting flesh.
Swim in the Geothermically-Warmed Waters of Lake Toba, Sumatra – Around 70,000 or so years ago a volcanic eruption of cataclysmic and climate-changing proportion took place; scientists believe it was the largest on Earth in the last 25 million years. The huge caldera left behind is today filled by beautiful Lake Toba – the world's largest volcanic lake. Within the lake – within the island of Sumatra – is Samosir island and the surrounding shores of Lake Toba are full of hiking opportunities and waterfalls which include the 100m high Sipisopiso. If all that seems like too much effort you can simply swim in the waters surrounded by gorgeous scenery, gather together a group to party on board an overnight boat you've hired or take in a traditional Batak dance and folk song performance.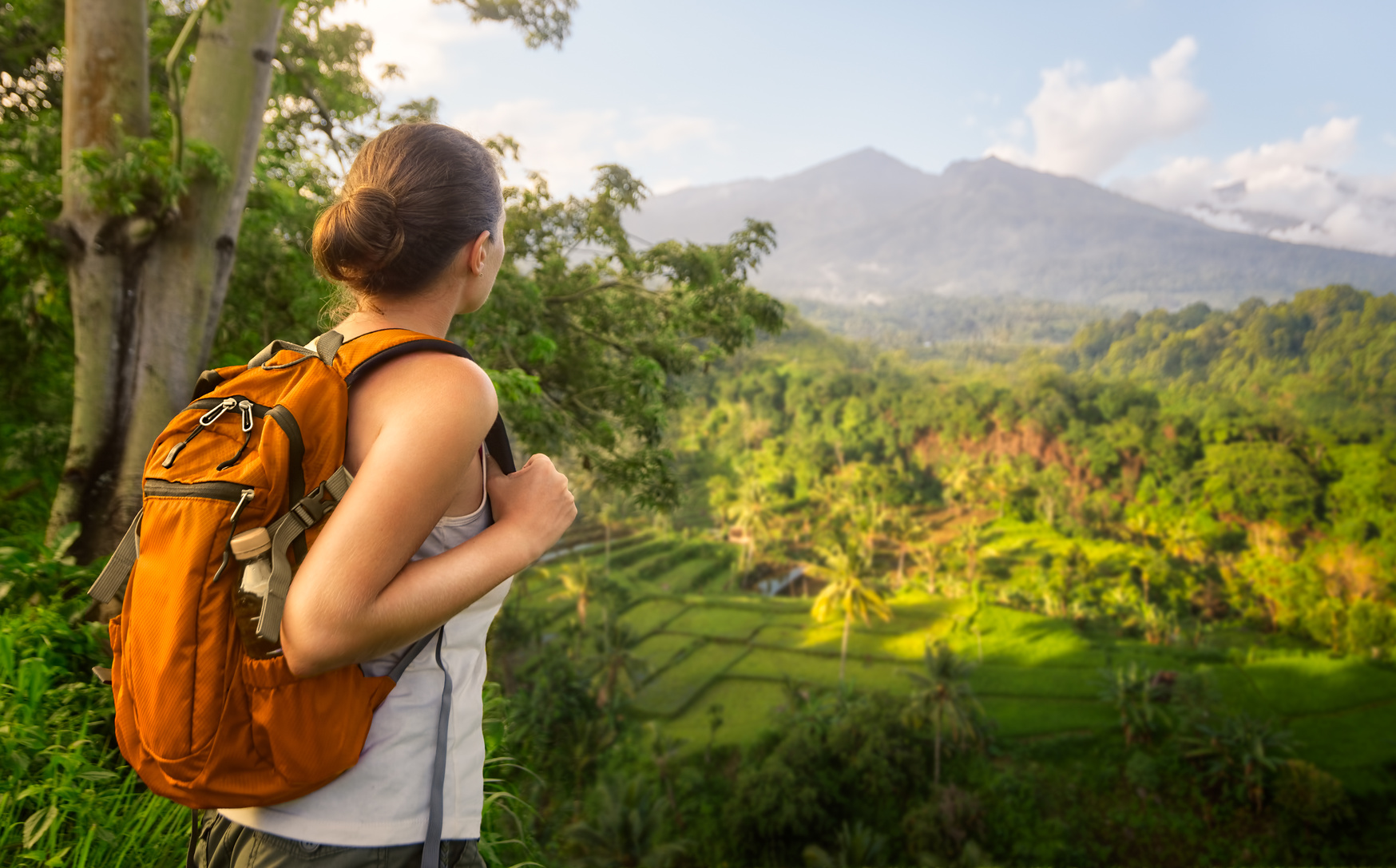 Collect Volcanoes – Indonesia sits on the western edge of the 'Ring of Fire' and as a result is home to a large collection of volcanoes – around 400 to be precise and of that number about 150 are active. From almost anywhere in these islands you will have the chance to view these conical mountains rising up into the skies, sometimes throwing out plumes of smoke. Many can be hiked with options ranging from the relatively easy to hardcore overnight tours while some travellers simply opt for shorter visits by boat or bus.
Ride the Waves, Surfing Indonesia – Whether you're a total surfing beginner or kamikaze pro Indonesia has something to suit. Bali – blessed with more world-class waves than seems fair for one place – is particularly crammed with surf schools and surf camps while the intrepid hire out surf-charter boats to get to the surf-world Mecca of the Mentawis, off the coast of Sumatra. If you've always wanted to try your hand at wave-riding there is no better place in the world to get started.