Listening to the sounds of elephants trumpeting to each other as you camp beneath a canopy of stars, catching some rays while relaxing on exotically idyllic beaches of powdery sands with a choice of two oceans, hiking into mountains cloaked in lush greenery or testing your mettle with a spot of bungy jumping; South Africa is a country which can give you all of this and plenty more besides.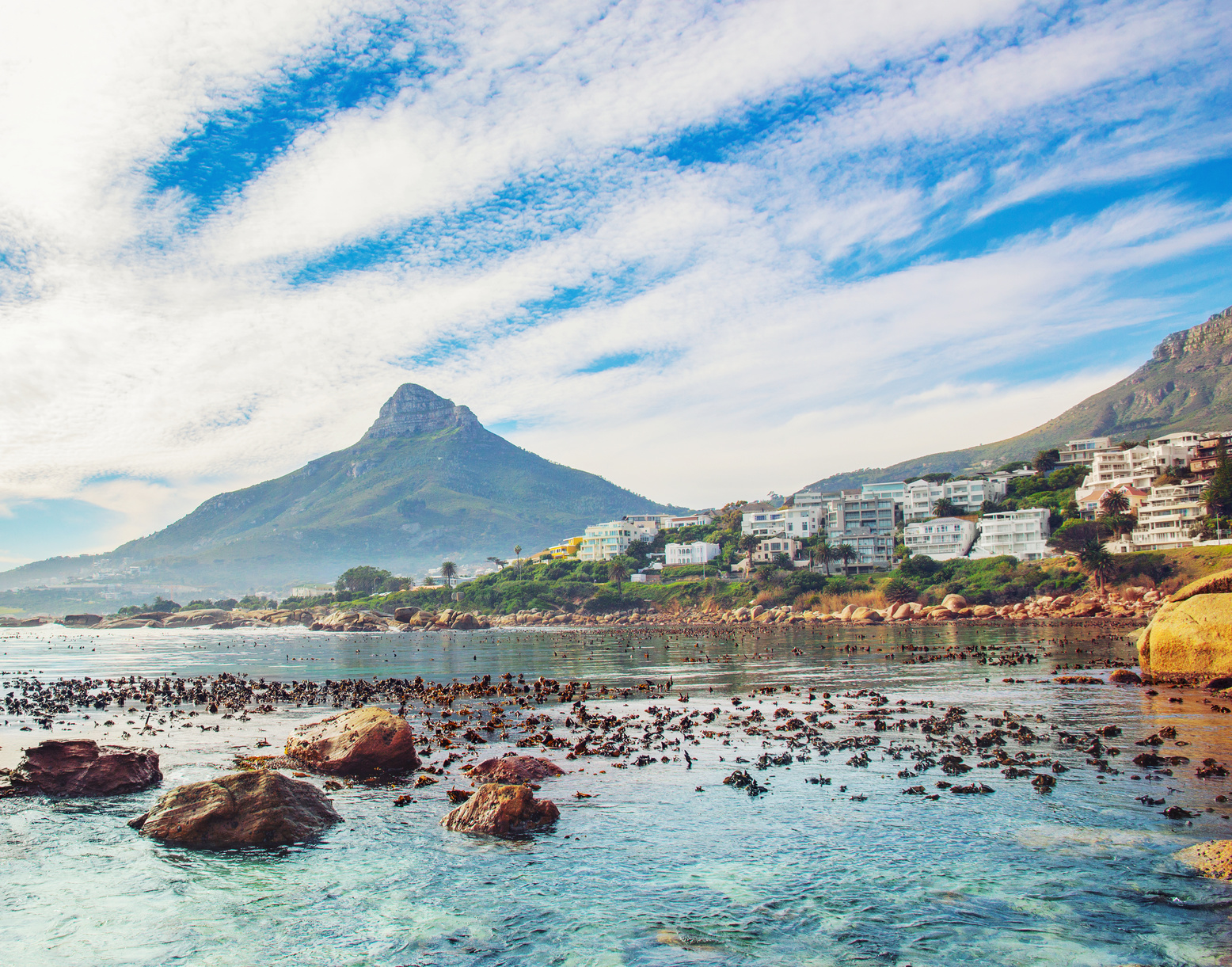 This vast country made up of nine separate provinces which sits at the southern tip of the African continent is crammed with diversity in every sense of the word. Its culture, its cuisine, its landscapes and  adventure activity menu offer the traveller endless possibilities; it is a place where no two days have to be the same and experiences tend to rank as once-in-a-lifetime over and again.
All who arrive on these shores tend to leave with a head full of unforgettable images and a heart full of the magic of Africa at its most powerful.
Visas
There are 45 countries on the list of those who don't need pre-arranged visas for stays in South Africa of 90 days or less which include citizens of the UK, many European countries, Australia, New Zealand, Canada and the USA. You can add a whole lot more who can have 30 days or less. It is possible to extend these stays by applying for visa extensions once you are in the country with the total time allowed being 6 months.
Weather
In such a vast country with such varied environments and terrain it will come as little surprise to learn that the weather can be just about anything possible depending on where you are and what time of year it is. Mention the word 'Africa' and most people will conjure up scenarios of blazing temperatures and although there is plenty of that there are times and places where freezing temperatures are common in winter at high altitude. Generalisations therefore are a little tricky but the following will give you an overview.
South Africa is in the Southern Hemisphere which means winter falls in June to August and summer from December to March.
Across the regions maximum summer temperatures can range from 25°C to the high 30s and even on up into the 40s! The range for night temperatures in summer is 15°C to 21°C. Sunshine is in no short supply and average daily sunshine hours fall in the 8 to 10 hours range.
Winter temperatures can dip to freezing at high altitude during the nights while the maximum range is 17°C to 26 C with the warmest spots tending to be in coastal regions, most particularly the Indian Ocean side Eastern Cape.
The rainy season falls in summer, the exception to this being the Mediterranean-like Western Cape which sees the majority of its rainfall in winter.
Safety in South Africa
Like most places in the world a great deal of staying safe responsibility rests with you and how you behave. The general rules pertaining to personal safety simply need a good serving of common sense and the ability to take on-board the advice of others such as hostel staff and fellow travellers.
Such things as never wandering around solo in out of the way places after dark, not flaunting valuables such as jewellery, cameras and phones, being a little extra vigilant in crowded places with your belongings and keeping any money on your person to a minimum are all easy ways to avoid becoming a victim of crime.
Where South Africa is concerned there are a few more specific rules too which you might want to pay attention to to keep your trip trouble-free.
If you are driving a vehicle keep doors locked and valuables out of view in the built-up areas to avoid smash and grabs while waiting in traffic.
Although much of the urban public transportation is perfectly safe there are some which isn't so seek local advice before embarking on this kind of journey.
Visits to townships are a colourful South African experience but don't just blindly blunder into anywhere you want to go without having some knowledge of what you are doing. Guides and tours are the safest way to go here but going it alone is also possible depending on the area. As before, seek advice from the staff of your hostel, hotel or guest-house to get the low-down on where is safe to wander and which are no-go areas.
Of course there are exceptions but generally speaking South Africans really don't take after-dark strolls and doing so yourself instantly marks you out as a green tourist. Such behaviour ranges from slightly dodgy to extremely risky so if you want to get from A to B for an evening out once the sun has set play it safe and grab a metered taxi.
Natural & other risks – as far as major natural disasters go the risks in South Africa are minimal as it is typically free of hurricanes, tornadoes, floods and major earthquakes.
Terrorist incidents and contagious diseases are also low risk. The exception to this is HIV as infection rates among the population represent one of the world's highest rates per capita.
Perhaps the greatest health risks are sun burn and dehydration and the incidence of seasonal malaria. This is especially true in the country's north-east corner which includes Kruger National Park from November to May with a notable peak occurring the months following the wet season which is March, April and May. If you are in a risk area you are advised to sleep with mosquito nets and use DEET-based products as protection.
As is always the case when travelling, arranging an appointment with a health professional at home before your journey is a good idea so you can be aware of any health risks and get yourself vaccinated according to current health/travel advice.
Accommodation Types in South Africa
Where places to lay your head are concerned during your South African adventure just about anything is possible – from cheap-and-cheerful basics to ultimate luxury.
Hostels – Hostels are the backpackers' accommodation of choice worldwide and just as elsewhere hostels in South Africa come in a wide range of offerings with both dorm beds and private rooms possible. Spread liberally throughout the country, quite what kind of amenities you will get at a hostel for your rand depends but the provision of meals is quite common especially in establishments in more out-of-the-way places. Also common are kitchen facilities and a wide offering of tours and activities. Otherwise, if there is something specific you are looking for you will need to do a bit of research to ensure the hostel you have in mind matches your must-have list.
B&Bs – This kind of establishment which is typically a room in an owner's family house with shared common areas is becoming increasingly popular in South Africa and offers a cheaper alternative to hostels.
Self-catering – In this type of self-contained accommodation you are usually on your own as regards preparing meals, cleaning and looking after yourself (unless you are in something in the high-end luxury category) but otherwise they come in a range of guises. These include houses, chalets, flats, apartments, villas, boats and tents and range from basic to ultimate luxury.
Guest houses & hotels – Available throughout the country, hotels and guest-houses can be found to suit every budget and every traveller and tourist type.
Camping – Camping is common in South Africa, not just for foreign visitors but for the outdoorsy South Africans themselves. Camp-sites and parks are usually not hard to find in towns and national parks but elsewhere they may be somewhat rarer. You also need to be aware that tents are not always accepted.
Food and Drink of South Africa
Whole books have been written on the subject of South African cuisine so we have little hope of covering even the tip of the ice-berg here. Suffice it to say if you are looking for enormous diversity and mouth-watering dishes at comparatively low prices you have come to the right place. The country's history has left its mark on its culinary offerings and includes influences from Britain, Holland, Germany, India, Malaysia and Portugal. Finally of course there are the 101 African cuisine imprints too.
Quite what constitutes a typical dish will very much depend on where you are, for example – Indian-influenced curries are common in Durban, Cape Malay cuisine offers dishes blending any number of cultural influences together, seafood is a big thing along the coast and Afrikaner stews are almost certain to be included on menus in the hinterland. There are such things as fried worms for the adventurous and some wonderful desserts for the sweet-toothed but otherwise the choices and flavours represented by South Africa's cuisine are as varied as its culture.
Towns tend to have great selections of cafes, bistros, eateries and restaurants in every price-range while the fast-food junkies are well-catered for too with the usual international chain giants such as McDonalds, KFC, Subway, Wimpy and Burger King all present.
South Africa is of course famous for its wine and as you might expect this can be found anywhere and everywhere and is generally cheap-as-chips.
Languages of South Africa
South Africa has a whopping eleven official languages which include several African tongues, Afrikaans and English. In the main, most of the population can speak English (rural black communities aside) although it is only a first language to less than 10% of the people.
Money Matters
South Africa's currency is the rand.
ATMs or automated cash machines are commonplace countrywide and typically speaking make no charges for withdrawal although of course your own bank might apply these for foreign transactions.
Credit cards of all types are widely accepted everywhere although American Express and Diners Club are less recognised than Visa and Mastercard.
Vat is applied to South African goods which is normally included in any displayed price. If you keep all your receipts you can claim this back on anything you intend to take out of the country with you but be aware this is subject to a minimum amount.
Cultural Issues
History – Shame on you if you intend to travel around South Africa without having at least some basic knowledge of the history which has shaped this incredible country. The tragedies and triumphs of this country's story infuse all that South Africa is today and it is essential you make some effort to learn about it.
There are plenty of museums which will take you through the history of the apartheid years and although such visits will lead you on an emotional roller-coaster they will help you get to grips with what has shaped South African society. Visits to townships and interacting with the people who live there can also further your learning and leave you very much aware and somewhat humbled by the enormous sense of pride and optimism which exudes from the local people.
Cultural generalities – Making cultural faux-pas is as much a risk here as anywhere else in the world but unlike so many other places you will be left in no doubt if you have inadvertently erred on this front. South Africans are known for their directness even to the point of bluntness and they will not hesitate to tell you if you have slipped up. Generally an apology will suffice and you will be left wiser for next time.
As a general rule of thumb it is best to avoid making any remarks in the political or racial category of things however if these subjects genuinely interest you it isn't hard to find people willing to share their experiences of the past with you, especially if you approach it all in a respectful manner.
Criticisms of the country and culture are definite no-nos. We all know that rule which says we can bitch and whine about our own country and culture but when foreigners do it it's offensive.
Dress attitudes – South Africa has an enormous coastline strewn with beaches of the incredible kind which means a thriving beach culture exists. However, although attitudes to beach dress are liberal with thongs for example completely acceptable, be warned nude sunbathing is against the law here. Should you want to go topless ladies for that (almost) all-over tan effect be sure you are somewhere it is acceptable  such as some of the beaches along the Cape Town coast.
Beggars – As is the case throughout developing world countries, beggars are a common sight. Although it is of course your decision the official recommendation is to avoid giving money to mothers and children/babies who – we are assured – have social service alternatives. Giving food is always a better way to go and should you feel like offering food to any beggars you encounter go with your heart.
Otherwise, the majority of travellers who have explored South Africa will tell you the local people are friendly, open, polite and happy to help whenever they can.
Transport Options Around the Country
Unless you have your heart set on rocking up to the most out-of-the-way places getting about South Africa is relatively easy – even for solo and young travellers – through a well-developed network of transport.
Plane – South Africa has ten international airports and a well respected domestic flight set up with a variety of operators which makes air travel between major towns and cities possible.
Taxis – Flagging down a taxi on the street is not common practice in South African towns and cities. Instead taxis congregate around a taxi rank or taxi rides are pre-booked at call centres through accommodations. Be sure you get a metered taxi as these vehicles are a safer bet in every sense of the word.
Car – There are three ways to go here – hiring a car, buying a car or signing up for one of the buy-back schemes which is like buying but with a guaranteed and pre-fixed price for your vehicle at the end of your journey. There are tons of hire car companies with great rates offered by some of the smaller independent companies. If you opt to head down the buying route South Africa has a thriving second-hand vehicle market with some of it specifically aimed at travellers.
If you intend to get a little more off the beaten path you will need to hire/buy a 4×4 vehicle which more often than not have some camping gear included. Motor-home rentals are also possible and as a vehicle/accommodation combo are often a great choice for travellers, especially as campsites and caravan parks are plentiful.
Bus – As well as heaps of local buses there are also services which cover longer routes and connect all of the major destinations making stops along the way including Cape Town, Johannesburg and Durban. The major players are Greyhound, Intercape Mainliner, Translux and SA Roadlink with smaller set-ups such as City Bug also offering options.
South Africa also has its very own traveller-friendly hop-on hop-off service called the Baz Bus with stops including hostels as you go.
Train – The national rail service known as PRASA operates three classes of service between all of the country's main cities and there are plenty of inter-city commuter trains too run by MetroRail. Before hopping onboard any of these urban services though check which are considered tourist-safe.
Essential South African Highlights
South Africa is vast which means unless you have several years here you can't hope to cover everything there is to see and do. However, most would agree there are a few highlights which tend to rank as not-to-be-missed essential inclusions in any itinerary.
National Parks, Reserves & Wildlife – Wildlife is without doubt a principal draw-card for all but a handful of South Africa's visitors and although this might be encountered anywhere at any time the sure-bet places for wildlife spotting are its national parks and reserves. As safari destinations go, it gets little better than South Africa that can count the 'Big Five' (lion, elephant, buffalo, rhino, leopard) as inhabitants of their territory. What's more, South Africa continuously claims multiple places in lists of 'Africa's Best Safaris' with honours going to such places as Mala Mala, Sabi Sands, Phindi and Kgalagadi and of course the iconic Kruger National Park.
Self-drive safaris are possible while guide-led options in both drive and on-foot categories are plentiful and cater not only to those in search of luxury but to the thriftier backpacker budget as well. Safaris aside South Africa's wildlife is ever present – from tortoises making their ponderous way at roadsides to whales, seals and great white sharks living in the country's coastal waters while exotic bird-life is practically a guaranteed part of every day outside of the cities
UNESCO World Heritage Sites – South Africa has been a little greedy on the UNESCO World Heritage Site front claiming no less than a diverse seven within its boundaries including a meteorite impact site, exhibitions of ancient rock art and important areas of biodiversity. Although all are worth visiting the absolute essentials are the wonderful collection of caves known as the Cradle of Humankind housing an historically unique collection of fossils and bones which trace the human story back to its very beginnings. Also on the not-to-be-missed list is the place where Nelson Mandela was incarcerated for 18 of his 27 years in prison – Robben Island, which sits just off the Cape Town coast.
The Naturally Beautiful – In a land where Mother Nature has decided to be particularly bountiful it isn't hard to find the naturally beautiful at every twist and turn of your South African adventure.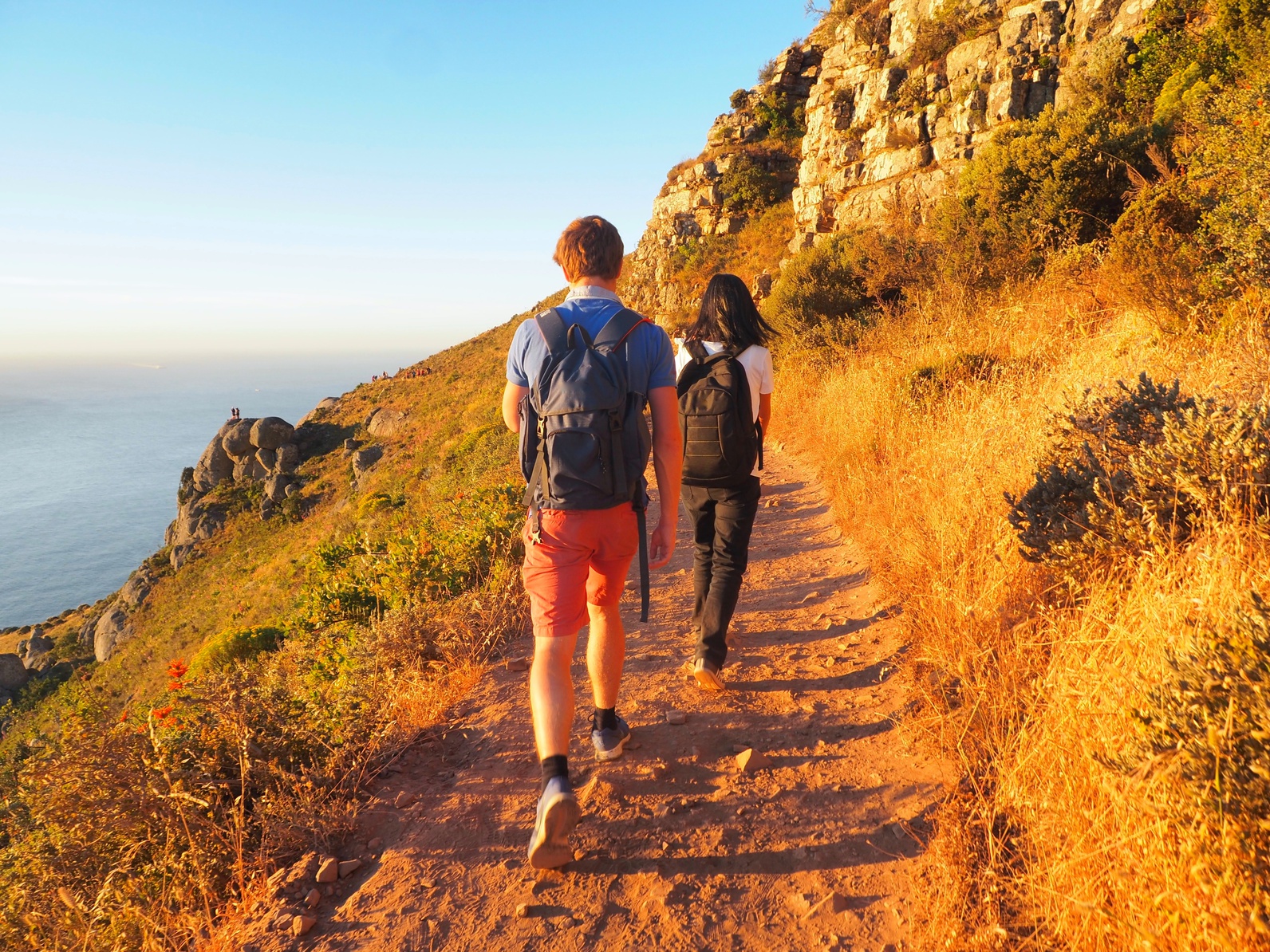 However, there are a few stand-out offerings which include the iconic Table Mountain, the area known as the Garden Route and the dramatic 56 metre Augrabies Falls in the Northern Cape. The flat-topped mountain known as Table Mountain overlooks Cape Town and hikes or cable-car rides to its plateau summit feature on just about everyone's South African itinerary. Part of the Cape Flora Region and Table Mountain National Park, this area is home to a jaw-droppingly large number of plants – 2,285 species in fact – and the whole is of such significance its protected areas are UNESCO World Heritage listed.
The Garden Route is a stretch of coastline in the country's south-west; an area typified by an exceptionally lush and diverse range of vegetation – hence the name – as well as dotted about with lakes and lagoons of the lovely variety.
Outdoor Experiences – For those who like the outdoors South Africa is really just one giant playground with a long and impressive list of what you can do here. On the adventure menu are rock-climbing, surfing, bungee jumping, treks of both the easy and hard-core variety, diving, rafting, canyoning, shark-cage diving and about 101 other possibilities besides.