If you're considering New Zealand as a gap year destination the first thing we'd like to say to you is congratulations; this is one life decision you will never ever regret. New Zealand is one of those destinations about which you'll rarely, if ever, hear anyone say 'it was OK'. Probably because in every aspect, experiences and time spent here range from wonderful to once-in-a-lifetime.
The landscape covers just about every type of terrain and geographical feature known to man from glaciers to geysers, mountains to marine parks and stalactite strung cave systems to driftwood-strewn deserted beaches – all of it magnificent, majestic or mind-blowingly beautiful.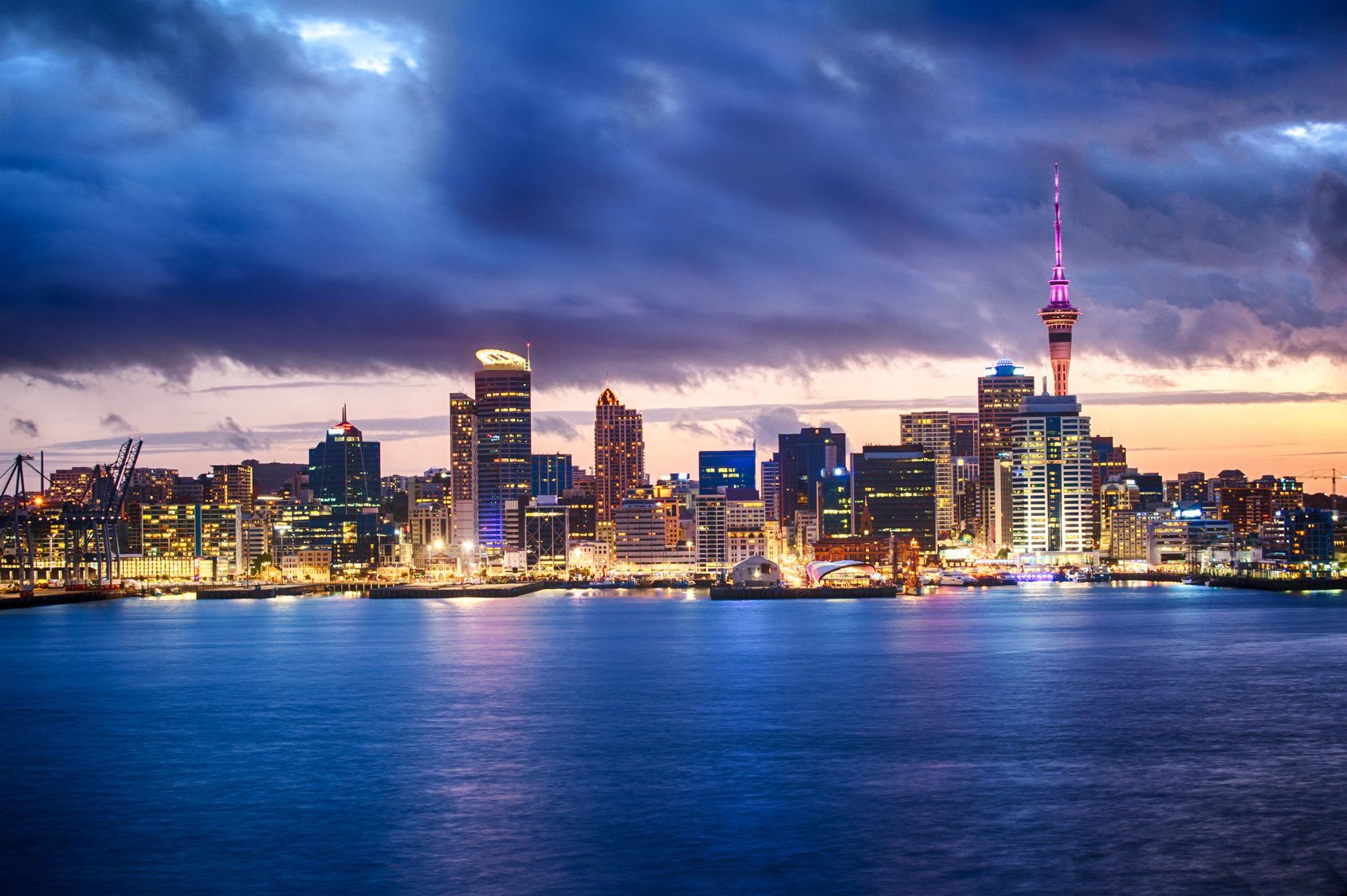 The cities are contemporary melting pots of culture, vibrancy and laid-back living while outside the urban districts the people are spread so thinly you can easily go for days without seeing another soul, if you want it that way. New Zealand may not have squeezed in a big population but it has managed to cram just about everything else into its two islands. This includes wildlife you'll find nowhere else on the planet, a widely recognised claim to the title of the world's number one adventure destination and a multitude of regions which might just as well be one giant playground for the active, adventurous and curious.
Days here can be filled with exploring an island which is actually a live volcano (gas mask and hard hat supplied), drifting in pitch darkness down an underground stream on an inner tube as glow worms twinkle like stars in the cave roof above you, swimming with the world's smallest and rarest marine dolphins or watching whales, digging your own hot-water spa at a beach, marvelling at the natural blue-hued sculptures of ice caves or barrelling down a giant sand dune on a boogie board. Perhaps now you're starting to see why New Zealand doesn't really do just 'OK'.
A Land of Two Halves
New Zealand is made up of two islands – the North Island and the South Island. They are both so different they could be taken as two separate nations if it weren't for the common-to-both-islands fact that Kiwis everywhere are warm, generous, welcoming and fun.
Looking at a map of New Zealand you'll quite possibly be led into thinking it's small and indeed measuring it from north to south and east to west it is, relatively speaking, quite petite. Terrain type and unsealed roads however can make, what is on paper, a short journey something far longer when actually put into practice. And anyhow, New Zealand has some kind of 'TARDIS' quality which means from the outside things appear compact while from the inside it just goes miraculously on and on and on.
Diversity isn't just present here but an underlining principle of this whole nation and its lands. If you think you can 'do' New Zealand in a few months think again. You can spend years here and not scratch the surface.
A Summary of the Plus Points
The natural beauty of the country is sublime, its people incredible and adventures tend to come thick and fast, sometimes with little effort required. So, little wonder New Zealand ranks as a gap year dream destination. However, this country has still more up its sleeve to tempt anyone not yet decided (as if!)
New Zealand has no native nasties – there are no snakes, scorpions or poisonous spiders here or anything else which wants to bite, sting or otherwise make you a bit jumpy when out and about. Actually, that's a bit of a fib on the last point – there is one poisonous spider (the katipo) but it is so rare that if you see it you should be celebrating not screaming.
English is the main language spoken in New Zealand so language difficulties are not going to occur. For the record though – Maori is also an official language of the country and in pockets it is still a first language.
Many non-Polynesian descent New Zealanders can trace their heritage back to England, Scotland or Ireland which means for UK visitors there will be no need to step outside any cultural comfort zones, risk cultural faux-pas or otherwise feel like a fish out of water. Even the food will be both pronounceable and recognisable…pie anyone?…fish and chips? On the other hand, if exploring other cultures is also something you're after, no problem. The Maori culture is very much alive and thriving and there are plenty of opportunities for immersion into this colourful and fascinating side of the country, particularly in the North Island.
If you want to bag a few extra stamps on your passport and experiences for your memory banks grab a cheap flight to one of the exotic and idyllic Polynesian islands within easy reach – on the menu are Samoa, Tonga, the Cook Islands, Fiji and more.
Love beaches? New Zealand has zillions of them. Two islands, 14,000 km of coastline…well you do the maths. Coastal offerings range from ocean pounded reefs where rare penguins hop ashore in the evening to miles upon miles of beach where the only footprint is yours and the only other souls around are passing pods of dolphins.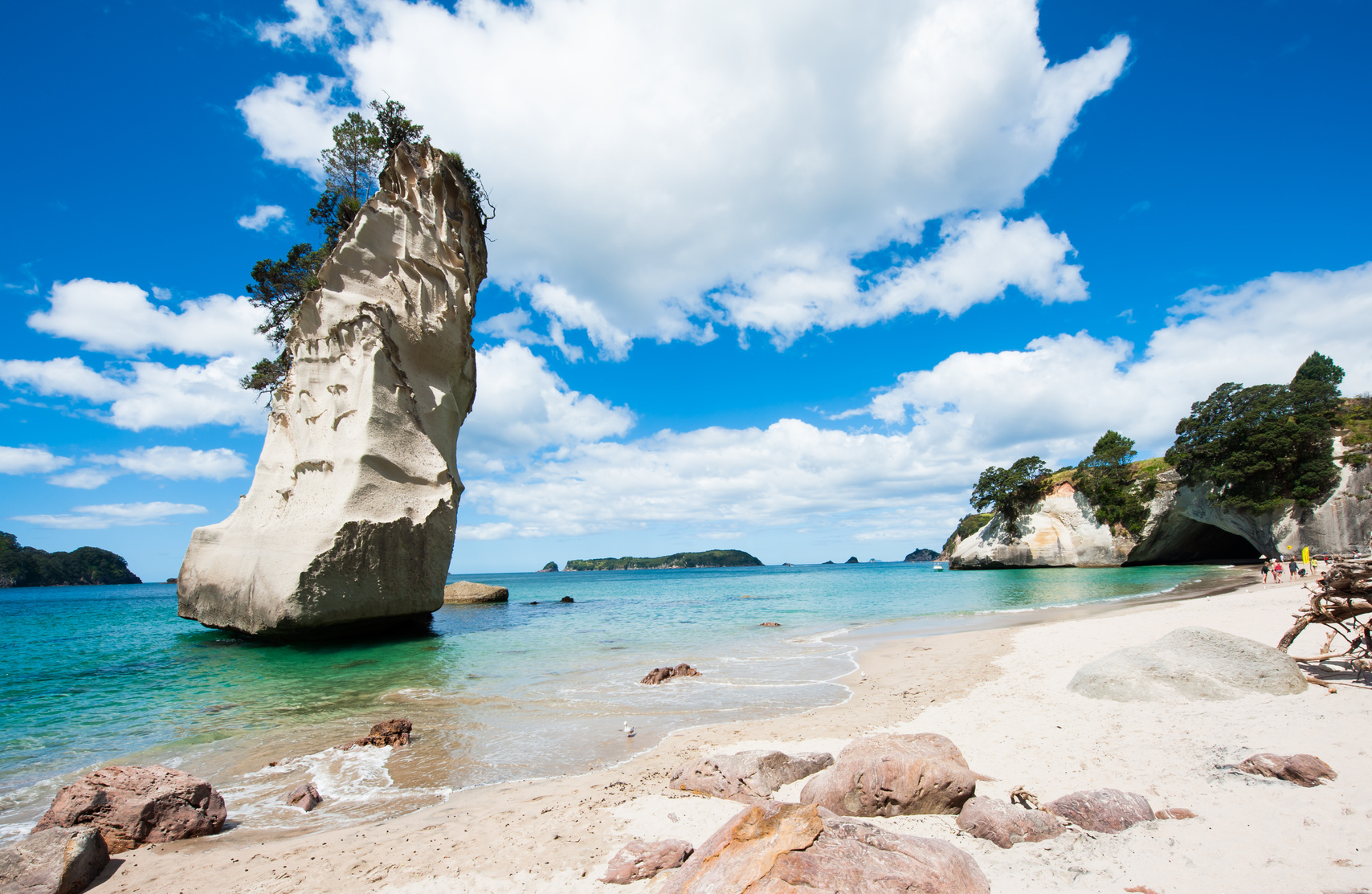 You can go skiing in New Zealand, on both islands – apparently not everyone knows that!
If you love hiking – or tramping as they call it here – you're going to be in heaven. There are several 'Great Walks' and a whole infrastructure in place to make it wonderful such as free maps, remote camp-grounds only accessed on foot and back country huts strategically dotted about so you have somewhere to cook and sleep when you stop your wandering for the day.
Adventure activities come by the bucket-load here and they can be found all over both islands. However, Queenstown on the South Island – dubbed the adventure capital of the world – has managed to gather it all together in one place whether you want to jump out of a plane, swing across a giant canyon or roll down a big hill in a giant hamster ball. If it isn't offered here, it isn't worth mentioning.
New Zealand has a network of visitor information centres called i-SITES. Now if the idea of visitor information centres typically brings to mind yellowing leaflets sitting for years on a dusty shelf you are in for a big surprise. You're not going to need your Lonely Planet or ANY type of guide book here. On arrival anywhere, pop into the local i-SITE (there will be one, no matter how small the place is) and be snowed under with all the information you could possibly need regarding where to stay and eat, what to do, free events, maps and otherwise heaps and heaps of valuable tourist resources.
If you're into star gazing boy are you in for a treat. The night sky away from the cities is typically so ridiculously star-studded you'll think some-one has painted them on. But it gets even better. Head to Lake Tekapo amid the Southern Alps on the South Island where the International Dark Sky Places Program has granted the area gold tier status as a recognised 'Dark Sky Reserve' – one of just a handful on the planet. You can even take observatory tours up Mt. John for night sky viewing of stars, planets, deep sky objects and all kinds of wonders of the universe escapades with hot chocolate thrown in.
The New Zealanders are perhaps the country's biggest plus point of all. If you talk to a Kiwi – and it's OK to call them that – for longer than 10 minutes and they haven't invited you to stay with them you're doing something wrong. These amazing people are the warmest and most generous you will find anywhere on earth.
Working Options
If funds are looking a little thin – and let's face it New Zealand isn't the cheapest of gap year options – you can supplement your travels with a spot of work. New Zealand has a working visa scheme in place with citizens of various nations to enable them to work in the country for anything up to a year. If you come from the UK you can extend this to 23 months.
The visa available to 18 – 30 year olds for combining work and play is known as the Working Holiday Scheme. There are various provisos attached as is usual with working holiday visas such as showing you have sufficient funds, fulfilling certain health requirements and the condition that any work undertaken is the secondary purpose of travel with the primary reason being tourism.
Check out www.immigration.govt.nz to see excatly who is eligible and how to apply.
Work available comes in just about every form but the most common are office work, hospitality roles, ski work and fruit picking.
How Far Will My Budget Go?
As we've already mentioned New Zealand can test your budget but there are some ways to make it stretch as far as possible.
Many many people who are backpacking around New Zealand buy their own vehicle – car or camper-van. There are specific places set up to make this process super easy and although you will have to find the initial outlay cost, in the long run you will save yourself tons on transport and accommodation. Besides, this way you get to check out all sorts of out-of-the-way places and according to no-one's schedule but your own. Factor into this the amazingly budget-friendly element of the mega-cheap or totally free Department of Conservation (DOC) camp-sites in the most stunning of locations and personally we can't understand why anyone would do it any other way.
If you can't, for whatever reason, go down the 'own vehicle' route check out some of the backpacker aimed multi-pass deals available for bus travel. There are several companies which offer some good choices such as the Naked Bus  – www.nakedbus.com (which we promise you allows you to stay fully clothed) and also offers opportunities for $1 fares. Some tour companies do hop on/hop off type deals but compare carefully – these can be expensive.
Hostels are all over both islands in all kinds of tucked away places as well as the more well-trodden routes. They are typically the cheapest accommodation you will find particularly if you opt for a dorm bed. Make sure you choose a hostel with kitchen facitilites – very common in New Zealand – and save youself a bomb on meals.
This country has many many free things to do, ranging from free entry attractions, galleries and museums to walks, natural adventures, concerts and wildlife encounters. So numerous are these in fact that besides eating and sleeping you could get by with spending nothing and still have more fun than you ever thought possible on your gap year. Head into one of the aforementioned marvellous i-SITES to see what your options are at each location.
Looking for free accommodation? It does exist. Check out Help Exchange or WWOOF as already discussed or sign up for the experience of a lifetime with the wonderful social organisation known as Couchsurfing – www.couchsurfing.com. If you think of the latter as just a free bed for the night though you're unlikely to be welcomed with open arms. This community is all about cultural exchange and offers all kinds of hook-ups with locals and other couchsurfers besides accommodation. At best you will make friends for life and almost certainly find yourself a local guide of the personal variety.
Typically this kind of article would include a list of not-to-be-missed experiences but we don't have the space and we're assuming you don't have the months to spare to listen, to even scratch the surface here. New Zealand is too crammed with the wonderful and bursting with the sublime to pare it down – the discovery will be all yours. As we're not completely heartless and we want to give you a little head start we're just going to drop a couple of little hints…
Curio Bay, South Island (think resident dolphins and penguins and a several million year old petrified forest)
The Northland, North Island (think giant sand dunes, pristine beaches, crystal clear diving and Maori canoe trips)
Matamata (think Hobbiton, Lord of the Rings)
White Island in the Bay of Plenty, North Island (think very active volcano).
That's enough…over to you.