The imagery of a sleeper train rattling its way through the night, past unseen landscapes cloaked in darkness is such a romantic one it has been used as the setting and backdrop for many an iconic movie (some of them a little scary admittedly). Throw into the mix a location with the exoticness of Indo-China (that's South East Asia to you and me) and a small dollop of the anticipation many of us feel anyway when we board a train and you have all the ingredients for a journey of a lifetime.
The reality of the South East Asian sleeper train experience sometimes falls a little short of this dreamy imagery and sometimes so wide of the mark you'll find your (very sleepy) self disembarking with a solemn promise to never put yourself through that again. However there is a flip side; some of the most memorable moments of travel can be those spent rocking on board a sleeper train. All kinds of adventures can unfold and friendships are commonly formed as you sashay along the rails, all through the night.
There is good and bad; hopefully this little guide will help you pick wisely or at least know what your options are.
Trains Here, There…but not Everywhere!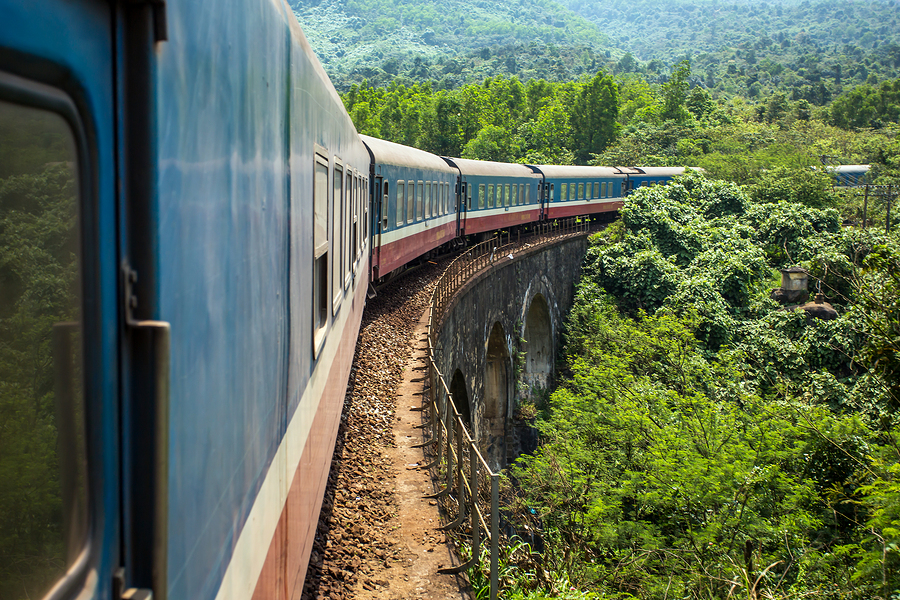 Some long distance and overnight train journeys are the destination in themselves but the sleepers in SE Asia, although often a great experience and invariably scenic, tend to be used typically as a means to an end. Some of the distances to be covered from A to B are pretty epic – the journey from Bangkok to Thailand's northern city of Chiang Mai for example – and night trains are an easy and usually more comfortable way of making the journey and covering the miles.
Of the South East Asian countries Thailand has the most route options for sleeper trains but they can also be found in Vietnam, Malaysia, Myanmar (Burma) and there's a link to Singapore. Laos has only one inter-country route from Vientiene to Bangkok (or reversed); both the Philippines and Indonesia have trains but not of the sleeper variety and Cambodia has no trains at all of any kind. There are also various options for travelling from one country to another on sleepers beside the Thailand to Laos route mentioned above.
Full Steam Ahead or the End of the Line – What to Expect from Sleeper Trains
The sleeper train experience differs somewhat from country to country and even sometimes within the same country depending on whether your choice of route and time has landed you a less decrepit and aged carriage or whether you've drawn the oldest wagon still rolling. This aside there are also a few things which seem to be common ground for most if not all of them.
Typically speaking you will find the following;
Bedding is supplied – Usually a pillow, sheet and a light blanket
There is usually a choice of ticket types and standards which may include deluxe, first and second class with differences most often defined by whether the berth is a private cabin or not and whether there is a fan or air-con.
Bunks are the norm even in private cabins and typically speaking the lower bunk is usually more comfortable and spacious. For this reason the upper bunks usually cost less.
The train motion can usually be felt more in the upper bunks and if you're on a train in which the lights are never turned off you may find yourself disturbed by this more in the upper bunk.
There is usually some type of restaurant or dining car and meals – usually cheap but more than you would pay off the train – can be served to you in your bunk or cabin.
What becomes your bed at night started out as a seat in the day time – usually there is a guard or member of staff who will do this for you. If not, a local will almost certainly show you how it's done if you look a bit bewildered and helpless.
Open-plan design berths – in other words non-private – usually come with a very adequate privacy curtain.
If you are travelling solo and require a private cabin you will share with other same-sex passengers – unless you pay for the whole cabin.
All your luggage is kept with you and there's usually lots of space for this.
As already mentioned, the standard of what you will get is sometimes not so dependent on the ticket type but the age of the car you are in. Old, old stock is still being used alongside the brand-spanking-new and the extremes for what should be the same thing can, in reality, be worlds apart.
Country by Country Choices
Below is a country by country breakdown which shows you what options are available and what each of those options gives you.
Thailand
Taking the sleepers in Thailand is fun fun fun and a very real chance to immerse yourself in something typically Thai. Generally speaking these trains are comfortable and safe no matter which of the two possible classes you opt for. The main difference between classes is that first class cabins are private, second class bunks are set either side of the main central aisle of the train. Bedding is supplied for both classes of ticket as is the steward service which takes your food and drink order and then delivers it to you if you don't want to go to the restaurant car. This meal service is not available on all sleeper trains and be warned – it will cost extra and you'll often get less choice than if you go to order and collect the food yourself. Individual reading lights are common to all beds no matter what class.
Don't worry about oversleeping on Thai trains. When you show your ticket on boarding, your destination will have been noted and you'll get a wake-up call from the guard as you approach your final stop. Otherwise, bunks tend to get turned back into seats early – sometimes a little too early.
Unlike tickets for Thai buses which can be bought minutes before departure, sleeper trains tend to get booked up and first class tickets often sell out weeks ahead. If you want to travel by sleeper train you might need to think at least a few days ahead.
First Class Sleepers – A lockable 2 berth compartment
Wash basin in the cabin with soap & towels included
Solo travellers will be assigned a shared cabin with another passenger of the same sex
Travellers in a group can book adjacent and connecting cabins
Western toilet shared with other private cabins and basic cold water shower
Second Class Sleepers – Open plan bunks set along the train's aisle, each with a privacy curtain.
Air-conditioned and fan choices – aircon options are usually a little more spruced up
Usually very safe and thefts are the exception rather than the norm.
Upper bunks are way narrower than the lower bunks, which are surprisingly spacious
Often the preferred choice of the backpacker or solo traveller over first class, as it is more 'Thai', fun & social.
Shared Western or squat toilets at either end of the carriage and sometimes separate sinks for washing.
Vietnam
Tatty and grubby in varying forms which range from charmingly shabby to totally yucky are what you'll typically find with the Vietnamese sleeper trains. The age of the car you've bagged will more than anything dictate the kind of experience you are likely to have here. Aside from the posh (and expensive) Livitrans option there are only the 'hard' and 'soft' sleeper choices and if you land a nice new hard sleeper car it can actually be superior to an ancient soft sleeper one.
Air-conditioned Soft Sleepers – Lockable 4 berth compartments organised as 2 double bunks.
Air-conditioned Hard Sleepers – Lockable 6 berth compartments organised as 3 triple bunks.
Facilities for both of these are exactly the same except the hard sleepers have less head space for sitting up in bed.
All bedding supplied including mattresses for both (despite what the name 'hard sleeper' may suggest) – sometimes the hard sleeper mattress is slightly thinner.
Individual reading lights.
Air-conditioned (sometimes).
Power sockets – not available on all trains.
Upper bunks have much less room and are nowhere near as comfortable.
Modern trains have western toilets and if you're lucky soap and toilet paper.
Free hot and cold water dispensers – great for bring-your-own noodles.
Food and drink trolley service for snacks, beer and meals.
As cabins are (usually) lockable security is typically not an issue – this is certainly true if your cabin is only full of your own group members.
Note – as previously discussed, should you land a very old stock car you may be missing any or all of the above and even where present – such as with locks on doors – they might not work.
Livitrans – Private Sleeping Cars – Higher standard 4 berth compartments aimed at fussy Westerners.
Privately run and operated only between Hanoi, Hué & Danang, a Livitrans ticket includes noodles and water.
Myanmar/Burma
As with most of the sleepers found elsewhere, standards of quality, décor and state of repair vary enormously. Myanmar offers two types of sleeper – 'standard' and 'special' – which typically differ more in the routes they run rather than the standards offered. Both provide bedding, locked compartments (in theory) and ceiling fans.
There is often just one sleeping car attached to each train so bagging yourself a bed might prove tricky unless you've planned in advance.
Standard Sleeper – by far the most commonly found sleeper train, these four 4-berth and two 2-berth compartments allow access to the rest of the train which include the Western style toilets and wash basins found at the end of the corridors. Each have upper and lower bunk configurations.
Special Sleepers – 4-berth compartments which have no access to anywhere else in the train – each are totally self-contained with their own toilet. This means no access to other compartments or the train's restaurant car.
Malaysia and Singapore
This particular sleeper line in its entirety would allow you to travel all the way from Bangkok in Thailand, through Malaysia and on to Singapore if you wanted. You have a choice of second class, first class, premier and the 'International Express'. Bedding is provided on all ticket types and Western toilets are placed at the ends of corridors for both public and private berths.
Second class/'Standard Night' – These are the open plan, along a central aisle type of upper and lower bunks as found on the Thai trains.
Upper berths have their own window for ventilation.
Cars tend to be modern and comfortable.
Bedding provided is often of a high standard.
First class/'Premier Night Standard' – Enclosed and lockable private rooms with an upper and lower bunk and washbasin.
Air conditioned.
Towels and soap provided.
Premier/'Night Deluxe' – Private cabins with one or two berths.
Only on the Singapore-Kuala Lumpur route.
En-suite toilet and shower with electric hair-dryer.
A packed meal is included in the fare.
Towels and toiletries provided.
TV (which doesn't work most of the time).
The International Express – Second class air-con train on the Butterworth to Bangkok route only.
A Few Things to Bear in Mind…
Remember to take plenty of water with you and some snacks. Technically speaking both are available on-board but this is SE Asia – things don't always go according to plan or deliver as promised.
Trains can get cold – especially the air-con compartments which seem to have only two settings – 'off' or 'Arctic' – so make sure you have some warmer clothes.
Even if you normally sleep in the buff or the night is sticky you'll need to sport modest sleep wear. If you have a private cabin of course you can do what you please but otherwise be aware your lack of dress may seriously shock and offend you sleeping train fellow passengers.
Security is not typically a big issue and surprisingly thefts are not the norm, perhaps because sleeper trains are expensive by many locals' standards. However, it is probably best not to leave valuables unattended in a public aisle – take them to bed with you.
If you are tall or broad never opt for a top bunk – you'll have a miserable night. And if you think lights (situated on the ceiling and often not turned off) might disturb you likewise plump for the bottom bunk.
Trains can be quirky – such as an emergency stop-train button located right beside the individual light switch on a bunk.
Sleeper train travel is a bit of a lottery – your friend could travel a route one day, you the very next and you could have very different experiences depending on the state and age of the car you're in. This is why you will hear wildly conflicting accounts of night train travel which range from love affairs to descriptions of hell on earth. But you'll never know until you try it. Aren't you curious?