*Disclaimer – this is an old post, related to our best backpacks in 2014 – check out our best travel backpacks for 2018 here.*
Trying to choose the best backpack for travelling around the world can be tricky, do you want a hiking rucksack, side opening backpack or wheeled bag?
Obviously your choice will be dependent on your destination, if you're trekking through the Himalayas you will most likely want to be accompanied by a hiking rucksack, if you're simply dumping your bag at the hostel, you'll probably only need a travel backpack and for those who are in and out of airports and on and off buses and trains a wheeled backpack is a sensible option.
With so many different travel bags to choose from, our team have put together a list of 5 of the best backpacks for travelling, reviewing key features to help you make an informed decision! So without further ado, and in no particular order…
We can see the Highlander Explorer becoming a popular backpack for short trips, such as inter-railing around Europe, with a small but ample capacity. Highlander have based the design of the Explorer range on their best-selling ruckcase model, with stronger materials and 3 new colour ways. This backpack is one of the cheapest in our range, but it still comes with lots of useful travel related features, such as interlocking zips and a detachable daypack…as well as an expanding section on the side to fit more gear inside.  It's available in three different sizes (45+15L, 60+20L & 80+20L) and you can also get this model in raspberry, which is ideal for female travellers.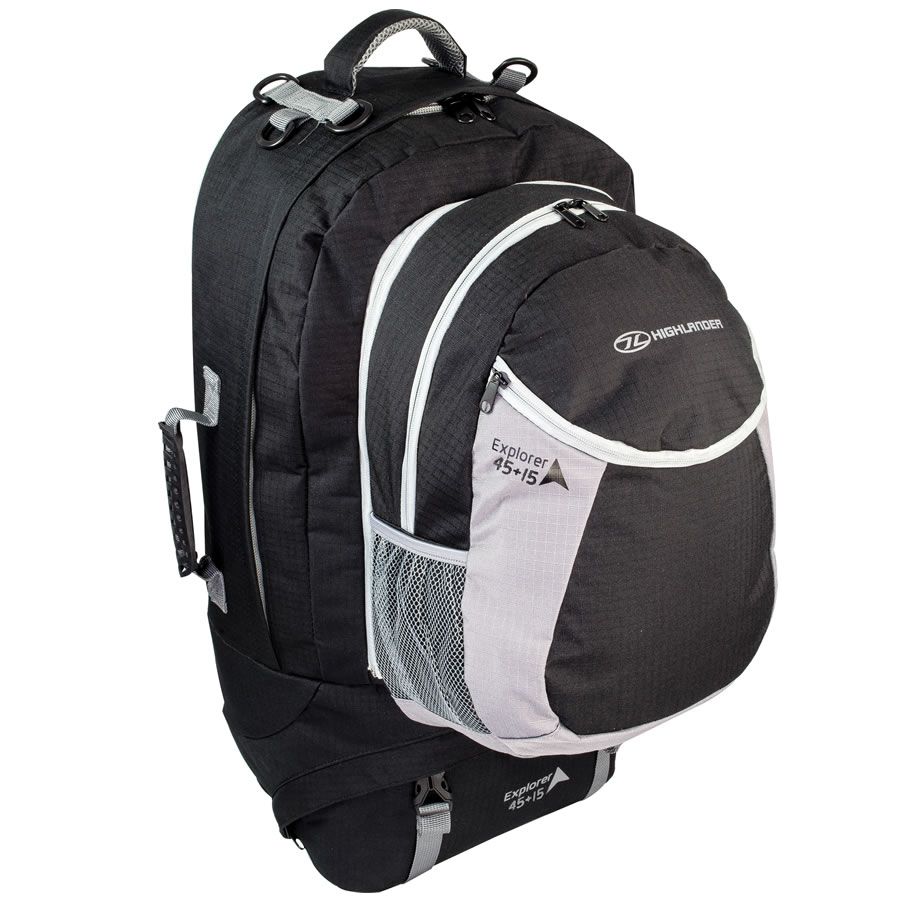 Best for: Short trips, inter-railing, traveller's on a budget, lightweight backpacking
Why we love it: Great value, choice of colours, perfect size for inter-railing & it has an expandable section.
Vango describe the Freedom as 'extremely versatile and durable' as well as labelling it as 'the ultimate companion for globe-trotters', based on it's pricing alone, we'd be inclined to agree. Backpacks from other manufacturers carry a much more expensive price tag, which can eat into a traveller's already limited budget, so the Vango Freedom offers the perfect middle ground.
If you're looking for a side opening style backpack for travelling, this backpack offers a reasonably priced option at £59.99 (RRP £85.00). As this backpack is part of their travel range, Vango have included features that are designed to aid backpackers on their trip, including lockable zips on the main compartment, a zip cover to protect the shoulder harness and a detachable daypack, which also clips on to the main shoulder straps for security. Vango have also just extended their warranty period from 1 year to 2 years when you register your product online, so you've got the confidence that you have a good quality bag.
Best for: Traveller's on a budget (so most of you, probably!), travel features.
Why we love it: Great price, choice of sizes (60+20 or 80+20) and the 60+20 version is also available in purple.
Caribee class the Mallorca as a 'gap year backpack', and it is designed as such, with a high density 900D construction and all the features you would come to expect from a bag designed for gap year travel. The Mallorca comes in two sizes (70L or 80L) and each size is also available in two different colours (charcoal or midnight blue). The Caribee Mallorca is the next step up from the Vango Freedom and is a good transition into our deluxe range of packs.
As with all the travel backpacks in our range, this one comes with a padded and adjustable back system for comfortable carrying and it also includes features such as grab handles on the front and side of the bag for easy loading, a detachable daypack which can be clipped on to the main harness, a shoulder strap cover for flights, interlocking zips on ALL compartments and it comes with a rain cover…a handy feature if you're visiting countries during their rainy season!
Best for: Travel specific features, durability.
Why we love it: It's a great all rounder with a choice of size and colour and it looks tough enough to endure RTW travel.
The clue as to why we see the Fast Track as one of the best backpacks for travelling, is in the name…it's got wheels! Some travellers don't like the idea of carrying a travel backpack around, especially if you're on the shorter end of the height spectrum, but then they don't want to take a suitcase and look 'touristy'. The Caribee Fast Track is a good compromise and looks similar to a wheeled travel bag or suitcase, with the addition of backpack straps, making it a versatile option for travelling.
The Fast Track has a padded back system, which can't be adjusted like standard travel backpacks, but you can tighten the shoulder straps for a better fit…so this really isn't too much of an issue for the short periods of time you'll be carrying it on your back. It also features wheels covers to keep dirt off your back when you're using it as a backpack and has internal pockets and a separate base compartment to help organise your stuff. The Fast Track comes in either 75L or 85L sizes and is available in black or grey.
Best for: Versatility and travellers who can't decide between a suitcase or travel backpack.
Why we love it: It has shoulder straps AND wheels, choice of colour and choice of size.
This one's for the ladies and comes from German brand, Deuter. The Quantum looks like your standard hiking rucksack, with top entry to the main compartment…but it also features front panel access and a detachable daypack to make it more travel-friendly. The rucksack comes with a rain cover, which also doubles as a transit cover for flights, is hydration compatible and comes with an adjustable back system, designed with a shorter back system for women.
Best for: Adventure travel, female travellers.
Why we love it: Comfortable female specific back system, a good hybrid option that is suitable for adventures when travelling.
So there you have it, 5 of the best backpacks for travelling, as chosen by the Gap Year Travel Store team. We've got a lot of love for the other backpacks in our range, but these packs narrowly pipped them to the post! You can find out more about our travel backpacks and rucksacks here.