Why buy a women's backpack? Simply put, men and women are built differently and therefore have different requirements when it comes to travel backpacks. As women have a shorter torso than men, female specific backpacks are designed with a shorter back length, as well as shaped shoulder straps to ensure they don't dig into your chest.
To determine whether or not a women's backpack would be right for you, you'll need to measure your back length. To measure your back length you will need to measure the distance between your C7 vertebrae (knobbly bump at the base of the neck) and Iliac crest (very top of the hip bones).
While there are plenty of unisex options available, opting for a female specific backpack is recommended if you want a more comfortable and supportive carrying experience during your trip. In this post we run through 5 of the best women's backpacks for travelling, all equipped with a female specific back system and a range of useful features for travellers.
[table id=8 /]
The Lowe Alpine AT Voyager is a well-built travel pack with clever features to make your life easier on the road. Offering a 50 litre main bag with a removable 15 litre daypack, this female specific backpack has an overall capacity of 65 litres, making it a good option for most backpacking trips.
The back system is fixed and is recommended for female travellers with a back length of up to 41cm. Lowe Alpine have given their Voyager pack a padded spacermesh back panel, shoulder straps and hip belt, as well as a cut out ventilated section in the centre to aid ventilation – a great feature in tropical climates and for long periods of wear.
One of the highlights of the AT Voyager is its 'book-style' opening, which allows quick and easy access to the main bag. It also includes a rain cover, 3 x internal mesh pockets for organisation and tamperproof inter-locking zips on the main bag to keep your belongings secure. The daypack attachment zip even converts into a large front storage pocket on the main bag when the daypack is removed!
Another thing we love about the Voyager is its fully featured daypack, which has been built to the same standard as the main bag. The daypack is hydration compatible and includes a small top pocket, 2 x stretch bottle pockets and a discreet hidden pocket inside its back panel, which is perfect for storing valuable items. It also clips to the main harness for added security.
Comes in Anthracite or Mallard.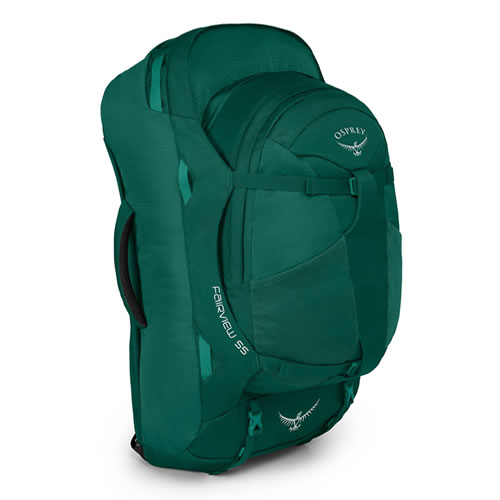 The Osprey Fairview is the female fit counter-part to the Farpoint, Osprey's best-selling travel pack. Like the Farpoint, the Fairview is one of the lightest travel packs available, with the 55 litre version weighing just 1.75kg. It's also available in two colours (misty grey or rainforest green) and a choice of 40, 55 or 70 litre sizes.
Unlike the Farpoint, the Fairview comes in a WS/WM size, which is recommended for back lengths of 38-53cm. The back system utilises Osprey's die-cut spacer mesh and comes with a padded hip belt, shoulder straps and back panel, as well as cut out sections for ventilation.
The Fairview 55 comprises a 42 litre main compartment and 13 litre daypack, giving it a total capacity of 55 litres – a good size for most trips. The pack also comes with a large lockable zip panel opening, which extends to the base of the bag, and features a large internal mesh pocket for storing your laundry.
The 13 litre daypack is generously sized and features a 15.4″ padded laptop sleeve, padded zippered pocket and small electronics pocket with a scratch-free lining. As with most travel backpacks, the daypack can be clipped to the front of the main harness for added security and comes with lockable zips to keep its contents secure.
The Deuter Traveller 60+10SL offers something a little different from the Fairview and Voyager, with separate main and base compartments (with removable divider) and a zip out expansion which takes its capacity from 60 to 70 litres. It also comes with an adjustable back system, allowing you to adjust it to the most appropriate back length for you. The back system features padded shoulder straps, as well as a padded hip belt with Variflex fins for exceptional freedom of movement.
The main bag has a large zip panel opening with lockable zips and includes a 4 x internal organiser pockets. Deuter have also included a handy detachable shoulder strap, allowing you to carry the bag over your shoulder when you want to give your back a rest. The outside of the pack features a detachable flower decoration for an added feminine touch and easy identification, but this is very much a 'love it or hate it' feature that can easily be removed based on your personal taste!
The 15 litre removable daypack takes the Traveller's overall capacity to 75 litres (+10 litre expansion) and includes 2 x internal organiser pockets, 2 x stretch bottle pockets and a small front pocket, as well a padded back panel and shoulder straps. The daypack can also be clipped to the front of the main harness for added security.
While it's feature packed, the Deuter Traveller is the heaviest backpack on our list, weighing in at 3.05kg. So if you're looking for a lightweight travel backpack, this probably wouldn't be your best option.
If traditional top loading rucksacks are more your bag (pun intended), then the Lowe Alpine Kulu offers the perfect middle ground. This is a great hybrid travel pack, combining the standard components of a rucksack with clever travel-related features. The stand out feature of the Lowe Alpine Kulu is its patented Travel FlipBelt, which pivots and clips to the sides of the pack to keep it more compact and streamlined in transit.
The Kulu comes with a female fit back system and is recommended for back lengths of 41-46cm. The back system is also adjustable and has an airmesh construction with a cut out ventilated section for breathability.
While it has the top loading and base entry options of a traditional rucksack, the Lowe Alpine Kulu also benefits from a large zippered front panel for easier access and packing. Lowe Alpine have also given the pack a floating lid, which provides an additional 10 litres of packing space when required, taking its overall capacity from 50 to 60 litres. In terms of organisation, the backpack features an optional internal divider and 2 x lid pockets for items you need quick and easy access to.
Other useful features include a travel cover, which converts the backpack into a standard piece of haul luggage for flights and other journeys. This also doubles as a rain cover, which is ideal for travelling in poor weather conditions. This is a great women's backpack for adventure travel, where travellers are taking part in multi-day treks and adventures off the beaten path.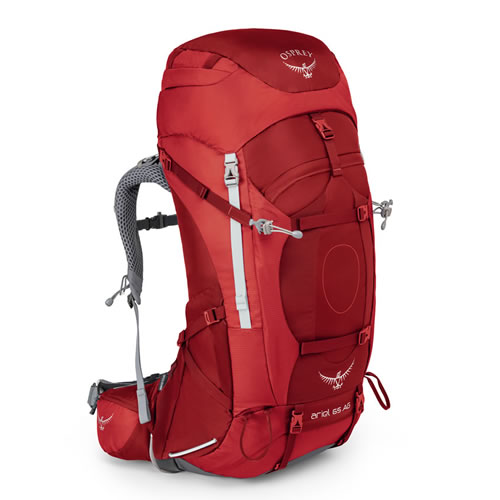 Another popular women's backpacking rucksack from Osprey, featuring their multi-award winning AG anti-gravity back system. This is the backpack for you if you're trekking or carrying heavier loads during your trip.
The Osprey Ariel AG 65 comes in a female specific fit, with a choice of a WS (38-45.5cm) or WM (44-53cm) back length, and the back length is adjustable to ensure you get the best fit possible. The AG anti-gravity back system features a 3D suspended mesh back panel for ventilation, shaped shoulder straps and Isoform hip belt, which moulds to your shape for optimum comfort and support.
Again, this pack takes the form of a traditional top loading rucksack, but features base and J-zip front panel entry for easier access. You also get a compartment divider to help keep the contents of your bag organised. Other storage solutions include a large stretch front pocket, 2 x side stretch pockets and a removable lid with dual compartments (the lid can be removed to shave off excess weight).
The Osprey Ariel 65 doesn't come with a daypack, but is compatible with the Osprey Daylite, which attaches to the front of the pack and is perfect for daily use when travelling.