This vast country cradles within its expansive arms a bewildering and seemingly endless diversity of landscapes, cultures and people which can both delight and overload the senses on every level. Its constant displays of abject poverty can jar on the emotions while the ever-present dust and pungency of dung smoke and diesel fumes can irritate both physically and emotionally.
So why do tourists and visitors come here in their thousands? Each person who has been bewitched and beguiled by India will tell you something different – there are so many reasons. This is the land where the Buddha lived; the setting for rituals so ancient their true beginnings have been lost in the far back mists of time when Pharaohs reigned. Here you will find incredible cuisine, fantastic wildlife, quirky reminders of the British Raj scattered countrywide, bazaars teeming with life and colour and some of the most historically and diversely religiously significant ancient buildings and structures on the planet. India's magic when it is effective is incredibly difficult to resist – you have been warned! So without further ado, here are our top 10 things to do in India on your gap year…
The Taj Mahal – Agra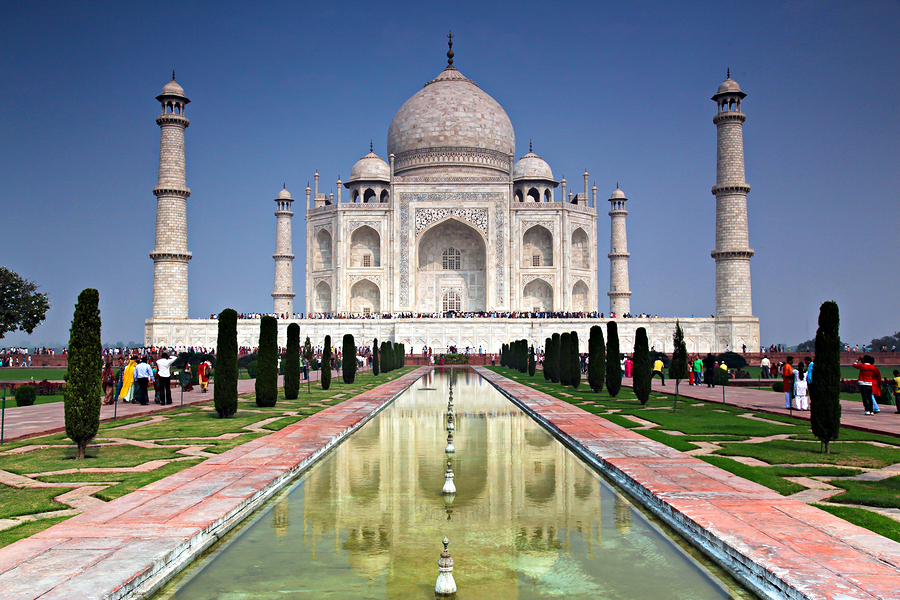 It's big, it's impressive and it's one of the most instantly recognised man-made structures on the whole planet – the Taj Mahal. India's number 1 most visited attraction, a UNESCO World Heritage Site and one of the New Seven Wonders of the World – need we say more.
Ajanta Caves & Ellora Caves – Aurangabad District
Widely considered to be the finest and earliest surviving examples of ancient classical Indian art, the middle-of-nowhere Ajanta Caves were 'discovered' in the early 1800s by a British tiger-hunting party. To use the word superb to describe the 29 forest surrounded cliff caves which served as monasteries and temples would be to do them a great injustice. Dating from 200 BC these awe-inspiring caverns are crammed with carvings, paintings and sculptures etched straight from the rock face depicting the life of Buddha – some so pristine it takes real imagination to remember they are almost 2000 years old.
History tells us that the Ajunta Caves were abandoned around 650 AD when the site of Ellora, 100 km away, gained favour instead. Where the Ellora site is concerned, the title of cave is somewhat of a misnomer – the 34 'caves' here are actually temples raised and sculpted directly from the rock bed and vertical rock faces. As rock-cut architecture goes it probably doesn't get any better than this. The complex includes both Jain and Hindu temples along with the Buddhist examples.
Kerala Backwaters – Houseboat Drifting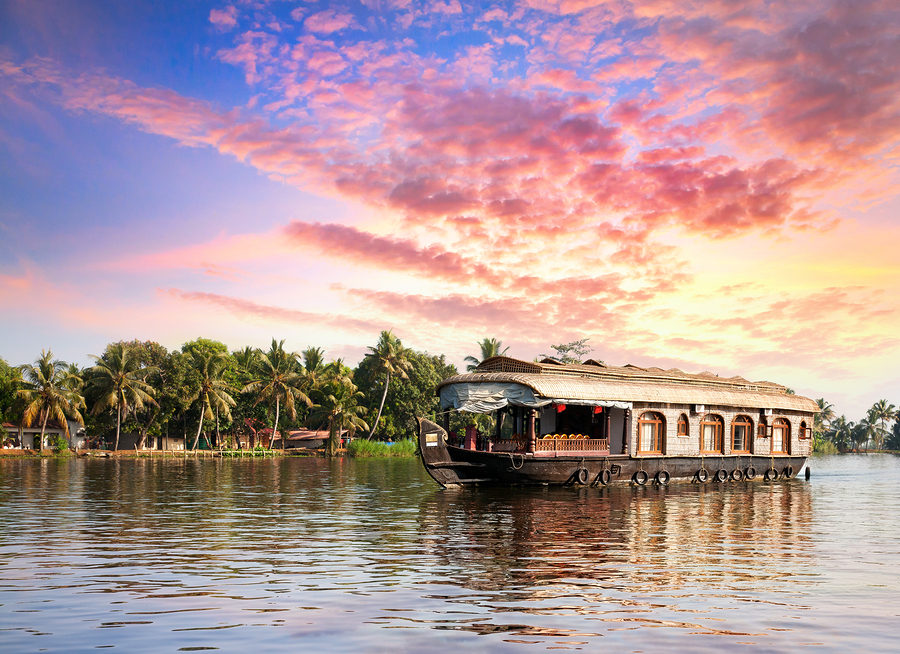 There will almost certainly be times in India where you'll feel the need to escape the chaos and the constant company of others – some kind of tranquil little side journey. The Kerala canals or Backwaters are one such serene escape. Here you can hire yourself an overnight houseboat complete with captain, cook and steward and set off on a river journey of palm-fringed jungle, plentiful and however-you-like it Indian food and as much time to lie back and watch the clouds as you wish. Each boat is distinctly and charmingly different – check out one or two to find the perfect match for you. Then simply find a comfortable spot, grab a chilled beer, watch the sun sink and the stars blink into life and ponder on the strange fact that time seems to move so very differently in surroundings such as these.
The Nilgiri Mountain Railway – Tamil Nadu
If you find train travel fun you're going to love this and if you enjoy beautiful scenery this journey will be an essential inclusion in your trip to India. This steam 'toy' train chuffs and puffs its way along almost 50 km of the steepest locomotive track in Asia which crosses many and some more gut-wrenching viaducts and flimsy looking (although we're sure they're probably not) iron girder bridges. Picturesque doesn't begin to cover it – particularly fascinating are the weirdly sculpted tea-plantations you'll pass.
There are lots of toy train journeys in India which feature as both fun and beautiful journeys – this is just one of them. Why 'toy'? Well, don't quote us on this but we think it's because the train exists for pleasure purposes only.
The Mahabodhi Temple – Bodh Gaya, Gaya District
Worth a visit purely as something beautiful to gaze upon, the Mahabodhi Temple has nevertheless far more reason than just its aesthetic appeal to draw the hordes here. Yet another UNESCO World Heritage Site (you've probably already gathered India has more than a few of those) this 6th century AD dated temple marks the very spot where Siddhartha Gautama – Buddha – was said to have gained enlightenment. The holy Bodhi tree, said to be a direct descendent of the very specimen under which the Buddha received enlightenment, is located to the west of the main temple.
Sri Harimandir Sahib Amritsar – The Golden Temple – Amritsar, Punjab
A highly significant pilgrimage site, not just for Indian Sikhs but for those from around the globe, the Golden Temple is so called because its upper floors are quite literally golden. It's non-English name meaning 'holy pool of nectar' is derived from the temple's waterside setting.
One particularly poignant feature in an age of such religious intolerance is that of the four entrance gates; this is meant to symbolise the Sikh philosophy of openenss to all people from all walks of life and religious leaning; all are welcome here. The gates are grand, imposing and incredibly beautiful as is indeed the whole structure. What isn't sparkling gold appears to be dazzling white and on a sunny day you're going to need your sunglasses to gaze on its splendour. Great photos can be had when the water surrounding the temple is calm and perfectly reflects the golds and white. Night time illumination also makes for a great picture and for a rather stunning sigh-worthy spectacle in general.
The Beaches of Goa
It's been many moons since Goa was a well-kept secret of the hedonistic hippy hang-out set but it still has incredible allure and charm and of course perfect beaches; everyone's ultimate idea of tropically ideal complete with swaying palms, white powdery beaches and water so clear you only know it is there when the breeze ripples its surface.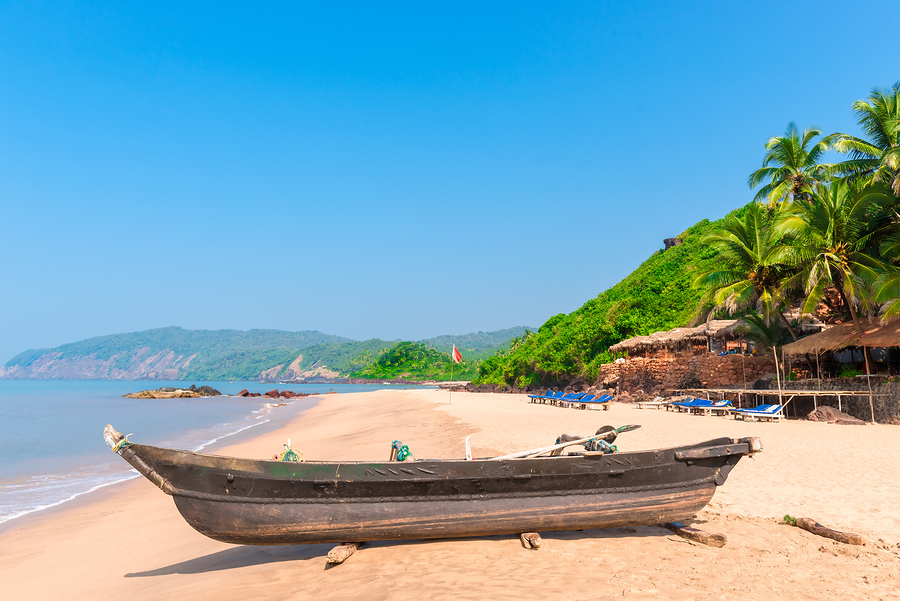 Parties and crazy late night goings on can still be found here but so too can the super tranquil and laid back depending on which of the beaches you decide to throw your towel down on.
If beach bumming gets tiresome (we can't actually imagine how that would happen but some tell us it does) or you find yourself in need of a cultural fix there are plenty of World Heritage quality sites to visit along with naturally alluring offerings for those interested in flora and faunu.
Mysore Palace – Mysore, Karnataka
Topping the most-visited list after the iconic Taj Mahal comes this palace complete with its opulent marble domes, expansive arches, array of courtyards and gardens and 5-storey tower. Enfolding 12 Hindu temples dating from the 14th century within its former royal arms, the palace can be visited any time of year but has an annual heyday which peaks in September and October. This is when the brilliance of 100,000 lights illuminate the structure during the Mysore Dasara festival, a multitude of performing artists strut  their stuff on stages around the palace and elephants and floats parade among the visitors.
Udaipur – Rajasthan State
History, culture and scenic sublimity abound in the city of Udaipur sometimes dubbed the 'Venice of the East' or 'Lake City'. Cities in India to be fair don't typically tend to merit the moniker 'romantic' in the way the word is most generally applied but Udaipur, with its five major lakes and multitude of Rajput-era palaces, earns it and then some. You can truly fill your boots here with complete regal immersion in palaces of all kinds including one – the Lake Palace – which takes up one whole island in Pichola Lake.
Everything is so incredibly picturesque and the views so breathtaking many of the palaces are now enjoying reincarnations as luxury hotels while both Hollywood and Bollywood have not been slow to recognise the captivating settings for movies of all genres.
Come to explore for a day and find yourself still here several weeks later – Udaipur is that kind of place.
Baha'i House of Worship – The Lotus Temple, New Delhi
There comes a time in India when, no matter what your fascination and interest in all things ancient and evocatively ruined, you will become 'templed out'. It is typically a temporary malaise but nonetheless needs addressing. This is the time when you should head to New Delhi and take in the Lotus Temple. Yes, we know it is another temple but this is a modern day miracle, completed in 1986, which has scooped up architectural awards and artistic industry recognition by the bucket-load.
Serving as the Mother Temple for the whole of India, this flower-shaped structure – hence the name Lotus Temple – has managed to surpass visitor figures attached to the likes of such iconic landmarks as the Taj Mahal and the Eiffel Tower in certain years. The new generation of 21st century icons has begun and the Lotus Temple is now one of the most visited buildings on the planet.