Lowe Alpine have given their AT Voyager backpack an update for AW17, introducing new colour ways and a change in capacity, not to mention a much sleeker look compared to the previous model. Their new and improved AT Voyager packs are designed with adventure travel in mind and come equipped with a comfortable and technical fixed travel back system.
First Impressions
As with most Lowe Alpine rucksacks the first thing I noticed was the quality of build. The AT Voyager is constructed from tough 210D Wave RS/Hydroshield & 600D PW fabric and maintains an impressive low weight of 2kg for the ND50+15 women's fit and 2.2kg for the 55+15 male version, without compromising on durability.
The backpack comes in both a men's and women's fit, with a 55+15 capacity for men and a slightly smaller 50+15 capacity for women. While some travellers opt for the biggest backpack available, this is rarely a good idea as it encourages you to pack more gear than you actually need. Over the last few years, we've noticed a trend of backpackers opting for smaller backpacks between 40-60 litres in size. Lowe Alpine have clearly noticed this too as they've given their new Voyager backpacks smaller capacities that sit within this size range.
As well as offering a male and female fit, the Voyager also comes in two different colour options for each model. The AT Voyager ND50+15 women's backpack is available in Anthracite or Mallard Blue (my personal favourite) and the AT Voyager 55+15 is available in Anthracite or Azure.
Price
Lowe Alpine are a premium brand and as such their AT Voyager backpack comes with a premium price tag. The AT Voyager ND50+15 has an RRP of £155.00* and the AT Voyager 55+15 has an RRP of £160.00*. While the AT Voyager sits at the top of our travel backpack range, it is still a cheaper option compared to Deuter's Traveller packs and is in a similar price range to the Osprey Farpoint. The AT Voyager also includes a rain cover which saves you buying one separately, an option both the Osprey Farpoint and Deuter Traveller packs are missing.
Perhaps this isn't the backpack for you if you're only travelling for a short while, but for longer trips it's worth the investment and is certainly worthwhile for frequent travellers. If you want a backpack that will last, this is a strong contender.
Construction
As mentioned previously, the Lowe Alpine AT Voyager is constructed from 210D Wave RS/Hydroshield & 600D PW material. Side and front panels on the main pack have a ripstop construction for added durability and the fabric itself looks and feels tough enough to withstand extended periods of travel. I'll admit I'm yet to road test this backpack, but I'm confident it will fare well, even when packed to capacity. The zips on the backpack are of an extremely high quality and include chunky zip pullers for easy opening and closure of the main compartment. The zips come with interlocking housings and are also tamper-proof to help stop opportunist thieves from forcing their way into your bag.
The Technical Bit – AT Voyager Specifications
As size and weight are highly important for travellers, I have outlined the dimensions, weights and capacities for each model of the AT Voyager in the table below.
[table id=7 /]
Comfort Features
As you're reading this review, you're likely in the market for a backpack to accompany you on a gap year or backpacking adventure, so you'll be keen to know how the AT Voyager performs in terms of comfort. I have to say that the back system on the AT Voyager is one of the most advanced and comfortable options I've come across on a travel backpack. Lowe Alpine have given the AT Voyager a fixed travel back system, which features a padded spacermesh back panel, shoulder straps and hip belt. The centre of the back panel also features a section designed to aid ventilation and keep your back cool, this features cut out sections and mesh material to help increase air flow when you're carrying the bag, making it a great option for tropical destinations and adventure travel.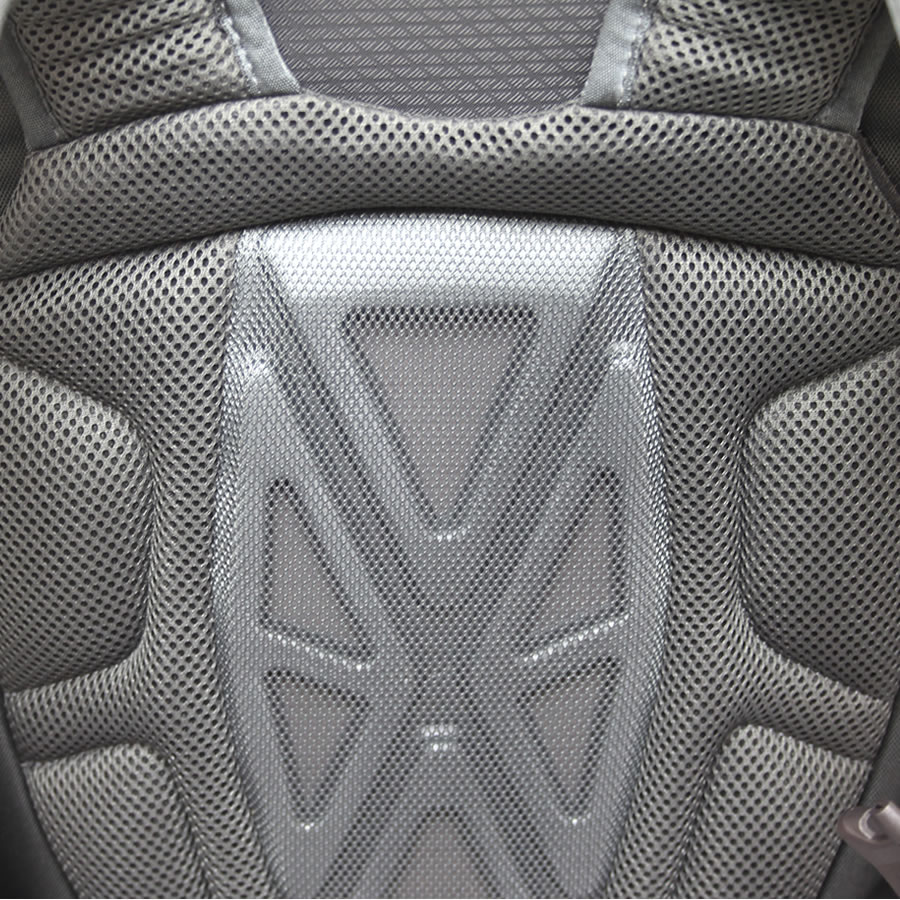 So what's the difference between the men's and women's AT Voyager? Lowe Alpine have taken the anatomical differences between men and women into account, giving their ND50+15 (women's) backpack a shorter back length of 41cm (16″) and their 55+15 (men's) backpack a longer 46cm (18″) back length. The women's version also comes with shaped shoulder straps to stop them digging into your chest.
The hip belt features spacermesh padding and manages to be flexible while maintaining just the right amount of rigidity, offering a good amount of support when carrying heavier loads. Lowe Alpine have also removed the hip belt pockets on the latest AT Voyager model, perhaps not the end of the world, but it was quite a useful feature that could have been included on the updated model.
Backpack Features
The Lowe Alpine AT Voyager is pretty impressive as far as features go and comes with zip panel access. The zip panel has a book-style opening and opens up like a suitcase for easier packing and access to your luggage. The inside of the backpack includes two large mesh zip pockets (25 x 16cm & 25 x 27cm) and a smaller side mesh zip pocket (14 x 21cm) for accessories, as well as twin compression straps to hold your clothes in place.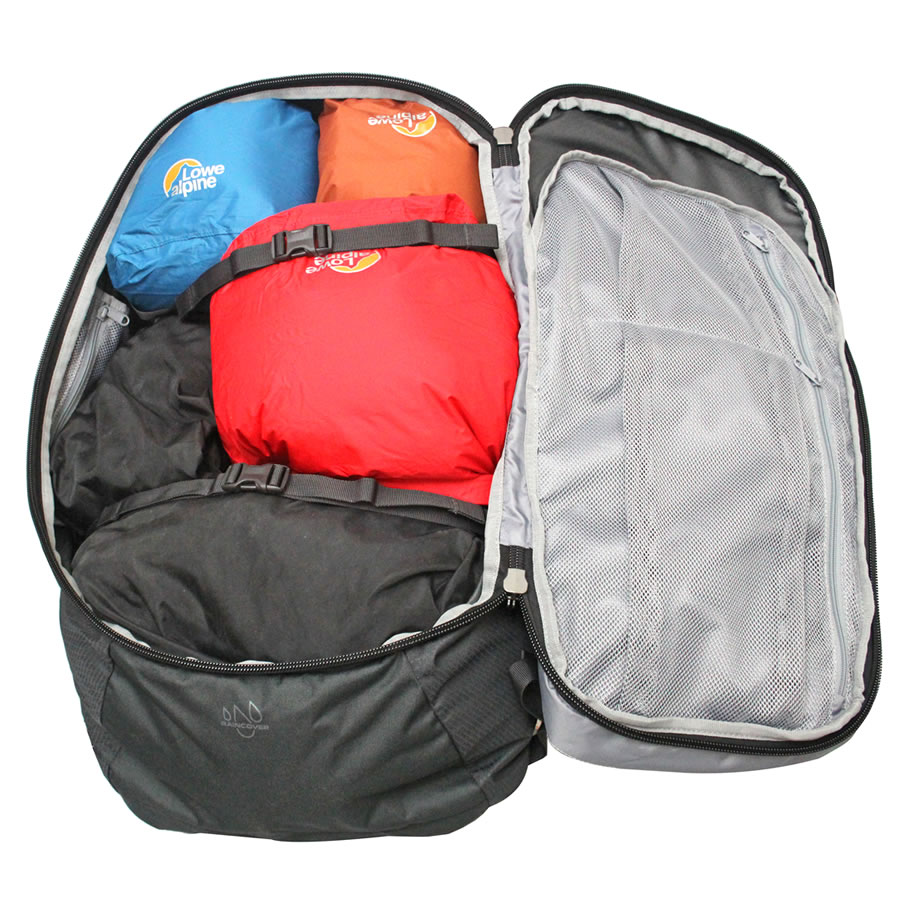 The zips on the main backpack are covered with a zip flap for added protection and are also lockable and tamper-proof, features that will give you peace of mind during your trip. Lowe Alpine have given their AT Voyager backpack padded top, side and bottom grab handles for easy loading on and off airport conveyor belts, as well as for carrying the bag over short distances.
One stand out feature has to be the daypack attachment zip, which has the ability to convert into a large front storage pocket once the daypack has been removed from the main bag. This is such a clever and useful feature that I can't believe nobody has thought of before. On many travel backpacks you're left with a zip on the front of the main backpack once the daypack has been removed, but this new feature makes the main backpack look much tidier and also creates extra storage space…Genius! The front pocket also includes a handy internal mesh pocket for organising your accessories. For additional storage and organisation of your belongings, the main backpack also includes a top zip pocket with an internal key clip.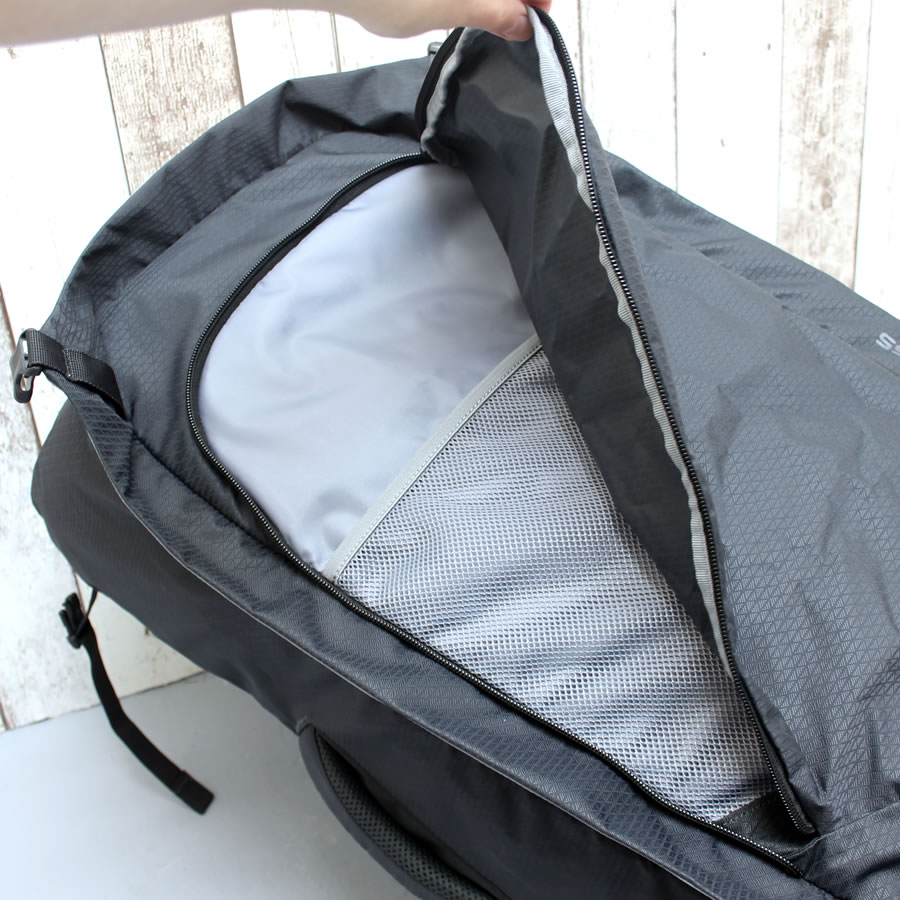 While the AT Voyager is relatively modest in size, you can reduce its volume using the four external side compression straps, which will come in useful when you want to make your bag more compact and manageable.
The back system is concealed behind a zipped panel, which helps protect it from damage during flights. The back system cover also tucks into the rain cover compartment at the bottom of the backpack when you're using the back system, so you don't have to worry about it flapping around!
Daypack Features
Dimensions: 40 x 29 x 17cm
Weight:  0.42kg
Capacity: 15 litres
Many daypacks included with travel backpacks are fairly basic in design, but Lowe Alpine have built the Voyager's detachable 15 litre daypack to the same standard as the main backpack. The back panel and shoulder straps have a padded spacermesh construction for comfortable carrying and you even get an adjustable sternum strap with an integrated emergency whistle.
Due to its size, the daypack is well suited to daily use when travelling and can also be used as hand luggage on flights. One draw back is the lack of internal pockets, as you only get a H2O pocket inside the main compartment, but there's still plenty of space for your essentials.
The outside of the daypack includes two stretch bottle pockets and a top zip pocket with an internal key clip. As this backpack is designed for travelling, Lowe Alpine have also included some handy security features in the form of a hidden pocket in the back panel for storing valuable items and clips for attaching the daypack to the front of the main backpack harness.
The daypack clips are designed to enable you to carry the daypack on your chest, this is not only a useful security feature, but also great in crowded areas as it makes it easier to manoeuvre without hitting people with your bag! The daypack doesn't come with lockable zips, which seems strange when it includes security features like the hidden pocket, but you could fit most luggage locks through the zippers to secure them if you needed to.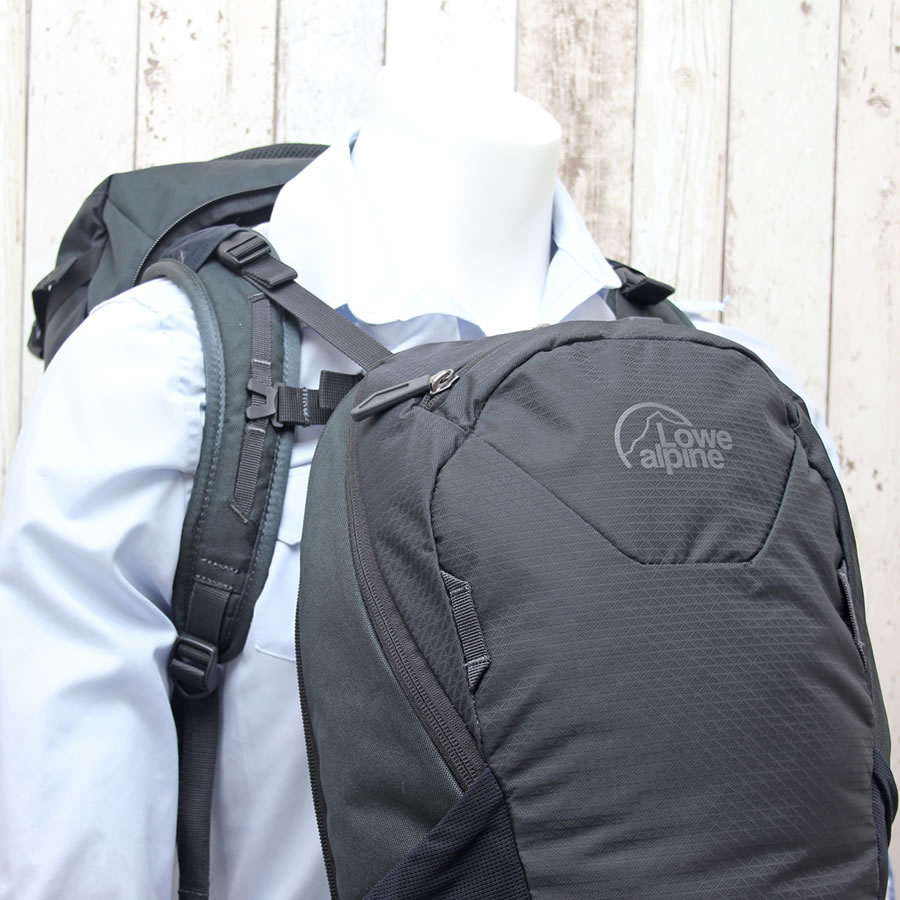 Summary
A well thought out travel backpack with clever features, the Lowe Alpine AT Voyager is primed to become one of my favourite travel backpacks! The new sleek design and colour ways are a huge improvement on the previous model, giving the Voyager a new lease of life with a more attractive and technical appearance.
The move from larger ND65+15 and 70+15 sizes to a more modest and manageable ND50+15 and 55+15 is also a welcome change, especially with more and more travellers tending to opt for backpacks with a smaller capacity. For me, the new AT Voyager ticks all the boxes with a technical (and comfortable) back system, security features, plenty of pockets and the inclusion of a rain cover, this really is a feature packed backpack suitable for most adventures.
*Prices correct at time of publishing & may be subject to change.