*25/08/16 – Disclaimer* – This review is for the 2015 version of the Osprey Meridian 75, which has since received a specification update! See the latest Osprey range here.
This week I'm reviewing the latest (and long overdue) addition to our wheeled travel backpack range, the Osprey Meridian 75. If you've done your research on backpacks for travelling, you have probably come across the Osprey brand on travel forums and other places around the web, as they are one of the leading rucksack and travel pack brands in the world. With so many wheeled backpacks in our range, we are pretty picky about the packs we include, but with its well thought out design and adjustable back system, the Osprey Meridian has earned its place. Is it suitable for your trip though? Let's find out…
First Impressions
My initial thoughts on pulling out the Osprey Meridian 75 were that it was well constructed, looked durable enough to trust with my luggage on a RTW trip and the design is simple enough to suit both male and female travellers in a 'Metal Grey' colour way. The first thing I like to look at when we get a new wheeled backpack is the back system. Most wheeled packs on the market have a fixed or fairly basic back system (if you could even call it a 'system' in some cases).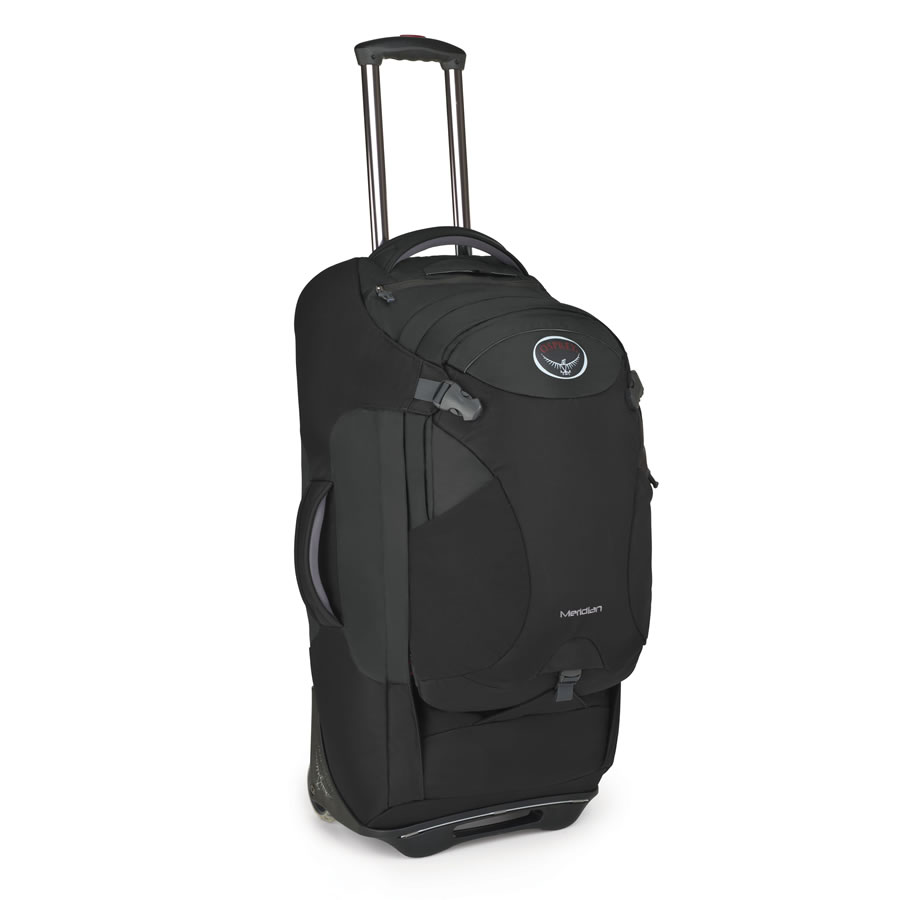 Some have simple padded straps which clip into place at the bottom of the backpack and some provide mesh padding for added comfort, but the ability to adjust the shoulder harness is something that most wheeled backpacks are lacking. The Osprey Meridian 75, however, comes with an adjustable trampoline suspended back system, which is adjustable to accommodate different back lengths. It's also removable, but I'll discuss this in more detail once we come to assessing the comfort features of the pack later on.
If you're familiar with Osprey's Sojourn range, the Meridian offers many of the same features but with the addition of a detachable daypack. Price-wise it's at the higher end of the pricing scale with an RRP of £220.00* (we're currently selling it at £189.99*), but this is something travellers expect from a premium brand like Osprey.
The Technical Bit – Backpack Specifications
Ok so let's get down to the nitty gritty, here are the specifications for the Osprey Meridian 75 wheeled backpack…
Dimensions: 72 x 36 x 30cm
Weight: 3.75kg
Capacity: 75L (55 litre main bag + 20 litre daypack)
Back System: Adjustable Trampoline Suspended Back System
Material: 1680 Denier Ballistic Nylon (sidewalls of the bag) / 420 High Density Nylon (rest of the pack) + ABS plastic chassis with polyurethane wheels.
Comfort Features & Back System
As mentioned at the beginning of the review, the Osprey Meridian comes with an adjustable trampoline suspended back system, which can also be removed if you decide it's not necessary on certain trips. The beauty of this is that it'll shave a little bit of weight off your bag, which is great when you're trying to minimise on the weight of your luggage. To remove the shoulder harness, you can simply unclip it from behind the suspended mesh panel using the red clips and store it somewhere safe until you need it again.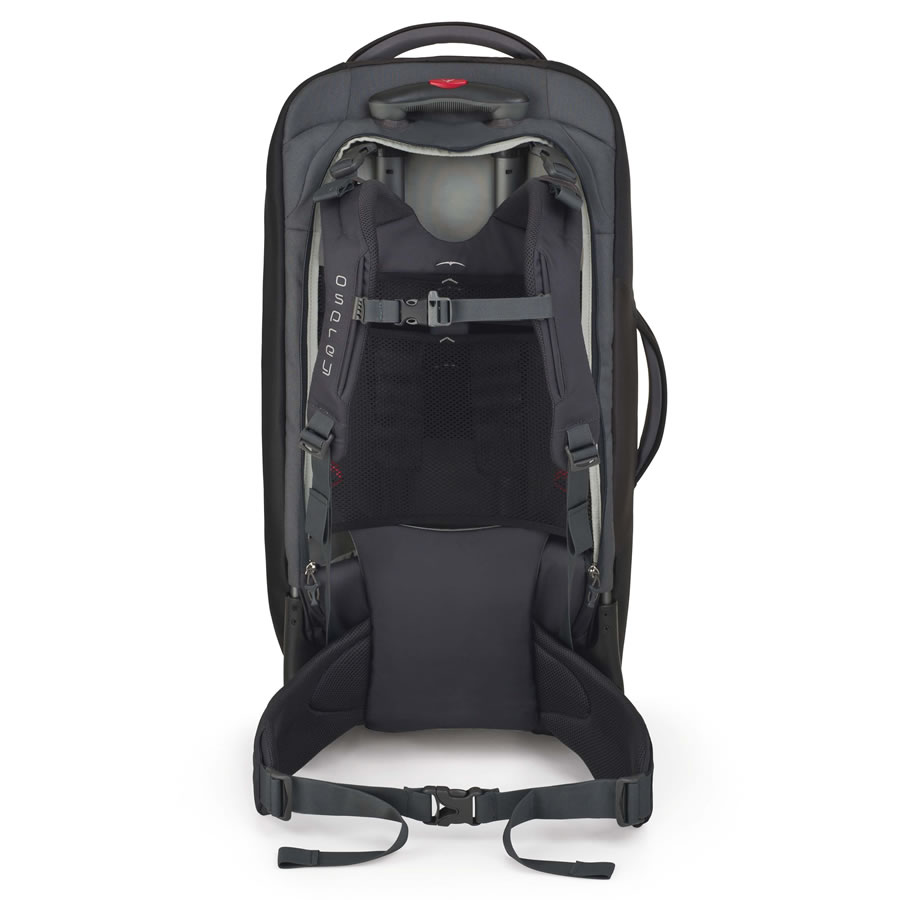 Adjusting the back system is fairly simple compared to ladder lock adjustments found on many travel packs…Maybe not quite as simple as Lowe Alpine's Axiom back system which can be adjusted while it's on your back, but the Meridian's back system is still relatively straight forward. Osprey have included a simple Velcro fastening and adjustment arrows, so you can slide the back system up and down using the embroidered markers to make sure it is level and at the height you require.
Another key concern people have when it comes to wheeled backpacks is whether or not the wheels will dig into their back when they are wearing it as a backpack. After testing out the Meridian's shoulder harness, I found that the hip belt provides some cushioning against the wheels and they stand slightly away from your back, so shouldn't cause any discomfort. One feature I feel would be a good addition would be some wheel covers, similar to the ones found on the Caribee Fast Track range, as these help to keep dirt off your back.
Backpack Features
The Osprey Meridian 75 has an overall capacity of 75 litres, which includes the 20 litre capacity of the detachable daypack. The main bag capacity is 55 litres, but for me this appears to be quite a generous 55 litres. The daypack is attached to the main bag by a zip fastening, which also features a colour coded zip puller. The coloured zip puller makes it easy to identify which zip is for attaching or removing the daypack from the main bag. In addition to the zip attachment, the daypack also features a clip at the bottom, so in the unlikely event that the zip should fail, you won't lose your daypack.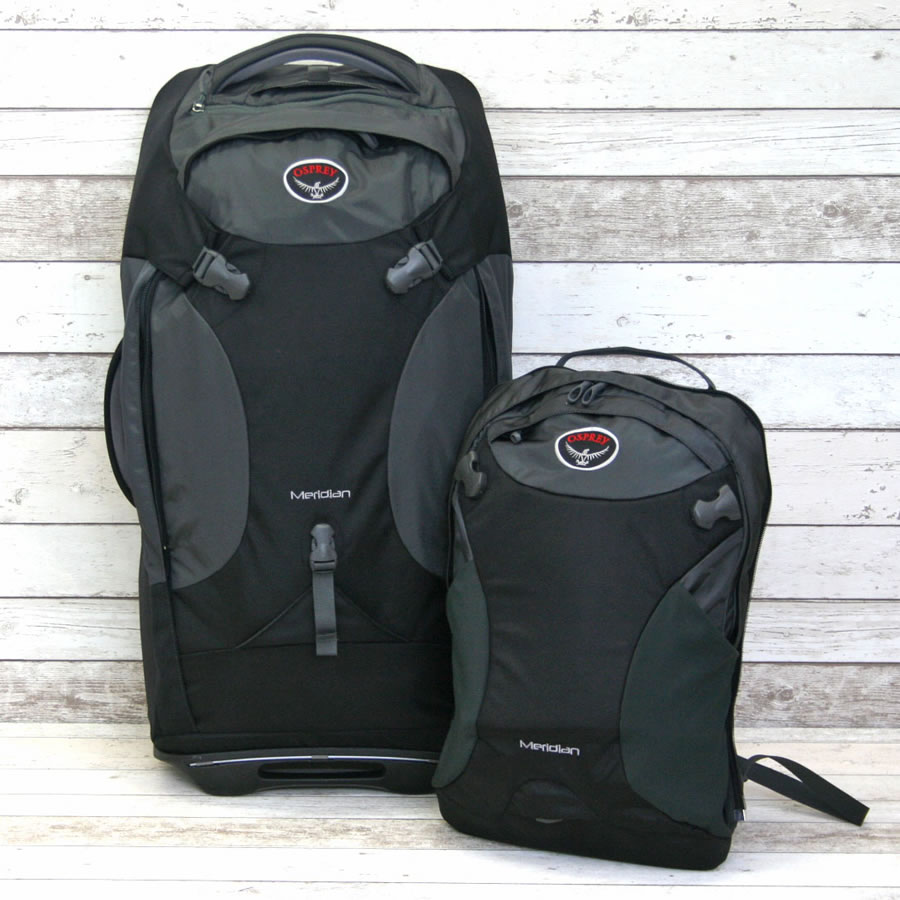 The main compartment is accessed via a zippered side opening and the zips come with special lock housings suitable for most styles of luggage lock. The zip pullers are nice and chunky too, so are easy to grab hold of to open the bag. I would've liked to see interlocking zips featured on the daypack as well, but you could probably overlap the zip pullers and pass a padlock through if you were really concerned about the security of your bag.
The internal pockets of the Osprey Meridian are a big plus for me, as I like to compartmentalise my luggage and keep my gear organised when travelling. The main compartment includes two large side pockets and two large pockets on the back of the front panel. Two of the pockets have a breathable mesh construction as well, so you can store things inside that you'd like to keep ventilated or easy to find. Another useful feature in terms of organisation is the top 'liquids pocket', which is designed for storing your carry-on liquids and saves you digging through your bag when you need to take them out to pass through airport security.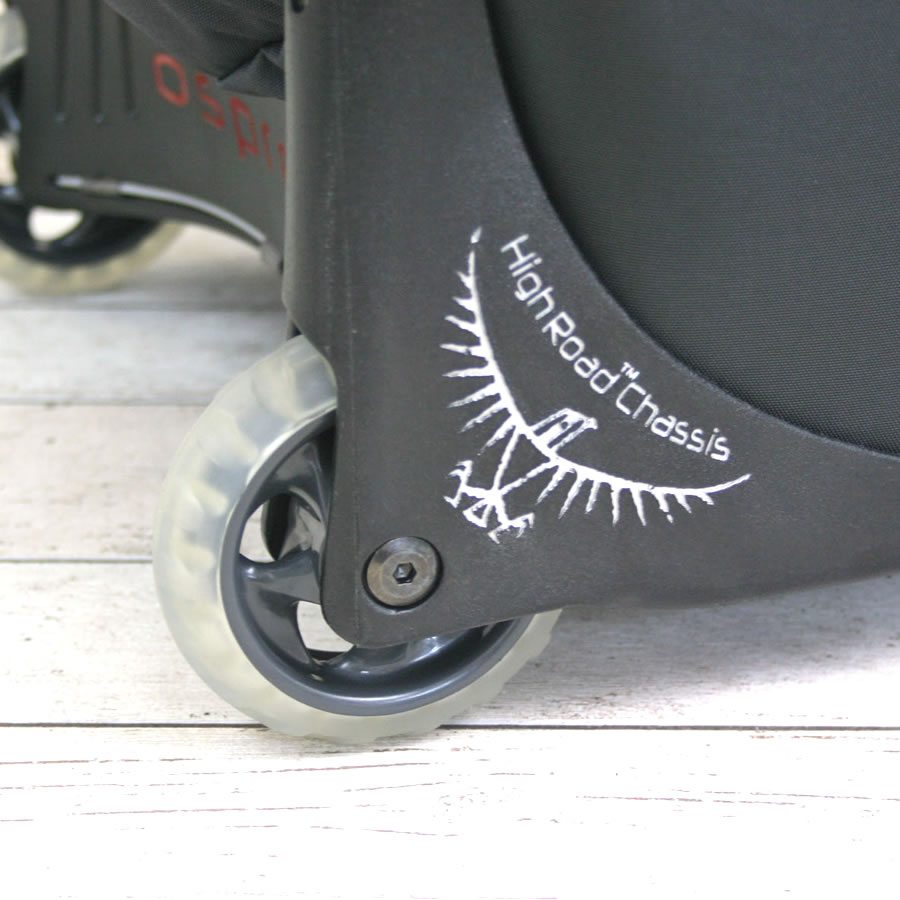 Last but not least on the feature list is Osprey's High Road Chassis, with an ergonomic and retractable handle, oversized polyurethane wheels and high clearance design. It seems to balance well when stood up and filled with luggage and the wheels are capable of handling different terrains. We've stocked wheeled backpacks such as the Berghaus Jalan & the Karrimor Global Hub in the past, which also offered adjustable back systems.  However, these bags didn't come with a retractable handle. This was always something that baffled me, as for the taller user this would mean having to stoop down to use the top grab handle to wheel it along. It's nice to see a wheeled travel pack with an adjustable back system and extending handle for towing, it's even maintained a reasonable weight of 3.75kg, which is pretty impressive as you'd think the chassis would add a considerable amount of weight.
Daypack Features
We've already touched on the features of the 20 litre daypack, but let's go into a little more depth. One thing I noticed is that the daypack doesn't come with clips for attaching it to the front of the main shoulder harness and while this isn't essential for most travellers, it's still a feature that is good to have on a travel pack.
The 20 litre daypack is compatible with a 15.4" laptop and features a padded laptop pocket. Now I'm not sure how many gappers would take a laptop with them on their trip, but it's a 'nice to have' and also could be used for storing a tablet. The daypack also has an organiser panel, which includes a pocket for holding an MP3 player. There's also a headphone port at the top of the bag, so you can listen to music on your phone or MP3 player easily when it's stored inside your daypack.
It can be difficult to judge the size of a bag based on litres, so to give you a better impression of the daypack's size, I've included the basic specifications below.
Dimensions: 52 x 31 x 14cm
Weight: 650g
Summary
The Osprey Meridian 75 is versatile and well thought out piece of kit and to be honest I found it difficult to find much to complain about when it came to discussing the good and bad points of the backpack.  I've highlighted a few minor niggles such as the lack of lock housings on the daypack zips and the omission of attachment clips for the daypack on the main shoulder harness. The colour is inoffensive and won't show dirt easily and it's also available in rusted red to cater to travellers who want a more colourful piece of luggage. I feel the introduction of a third colour, possibly in blue would complete the range. However, the many features the Meridian has to offer are enough to outweigh missing features and aesthetics that wouldn't particularly be seen as integral to its overall performance.
The price point may be a bit of a stumbling block for some travellers and there are certainly much cheaper options such as the Caribee Fast Track which may suit a lower budget. I'd say the main reason you would want to consider the Osprey and making the leap from the mid-range price bracket would be for the adjustable back system, so think whether or not you'd really use this all that often on your trip. If the answer is yes, then it's almost definitely worth the investment.
*prices correct at time of publishing