Pacsafe was founded by two Australian travellers back in 1998 and has since become the leading manufacturer of anti-theft backpacks and travel accessories. Their Venturesafe EXP65 travel backpack is arguably one of the best anti-theft backpacks for travelling and also includes several comfort and organisational features, making this a good all-rounder for any trip.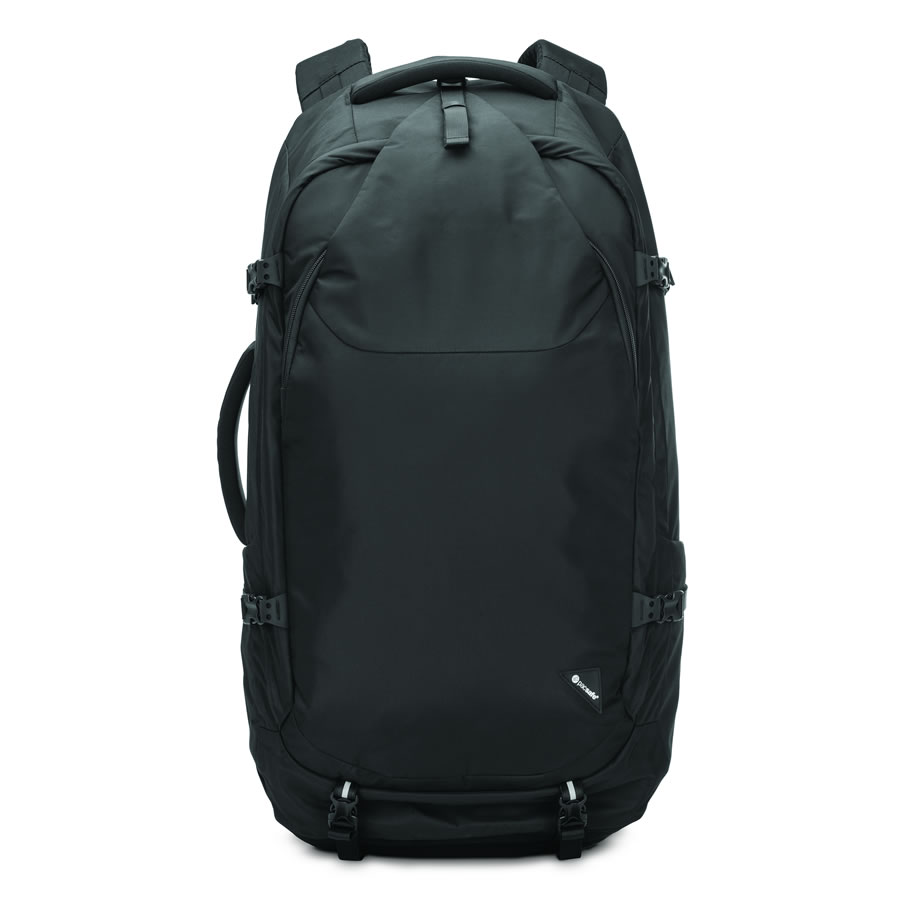 First Impressions
The Pacsafe Venturesafe EXP65 comes in a 65 litre size and is the largest option in the Venturesafe series, specifically designed for longer backpacking trips. The backpack is also available in a smaller 45 litre size, so if you like the features of this bag but would prefer a smaller, carry-on friendly option the Venturesafe EXP45 is well worth a look.
One key difference between the Venturesafe EXP65 and other travel backpacks is that it does not include a detachable daypack. When it comes to choosing a travel backpack, most travellers tend to prefer one that comes with a removable daypack as this eliminates the additional cost of buying a separate bag for daily use on your trip. However, some travellers may already have their own daypack or might prefer to use a lightweight pack away daypack to minimise weight, so this isn't necessarily a deal-breaker for everyone.
The quality of build is plain to see with durable 420 high density nylon fabric, giving the backpack a premium finish.
Price
If you're familiar with the Pacsafe brand, you'll know their backpacks and accessories don't come cheap. With an RRP of £199.90 (currently retailing at £169.99 on our website)* the Pacsafe Venturesafe EXP65 sits at the top of our travel backpack range and is in good company alongside packs from Deuter and Lowe Alpine. However, the Venturesafe EXP65 includes several anti-theft features which set it apart from other brands and more than earn it its higher price tag.
Construction
The Pacsafe Venturesafe EXP65 is constructed from 420 high density nylon fabric and has a reinforced base for added durability. The fabric looks tough enough to endure a round the world trip and has an almost matt finish that would be difficult to snag when travelling. Pacsafe have also included eXomesh slashguards in all external panels of the backpack to prevent 'slash and run theft'. The eXomesh panels are constructed from stainless steel wire mesh and are discreetly hidden within the bag's fabric. The zips on the backpack also look unlikely to fail and have a puncture-resistant design, complete with interlocking zip pullers and a Roobar locking system which allows you to lock the main compartment and front compartment using one central locking point, this can also be used to attach the included locking cable when you're locking the backpack to railings, hostel bunks or seat legs on trains.
The Technical Bit – Pacsafe Venturesafe EXP65 Specifications
Pacsafe describe the Venturesafe EXP series as seriously spacious, but just how big is this backpack and will it weigh you down on your trip? We've outlined the specifications of the Pacsafe Venturesafe EXP65 below.
Dimensions: 75 x 40 x 33cm
Capacity: 65 litres
Weight: 2.9kg
Materials: 420D Nylon Full Dull High Density, PU1000mm (outer) & 200D Polyester Oxford, PU1000mm
Comfort Features
As you're likely to be carrying your backpack on your back for long periods of time, how it performs in terms of comfort is of paramount importance. Pacsafe have given their Venturesafe EXP65 backpack a lightweight, ergonomic aluminium internal frame for balance and support, as well as an adjustable unisex back system, which can be adjusted to accommodate different torso lengths. The back system is designed for back lengths of 40.5-53cm and features 6 different height settings.
Back System Height Settings:
53cm/21″
50.5cm/20″
48cm/19″
45.5cm/18″
43cm/17″
40.5cm/16″
To ensure you get the correct height setting for you, measure from the C7 vertebrae (the bony bump at the base of your neck) to the top of your hip bones (Iliac crest), the measurement between these two points is your back length. You can then slide the straps into the right position for you using the height setting markers then clip them into place with the buckle and loop through fastening. The adjustment is a little fiddly compared to most of the adjustable back systems I've come across before, but once you've adjusted it to the right height setting you shouldn't need to do it again, so it's not too much of an issue. Pacsafe have also included a fitting instructions guide (found inside one of the internal pockets), so you will have some support when it comes to adjusting and fitting the pack.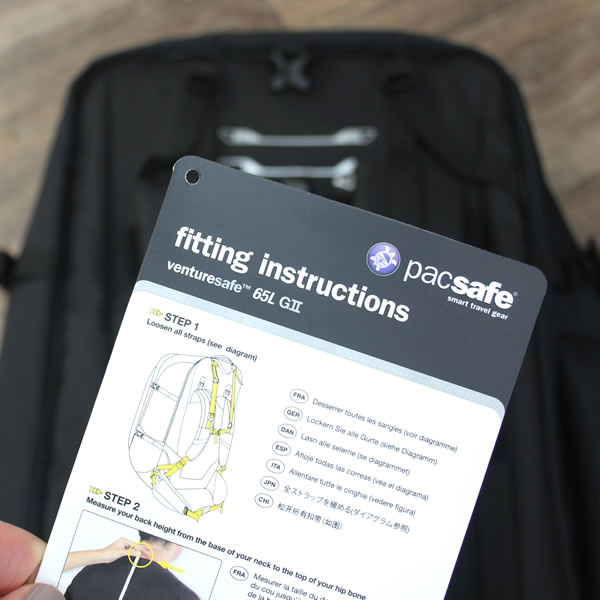 The back system is also padded with mesh covered foam material and has circular cut out sections to aid ventilation. The hip belt offers flexibility and hugs around your hips for a comfortable and supportive fit, making it more than capable of handling heavier loads. You also get an adjustable sternum strap and load stabilisers to improve the stability and fit of the pack.
Backpack Features
The Venturesafe EXP65 isn't all about anti-theft features, Pacsafe have taken comfort, organisation and security into account when designing this pack, resulting in one of the most feature packed travel backpacks around. The main compartment benefits from a large zip panel opening that extends around three sides of the backpack, this allows you to fully open the bag for easier packing and access to its contents.
As mentioned earlier in this review, the zips on this backpack are also puncture-resistant with interlocking zip pullers and a unique central Roobar locking system, which allows you to lock both compartments in one place. The Roobar locking system is also covered by a hold strap for added security and the strap can be used to tuck in and carry your jacket.
The inside of the backpack includes twin compression straps to compress your clothes and you get two large mesh pockets (both 20 x 30cm in size) to help separate and organise the contents of your backpack. The backpack also comes with a stylish map patterned lining, which will appeal to travellers.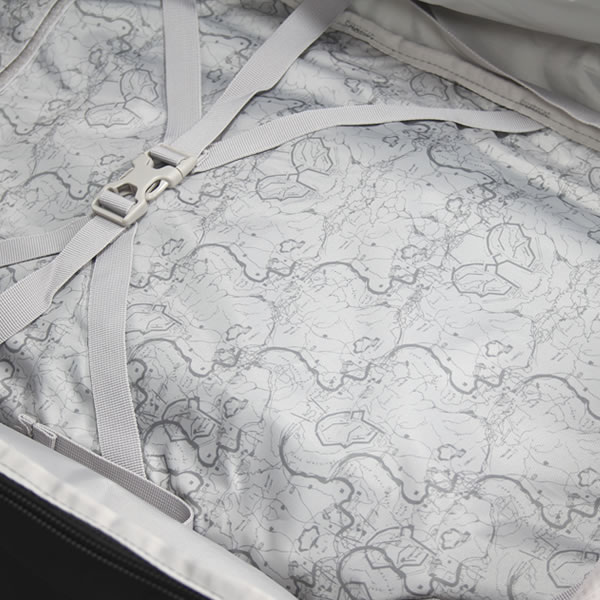 OK so there's no detachable daypack, but Pacsafe have given the Venturesafe EXP65 a front compartment with an internal organiser panel in lieu of this. The internal organiser panel features a large 50 x 30cm pocket, 13 x 13cm pocket (perfect for your passport), 18 x 15cm mesh pocket and a pen holder. The front compartment also features a large 25 x 27cm mesh pocket with an internal key clip, as well as a storage pouch containing a 3mm stainless steel locking cable for your backpack. In a perfect world the front compartment would have a wider opening for easier access, but it only opens slightly which is one of the only niggles I have with this backpack.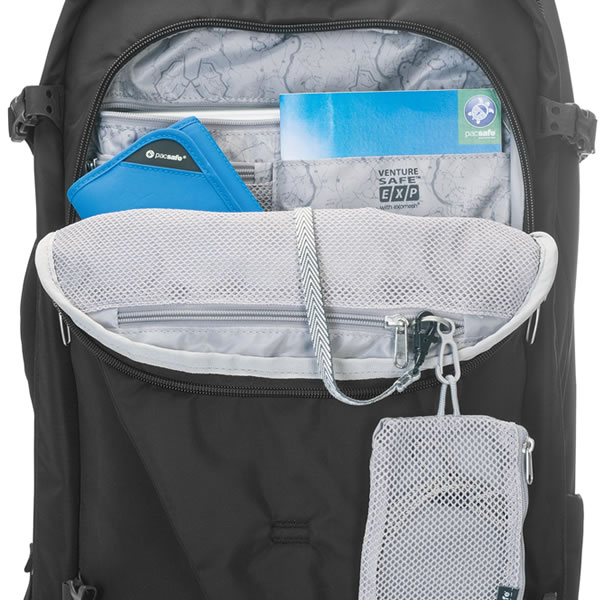 The locking cable allows you to lock your backpack to a bed post in hostels or seat leg when you need to sleep on overnight trains, or if you need a toilet break and are worried about leaving your bag unattended. The locking cable is a really useful feature if you're travelling solo and don't have a travel buddy to watch your stuff.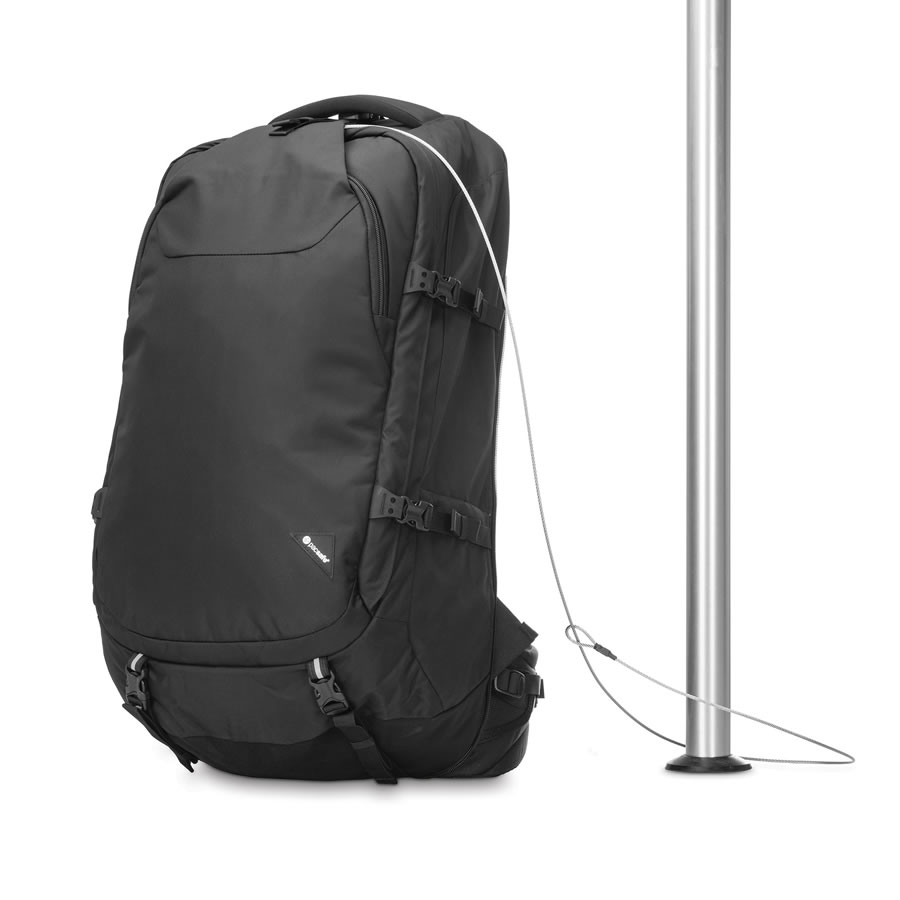 External features include top and side padded grab handle which utilise smooth neoprene fabric for comfortable carrying. The two external side pockets are generous in size, but should possibly be constructed from a stretchier pro-weave fabric to make them more versatile. The backpack also includes external compression straps to reduce its volume, sleep mat straps at the base and a handy address label holder next to the side grab handle.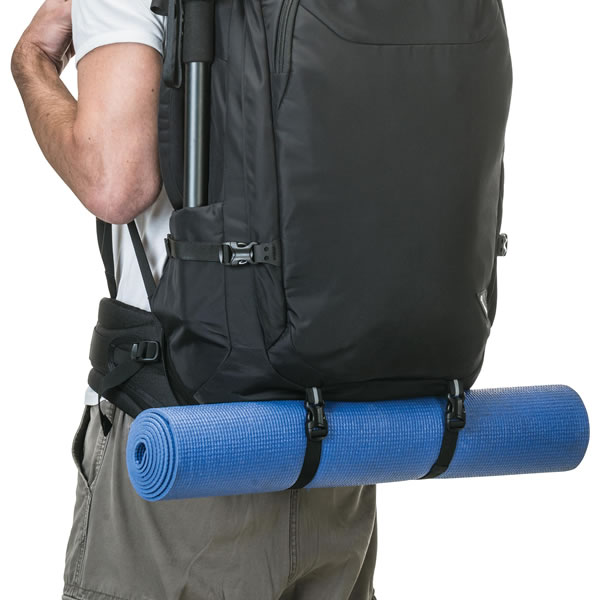 Of course the main draw of this anti-theft backpack is its slashproof design, with built in eXomesh slashguard panels within the fabric to stop thieves cutting into your bag and stealing your stuff. The eXomesh wire does add extra weight to the bag, but it still manages to maintain a relatively low weight of 2.9kg which is comparable to travel backpacks of a similar capacity from other brands.
Summary
Luggage security is always at the forefront of any travellers mind, and Pacsafe have helped to alleviate the stress of keeping your belongings safe when travelling with their anti-theft Venturesafe EXP series. I like that they've given the bag a sleek and simple appearance, while using innovative security features that make it different from any other backpack on the market.
The Venturesafe EXP65 ticks most of the boxes in terms of standard backpack features and is only really missing a trick with its lack of detachable daypack. The generous 65 litre sizing is suitable for most trips, but if you want to go for something smaller, you also have the option of the Venturesafe EXP45 which can be used as carry-on luggage on most airlines (always check with your specific airline before travelling). Unlike its smaller counterpart, the Venturesafe EXP65 is only available in black but it would be great to see the different colour ways rolled out across the range.
The cost may price this backpack out of a budget backpacker's range, but given the inclusion of so many anti-theft features it's worth the investment if you have a little more to spend on your travel backpack.
*Prices correct at time of publishing & may be subject to change.