If you're looking to buy a new backpack for travelling, you may well have come across wheeled backpacks during your search, and wondered if they could be a good option for your trip. As with most things, wheeled backpacks have pros and cons, so we thought we'd outline some of the things that are great about backpacks with wheels, and some of the things that are not so great!
The Pros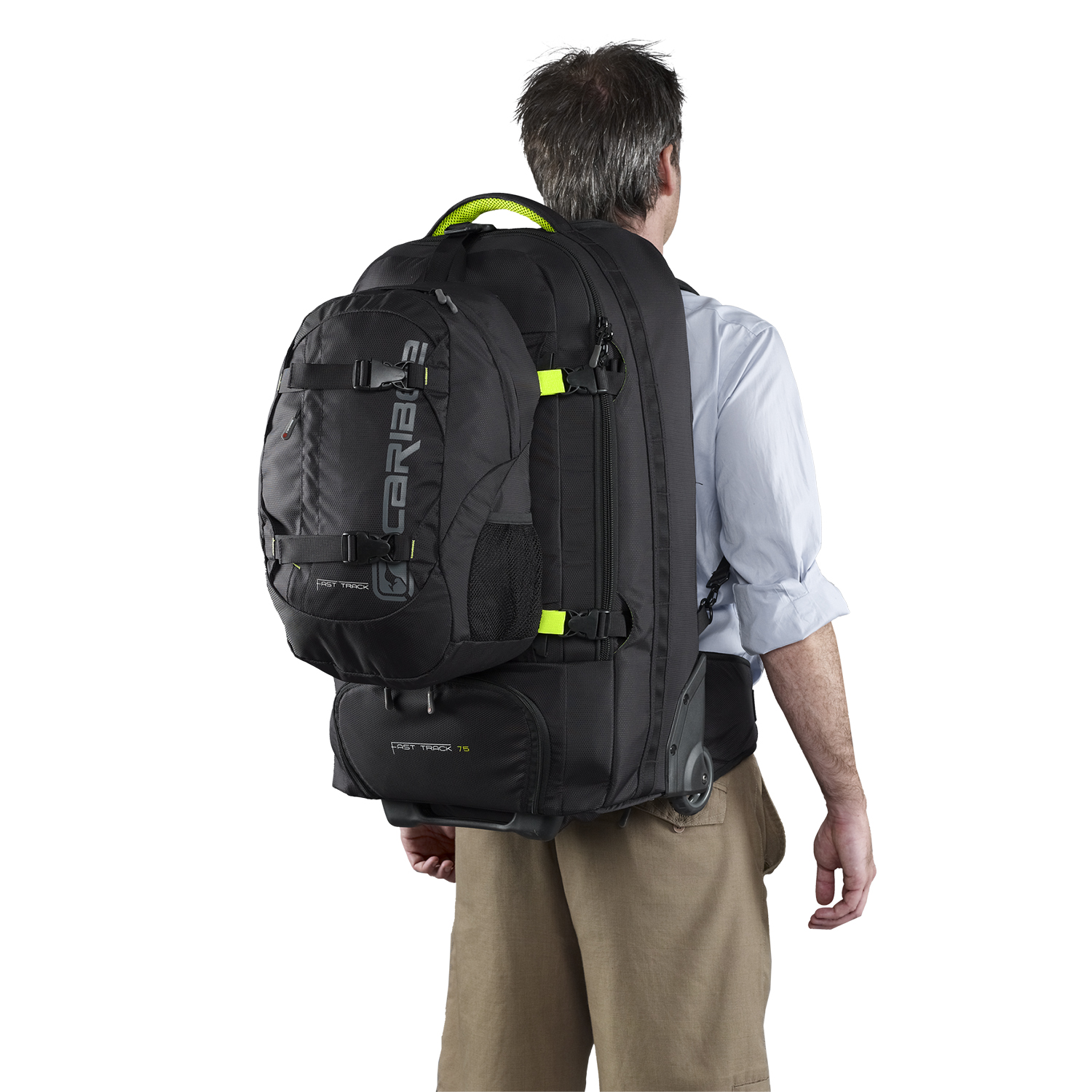 1) Versatile – This is probably the most obvious advantage of this type of bag….Versatility. Wheeled backpacks provide travellers with two different carrying options, so you can either wheel it along like a suitcase or carry it on your back like a backpack.
2) Give your back a rest – If you suffer from back problems or don't fancy carrying a bag on your back for long periods of time, wheeled backpacks are a great luggage option. If you fall into one or both of the aforementioned camps, you'll probably be tempted to snap up a wheeled backpack for travelling, as you may decide that you would rather wheel your bag along the majority of the time. However, you may need to throw it on your back when you encounter dirt roads and rougher terrain, but hopefully this would only be for short periods of time.
3) Appearance – There are no rules when it comes to choosing a bag for your gap year, but most travellers do tend to opt for a backpack. If you would personally prefer to take a suitcase, but don't want the judgemental glances from seasoned travellers and hard core backpackers, a wheeled backpack is a great option. They look like a travel backpack, but incorporate the wheels and towing handle (depending on the model) of a suitcase, so you get the best of both worlds. They are also designed with special travel related features that you wouldn't find on a suitcase, like detachable daypacks for one!
4) Great for airports & train stations – In busy airports and train stations, wheeling your bag along can be tricky and pretty frustrating at times. With a wheeled backpack, you can simply unzip the shoulder straps and throw it on your back to get around quicker and easier. Similarly, if you're having to carry your bag around large stations and airports, you may find that you fancy wheeling it along to give your back a rest.
 The Cons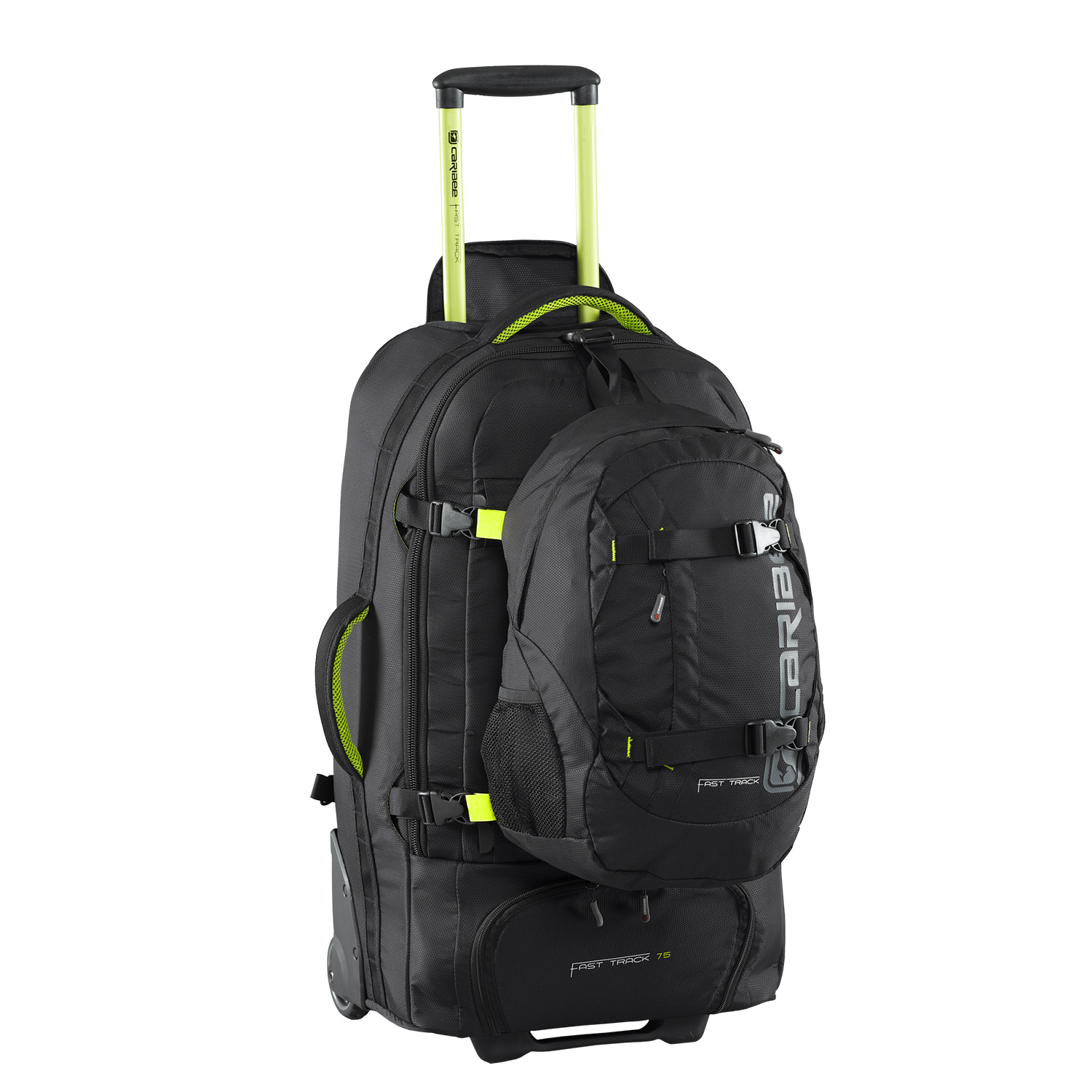 1) Weight – With the addition of wheels and sometimes an extending handle, it's no surprise that most wheeled backpacks tend to be around 4kg or more in weight. The Caribee Fast Track 75 weighs in at 4.2kg and the larger 85 litre size is 4.5kg, but if you don't plan on carrying it on your back for extended periods of time and plan to mainly wheel it along, then weight probably won't matter all that much to you. However, if you're trying to keep your bag weight down to avoid excess baggage charges, a wheeled backpack will take up around a quarter of your luggage allowance before you've even started packing it.
2) Comfort – This one doesn't relate to all models of wheeled backpack, as some are fitted with adjustable back systems (like the Berghaus 65+15L Wheeled Womens Backpack), but many only have a fixed back system. Fixed back systems don't allow the user to adjust them to suit their height and build, so comfort can be an issue. Another feature that can be an issue in terms of comfort would be the wheels, which are brilliant for when you're using the bag like a suitcase, but you may find they dig in your back a little bit, which may become pretty uncomfortable after you've been carrying it for a while!
3) Ease of use – Most styles of travel backpack are relatively easy to use, and come with an extending towing handle. However, some models don't have this feature, and this can prove slightly awkward if you're on the taller side of the height spectrum. If you buy a wheeled backpack which doesn't have the extending handle option, you may find yourself having to stoop down to reach the top grab handle in order to pull it along. However, investing in a wheeled backpack with the extendable handle will easily remedy this issue for all you tall travellers out there!
4) Not suitable for trekking – This may or may not be relevant to you, but wheeled backpacks are not a good option for travellers who are trekking during their gap year. This is basically due to the fact that most of them don't come with an adjustable back system, and when you're carrying a bag on your back for hours or several days you really want to ensure it provides a good level of comfort and support. Another issue would be the weight, as you would need to keep your bag as lightweight and easy to carry as possible, and the wheels are certainly not a practical feature when you're half way up a mountain!
So there you have it, some of the advantages and disadvantages of wheeled travel backpacks. Hopefully these points will help you make an informed decision when it comes to choosing the right backpack for your trip. The negatives aren't necessarily deal breakers, as some of these points will only apply to certain situations and individuals, it will all depend on what kind of trip you have planned and what you're looking for in a travel backpack. You can shop our range of wheeled backpacks here.