If you're in the process of planning a gap year for 2015, you'll probably already have a few places you'd like to travel to in mind, but we thought we'd put together a list of 10 destinations worth considering for your 2015 gap year itinerary. It was difficult to narrow our list down to just 10 places, but hopefully our list will help inspire you and give you some ideas for your life changing trip! So here we go, our top 10 gap year destinations for 2015 (in no particular order)…
1) Vietnam
A popular, bucket-list destination for many people in the Gap Year Travel Store office! Vietnam is a relatively cheap destination and is becoming more and more popular with gap year travellers, it's also less 'touristy' compared to neighbouring Thailand, which makes it an appealing option if you fancy travelling to South East Asia.
Vietnam offers a mixture of lively and bustling cities, relaxing picturesque beaches & beautiful green rice paddies found in more rural parts of the country. Whether you want to travel somewhere where you can simply unwind, or want to put a TEFL certificate to good use, Vietnam is a great place to do it! Make sure you sample some of the street food while you're there (but always opt for the busier stalls!).
2) Thailand
Possibly one of the most popular gap year destinations, Thailand is a great option for first time or solo travellers. Due to it being such a popular destination with backpackers, you'll find it relatively easy to get around and there's an abundance of great hostels, as well as opportunities to meet like-minded travellers.
Although Thailand is pretty far from home, you'll be pleasantly surprised by how easy it is to get around, and many people speak English if your Thai isn't up the scratch! Why not take a trip to the Golden Triangle, where Thailand, Myanmar & Laos meet or spend the day at one of Thailand's famous floating markets?
3) Europe
Ok, so this is a continent but it would be too difficult to choose just one country in Europe! If you can't afford to travel too far afield, or want to travel a little closer to home, Europe is a fantastic option. Inter-railing is the favourable method of travelling for most people looking to explore Europe, and it's pretty reasonable in price with a 1 month pass costing around £370! With overnight train journeys saving you the cost of a hostel for the night, breath-taking scenery and waking up as you arrive in another country first thing in the morning, it's easy to see why many people fall in love with inter-railing.
4) Fiji
The perfect destination for the chilled out traveller, Fiji is a tropical paradise, with pristine beaches, coconut trees and plenty to keep you occupied during your stay. For travellers interested in diving, Fiji boasts some of the world's best diving spots, which are not to be missed. The countries capital city, Suva, is also worth a visit and for the more active traveller, there are a number of volcanic islands to explore around the country. If you want to spend some of your time volunteering in Fiji, there are a number of marine conservation projects available.
5) Peru
Peru seems to have grown in popularity over the years, and due to it's Inca heritage and world famous lost city of Machu Picchu, it's clear to see why more and more gap year travellers are heading to Peru. If you do decide to embark on the Inca Trail when travelling in Peru, make sure you plan and book way in advance to avoid disappointment.
Machu Picchu isn't all Peru has to offer, why not check out the Amazon on a rainforest trek, take a trip to Lake Titicaca or marvel at the Nazca lines?! There are also multiple volunteer programmes in the country, including conservation, community and childcare opportunities.
6) China
Many gappers tend to focus on South East Asia when planning their gap year, but we say there's still room for their North East Neighbour, China, on your itinerary! China is a diverse location, with something for everyone, including the buzzing cities of Beijing and Shanghai, breath-taking mountains, temples, and of course, the Great Wall of China! Be sure to check out the Terracotta Warriors, Forbidden City & visit Chengdu's Giant Panda breeding research base if you're an animal lover!
7) New Zealand
The scenery alone is enough reason to visit New Zealand, but if you're into extreme sports and more adventurous activities, you're sure to fall in love with New Zealand! One popular method of travelling around New Zealand is by renting a campervan, but you can also travel via bus or train. New Zealand is also classed as a relatively safe travel destination, which makes it a good choice for solo travellers.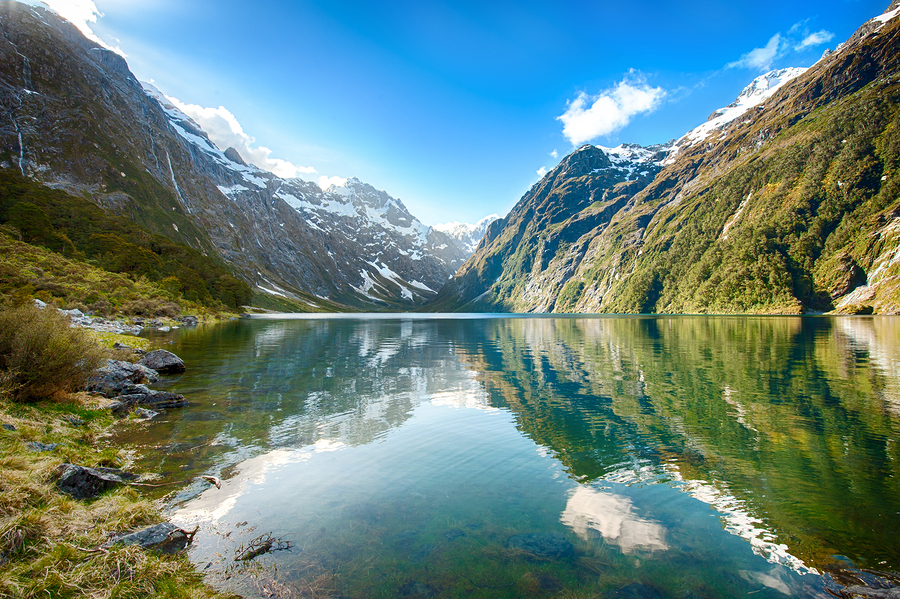 Whether you fancy a day of white water rafting, zorbing or bungee jumping or want to explore the luscious green landscapes, you're sure to find something to keep you occupied. As with Australia, if you obtain a working holiday visa before your trip, you can look for work in New Zealand to help pay for your adventure!
8) Australia
Although it's pretty far from home, Australia is a great destination for gap year travellers, especially for those who find language barriers a little daunting. A fantastic location for people who enjoy water sports such as surfing and snorkelling, Australia is home to some of the world's most stunning beaches and snorkel sites! Other sights not to be missed include Ayers Rock, Kangaroo Island, Fraser Island, Bondi Beach and the Great Barrier Reef. You may also want to consider getting a working holiday visa before you travel to Australia, as you can earn money for the rest of your gap year as you travel around, or you can work in exchange for accommodation in some hostels!
9) India
Oozing with culture, India has always been a popular choice on the backpacking circuit, and it still has a place on our list for 2015! Visit Agra and witness the beauty of the Taj Mahal, relax on Goa's pristine beaches or experience one of their many national parks, where you can see animals such as tigers, leopards, elephants and rhinos in their natural habitat. If you're a more active and adventurous traveller, there are also plenty of opportunities for hiking and trekking through the Himalayas and other mountain ranges found across the country.
You'll find that travelling by Tuk-Tuk is the quickest and cheapest way to get around…but they aren't exactly the safest method of transport around! Take it easy if you do decide to travel by Tuk-Tuk and avoid busier roads such as motorways. There are also plenty of volunteer opportunities available in India, whether you want to work in an orphanage, teach in a school or take part in community building projects, you'll be sure to find a project that you find rewarding and life-changing.
10) South Africa
Last but certainly not least, South Africa makes our list for 2015! South Africa offers a combination of savannahs, spectacular landscapes, breath-taking coastlines and bustling cities, it's also a great place to experience a wildlife safari, where you can see a range of animals in their natural habitat. You can also take part in a number of adventurous activities such as cage-diving with sharks, kayaking, surfing and white water rafting! As you can see, South Africa is the perfect location for anyone who is keen on their sports, and you can also take part in sports coaching volunteer programmes in South Africa, often teaching sports to children from underprivileged backgrounds.