Brazil – the largest country in South America and arguably the one with the most fun potential thanks to its predisposition to party and annual stage for some of the biggest and craziest carnivals in the world. Throw into the mix glittering white-sand beaches, sensational samba, warm-hearted people, charming colonial towns and the vast and mysterious rainforest where even today live isolated tribes untouched by time and you have a recipe for more adventure than you'll know what to do with. If you're travelling in South America, this fascinating country is not to be missed, so we've put together our top 10 things to do in Brazil to give you some inspiration!
1) Meetings with an Iconic Giant – Christ the Redeemer
Just as you can't go to Sydney without seeing the Opera House you can't come to Brazil without seeing the 38 m (124 ft) tall statue of Christ the Redeemer which perches atop Corcovado Mountain overlooking Rio de Janeiro. As one of over two million visitors every year you won't be exactly trail blazing but you will be able to tick it off your been-there-done that Seven Wonders of the Modern World list.
Whether you hike up on foot, take the Tijuca forest-traversing, 20 minute tram ride or cheat and take a taxi, the 28 m wide arms of the statue will welcome you atop and leave you gasping at the incredible views.
2) Pretty in Pink – A Date with the Amazon River Dolphins
The Amazon river dolphin or pink river dolphin may not be quite as rare as rocking horse teeth but they are not far off. The dolphin – and yes it really is pink – is one of only four freshwater dolphin species found anywhere on the planet all of which are classified as rare and/or endangered.
There are plenty of river cruise tour operators in Brazil plying the Amazon River and Rio Negro who will get you up-close-and-personal with these wonderful creatures, said to be the most intelligent of all the river dolphin species. For the truly dolphin-obsessed swimming with them is also possible, particularly around rainforest snuggled Manaus in Northern Brazil.
Amazon River folklore tells us that after dark the river dolphin becomes a handsome young beau who seduces young girls although the cynical tell us this myth arose to explain away incestuous pregnancies supposedly common in isolated river communities.
3) Grandeur in the Jungle – Teatro Amazonas or Amazon Theatre, Manaus
Built from the money piles generated in the rubber trade's heyday, the magnificent Teatro Amazonas  in the heart of the Amazon has spent 90 of its 119 years of existence without seeing a single performance. However, in 1990 its opulent doors were once again flung open and these days it is home to the Amazonas Philharmonic Orchestra and its grandly decorated rooms once again come alive to the sounds of operas, choirs, concerts and frequent free performances.
The majestic renaissance style building is a beautiful pale pink and white affair topped with a dome made up of 36,000 ceramic tiles which depict the Brazilian flag. Inside things go up a notch or two, if that's possible, with painted panels in the auditorium, 198 sparkling chandeliers sourced from Italy, Parisian furniture and gleaming marble stairs, statues and columns also of Italian origin.
 4) Nature at its Mightiest – Iguaza/Iguaçu Falls
Really not eager to get into any heated debated here but many will tell you that the mighty Iguaza Falls are even more spectacular than either Niagara or Victoria Falls and following rainfall it has to be said the claim has some value. Actually comprising 275 separate falls with a top height of 82 m (269 ft), this natural wonder lies on the Brazil/Argentina border and can be viewed from both sides.
5) Discerning Beach Bumming – Fernando de Noronha
With 7,500 km (4,600 miles) of coast you'd expect Brazil to have beaches by the bucket-load and most of them fall into the lovely to spectacular categories. However, if you've got beach bumming on your mind and have set a little splurge money aside from your travel budget for when you find that something extra special now might be the time to use it.
Situated 354 km off Brazil's north east coast, the stunning archipelago of Fernando de Noronha is made up of 21 islands only one of which is inhabited, comes with a UNESCO World Heritage Site listing and accepts just 420 visitors at any one time. Beaches here are about as idyllic as it gets and the waters teem with life – resident dolphins, turtles, manta rays and multitudes of rainbow-coloured fish call this ocean home while above the surface albatross and many more sea-birds float on the breeze.
Diving to depths of 40 metres is possible without a wetsuit and at 50 metres the visibility is still crystal clear. Also on the menu are boat tours, dolphin watching, stand-up paddle boarding, surfing, snorkelling, swimming and trekking.
6) Release Your Inner Tarzan – The Amazon Rainforest
No matter what else is on your Brazilian itinerary you can't possibly leave without at least poking your nose into the amazing Amazon rainforest – the largest rainforest on the planet. In the north of Brazil lies the state of Amazonas with its 98% covering of rainforest where jungle tours of every variety and length are laid on for the eager visitor. Day tours are possible but if you're really intent on spotting as much as possible of the 2.5 million insect species, thousands of species of plants, around 2,000 fish species, just under 1,000 bird species and 200 species of mammals you may want to think of covering a few days and nights.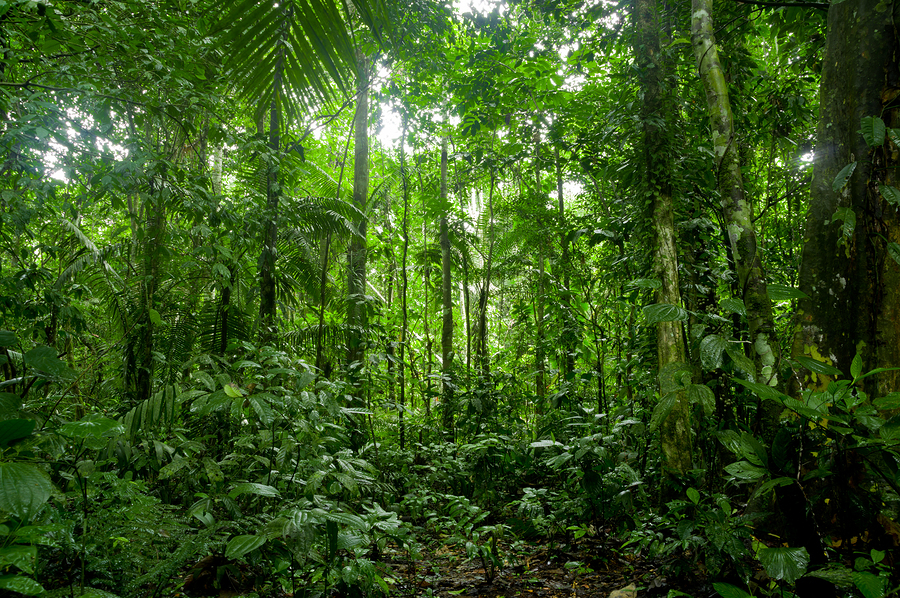 Booking in with a reputable tour operator is a must because they will know where to take you for the best sightings and experiences. For those who want to experience the rainforest on a deeper and more challenging level and free the Tarzan in their soul there are several operators who offer survival courses.
7) Party 'Til You Drop – The Rio Carnival
It's hard to go far in Brazil without stubbing your toe up against a party, fiesta or carnival but the daddy of them all – the wonderfully crazy Rio Carnival – is in a whole class of its own.
Don't expect to have any corner of Rio to yourself during this four day period because two million people are estimated to hit the streets every day. Almost 50% will be overseas visitors come to soak up the sounds that get their samba shoes tapping and feasting on sights that will have their eyes popping out of their heads. Irreverence and creativity are the carnivals watchwords and anyone can jump into the fun and frolics. Wherever you go in Rio during this time – streets, squares, bars and clubs – a little bit (or a lot) of the carnival will have spilled over.
The Rio Samba Parade now finishes up at the ticket-only Sambadrome but whether or not you're lucky enough to bag yourself a place here there'll be no missing the Rio Carnival should you be in town just before Lent (around February/March).
8) Bubbles in the Air – Sugarloaf Mountain, Rio de Janeiro
Brazil has a few landmarks which are instantly recognisable to people from all over the world – Sugarloaf Mountain is one of them. Soaring to a height of 396 m (1,229 ft) the 600 million year old  'mountain' is actually one single block of granite almost totally devoid of vegetation which makes it appear particularly awe-inspiring.
Gazing at it is one thing but getting up there is another entirely….. or would be if the nice folk of Brazil hadn't provided a cable car system of bubble-like glass 'cars' known as bondinhos. The heady ride takes you first to the lower peak of 220 m (721 ft) high Morro da Urca where you disembark and do it all over again to reach Pão de Açúcar. If you're not left gasping in amazement at the 360 degree views of beach, Atlantic Ocean, soaring peaks and verdant forest then you're either very travel-jaded or it's a cloudy day.
If riding the cable-car doesn't satisfy the adrenalin-junkie in your soul you might like to consider throwing in your lot with the Sugarloaf rock climbers who get their thrills from scaling the sheer faces of this monstrously large monolith.
9) Colonial Charm and Another Monster Carnival – Salvador de Bahia
Not least because of its sheer size, Brazil has plenty of cities worth a look. However, former Portuguese colonial Salvador de Bahia, in the country's north-east – once the centre for the sugar and slave trades – has a few secret weapons which make it a little special. For starters it is on the coast and its 80 km (50 miles) of beaches range from the most idyllic calm inlets to powerful wave spots frequented by surfers.
Secondly, its richness of colonial history and wonderfully preserved architecture of charmingly characterful streets and colourful houses has led to a UNESCO World Heritage Site listing
Another magical ingredient which produces such an extraordinary cake comes from a cultural infusion of Native-Indian, African and European influences which give rise to wonderful cuisine, quirky customs and a melting-pot of music styles. Salvador is considered to be the centre of Afro-Brazilian culture and widely recognised as the centre of origin for the dance-meets-martial arts marriage known as capoeira.
Last, but most certainly not least, Salvador is affectionately dubbed the 'Capital of Happiness' because outdoor parties kick off all the time here. The final icing on the cake comes in the form of its carnival which many rate as better than Rio and, according to the 'Guinness Book of Records', is the largest in the world.
10) Climb a Tree or Sleep in One – A Bird's Eye View of the Rainforest Canopy
For a slightly quirky take on an Amazonian adventure consider evoking the care-free days of childhood by climbing a 30 m (99 ft) high tropical tree. Safely strapped and harnessed by ropes and cables you'll ascend to a dizzying height above the rainforest floor with the chance of seeing all sorts of otherwise rarely seen creatures including butterflies, birds and monkeys. There will also be second-to-none viewing of the super-exotic orchids and bromeliads which grow on the trees themselves.
A step on from this involves climbing the tree followed by a spot of canopy camping. Climbers will wake up in the tree tops after spending the night in suspended hammocks – probably best avoided if you're a restless sleeper or fall into the faint-hearted category.
The best pace for arranging this type of adventure is from Manaus.