You may have decided that a travel wash bag is an item you can do without when travelling, especially if you're looking to save space. However, packing your toiletries and wash gear inside a wash bag will actually save you space, as well as preventing a major shampoo explosion in your backpack! In this blog post we've compiled a list of 5 of the best wash bags for travelling to help you decide which one is the right one for you.
This wash bag weighs just 85g, so won't weight your backpack down and is minimalistic in its design, making it ideal for lightweight backpackers and travellers who don't tend to carry a large amount of toiletries. The Quick Trip wash bag comes with 2 external zipped pockets and a main zipped compartment, so even though it's pretty compact it still allows you to organise and separate your wash gear. It also has a handy top grab handle to make it easy to remove from your backpack.
Dimensions: 25.5 x 14 x 8cm | Weight: 85g
One of the main draws of this wash bag would have to be the petrol colour way, which is much more stylish than the previous model from Lifeventure. The benefits of this wash bag aren't just related to its appearance however, it offers heaps of storage and organisation options for your toiletries and wash gear and even comes with 2 separate compartments – one for wet items and one for dry items! It also includes the usual suspects you'd expect from a travel wash bag, with a mirror and tuck away hanging hook. If you want a larger wash bag but like the features of this one, Lifeventure also offer it in a larger size.
Dimensions: 20 x 13 x 4cm | Weight: 135g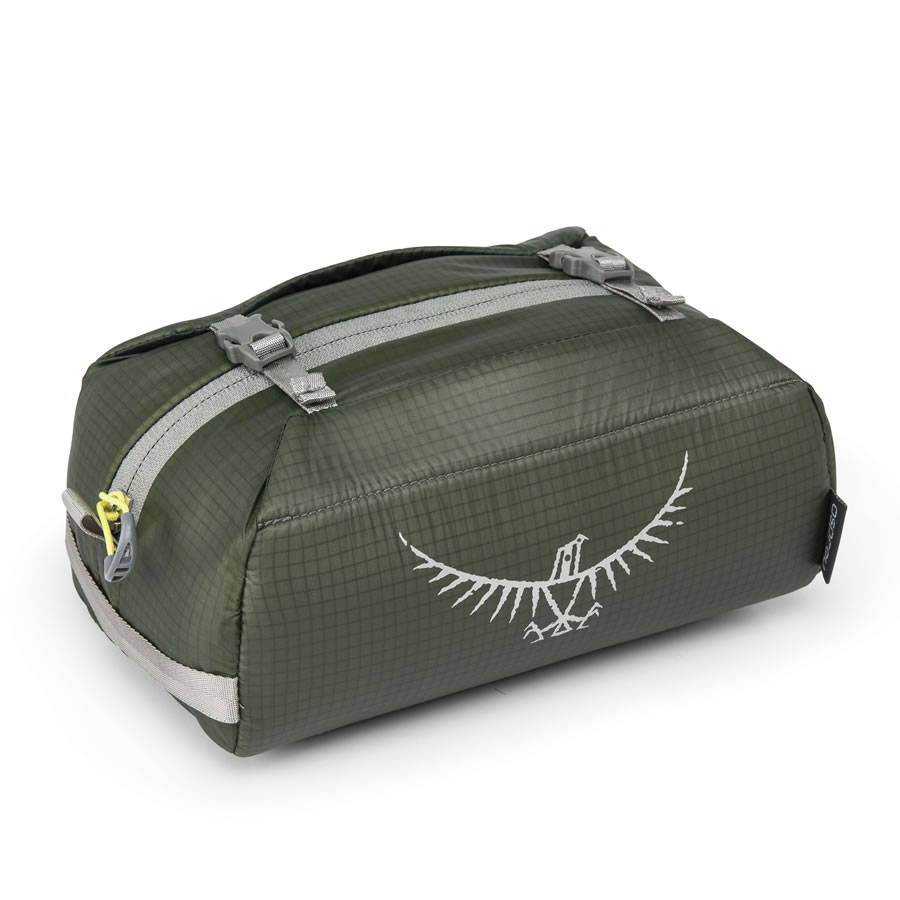 A wash bag that both protects and compresses its contents, the Osprey Ultralight Padded wash bag is a great compact wash bag for travelling. Utilising their unique StraightJacket compression system, which is used on many of their travel packs, this wash bag can be compressed to save space in your backpack and the padded sides help to protect your toiletries from knocks and bumps in transit! Also available in Poppy Orange.
Dimensions: 21 x 14 x 13cm | Weight: 70g
Although mainly known for their range of outdoor clothing and footwear, Trespass also manufacture a small range of travel accessories, and the Flood wash bag is one of them. This wash bag maintains a compact size, but offers a selection of pockets and an internal mesh organiser panel to help keep your toiletries organised and easy to locate when you need them. One of the main perks of the Flood wash bag is the two removable sections, which can be taken into the shower or hostel bathroom with you instead of having to carry the whole thing.
Dimensions: 26 x 22 x 9cm | Weight: 320g
A roll up wash bag with 3 internal zipped pockets and a large zipped compartment, this is one of the best travel wash bags for organising your toiletries and wash gear. The mesh pockets are also good for storing items you'd like to keep ventilated, such as a toothbrush. It also includes a detachable mirror and hanging hook. As with the Ultralight padded wash bag, the wash bag roll can also be compressed when it's closed to save space, but has a simple adjustable buckle closure and doesn't feature their StraightJacket compression system.
Dimensions: 38 x 24 x 7cm | Weight: 130g