The two main islands and endless smaller islands which make up the Southern Hemisphere's country known as New Zealand are packed from end to end with the most stunning scenery. From sparkling pure-white sand beaches to snowy mountains and blue-hued glaciers to lush temperate rainforests and geothermal wonderlands – it's all here.
While in among this off-the-scale beauty you can do just about anything you could possibly imagine with a fair helping of what you could never imagine thrown into the mix. From watching the street entertainers, buskers and colourful characters on Wellington's quirky Cuba Street or joining a traditional Maori feast to floating serenely to Earth with a tandem sky dive (which follows the screaming towards the ground at terminal velocity bit) – the choice is endless.
Finally, populate it with a people to whom the words extreme kindness, generosity and fun just describe a normal every day way of life and you have a recipe for paradise. 10 reasons to visit New Zealand? We could give you a 1000!
1) Sky Tower Base Jumps to Spectacular Night Skies – Tick Off Your Entire Bucket List in One Country
New Zealand is so packed with extraordinary and one-of-a-kind bucket-list type things to do that for some it is the sole reason for coming here. North or South Island you are going to be presented with endless opportunities for experiencing something extra special with a fair dose of the super-crazy thrown in.
If you have a fair few extreme or adrenalin-themed adventures on your personal bucket list you are going to be especially spoiled. The menu is vast here and includes all kinds of scary things such as bungee jumps, skydiving, shark cage diving, hardcore white-water rafting, abseiling, hang gliding and so much more. If you are really after some extra kudos points New Zealand dishes up some highly unique ways to get your adrenalin kicks. This category includes such things as a wire base jump off Auckland's Sky Tower, underground black-water rafting complete with twinkling glow worm spectacles, a 5m dam-drop on a body board or kayak in Taranaki and death defying canyon swings. The absolute centre of operations for thrill-seekers is Queenstown on the South Island but white knuckle adventures can be found everywhere.
For some bucket lists are more about experiencing the beautiful and fascinating rather than the bonkers and New Zealand has those too. Here you can hike glaciers, go to sleep amid the sound of silence on a boat anchored in one of the spectacular Sounds, visit Hobbiton, float soundlessly over the earth in a hot air balloon as the sun rises, watch mighty sperm whales from up close, explore an active volcano complete with bubbling mud-pools and sulphur vents amid moon-like landscapes on White Island or hop aboard a heli-surf adventure which brings you to surf breaks otherwise inaccessible.
And because this is the land of dreams where everyone gets to play even if they don't have huge financial resources, there are even choices which won't cost a penny. Choose from such delights as digging your own hot water spa at a Coromandel beach, hurtling down giant sand dunes on a body board at Ninety Mile Beach, swimming or surfing with the resident wild dolphins of Porpoise Bay or shooting down a natural rock slide such as the Rere rock slide in the Gisborne district. Add to the list such things as visiting one of the few places on Earth deemed a 'Dark Sky Reserve'; a title which means once the sun goes to bed the spectacular night sky appears to be filled with more stars than gaps. There is even the possibility to see the Southern Lights or Aurora Australis in some southerly locations at certain times of the year.
2) Warmth, Generosity & Respect – Incredible People
There are several countries in the world which are well known for offering exceptional hospitality and warm greetings to their foreign visitors. In this regard New Zealand is off the scale. So normal and commonplace is warmth, kindness and generosity here that quite frankly if you don't leave the country with a 100 tales to tell in this regard you might want to take a long hard look at yourself.
It is almost impossible to get into conversation with a Kiwi without finding yourself – often within minutes – invited to a barbecue or to come and stay with them. Chatting, laughing and joking with strangers is as common at supermarket checkouts as it is at the beach or in cafes and pubs and grumpy folk seem to be a rarely encountered breed.
Locals will often offer to show you the sights and if you get lucky here you are likely to find yourself being taken to all kinds of hidden gems and secret spots. Many Kiwis own 'tinnys' or small aluminium boats so a private trip out on the water is highly possible when you hang around coastal areas.
As a plain marker of quite what you can expect in the whole country Wellington serves as a great gauge. Capital cities are typically places you might associate with rather more impersonal and aloof experiences but New Zealand is different. All of this warmth can be found as much in Wellington as it can in the back of beyond.
Unlike other countries which use their friendly locals as a selling point, the incredible attitudes you will find in New Zealand are such an integral norm that Kiwis are genuinely bewildered if you thank them for some kind act or point out how fantastic they are. Enter this country with an open heart and mind and a smile on your face and you will be rewarded with more kindness than most people receive in a lifetime. Simply put – Kiwis rock!
3) Natural Beauty & National Parks – Scenery to Blow Your Mind
People rave about the scenery of New Zealand not just because the vast majority falls anywhere between lovely to mind-blowingly spectacular but because of the diversity of the landscapes here. Crammed into two relatively small main islands and a host of smaller still islands can be found soaring snow-capped mountains, live volcanoes, subtropical forests, gorgeous beaches, ancient glaciers, fiords, geo-thermic wonders such as geysers, silica terraces, boiling mud-pools and natural hot springs as well as verdant plains, temperate rainforest and rolling hills.
Because so much of this amazing country is left in its natural state much of it is given over to protected national park lands. There are 14 parks in total which range from dual World Heritage status Tongariro National Park with its volcanic cones, craters and other-worldly vistas to the Abel Tasman National Park. This latter is full of dreamy beaches which enjoy the highest sunshine hours in the country and where beauty appears to know no bounds.
Whether you decide to see it all from a car on scenic drives or aim to get as deep into it as you can with incredible hikes or by way of elaborate bike trails your reward will be something any amount of effort is worth.
4) War Canoes, Traditional Feasts & Scary Welcomes: Maori Culture
While individual reasons for visiting New Zealand vary considerably there tends to be one must-do inclusion on just about every visitors wish list – getting to know something about the Maori people. If all you know of this ancient culture before you arrive in New Zealand is the fierce ritualistic dance performed before All Black rugby matches known as the haka you are in for a few surprises and a major treat.
Although Maori communities and related experiences can be had just about anywhere on the North Island Rotorua is the beating heart of all things Maori for the visitor. This area has a high density of Maori descendants and quite what you can do here is made up of a vast menu of choices ranging from quick glimpses into the Maori world to full-on meaningful and spiritual experiences.
Cultural shows and spectacles are one of the most accessible ways of immersing yourself in Maori culture with formal marae welcomings (which to the untrained eye can look hostile and scary), war ritual displays, dancing and singing, storytelling and traditional craft demonstrations all possible inclusions.
Taking part in a traditional feast known as a hangi (which refers to the method of cooking in a buried pit oven) is also one of the more popular visitor choices and if you get super lucky you may even be invited to a non-tourist hangi after chatting with a local.
Artistic ability and Maori blood seem to go hand-in-hand as you will quickly realise once you see an example of an elaborately carved meeting house embedded with iridescent rainbow paua shell and precious greenstone or jade (pounamu). Creating beautiful things for decorative or practical purposes is all part of the Maori culture and many of the traditional crafts such as weaving and carving are very much still alive. Opportunities abound for watching craftspeople at work or even trying your own hand in workshops and events.
Maori culture pervades the land here and everywhere you travel you will encounter legends and myths related to this country's first human settlers. If you want to learn a little more about such things a Maori-guided walk is a great way to do just that.
From gazing at an enormous carved war canoe displayed in some out of the way spot to standing and taking in the scenery from a 'pa' site you won't have to make too much effort to get yourself a little insight into the Maori way of life – from centuries past to the present day.
5) Escape from the Crowds
New Zealand hardly ranks as an unknown destination or one which receives few visitors but escaping the crowds here is as easy as it gets. So much so in fact that there will be many times outside of the cities and tourist hotspots where you can feel you have the world to yourself.
And there is a reason for this. New Zealand is roughly speaking on a par size-wise with Great Britain. However it has a tiny population of just 4.8 million people. Factor in that more than three quarters of this population live on the North Island and further that one third of those 4.8 million are all centred in the Auckland region. A high percentage of what is left live in a handful of other cities. In short, New Zealand is a country of wide open spaces where few people live and solitude is never far away. You can camp at beaches where the only footprint is your own or hike trails for days without meeting another soul. There are also plenty of roads which you can drive on for considerable distances without passing another vehicle.
If having a slice of beauty all to yourself appeals come to New Zealand and fill your boots!
6) Gandalf, Gollum & Goblins: Explore Lord of the Rings Land
Pitch a wizard or two (with allegiances to the forces of both good and evil) into glorious battle, add humans, Dwarves, Elves, Hobbits, Trolls and so forth into the mix and the result is some of the highest grossing film trilogies of all time. Native Kiwi Peter Jackson's Lord of the Rings screen adaptations which were filmed exclusively in his homeland triggered LOTR fever in New Zealand. The second wave hit when the Hobbit trilogy was released in 2012.
The movies have had a big impact on New Zealand tourism for two reasons; first, LOTR fans wanted to walk in the footsteps of Gandalf, Frodo, Aragorn and co. Secondly, once everyone realised that the incredible scenery they were watching their favourite characters pass through was real they were all asking 'where is this place?'
LOTR tours which can last hours or days are in plentiful supply in New Zealand but if you want to do a DIY tour many of the film locations are highly accessible. The Internet is plastered with location finders so checking out Edoras, Rivendell, the River Anduin, the Pelennor Fields, Lothlorien and all the rest is easy. Wellington is especially rich in sites as is the area around Queenstown on the South Island. Although some of the locations require a bit of fill-in imagination others are exactly as you see them on screen. Without a doubt the number 1 contender for this description is Hobbiton aka Matamata on the North Island. After the Hobbit filming was completed the set was left as a permanent fixture and visitors will arrive in Matamata with a 'Welcome to Hobbiton' signpost and then be able to peer inside Hobbit Holes or down a pint at the Green Dragon.
Hardcore LOTR fans will also want to check out the Weta Cave and Workshop in Wellington. Weta, as every self-respecting fan knows, is the company responsible for the LOTR costumes, special effects and props. The Weta Cave is crammed with prop replicas and is free to enter. If you want a peek behind the scenes you can do that do with a tour to watch artists at work.
7) Great Walks and Gentle Strolls: A Hiker's Paradise
As destinations go and if you happen to be in search of great hiking it really gets no better than New Zealand. Not only will you find yourself amid some of the most spectacular scenery which exists anywhere on the planet but it also has a highly organised and comprehensive infrastructure to make it all simple. Young or old, casual stroller or hard-core hiker, New Zealand will have plenty of choice. You can set out on a scenic amble which takes an hour or you can take on a tramp (Kiwi speak for hike) which lasts for days and which leads you into remote and isolated areas.
The tourist information centres – known as i-SITES – are a great resource for walkers and hikers. Pop into one of these on arriving in town (and everywhere has at least one) and fill your boots with all the information you could possibly need for walking in the vicinity. You can find leaflets and booklets with suggestions for short walks which might take you to a waterfall, look-out spot or other point of interest or walks with themes such as bird-watching, history or heritage. For the more serious tramper there are detailed maps and guides. Most of what you will find is free with the exception of the more extensive maps and literature.
Department of Conservation (DOC) offices and the DOC website (which has plenty of downloadable resources) are also great places to get tons of information on walking too.
Where epic hikes are concerned New Zealand is home to what are known as the Great Walks. Managed by DOC, there are nine walks in total which cover both North and South Islands as well as one on Stewart Island. While each is unique they have one detail in common – you will be immersed in some of the most eye-poppingly stunning scenery you are ever likely to see in your life. Walks range in difficulty from moderate fitness upwards and if done in their entirety can last from two to six days. Overnight huts and camp-sites are provided on route with advance bookings essential in peak season for all and for the most popular routes all year round.
The vast www.doc.govt.nz website has everything you could possibly need to know regarding the Great Walks including any preparation needed, fitness levels, extensive terrain guides, maps, general and specific advice, distance between huts, route breakdowns, what to take, what is available at each hut/camp site and so forth.
If you don't have time or the inclination to commit to any of the Great Walks from beginning to end all of them can be done as shorter sections hikes too.
8) Things That Bubble, Boil & Boom: Discovering New Zealand's Geothermal Sights
New Zealand is located in the Pacific 'Ring of Fire' – an area known for its high frequency of earthquakes and volcanic eruptions. The landscape of the whole country is littered with extinct volcanoes while the North Island is home to some which are very much active and many more dormant which means although currently sleeping have the potential to wake at any minute.
This volcanic activity along with the geothermal forces which come as part of the whole Ring of Fire package are one of the country's main tourist draws. Spurting geysers, boiling mud-pools, sulphur and silica-coloured landscapes and otherwise any number of things which hiss, steam and bubble can be seen here.
The centre of all things geothermal covers an area of the North Island which extends south to Tongariro National Park, east to the bay of Plenty and up to the area around Rotorua. This latter is without doubt tourist central for all things geothermal related and there are enough wonders and sites here to keep you busy for weeks. One of the most beautiful options is the bush located Wai-O-Tapu which is home to New Zealand's largest boiling mud-pool as well as vibrantly-hued silica terraces, steaming multi-coloured pools and the Lady Knox geyser. Other Rotorua choices include the region's most geothermally active area known fittingly as Hells Gate, Whakerewarewa Thermal Village which is both Maori cultural centre and a collection of geysers, mud-pools and hot springs and Te Puia which is home to the Southern Hemisphere's largest geyser.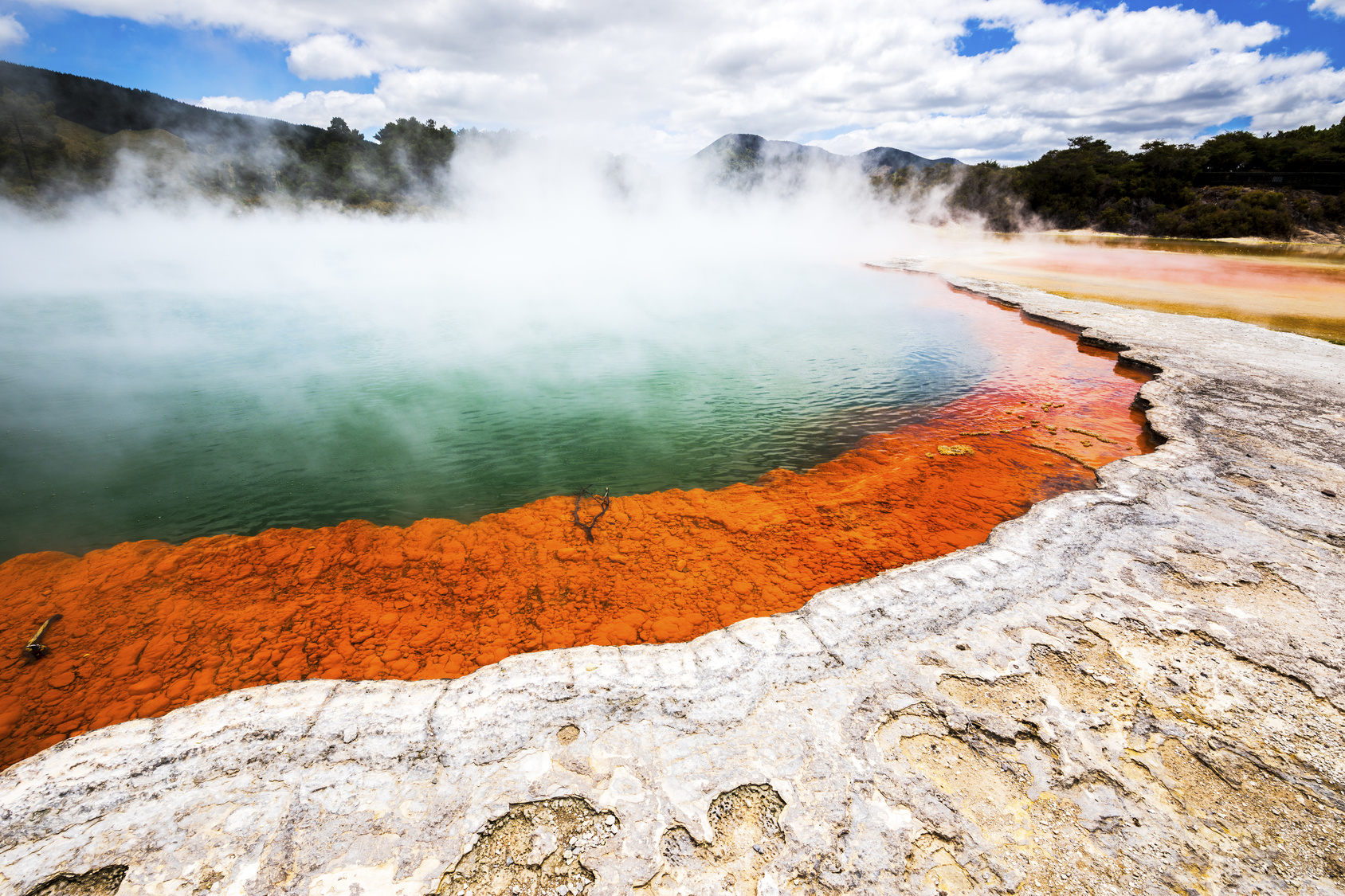 Although Rotorua might be where the most geothermal features can be found clustered together it isn't the only option for those interested in what the forces of nature can do. The Taupo area – which has three active volcanoes – has several features worth exploring which include the Craters of the Moon and any number of natural spas, boiling lakes and bubbling mud pools. For a really up-close adventure with one of the area's volcanoes hop on a boat (or even take a helicopter ride) to the awe-inspiring and highly active White Island where hard hats and gas masks are compulsory. Here you can weave your way between spurting steam jets, feast your eyes on a stunningly beautiful but deadly toxic lake, meander among alien-looking sulphur-yellow landscapes and you can also wander around the evocative ruins of an old sulphur-factory.
Hikers can get among the multi-cratered landscapes of Tongariro National Park's active volcano complete with stunning lakes and solidified lava flows.
South Island geothermal features are far fewer but they do exist – such as the Flat Hot Pools which can be found in the Fox Glacier region; perfect for soaking away the aches you may be suffering after the hiking you have to do to get here.
9) Destructive Parrots, Dinosaurs and Dolphins: New Zealand's Unique Wildlife
From the world's only alpine parrot to the world's tiniest dolphin, New Zealand has an incredible range of wildlife species which can be found nowhere else on the planet.
One theme of New Zealand's unique wildlife is the quantity of flightless birds. Originally the islands had no native mammals (until man arrived) which meant birds here had no reason to fly in order to escape predators and they evolved accordingly. Unfortunately what this has meant since the arrival of dogs, cats, stoats, rats and possums is a decimation of the flightless bird populations and most of them are now endangered and rare while others have actually become extinct. Among the flightless bird group is the iconic kiwi – the nation's mascot, the mischievous weka which likes to steal shiny things and the comical and ungainly kakapo – a large flightless parrot.
Favourites on the 'to spot' list for many are the raucous kea – a mountain parrot which has a tendency towards hooliganism and a love of dismantling the possessions of humans – and the penguin species. Three different types of penguins are found in New Zealand – the Fiordland crested penguin, the little penguin and the yellow-eyed penguin. This latter is one of the world's rarest penguin species. Penguin hides and viewing spots are dotted around the country for viewing yellow-eyed penguins – one great viewing platform can be found at Curio Bay on the South Island. If you want to see penguins in numbers there are several colonies of little penguin (also known as blue penguin) you can visit, most notably on the Banks Peninsula or Oamaru on the South Island.
Where marine wildlife is concerned New Zealand is a major global hotspot for whales and dolphins. Almost half of the planet's entire whale species can be found in the coastal waters here along with ten dolphin species. This latter includes the tiny black and white Hector's dolphin – one of the world's rarest and smallest dolphins which is found only in the waters of New Zealand. Whale watching trips abound with the South Island's Kaikoura serving as operations centre while several companies offer swimming with wild dolphin opportunities on both islands.
Other marine species which can be encountered are seals with some seal swimming experiences up for grabs, sea-lions and a wealth of sea-birds both rare and common including the mighty albatross with its 3 metre wingspan.
While chance encounters with the wildlife can potentially be had anywhere, if you really have your heart set on certain sightings you will have to make your way to hotspots or join a specific tour. New Zealand has several conservation islands which are pest-free and which have highly successful reintroduction programmes for some of the more endangered species. One wonderful example of this can be found right in the Wellington Harbour – Matiu Somes Island. Regular ferries cover this short boat ride and once on the island you will be rewarded with plentiful bird life including the colourful and vocal parakeet known as the kakariki and penguins. Another Matiu Somes treasure is the tuatara – a large lizard-like creature with a lineage so ancient it has no living relatives and has the nickname 'the living dinosaur'.
Other wildlife hotspots include Stewart Island, the Otago Peninsula, the Catlins, Tiritiri Matangi Island in Auckland's Hauraki Gulf (and the whole Gulf in general) and Zealandia near Wellington. This latter is an amazing 225 hectare, world-pioneering eco-sanctuary valley made up of forest, stream, wetlands and lake and full of birds, reptiles, frogs and invertebrate species.
10) Don't Worry, Be Happy: The Most Hassle-free Travels on the Planet
If there is such a thing as the most common reasons for why many people don't travel it would probably be regarding safety issues, comfort and health. Most countries have a least a few things which cause concern such as lots of dangerous wild animals, high crime rates, the presence of malaria or other mosquito borne diseases, extreme poverty, low standards of health and safety or the exclusion of or levels of prejudice towards certain minority groups.
New Zealand on the other hand does it all differently. There are no dangerous animals here, no snakes and only one poisonous spider (which is super rare). Crime rates are low with violent crime so unusual it always makes headline news if it rears its ugly head. The country is green and clean and pollution levels are low. With the normal common sense you would expect to exercise anywhere, women can travel and walk alone everywhere without hassle or fear.
New Zealand is not just modern and open minded but pioneering in its embracing of an all-inclusive society ethos. New Zealand was the first country in the world to ever elect an openly transsexual Member of Parliament – Georgina Beyer, a former drag queen and sex trade worker. And this was back in 1999 when most of the rest of the so called modern world was still unsure what LGBT rights even were
This all-inclusive highly mutually respectful ethos has wider reaching implications too. For example, trying to enter a 'nice' restaurant in much of the developed world requires certain dress standards (unless you are a film star, famous footballer or pop idol). In New Zealand nobody cares if you are scruffy or judges you on what your job is or how much money you have (as long as you have enough to pay what you owe of course). What you will be judged on is a readiness to smile and muck in and whether you can be as non-judgemental and respectful about everyone else as the Kiwis are.
It is little wonder that New Zealand has a number 2 ranking on the Global Peace Index of 163 countries, a regular top 10 spot on the World Happiness Report of the United Nations and any number of top slots on the kinds of lists which measure contentedness, quality of life, happiness, safety and stability.
If you are on the look-out for a super-safe, super-respectful and totally hassle-free travel destination you really can't find anything better than New Zealand.