We've already given you some gift ideas for female backpackers, so it makes sense to give you some gift ideas for male travellers too! In this post we run through 10 of the best travel gifts for men to give you some gift buying inspiration.
A small and extremely useful gift for male backpackers. This pack of 50 shaving soap leaves make it easier to keep your facial hair in check when travelling and make a great alternative to shaving foam. The soap leaves come in a compact plastic case which fits in the palm of your hand and are also biodegradable for minimal environmental impact. Oh, and they're hand luggage friendly too!
There's no need to pack multiple adapters when you've got one of these bad boys! This worldwide USB charger plug can be plugged into a wall socket and used to charge USB enabled devices such as mobile phones, cameras and tablets. It comes with 4 USB ports, so you can charge up to 4 devices at once to save time and it has interchangeable adapter heads (USA, Australia/NZ, Europe & UK plug types) for use in over 100 countries around the world.
A must have for any backpacker, this giant world map travel towel doubles as a body and beach towel and can even be used as a make-shift cover up when visiting temples. The towel comes in a giant size and also benefits from permanent anti-bacterial treatment to reduce odours in between washes. Unlike standard towels, this one dries quickly and is highly absorbent. It's also extremely lightweight and compact to save you space inside your backpack.
More compact than a standard travel organiser, but big enough for your essential documents, passport, cards and currency, the Pacsafe V150 compact organiser is great for keeping you organised when travelling. The organiser also comes with RFID-blocking fabric and pockets to protect the sensitive data stored on your contactless cards and passport, helping to reduce the risk of identity theft and card cloning during your trip.
Another handy security feature is its adjustable webbing strap with Dyneema, which stops thieves cutting into it and running off with your stuff. The strap allows you to wear the organiser around your neck or across your body for added security.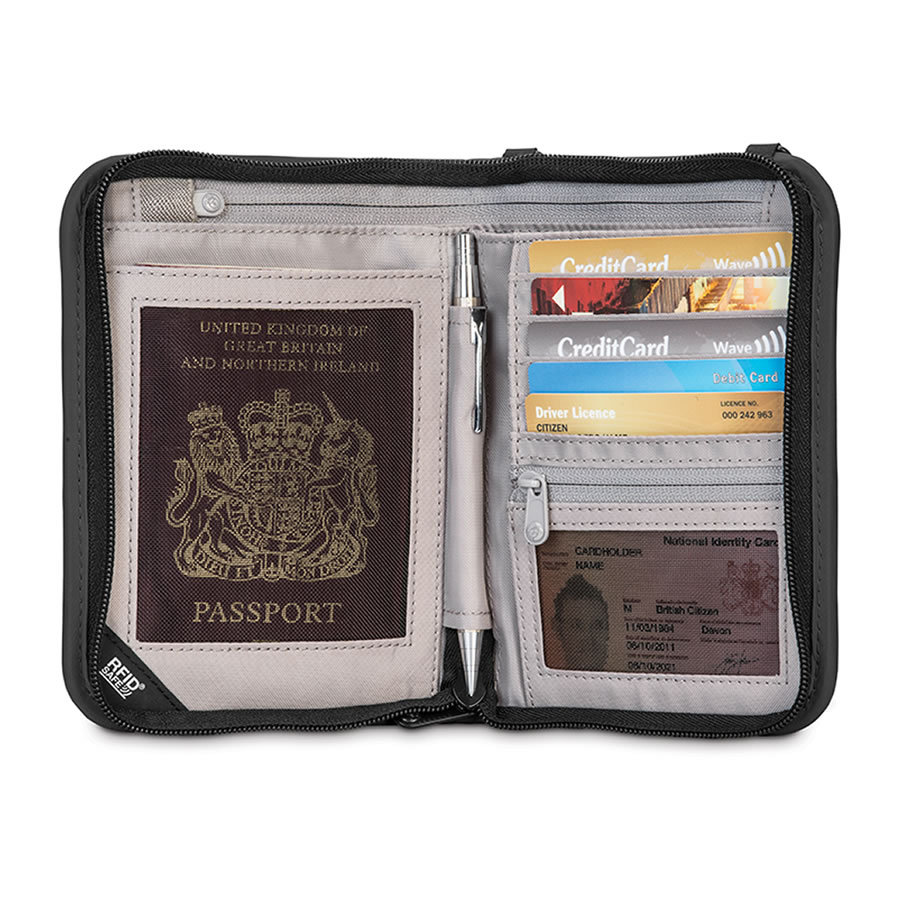 As travel gifts go, you really can't go wrong with a Water-to-Go filter bottle! This clever water bottle comes with a built-in purification filter, which removes 99.9% of bacteria, viruses, protozoa, waterborne diseases and other contaminants from water, making it safe to drink. It's much more cost effective and environmentally friendly compared to buying bottled water and offers an easier water purification method compared to chemical treatments on the market. The Water-to-Go bottle is available in 50cl and 75cl sizes and a range of colours.
The perfect gift for backpackers who can't travel without their favourite gadgets. The Eagle Creek eTools organiser is designed to protect and organise your travel tech and can be used to store power banks, cables, external hard drives, memory cards, adapters and more. It includes several pockets and attachment loops to keep everything neat, tidy and tangle free inside your backpack.
A portable phone charger makes a great gift for any traveller. Portable chargers give you a back-up power source when you're unable to get to a plug socket to charge your phone, whether you're on a long overland journey without power outlets or out exploring when your phone battery starts to die! This 4000mAH USB charger automatically detects your device and regulates its output for quicker and more efficient charging and is compact enough to carry around in your bag during the day.
Lifeventure thermal mugs keep drinks hot for up to 4 hours or cold for up to 8 hours, making them a perfect gift for travellers visiting warm and cold climates. Their durable stainless steel construction makes them well suited to travelling and outdoor use and they come in a range of attractive colours.
Not all travellers like the idea of wearing a money belt, lets face it they're hardly the most stylish travel accessory! For travellers who want a discreet place to stash a few bank notes for emergencies, the Lifeventure stash belt is the perfect solution. While it looks just like a normal belt, the Lifeventure stash belt has a hidden zipped pocket inside, where you can store cash out of sight. The stash belt comes in black or sand.
Whether you're camping or hitting the beach, this compact pocket blanket is a great accessory to have to hand. The Cocoon pocket blanket is made from PU coated water repellent nylon and comes with pockets in each corner, which can be filled with rocks or sand to stop the blanket from blowing away. The blanket opens out to 160 x 120cm in size and packs down to just 11 x 9.5 x 2.5cm, so you can keep it in your bag just in case you need it!