Chile, which stretches a whopping 4300 km over a thin strip of South America from its mid section to its southerly tip, is one of the continent's most affluent and stable nations. This long, thin land is ranked as one of the top 30 most peaceful countries on the planet and as a consequence, travel here is safe and relatively comfortable.
However, what draws the greatest number of travellers here is more likely due to the vast number of natural delights Chile has to offer rather than just its high safety ranking. In such a colossal amount of miles of length just about every type of terrain and geological feature known on the continent is found somewhere here and besides the mighty Andes includes giant dunes, vast deserts, verdant forest and rainforest, massive glaciers, grand fiords, lovely beaches, mountain lakes, natural hot pools by the score, geysers and volcanoes and wine-producing valleys. Wilderness and remoteness feature again and again and many of Chile's landscapes remain uninhabited and untouched by humans – the epitome of pristine.
You can have lazy beach time here too if you choose and, as coastal beauty goes, much of it is in the dramatic and wild category as well as plenty of offerings of the more standard accepted idea of lovely. Exploration of Chile's national parks and the treasures they hold are perennially and justifiably popular too. If your budget allows it, a trip out to Easter Island – one of the world's most remote islands – is an essential inclusion to see the centuries-old sculptures there.
Adventurers and the activity intent are well-catered for – take your pick from hiking, mountain biking, surfing, zip-lining, dune surfing and skiing to name just a few of the things up for grabs while many vineyards, deserts and archaeological sites are also there to be explored.
Top the entire thing off with all the colourful elements of a rich history and a culture which has been touched by all kinds of interesting sources – from the Polynesian to the marauding pirate of centuries past – and it is easy to see why Chile is such a not-to-be-missed inclusion on the South American backpacking circuit.
1) Easter Island
As an absolute must-do, in relation to anywhere in the world, it probably doesn't get any bigger than the ethereally-vibed Easter Island. This incredibly remote island which sits all alone way out in the middle of the Pacific Ocean – thousands of miles off the South American coast, next stop Tahiti – is one of the planet's most isolated. Its closest inhabited neighbour is 1,289 miles/2,075 kilometres away
Although Easter Island has various charms such as its volcanic craters, its lovely beaches, a population of wild horses, some good-as-it-gets diving and surfing and an engrossingly interesting indigenous Polynesian culture there is pretty much only one reason folk venture to this remote place; the moai – hundreds of centuries-old statues. So iconic are these stone carved figures, you will have almost certainly seen pictures of them somewhere long before you ever visit. In pictures they look incredible; in real life you are unlikely to have words adequate to describe the sight and the feeling of this atmospheric place.
2) The San Rafael Glacier and Lagoon
Getting to the San Rafael Glacier takes some effort but there are few who would question whether that effort was worth it after arrival in this spectacular place. The latter part of the journey is only accessible by boat (or plane if money is no object) and from there boats big and small will get you onto the lagoon and up close and personal with the colossal glacier. Calving – which is when bits of the glacier drop off – take place fairly regularly and you are likely to see at least one in your time here, from up close in the boat if you are lucky. Apparently the glacier is in retreat so you might want to get a peek at this amazing sight while you still can – it won't be there forever.
3) Valparaiso
Simply put Valparaiso is charming. This port city of Chile's mid section leaves its visitor with strong impressions of vivid colour, labyrinthine alleys and streets, cobbled pathways, awesome graffiti and ocean views. Part of its charm is delivered by way of the tumbling-down-to-the-ocean effect of the houses which are ranged across the seemingly impossibly steep hillsides.
Once known as 'the Jewel of the Pacific' by visiting sailors, Valparaiso has a few claims to fame which include being home to the world's oldest Spanish language newspaper in continuous publication, Latin America's oldest stock exchange and its earliest volunteer-manned fire service.
So exceptional is this city's design, architecture and historical features such as its funicular railways (think small train carriages on counterbalanced systems used on steep terrain) it was awarded UNESCO World Heritage status in 2003. Aside from simply wandering and getting wonderfully lost in this special place, be sure to check out La Sebastiana Museum – originally one of the self-designed houses belonging to Nobel Prize winner and Chile's beloved poet Pablo Neruda.
4) Lauca National Park
Way up in the north of Chile's long and thin territory can be found the much-visited Lauca National Park. As tourist attractions go, it doesn't really get any higher rated than this Andean-located park which is home to all kinds of treats which register as starkly beautiful, spectacular and naturally stunning; the whole is dotted round with archaeological sites, lava fields and  volcanoes.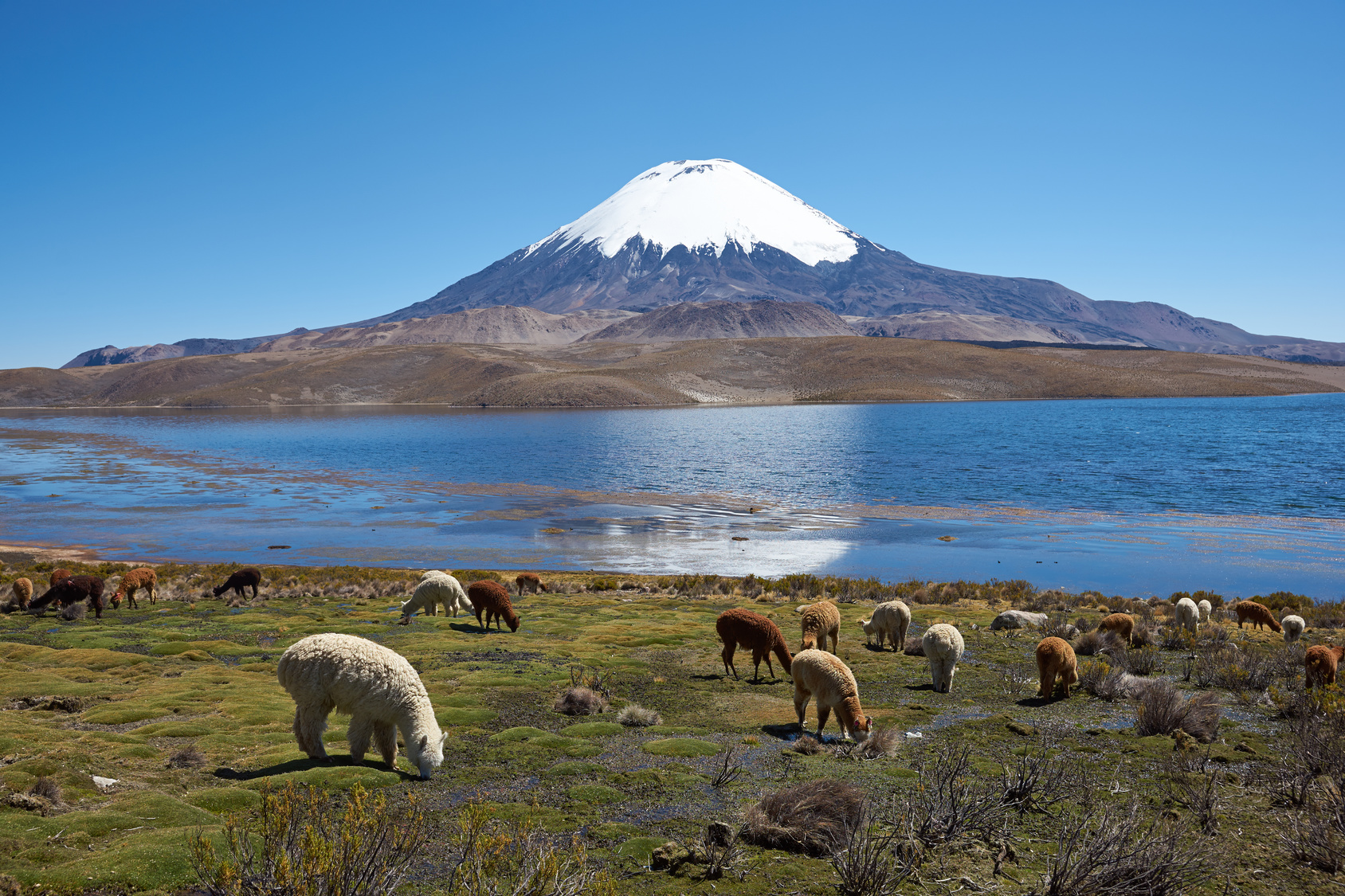 The park's jewel in its crown is the beautiful Lago Chungara which stakes its claim as one of the planet's highest altitude lakes. It is watched over by the majestic but dormant Volcan Parinacota which is almost ridiculously close to a child's drawing of the perfectly conical, quintessential volcano. Sitting just across the border in Bolivia, like a mirrored image, is the Parinacota's twin – Volcan Pomerape
5) The Punta Pite Walkway
Some of Chile's awesome sites and sights are Mother Nature gifted, some have been created by man and others yet, such as the Punta Pite north of Santiago, have been granted their beauty and fantastic nature by way of a little contribution from each.
The Punta Pite is a little hard to describe although words such as fantastical and mind-blowing have been employed by others in attempt to do so. Essentially this is a coastal walkway several miles long of rock-carved snaking stairways, elaborate bridges, sinuous paths and tunnels in an area of astonishingly beautiful wild coastal scenery. However, that description doesn't begin to tell the whole story. The entire thing was the brain child of an obviously highly talented architect and intended to create a pathway which dissolved into its surroundings rather than dominate them. The entire thing was achieved by hand over a 2 year period by 40 stone masons working simultaneously.
The incredible Punta Pite seems to be inexplicably almost entirely absent from guidebooks and tourist literature which means it is little visited making walking this extra-special place even more exceptional.
6) Termas Geometricas
Sometimes travel is about immersing yourself completely in the culture of your chosen destination but sometimes travel is just about collecting experiences of the quirky and highly unusual kind. One such of this latter – which also happens to register on the gorgeous setting scale – can be found nestled into a canyon of the Chilean forests near Coñaripe. Essentially a vast natural Jacuzzi in a land where hot-pools are plentiful, it is the Japanese-inspired design of its bright red wooden maze of walkways contrasting against the lush greens which make this place so unusual. The whole is suspended over a flowing stream and you can make your way to each of the 17 pools (each complete with small red changing hut with grass-planted roof), 2 waterfalls and 3 cold plunge pools by way of the scarlet walkways. In short – add unexpected Asian design to stunning Chilean nature and then throw in some healing waters to soak away all your adventuring aches and pains to create something of a magical place not to be missed.
7) The Atacama Desert
The Atacama Desert extends for hundreds of miles, mostly totally devoid of human life, and represents the planet's highest and driest (if you don't count the poles) desert. The other-worldly weather-wracked moonscapes and incredible rock formations are two of the reasons the Atacama is so incredibly popular with Chile's visitors but there is actually plenty more on the Atacama menu.
For landscapes guaranteed to leave you gaping at the parched beauty of it all head to the Valle de la Luna (Valley of the Moon) – the site of abandoned salt mines – or the Valle de la Muerte (Valley of Death) with their moon-like dunes and rocks.
Most travellers use San Pedro de Atacama as a base or gateway for their desert adventures and from here there is a whole range of activities and experiences up for grabs which include hiking and trekking, climbing, astronomical tours and sand boarding the giant dunes.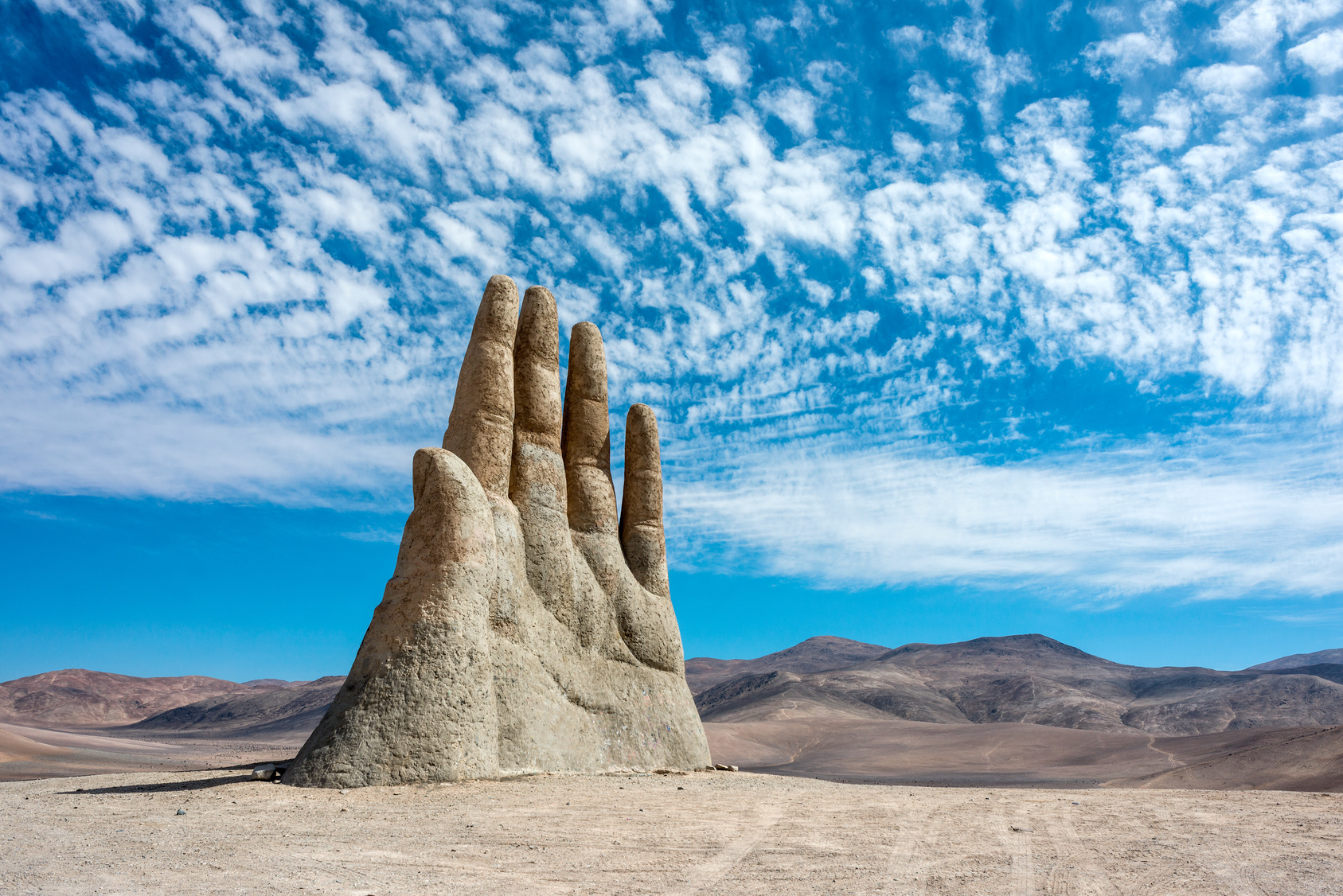 A few more must see features of the Atacama include:
The desert geysers – around 80 or so close to Chiu Chiu
The thermal Baños de Puritama pools – also near Chiu Chiu
The Mano de Desierto (the Desert Hand) – an 11 meter sculpture of a hand dating from the 1980s which appears to be emerging from the sand – 75 km from Antofagasta
The Atacama Giant – the world's single largest anthropomorphic geoglyph thought to date from between 1000-1400 AD and which served as an astronomical calendar. The Atacama is home to thousands of geoglyphs but none so large as the 390 ft/119 metre giant.
Catch an Atacama Desert sunset…Anywhere
8) Los Pingüinos Natural Monument
Uninhabited Magdalena Island 22 miles/35 km from Punta Arenas is where you need to head if you want to see penguins……lots of penguins This small island is a huge tourist magnet from October to March thanks to the 120,000 Magellanic penguins which live here and if you want to come and visit there are plenty of tour operators willing to get you here. Besides the obvious draw of the penguin hordes, visitors can explore the island's pint-sized museum or climb their way up the spiral staircase of the lighthouse for some far-reaching views of ocean and island.
9) Torres del Paine National Park
Located in the far south of Chile's Patagonia region can be found the Torres del Paine National Park. This is a stunning naturally beautiful land of ancient glaciers, icy-blue lakes, forests and the ever-present and always lovely Andes Mountains.
The park's most well-publicised and best known feature is the Towers of Paine – a super impressive glacially-sculpted granite rock formation in triplicate which looks like something out of Lord of the Rings. Torres del Paine is also something of a hikers' heaven and is home to what many consider to be one of the top treks on the entire planet – the 120 km Paine Circuit Trek.
10) Forest Zip-lining
If everything you read is to be believed there are at least five places which have the longest zip-line in South or Latin America including locations in Mexico, Puerto Rico, Colombia, Costa Rica and Chile. Whether or not the Chilean version in the Huilo-Huilo Biological Reserve can really claim the title for those all important extra feet and inches probably doesn't matter that much; the fact is the Huilo-Huilo zip-line is without doubt one of the highest and one of the longest.
Soar above the trees on one of a choice of circuits which gradually get more extreme and take you at their highest to a heady 295 ft/90 metres. If you dare to look down as you whizz along these hanging wires you'll have wonderful views of the temperate rain forest below (sometimes way below) you.