*Disclaimer – this is an old post, related to our best backpacks in 2017 – check out our best travel backpacks for 2018 here.*
As we're now in our Spring/Summer 2017 season, it's time to select our favourite travel backpacks for 2017. We've included a few backpacks from last year's list, with some new models making the cut this time around. So here are our top travel backpacks for 2017, which will hopefully help you choose the right backpack for your gap year adventure.
[table id=3 /]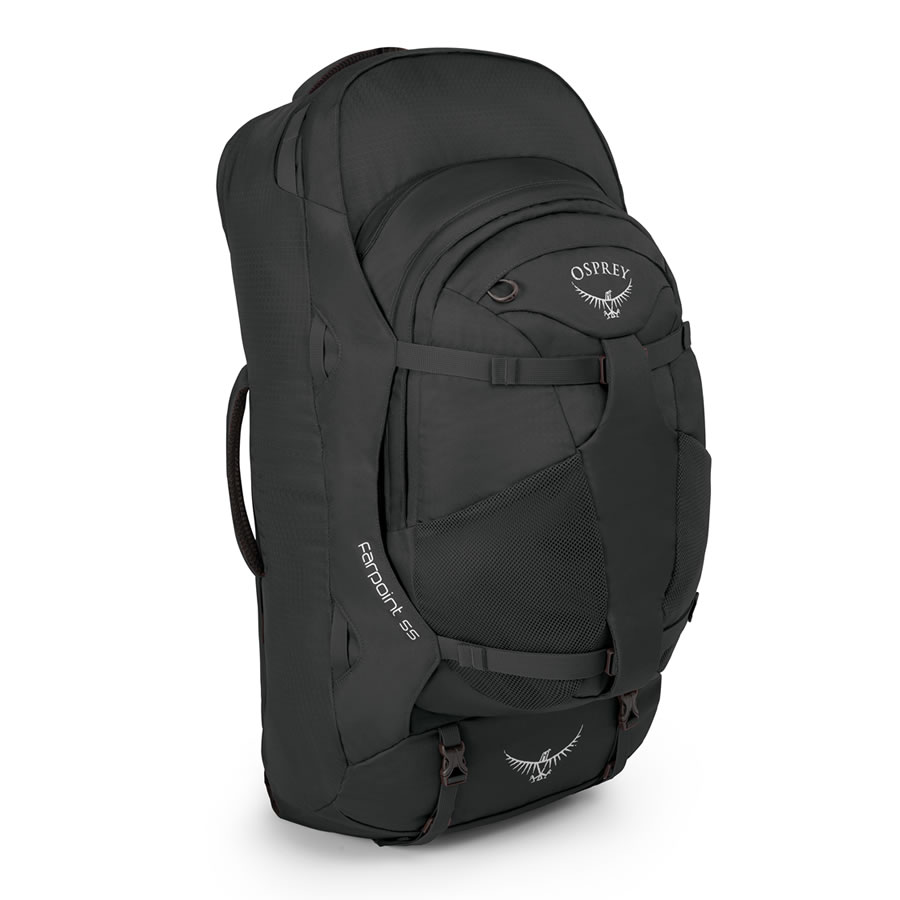 The Osprey Farpoint is one of the most lightweight travel backpacks around, and the lightest option on our list, weighing just 1.77kg for its M/L back length variant. The Farpoint is available in 40, 70 and 80 litres sizes to suit any type of trip. It also comes in a choice of colours, including Jasper Red and Volcanic Grey, as well as Caribbean Blue, which will be discontinued after Spring/Summer 2017.
While the back system isn't adjustable, you can choose from a S/M or M/L back length to suit your height, so you can ensure you get the most comfortable fit possible. Osprey even have their own pack sizer app, which digitally measures you to help you work out which back length is the right one for you.
In terms of features, the Farpoint 55 comes with a 42 litre main compartment and a 13 litre detachable daypack, which can also be clipped to the front of the main backpack harness for security. The backpack has a large zippered opening with lockable zips and includes a large mesh internal pocket and internal compression straps. The daypack also includes a padded laptop/tablet sleeve and top pocket for electronics.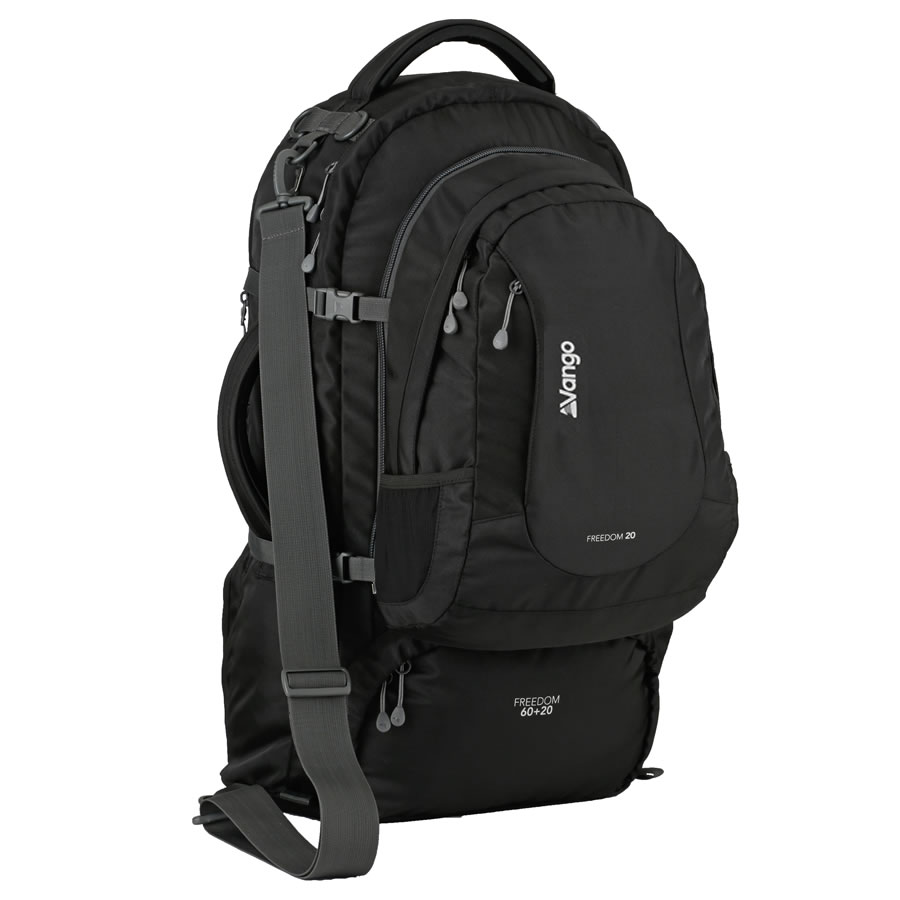 One of our most popular backpacks for travelling, the Vango Freedom is a great option for gap year travel. Sitting at a reasonable mid-range price, the Freedom 60+20 offers plenty of useful features and has a sleek and simple appearance that appeals to both male and female travellers. The 60+20 is available in either black or purple and you can also upgrade to a larger 80+20 litre size if you need a bigger backpack (only available in black).
The Freedom 60+20 comes with an adjustable back system, which is easy to adjust with its ladder lock Velcro design. As well as its simple adjustable back system, the backpack comes with a detachable shoulder strap for an alternative method of carrying. The Freedom comes with a large zippered opening and includes a separate base compartment for storing shoes, draw cord gaiter for compressing your luggage and internal zipped pockets for organisation. The daypack has a 20 litre capacity and clips to the main backpack harness.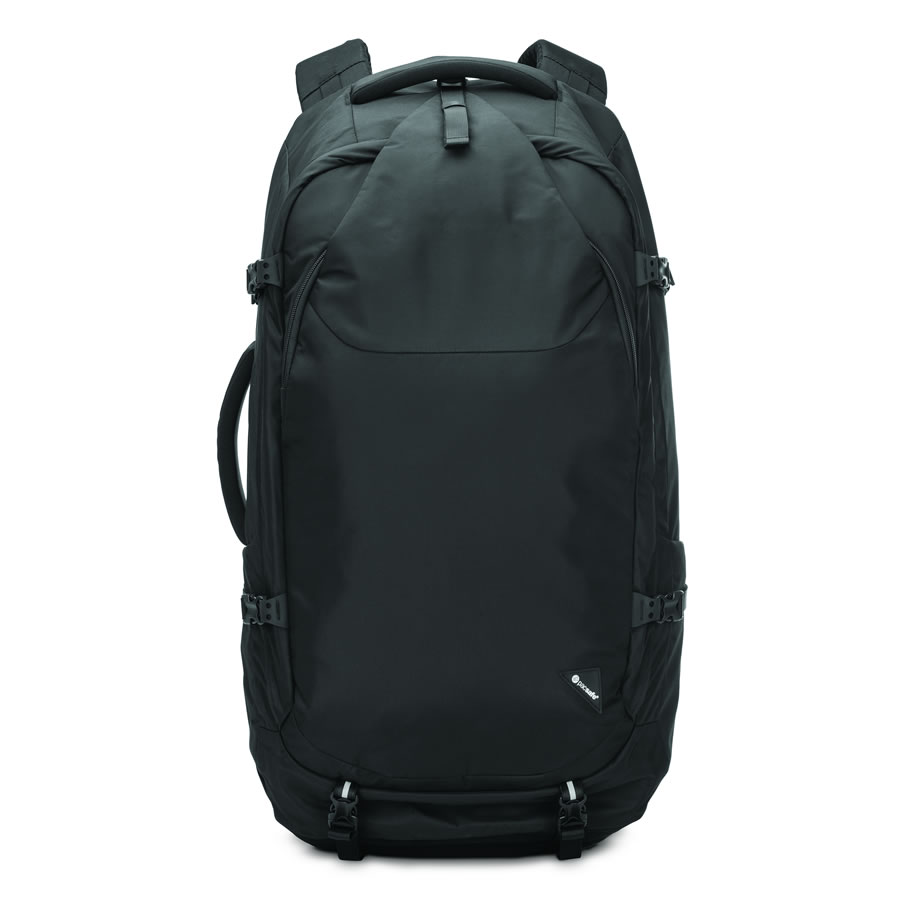 Arguably the most secure backpack you'll find, the Pacsafe Venturesafe EXP65 is the perfect backpack to travelling in countries with high crime rates, and for travellers who are concerned about the security of their belongings. With a 65 litre capacity and adjustable back system it features the basic offerings you'd expect from a travel pack, but sadly doesn't include a daypack. However, the lack of daypack can be forgiven due to its extensive range of security features!
The Venturesafe EXP65 comes with eXomesh slashguards on all external panels to stop thieves from cutting into your bag and stealing your belongings. It even has internal reinforced wire in its shoulder straps to stop thieves cutting them. It takes lockable zips to a new level with a central locking point for all zips and comes with a 3mm stainless steel locking cable for locking it to secure fixtures. Zips are also puncture-resistant and the central locking point is concealed by a strap for added security.
As well as its many security features, the Venturesafe EXP65 also includes internal compression straps, internal mesh pockets and a front compartment with an internal organiser.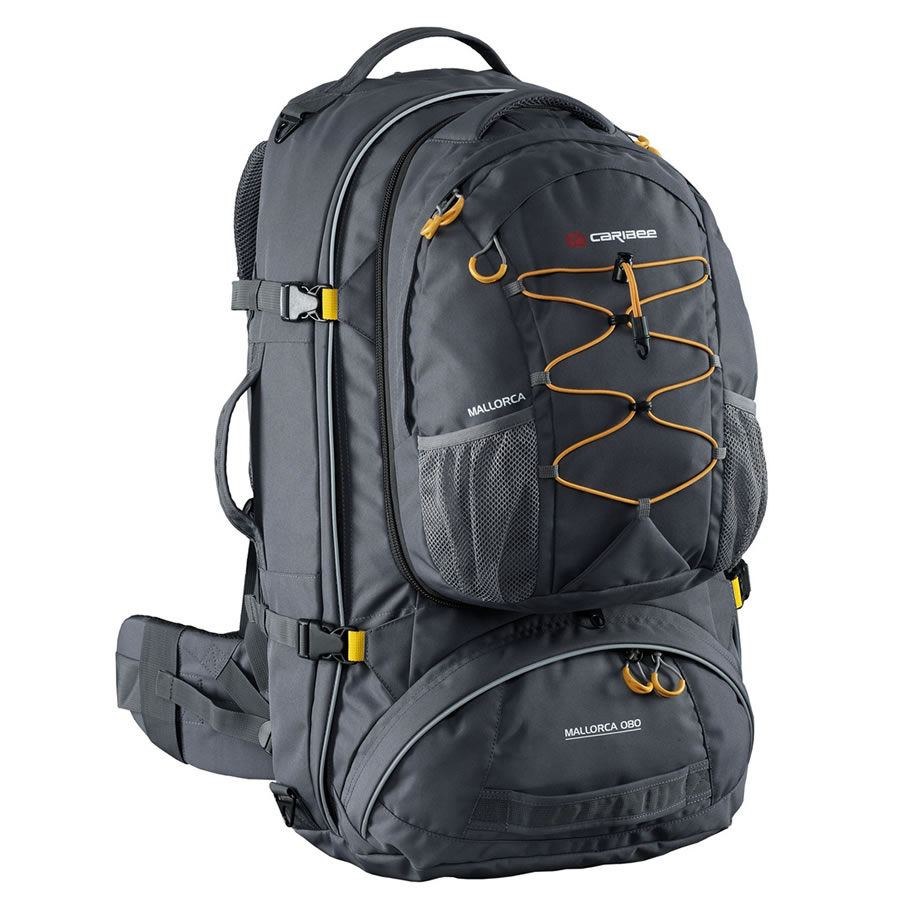 When it comes to durability, you'd be hard pushed to find a backpack as tough as the Caribee Mallorca. Constructed from high density 900D polyester, this is Caribee's premium quality, best-selling travel backpack. It comes with all the features you'd want from a travel backpack, including lockable zips, internal pockets, compression straps and a padded, adjustable back system.
The main bag has a 55 litre capacity and includes a detachable 15 litre daypack, which can be attached to the front of the main backpack harness. If you need a larger backpack, the Mallorca is also available in an 80 litre size. For easy packing and access to your gear, the Mallorca features a large full length zippered opening and you also get an optional internal divider to help organise your luggage.
The advanced back system offers a little more padding and support compared to many travel packs on the market, and it's easy to adjust with its ladder lock adjustment. Another great feature is the included rain cover, which packs away into its own pocket.  The Mallorca is a great all-rounder offering high durability and a good range of features.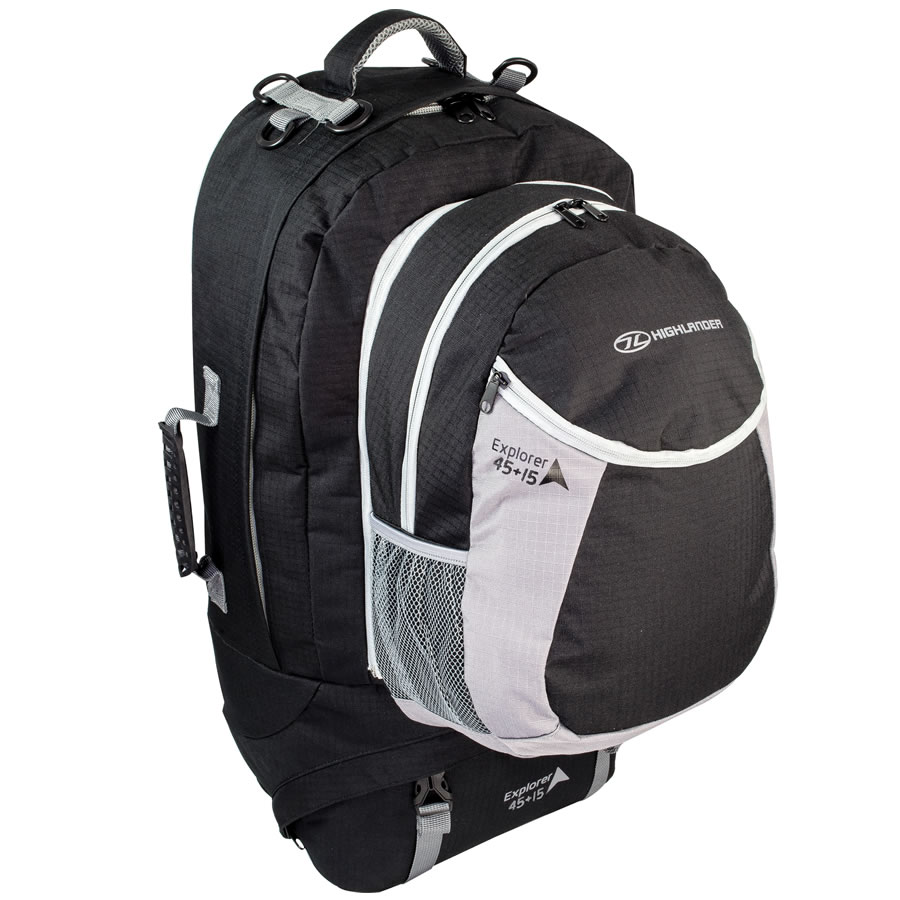 With more and more travellers opting for smaller travel backpacks, the Highlander Explorer is a great option. With a 45 litre main compartment and detachable 15 litre daypack, this backpack is ideal for inter-rail adventures, lightweight backpacking and shorter trips. Of course, one of the main draws of the Highlander Explorer range is its affordable price tag that makes it one of our favourite backpacks year after year.
While this is a good value backpack, don't be fooled into thinking it scrimps on features or durability. The Explorer 45+15 is constructed from tough 600D ripstop polyester and comes with a range of useful features for travelling. The main bag has lockable zips for added security and the daypack can be attached to the front of the main harness. As with most of the backpacks on our list, the Explorer comes with a ladder lock adjustable back system, making it simple to adjust.
So what makes this backpack so great, apart from its affordability? On a purely aesthetic note, it's available in three different colours, and in a practical sense, it comes in either a 45+15, 60+20 or 80+20 size.  Another feature that sets the Explorer apart from other backpacks in this list is its zipped expansion, which allows you to fit more gear inside.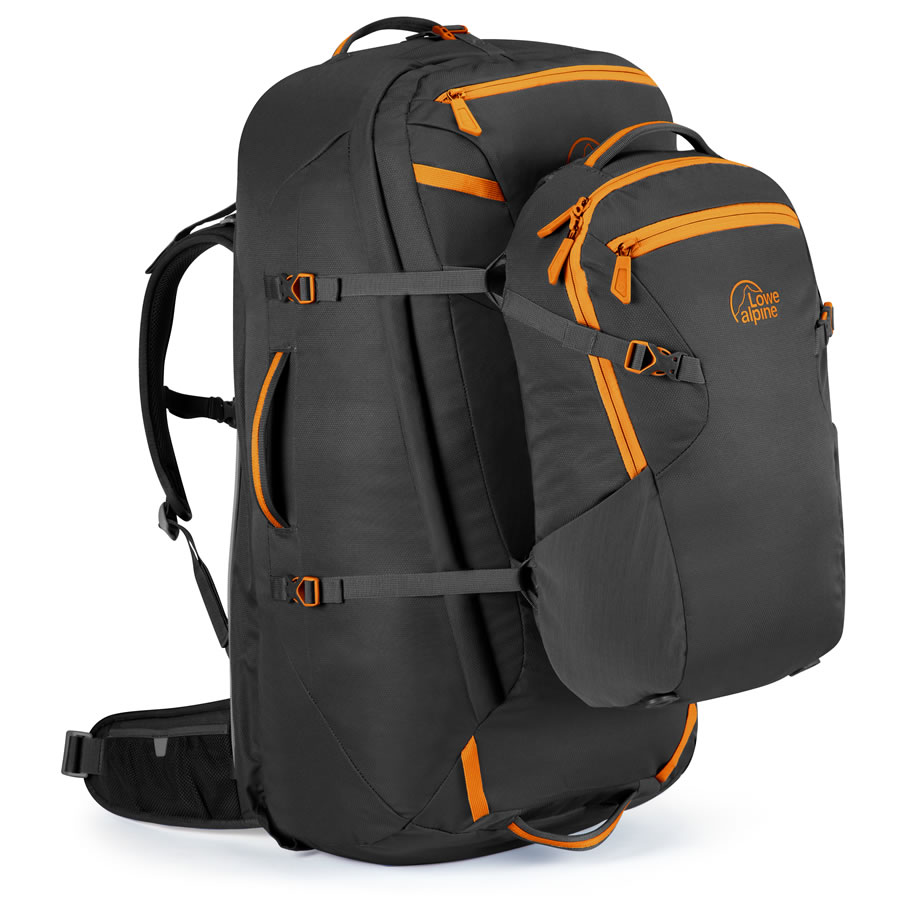 Lowe Alpine designed the first backpack with an internal frame, making them experts when it comes to creating quality packs for trekking, mountaineering and travelling. Their now discontinued Trekker 70+30 made our list of best backpacks in 2016, and we've replaced it with their Voyager 70+15 backpack for 2017.
While the Lowe Alpine Voyager 70+15 has a fixed back system, Lowe Alpine have created two models, with male and female options to give the best fit possible. The ND65+15 female version has a slightly smaller capacity at 65 litres, as well a female specific back system, but other than that they have the same key features. Both the male and female versions of the Voyager are available in either Anthracite or Atlantic Blue.
The Lowe Alpine Voyager has a large zippered opening with tamperproof and lockable zips. It also includes internal compression straps and a large mesh pocket for your laundry or accessories, making it easy to organise your luggage. The backpack even includes a rain cover, which is great for protecting your backpack in monsoon downpours, and surprisingly not often included on many travel packs! The daypack has a 15 litre capacity and also benefits from lockable zips with a large hidden pocket on the back for storing valuables discreetly.