Bordered by Nicaragua to the north and Panama to the south, Costa Rica with both Pacific Ocean and Caribbean Sea coastlines is every inch a Latin American country full of colour, culture and fascination. However, it also happens to have a tourist infrastructure so established and slick it is the envy of all its continental neighbours and which makes life incredibly easy for travellers who venture here.
This is a country known for its progressive environmental policies which gain momentum with every year that passes. It appears consistently high on world ranking lists which measure such things as environmental performance, green initiatives and all things which make for a happy planet. And it isn't just a follower but leads the way in certain areas – in 2012 Costa Rica became the first country in the whole of the Americas to ban recreational hunting.
Costa Rica has a little something of everything – tropically idyllic beaches, dramatic volcanoes, verdant rainforest, colonial splendour, an almost endless menu of adventure activities and a people who embrace their pura vida ethos in all aspects of their lives.
We make no apologies for the fact that our following top 10 list leans a little heavily towards the national park and natural delights front. In some ways this is the very essence of what this stunning country is about with around a quarter of the country's entire land mass made up of protected areas – the largest proportion in fact on the entire planet. Although Costa Rica makes up just 0.1% of the world's landmass it holds within its beautiful boundaries a whopping 5% of all species of flora and fauna found in the world; a biodiversity statistic which is awe-inspiring. So, if Mother Nature in all her glory doesn't appeal you really need to choose another destination.
1) Go Jungle Exploring – Tortuguero National Park
Tucked into Costa Rica's north-east corner on the Caribbean side of the country you'll find the wonderful Tortuguero National Park. Rather more isolated than the country's other parks, Tortuguero's weaving labyrinth of canals and waterways effectively creates strips and pockets of mostly water-surrounded land. This feature makes access more limited – you can't drive here – and keeps the visitor numbers lower than elsewhere. It also lends remoteness to the whole which makes for a wildlife-rich jungle experience hard to beat for adventurous nature-lovers.
Monkeys, snakes, jaguars, butterflies, caiman, frogs, all kinds of vibrantly-hued exotic bird-life including the iconic toucan and an incredible diversity of other species call this thick jungle home.
Although arrival by air via small aircraft is possible the most fun option is to make your way here via boats which depart from a dock in Moín, a little north of Limón. This water journey – which at certain times of year will see you transferring a few times over to ever smaller boats – is an adventure all of its own; never knowing quite what wildlife you might encounter as you putter your way towards Tortuguero is all part of the excitement.
Staying at least one night in the park allows at times a privileged glimpse into the simple life of the folk who live here in their stilted houses and huts while the silence of the star-spangled nights surrounded by jungle sounds are not easily forgotten.
Sign up for a kayak trip deep into the jungle via tiny waterways where larger craft can't go and paddle your way past monkeys calling from the treetops and the crocodile-related caiman lurking in the water. Most of these kinds of trip will also offer an opportunity for an exploration into the jungle on foot, where your guide will machete his way through otherwise impenetrable sections in search of snakes and a tiny 1-inch long tree frog known as the strawberry poison-dart frog. You will be left in no doubt why this frog's alternative name is the blue-jeans frog once you see it; sporting a colour scheme of vibrant scarlet on its head and body, this frog's legs are a denim-blue colour giving it an appearance of wearing a pair of trousers or jeans.
2) Check Out an Unusual Art Gallery – Prisoner Graffiti – Disused San Lucas Island Prison
Until it was shut down for good in the early 90s San Lucas Island Prison had served as a brutal penal colony for criminals who fell into the categories of hardcore and vicious. For more than a century, this notorious prison was to act witness to a history of human misery, lives cut short and suffering on a grand scale.
The art-work and scrawled graffiti created by any number of unknown inmates which adorns the walls here is not simply of historical importance but also particularly remarkable for the mediums used. The provision of conventional art supplies were not exactly part of the prisoner rights ethos here which meant the artists had to improvise and in many cases blood served as their ink.
Predictably, naked women and a range of explicit images with a pornographic slant make up a good proportion of what you might see at this unique 'art gallery' but also to be found are religious depictions and sketches and drawings on a variety of themes. Each of these images along with the signatures and writings express dreams of the outside, fantasies, faith and a range of emotions from despair to anger.
San Lucas Island sits on Costa Rica's Pacific side in the waters of the Gulf of Nicoya – less than an hour's boat ride from Puntarenas.
3) Learn to Surf on Jungle-backed Beaches
As a surfing destination Costa Rica features right up there as world-class to those of the wave-riding set, but its countless tropically-idyllic beaches also serve as a paradise-rich settings for all those wanting to try it out for the first time. Surfing fits perfectly into a country whose most-used phrase and ethos is 'pura vida' and in many places conditions are ideal for complete novices and opportunities abound almost anywhere warm blue water meets sand, rock or reef. Classes, schools and surf camps operated by independent individuals up to large-scale set-ups, offering everything from a one-hour class to weeks of surfing safaris or residential tuition, are beyond count. There are options for those who want to get wonderfully wet during the day and party at night, as well as choices for those who dream of learning to surf amid the tranquillity of pristine nature in isolated places.
One of Costa Rica's most popular surf areas for both experienced riders and beginners is the Nicoya Peninsula which runs down the country's Pacific side from its north-west corner. Surf schools and operators are especially thick on the ground here so you can take your pick of what best suits you and your budget. Expect aqua-hued waters, lovely beaches, glorious sunsets and 101 options for what to see and do when you are not filling your day with your first fun-fuelled steps into the world of learning to surf.
4) Whizz Along a Zip-Line – Monteverde Cloud Rainforest
The Monteverde Cloud Forest Reserve is an almost 26,000 acre conservation area full of dripping ferns, mosses, orchids and another 2,500 species of plant and crammed to bursting with wildlife which includes 100 mammal species and 400 bird species. This latter includes the iconic quetzal – a bird only found in the cloud forests of Central America, once considered a deity by the Aztecs and sporting a plumage so resplendent it makes a peacock look drab.
Around 90% of this lush paradise – which National Geographic once described as 'the jewel in the crown of cloud forests' of the world – is made up of virgin forest and is one of the country's top examples of eco-tourism working at its best.
Why 'cloud' forest? Monteverde represents an example of a rare Mother Nature-crafted high-altitude forest environment, which sees an almost constant ceiling of cloud lying over the canopy creating a misty, atmospheric place in which vegetation thrives. This in turn provides habitats beloved by an incredible diversity of fauna.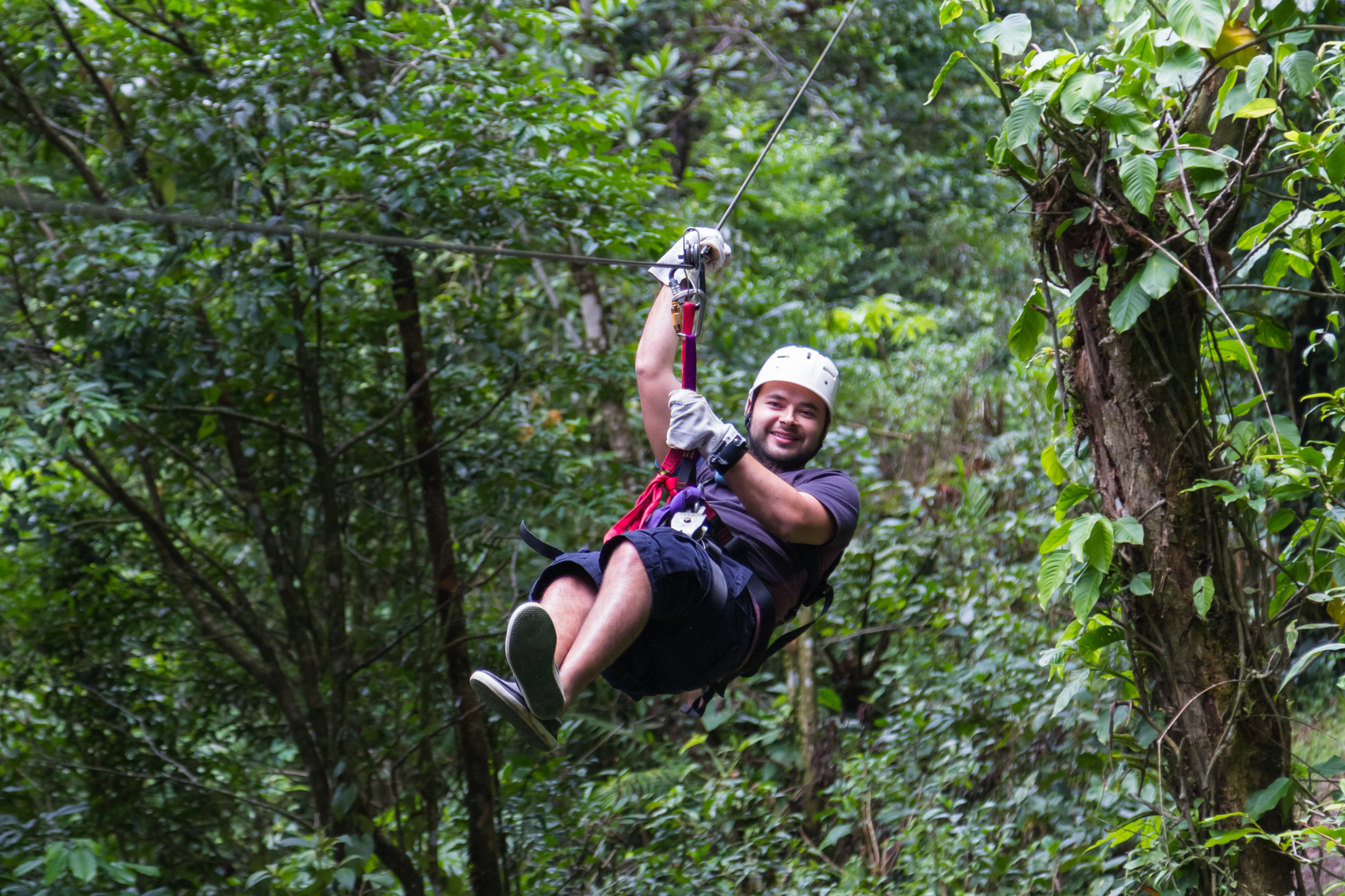 Beneath the cool misty canopy there are hiking trails in abundance for your jungle explorations which can be wandered independently or with the advantage of a knowledgeable guide, while horseback treks are also possible. Monteverde is also criss-crossed by a network of bridges and walkways suspended high above the forest floor known as the 'Skywalk'. These were originally constructed to allow scientists a series of vantage points for studying the area and its creatures and today allow you to do exactly the same. Last but not least on the menu of ways to explore the cloud forest is the 'Sky Trek' zip-line option, which whizzes you from mountain to mountain on a series of eight separate lines suspended above and through the forest canopy.
5) Run with the Dogs – Territorio de Zaguates
Every once in a while a country offers you the opportunity to do something which truly ranks as ultimately unique – The Land of Strays or Territorio de Zaguates is one of those. Essentially a rescue centre for stray and unwanted dogs, it's unlikely you will ever have encountered anything quite like this. It isn't just the fact that all of the animals taken into this wonderful place run free on the mountainside rather than spending their lives inside a cage awaiting adoption but something which makes for an incredible story.
It all started when the vets of this outfit set about trying to pinpoint which breeds each mongrel contained a mix of and afterwards bestowing pedigree names of their own invention on the dogs which displayed similar physical traits. These new breeds included such delights as fire-tailed border cocker, furry pinscher spaniel and long-legged Irish schnaufox. After the centre's lead vet appeared on TV to explain what was happening up in the mountain things went a little viral with any number of would-be dog owners clambering to offer a home to such unique breeds as the freckled terrierhuahua. An ad-campaign followed featuring water-colour portraits of the rescue centre's special mongrels splashed across outside hoardings, billboards and bus stations with the slogan 'when you adopt a mutt, you adopt a unique breed' which led to another wave of adoptions.
Frolicking on a mountainside – about an hour from San Jose – with literally hundreds of dogs is not something every traveller can claim to have done but it is perfectly possible here. Taking place between once to four times a month is a 3 km hike which is essentially intended to allow the mutts of Territorio de Zaguates to make some new friends (dog owners are allowed to bring their own dogs), receive some much sought after fuss and allow prospective adopters to get to know potential future pets. Check out the Territorio de Zaguates's Facebook page for dates.
6) Sample Some Caribbean Vibes & Cuisine – Puerto Viejo
The minute you arrive in Costa Rica's Caribbean coast Puerto Viejo de Talamanca (known to most simply as Puerto Viejo) you will recognise instantly a distinctly different vibe. Puerto Viejo is a red, gold and green dominated Rasta-rich place infused with a taste – in every sense of the word – of the Caribbean. which was once only visited by the hard-core surfing set looking to test their mettle on the notoriously dangerous 'Salsa Brava' wave. These days buzzing Puerto Viejo is made up of bamboo-constructed rustic bars, a mountain of Bob Marley t-shirts, beads and baubles sold by a gathering of street vendors, a constant soundtrack of reggae and reggaton beats and an ever-present trace of marijuana in the air.
If you want to come here for a serving of hedonistic partying that is on the menu but so too is chilling on empty stretches of coconut palm-fringed beaches, nature immersion in close-by jungle and the chance to treat your taste buds to some delectable Caribbean influenced cuisine.
It is unlikely that anything about Costa Rica will start to grow old and samey but nevertheless no trip to this country is complete without immersing yourself – even if only for a day – in this distinctly different side of the country.
7) Stay Cool in the Tropical Heat – A Number of Wild & Natural Swimming Spots
As is probably true of anywhere in the world where day times see the temperature gauge moving well into the red zone and humidity levels suffocating, you will come across all kinds of inventive ways dreamed up by local folk to keep cool. On this front Costa Rica has been rather generous because occurring with refreshing frequency are an almost unlimited number of places which allow you to strip off and immerse yourself in wonderfully cool to bracingly chilly waters. What's more some of these places are set amid natural surroundings so idyllic and lovely you will want to linger long after your body temperature has dropped to a more comfortable level.
On the menu are such delights as waterfalls with limpid pools at their bases and swimming holes dotted along river courses often complete with a rope swing left from those who have been there before you or a natural platform of rocks or cliffs from which to take a leap of faith.
Wherever a road meets a river can typically be found picnicking locals making the most of a riverside beach but if you are looking for something rather more secluded there are plenty of those too. Your best bet is to ask around wherever you are based and more often than not you will be directed to a natural swimming location ranging from the easily accessible to those hidden deep within jungle surrounds which require a little more effort to get to.
Here are a few to get you started:
El Salto – at the junction of the Rio Fortuna with the Tigra bound road not far from La Fortuna
Piscina Natural – Cahuita is 1 km to the south
Montezuma Waterfall
Rio Baru – head 1 km upstream from Dominical
Rio Rincon – a bridge spot and rope swing – La Palma sits 1 km to the east
8) Hike a Volcanic National Park – Arenal
Until 2010 travellers flocked to this area to watch a very active Arenal volcano which had been putting on regular displays since the 1960s featuring skywards launched red-hot ash and spewing lava – a sight especially spectacular at night. Since then Arenal has dozed off, falling back into a restless sleep which is occasionally disturbed by puffs of smoke or rumblings; no-one of course knows when it will wake up again for real.
Hiking the actual slopes of this 5,000 feet volcano is currently forbidden but people still do it and there are always those willing (for a price) to show those determined enough hikers how to go about it. However, perhaps more rewarding is simply hiking the Arenal Volcano National Park and having the almost perfectly cone-shaped volcano as a back-drop. Arenal Volcano National Park also boasts a second volcano within its boundaries – the 3,000 year inactive Chato whose crater contains a lagoon.
As is true of all the country's national parks you can expect a good chance of spotting wildlife during any trekking here. Monkeys, jaguar, deer, coati and a huge diversity of invertebrates and insect life including snakes call the park home while anyone keen on local birdlife is going to have a field day. Almost all of Costa Rica's 850 bird species can be found here including the number one spot for most – the highly endangered quetzal; a bird so richly-hued it borders on garish.
Also within the parks boundaries can be found the lovely jungle-surrounded Cataratas Falls, natural hot springs and a range of adventure activities which include mountain biking, canyoning, waterfall rappelling and horseback riding.
9) Walk with Dinosaurs & Jesus – Parque Francisco Alvarado
Back in the 1960s the curator-ship of the Parque Francisco Alvarado was taken over by a man named Evangelisto Blanco. Both gardener and artist, Evangelisto set his imagination to full throttle, took his shears and transformed a pleasant but perfectly normal park into something which has become a wonderful – if little known – tourist attraction. Located in the city of Zarcero, Parque Francisco Alvarado gives its visitors the chance to lose themselves for an hour or two on a magical journey through a topiary garden on an impressive scale…and all for free.
The faces etched into hedges and shrubs are the most simple of the designs (although highly effective nonetheless) while quite what else you might encounter here ranges from human figures to dinosaurs and elephants to Jesus. The far-and-away most stunning feature of all is a tunnel made from a series of irregular-shaped arches which will transport the visitor straight into the fantasy realms of the Tolkien-esque.
The garden sits beside a church of the highly ornate variety with some awe-inspiringly wonderful architecture well-worth a look but few would argue that even this loveliness pales into insignificance when set beside the creations of Mr. Blanco.
10) Embrace Your Inner Beach-bum – Manuel Antonio National Park
Just 3 miles square, Manuel Antonio ranks as the smallest of Costa' Rica's national parks but we all know that sometimes the most precious gifts come in the tiniest of packages. And Manuel Antonio is a jewel beyond any shadow of a doubt. Every inch of this park which butts up against the Pacific coast on one side has been richly endowed with the greatest of Mother Nature's offerings; thick rainforest teeming with life criss-crossed with nature trails marches right down to a series of secluded coves and small crescent bays made up of sand as white as it gets.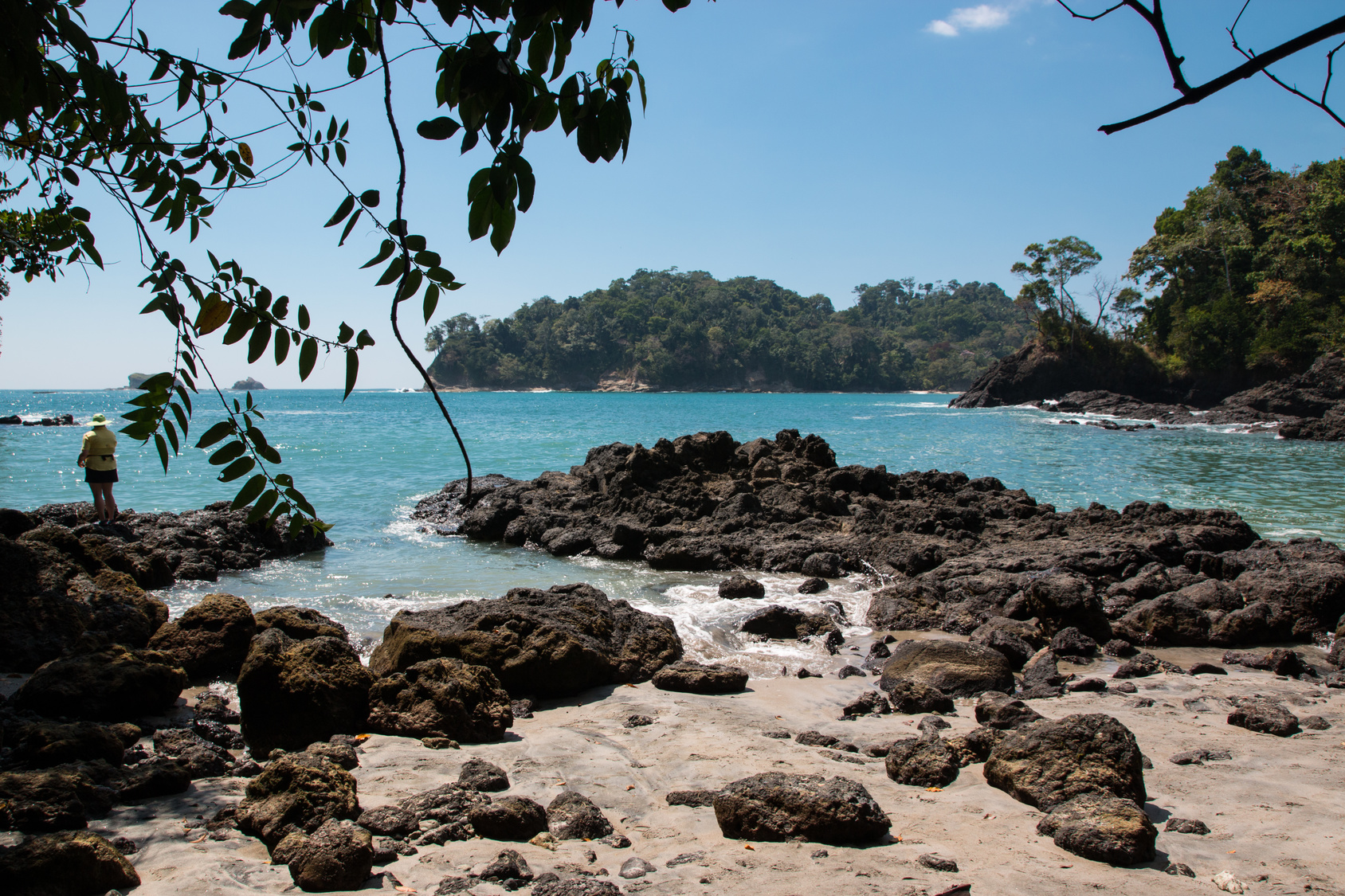 If you are feeling in need of some R&R beach-bumming time and the tropically idyllic floats your boat then it gets no better than this. The park's lush jungle full of chattering monkeys runs right down to the beaches and then intermingles with swaying coconut palms. The sands are glittering white and the waters which gently lap them crystal clear shades of aquamarine and turquoise. Occasionally some beach vendor will wander past offering you an ice-cold coconut to drink straight from the shell which is the most action you will find here. The beaches of Manuel Antonio probably represent the pinnacle of everyone's mental image of exotic paradise. The four primary beaches are Espadilla Sur, Manuel Antonio, Escondido and Playita – each as lovely as the next.
If contemplating the beauty of it all or cooling off in the azure ocean starts to wear thin you can go for an explore in the jungle and tick off spottings of brightly plumaged birds, monkeys, sloths, iguanas and crabs splendidly garbed in shades of violet and orange. Monkeys are so plentiful here that the park's authorities ordered the construction of a bridge to allow them total freedom of movement so avoiding monkeys here is harder than spotting them.