New Zealand pretty much has it all when it comes to things to see and do, whether your tastes tend towards the naturally spectacular or the adrenaline-fuelled adventure experience. However, along with some of its more well known draws it also has plenty in the quirkier or downright unusual side of things too. What's more, each of those listed here won't cost you a penny which just adds to their appeal – who doesn't love a freebie.
1) Hundertwasser Toilets – Kawakawa
Now we are fully aware that encouraging folk to head into public loos to take pictures might be considered a little odd – and possibly an arrestable offence in many places. But this is New Zealand where  things are often done so very differently and you'll find far more people coming into the Hundertwasser toilets to snap away on camera or phone than to spend a penny.
Austrian artist Friedensreich Hundertwasser, who lived in Kawakawa for his life's twilight years, designed these wonderfully colourful, crooked and quirky toilets where deliberate care was taken to ensure nothing was straight; according to Mr Hundertwasser "straight lines are evil". The whole is a kaleidoscopic rainbow work of art complete with ceramic tiles, colour-tinted glass, a growing tree, sculptures and a light quality intentionally church-like. You will never ever think of public conveniences in the same light again.
2) Collecting Sculptures & Meetings with a Colossal Squid – Wellington
An art collection with a difference can be hunted out on a saunter along Wellington's vibrant and lovely harbour and waterfront. Set at various spots along a route known as the 'Writers' Walk' are a range of sculptures made from wood and stone which celebrate the written word. Each has been designed to perfectly complement and harmonise with its seascape surroundings and although most are obvious there are a few which take some unearthing in order to collect all 23.
While you're in New Zealand's great little capital be sure to take in another of the city's quirkier sights – the giant squid at the free-to-enter (and also vast and amazing) Te Papa museum. At 4.2 metres the squid is enormous – the largest ever captured – but it used to be even bigger. Apparently the tentacles shrunk between capture, death and preservation methods.
3) Surfing Giant Sand Dunes – Te Paki Sand Dunes, Ninety Mile Beach
Jam-packed to bursting point with adrenaline activities, New Zealand acts as a magnet for the white-knuckle ride thrill-seeker; the opportunities to throw yourself off or out of something from a great height, hurtle along at gut wrenching speeds or otherwise fling, catapult, dangle, roll or suspend yourself are everywhere. The immense Te Paki sand dunes act as yet another such arena from which to get your kicks.
Here's how it works – grab a bodyboard/tea-tray/large piece of cardboard. Huff and puff your way to the summit of a dune which soars to 143 metres in height (think 50 storey skyscraper). Launch yourself head first over said dune (the super-kamikaze do it standing up) and hurtle your way to the bottom – hopefully with you and your vehicle of choice still joined together. It's hard to accept your body has so many parts and places to secrete away sand (sometimes for days) until you've done this run!
4) Rock Slide with an Aquaplane Finish – Rere Rock Slide, Gisborne area
Just as with item number 3 you are going to have to plan your vehicle of choice in advance so you can take it with you. The preferred ride is an inflatable inner tube but bodyboards, yoga mats, air mattresses or the faithful old piece of cardboard (typically only good for one ride as it gets soggy and disintegrates) are all used too.
The setting for the 60 metre rock slide – a natural geologically-formed rock slope which trickles water down in a constant stream – is rather lovely; native bush surrounded and with a cute little lagoon at the bottom.
Almost all will go for the sitting style of riding down the slide but anyone with especially good travel insurance might fancy the standing up approach (it is done occasionally and sometimes even all the way to the bottom without a crash and burn). Some rides finish with a graceful aquaplane across the lagoon at the bottom while the majority simply end in a splash amid flailing limbs. The rock slide was once only known by locals but those days are long gone so don't expect to have the slide to yourself – although head here at the crack of dawn and you might.
5) Visiting the Cardrona Bra Fence – Central Otago
The word unique is perhaps bandied about a little too often; used to describe things in New Zealand which to be fair can actually be found elsewhere in the world. That said it does have a few things of the truly unique kind and the Bra Fence of Otago is undeniably one such.
Local versions differ a little as to the Bra Fence's beginnings but the widely accepted story of its origins goes something like this……..Back in 1999, in the week between Christmas and New Year, four bras were left on a fence. Nobody knows why or to whom these four lingerie items belonged. Four abandoned bras together tend to catch the eye and within months the original four multiplied as folk added their own offering to the fence. Today, the bras number in their thousands.
The Bra Fence even has its own history of controversy, crime and intrigue. Thefts from the fence have numbered into four figures while locals argued for ages over whether the fence was a valid tourist attraction or embarrassing eyesore.
No matter which camp your own thoughts on the matter might favour one thing is for certain; the sight of thousands of bras of every colour of the rainbow fluttering in the South Island breeze as sheep pass by makes for an unusual holiday photograph.
6) Relax in Your Very Own Personal Spa -Hot Water Beach, Coromandel
Hot Water Beach is that type of white-sand, turquoise-water lovely which most would find highly appealing. But so too are thousands of other New Zealand coastal spots which don't receive anywhere near the same tourist traffic as here. The difference is no mystery though because here – thanks to underground thermal rivers – you can dig your very own private hot pool. Time slots are two hours either of high tide and if you head this way in summer it is highly unlikely your experience will be hushed and isolated as the world and his wife wants to dig their own hot pool too. Still, this particular New Zealand quirk is an almost compulsory experience of any visit to this amazing country.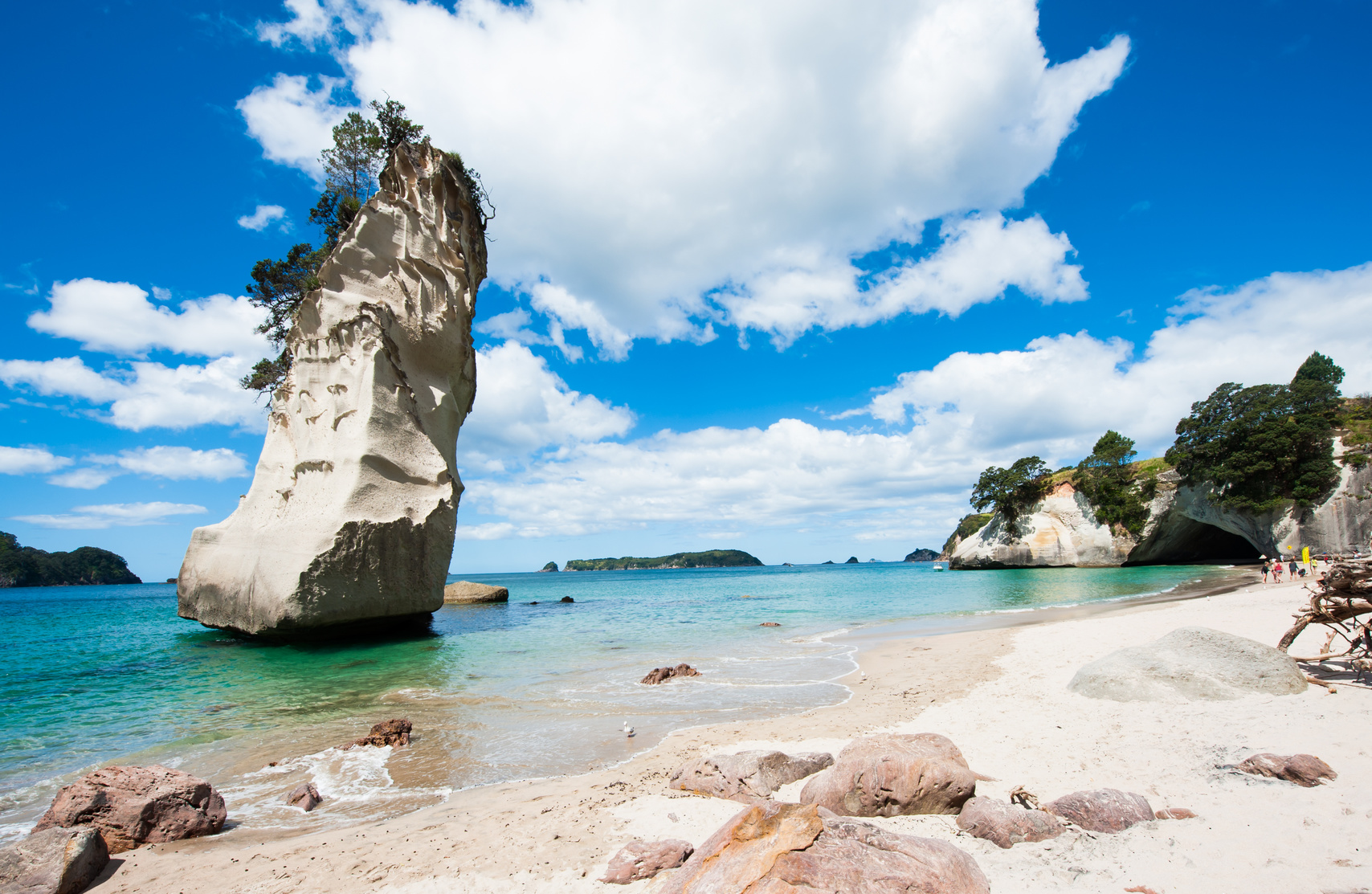 7) Swim or Surf with the Tiny Dolphins of Porpoise Bay – The Catlins
Swimming with wild dolphins is a common dream of many and so crammed are the coastal waters of New Zealand with several dolphin species that many travel here just to tick off that very thing from their bucket-list. However, although there are several award-winning and excellent outfits in the country who will take you out to swim with dolphins, the costs are not always within the backpacker budget. But Cinderella you shall go to the ball….or at least get to realise your dolphin dream. Head to Porpoise Bay in the Catlins where for several months of the year, this sheltered bay is home to Hectors dolphins – both the worlds tiniest and the rarest of the marine species. Waters are chilly but dare to brave the cold for a swim or even a paddle and you may well be blessed with dolphins coming to join you. Sign up for a surf lesson with local legend Nick and raise the chances of encounter again. The dolphins love Nick and often come to say hi while he is in the water.
8) Stroll through the Candle-lit (and illegal) Lanyop Gallery – George Street, Dunedin
New Zealand has plenty of galleries of many different kinds; many of them are even free. However, you will be hard pressed to find anything as unusual as the Lanyop Gallery anywhere and as it is technically illegal you get to feel all intrepid and skullduggery-fied as well. Wait until the sun has gone down, accost a few locals until you find one who can direct you to this illicit place (there's no signs) and then step through the door as a guest of Larry Matthews. You will be given a candle to light your way through this teeny-tiny gallery of ever-changing exhibits of both the renowned and the unknown artist. As you admire works ranging from the interesting to the unashamedly bizarre you will be serenaded by live musical entertainment which is Larry tickling the ivories on his piano.
9) Turquoise Waters, a Million Lupins and Stargazing at Lake Tekapo
Those who tell you the best things in life are free are probably thinking of Lake Tekapo. This area has so many things going for it in the unusual, spectacular and heart-achingly beautiful categories. For starters there is the lake itself and its incredible turquoise colour which comes courtesy of the 'rock flour' (rock grains and sediment) brought down from the surrounding glaciers. Secondly there is the mind-bogglingly beautiful wild-flower display in shades of violet, lilac and blue which you can catch from mid-November to mid-December and which seems to stretch in a living sea as far as the eye can see.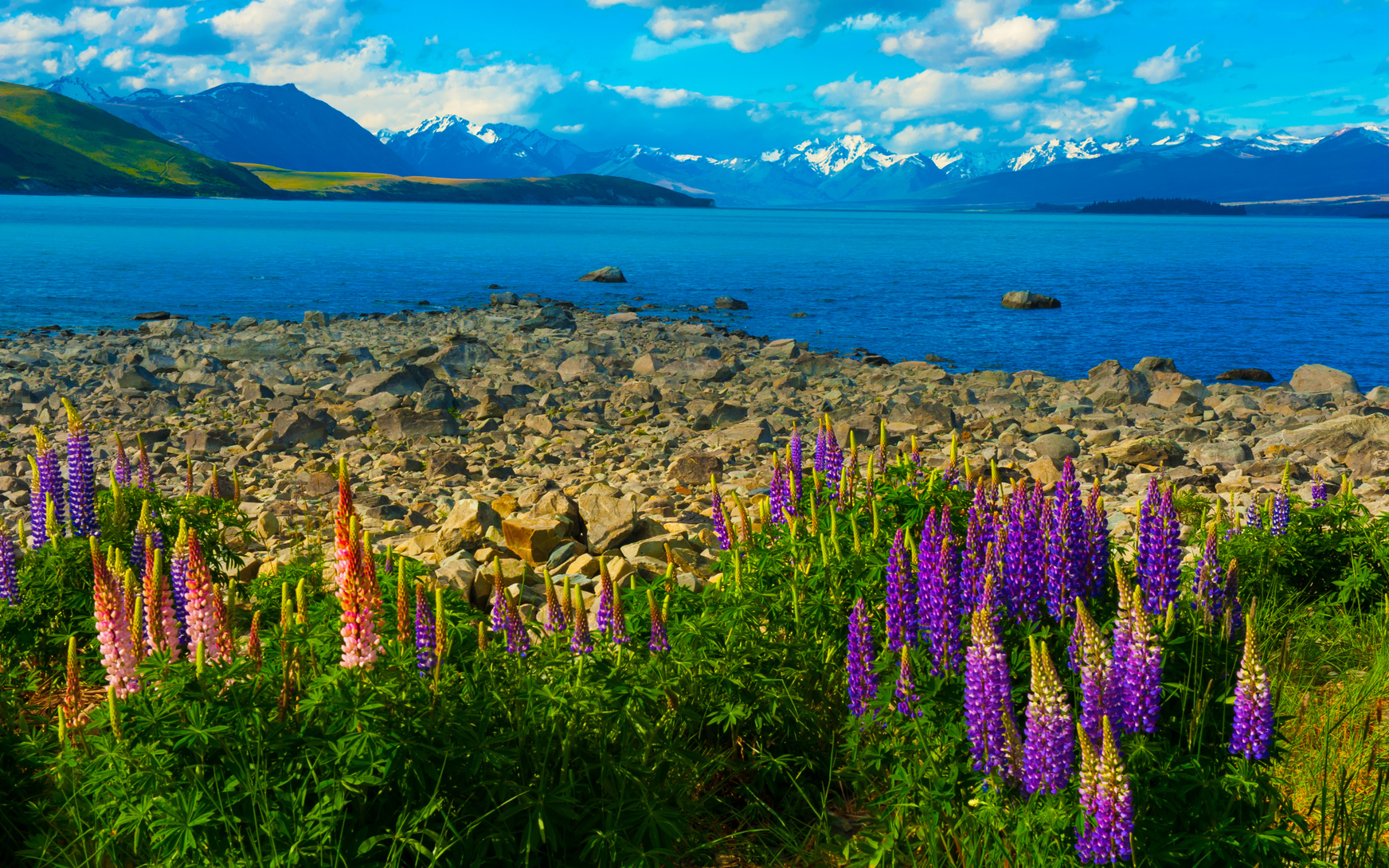 Last of all is perhaps the most valuable and elite jewel in this natural treasure-laden place – its 'Dark Sky' status. One of just a handful on the entire planet and the only one with such a specific and high gold-status ranking in the Southern Hemisphere, Lake Tekapo's Dark Sky status ultimately adds up to some of the finest stargazing opportunities you are ever likely to have. So high quality are the conditions here that Mt John – at the foot of which sits Lake Tekapo – is home to a state-of-the-art observatory which functions as a world leader for astronomical research. Tours round the observatory will cost but head this way on a clear night and marvel at the star-studded celestial canopy which appears to have more stars than it does patches of sky. All without spending a penny.
10) Wild Swimming
Rivers, creeks, lagoons, water-filled volcanic craters, lakes, natural ponds, waterholes…..coming in every guise and call them what you will, New Zealand is crammed with wild swimming spots so idyllic you have probably only ever seen the like before in fantasy-genre movies such as Avatar and Lord of the Rings. You may have deserted lake shores from which to take your dip, perhaps a natural swimming pool which is actually a giant rock pool or you might find enchanting waterfalls to refresh under. And if skinny-dipping floats your boat you are going to find plenty of stunning places to strip down to your birthday suit and commune with nature.
Colours cover every single tone and shade of the blue, green and crystal-clear side of the spectrum while occasionally you will get oddities of other varieties too. Many such spots are tucked well away from any well-beaten paths and are known only to locals while others feature in the pages of the most popular guidebooks and tourist literature.
There are thousands upon thousands of spots and far too many to list here but to give you a taster you can check out an emerald and gold-tinted lagoon in the East Cape region or swim at the bottom of a cascading waterfall near Rere rockslide. Alternatively, head to the Te Waikoropupu Springs in the Golden Bay area which as well as being the largest cold water springs in the Southern Hemisphere also contain what are thought to be some of – if not THE – clearest waters found anywhere on Earth.