1) Tick a Thing (or Ten) Off That Bucket List
Bucket-list entries vary considerably from person to person but many which occur over and again on the lists of the young and adventurous include such things as sky diving, bungee jumping, mountain trekking, white-water rafting, seeing whales in the ocean, visiting a live volcano, cage diving with sharks, swimming with wild dolphins, surfing, paragliding, abseiling and watching the Southern Lights. Astonishingly ALL of these can be done in New Zealand and where unique, unusual and exceptional experiences are concerned that list is just the tip of an enormous iceberg. Also included are 101 other delights which include such oddities as dam dropping (sledging on body boards over a dam), giant sand dune surfing, zorbing (being rolled down a big hill in a huge transparent ball) and drifting down an underground stream on an inner tube with the only light coming from that of thousands of glow worms. If you haven't got a bucket list and are headed to New Zealand you had better start making one now, if only so you can tick most of it off.
2) Marvel at Milford Sound
There is only one road into Milford Sound but that beautiful journey is a whole experience in itself. Take it during or after heavy rainfall and watch an already spectacular landscape jump off the must-see scale as thousands of waterfalls spring into life all around you.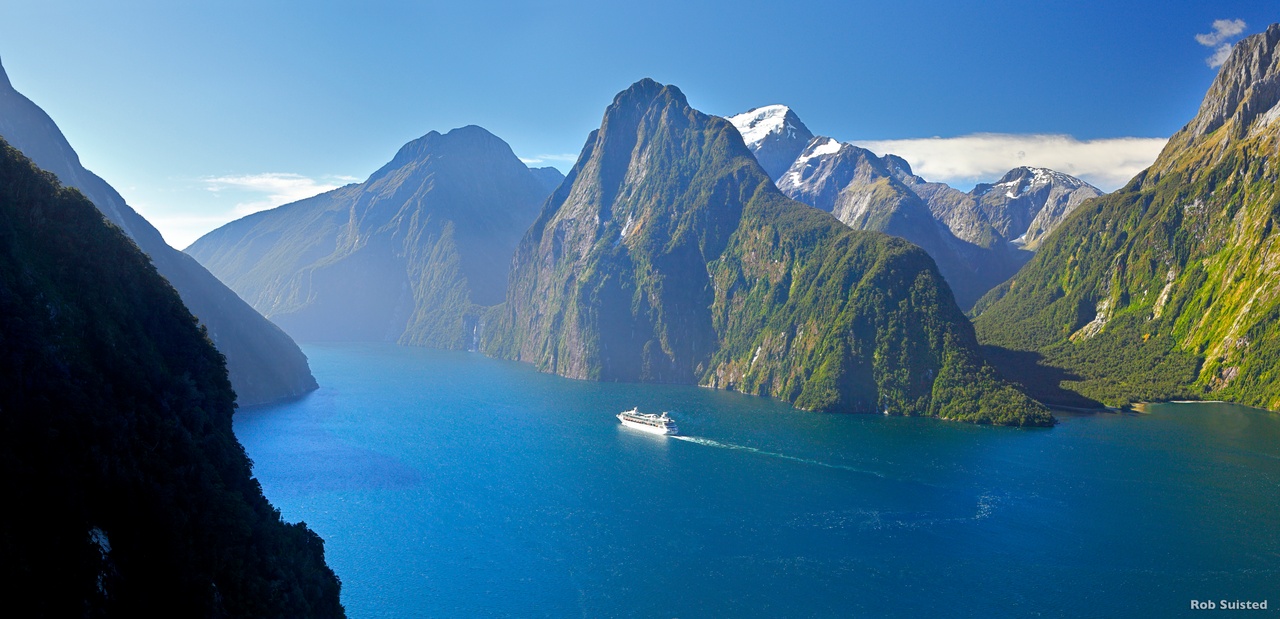 The majestic and dramatic Milford Sound itself is watched over by the soaring Mitre Peak. Buy your ticket for one of the many cruises which run the length of the Sound until it reaches the ocean. On route there is the possibility of wildlife encounters with seals, penguins and dolphins and the chance to get up close to the impressive permanent waterfalls which empty themselves from on high into the waters of the Sound. Alternatively you can paddle by kayak and overnight cruises are also possible while anyone who'd like to see what goes on underneath the Sound should check out the Milford Discovery Centre and Underwater Observatory (often an add-on option with some cruises).
3) Visit Hobbiton
There is now a permanent sign at the approach of Matamata in Waikato which says 'Welcome to Hobbiton'. Used as the original movie set back in the late 1990s for the Lord of the Rings trilogy filming, Matamata's 'Hobbiton' was all but dismantled following the completion of the LOTR filming. However, it was resurrected for the Hobbit series of films and this time, when filming finished, it was decided to bequeath it, in its entirety, to serve as a tourist attraction and shrine for the Tolkien and Peter Jackson faithful. This place is so lovely and well-done that little imagination is required to see the furry-footed hobbits moving in and out of their many hobbit holes which you yourself can go inside during a tour here.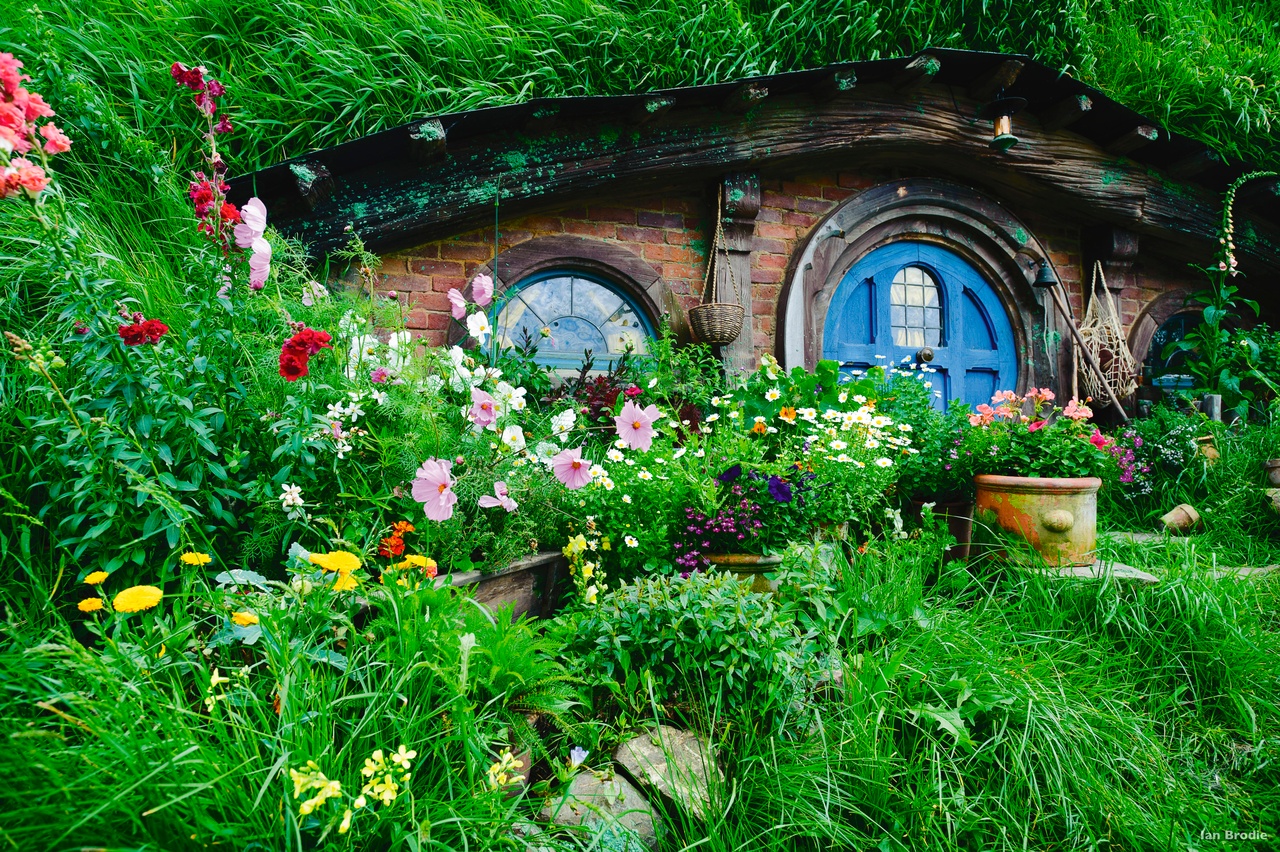 4) Do a Great Walk
As hiking destinations go, New Zealand pretty much tops them all. Here you will find hikes of EVERY kind from short strolls amid civilisation to multi-day hard core challenges in the most remote corners. Factor in the stunning landscape (which you will have no matter where you decide to hike) and then lastly add in the incredible infrastructure in place for trampers (Kiwi-speak for 'hikers') and you will see you really have a hiking heaven.
There are nine 'Great Walks' – each offering something special or different to the other eight although all have back country camp-sites and huts on route for overnighting. Wilderness lovers should consider one of the Fiordland choices and there are three – the Kepler, Routeburn and Milford Tracks. Each offer an array of stunning scenery filled with native birdlife which includes waterfalls, icy-blue rivers, forests, remote emerald and sapphire-hued lakes and mountains whichever way you look. Arguably the most magnificent of all the Great Walks is the 4-day Milford Track which traverses 53 km of Fordland's magnificent glacier-carved surroundings and finishes at the awe-inspiring Milford Sound.
5) Make a Date with the Sperm Whales
Mix the geological phenomena of a near-shore deep underwater canyon which is travelled by whales and dolphins by the hundreds to the availability of tour boats equipped with underwater cameras and audio devices and you have just created a place on Earth to which the nature-passionate and simply curious will flock. This is Kaikoura on New Zealand's South Island and one of the few spots on the planet which has sperm whales present year round.
Ironically, the place where thousands now come every year to marvel at the majestic sperm whales, was once a whaling station. Whales are so long-lived that these very same individuals which now enchant the visitors might well be those that escaped the clutches of the whalers just a few decades ago or the offspring of those which sadly didn't. Watching the enormous tail fluke of a sperm whale sink gracefully beneath the waves as the final part of a deep dive is a sight you are unlikely to ever forget.
6) Take in a Geothermal Wonder
This is a land of active volcanoes, boiling mud-pools, erupting geysers and any number of otherwise steaming, hissing or sulphur-emitting wonders. You can boat or even helicopter out to the highly active White Island complete with sulphur-factory ruins and stunningly beautiful but deadly poisonous lake. You can laze in any number of natural spas and hot-pools in the form of lakes, rivers and swimming holes and even dig your very own hot-water spa at the Coromandel's Hot Water Beach.
Rotorua is the undisputed centre of all things geothermal. Here you are never far from one sign or another that the earth beneath your feet is a place in constant turmoil; even the roadsides here have plumes of steam rising almost constantly. One of the most raved about geothermal sites of Rotorua is that of the gorgeously bush-set Wai-O-Tapu complete with vibrant multi-hued silica terraces and pools, the largest boiling mud-pool in the country and the daily spectacle of the Lady Knox geyser erupting.
7) Waitomo Caves – Glow Worms Spectaculars or Awesome Adventuring
The beautiful and almost unearthly sight of glow worms lighting the darkness of the night or a cave are not uncommon in New Zealand and can be chanced upon accidentally all over the country. However, for the pinnacle in glow worm experiences head to the Waikato's Waitomo Caves for a journey by foot or underground river by way of boat or floating inner tube through limestone labyrinths that are a true glow worm wonderland. Thousands upon thousands of glow worms call these caves home and put on a display for the visitor which for all the world looks like a magical sky full of twinkling stars.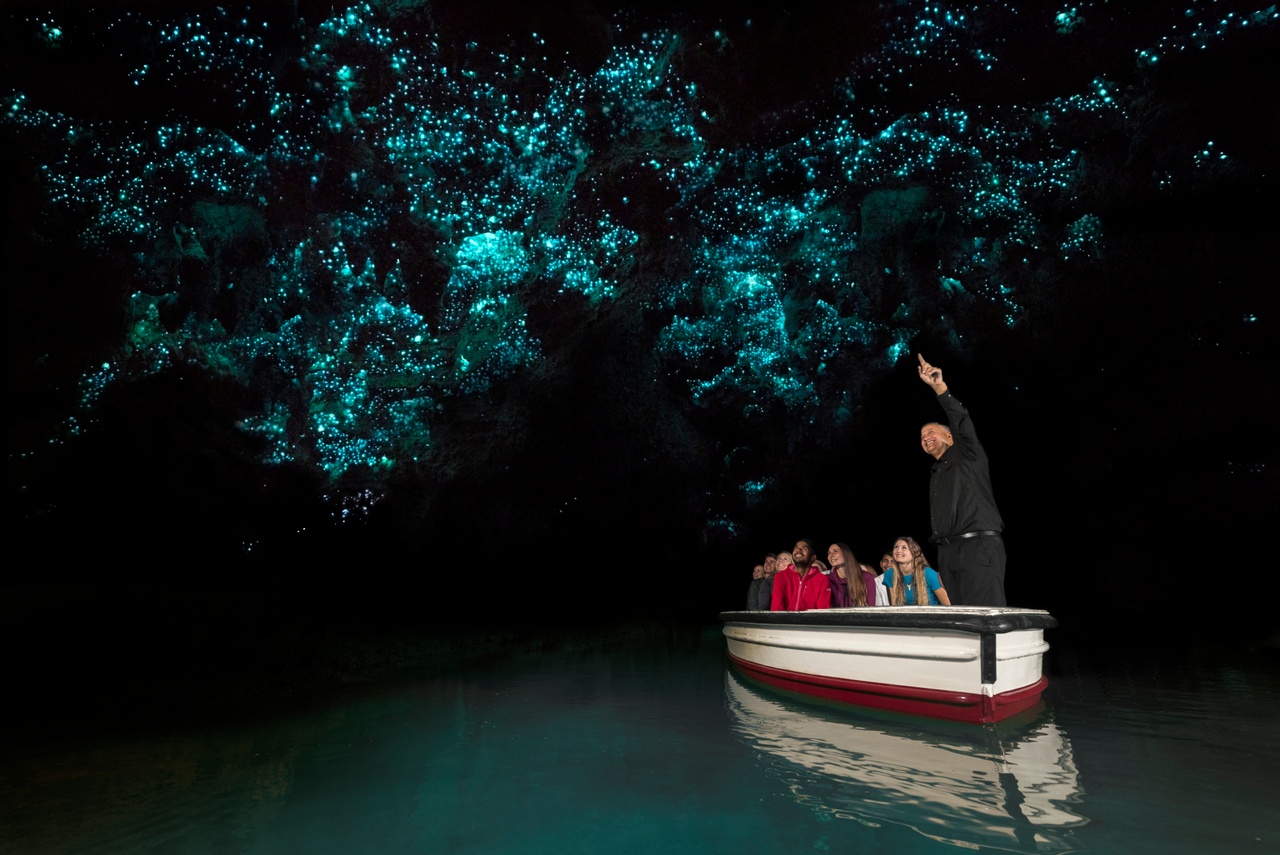 If the beauty and serenity of the glow worms themselves are not enough, opt into some adventuring instead which here in these caves goes as hard core as you can stand. Serious and extreme wet caving, abseiling, climbing, black-water rafting – they (and more) are all on the menu; choose your thrills from a range of challenging options which might have you hanging by your fingertips as underground waterways rush by in the darkness beneath you or whizzing along subterranean flying foxes.
8) Make a Date with the Locals – Maori Cultural Immersion
Long before – and it is only now emerging how long before – white man ever discovered these shores Maori people of Polynesian descent called what we now know as New Zealand home.
Signs of the Maori people's history can be found all over both islands from ancient pa sites to exquisitely carved marae (meeting houses) and, for many, a visit to New Zealand is not complete without experiencing something of the Maori culture – both ancient and modern.
All kinds of experiences are up for grabs including traditional (and sometimes slightly scary) welcomes at maraes, traditional feasting at hangis, dance performances, storytelling, guided walks across lands sacred to Maori people, the opportunity to watch or even learn yourself the ancient arts of such things as weaving and carving, visits to reconstructed tribal villages or even the chance to bed down in a Maori homestay.
Opportunities are everywhere but Rotorua – with its incredibly high density of people of Maori descent – is certainly a hot spot. If you can't quite make up your mind what aspect of Maori culture to take a glimpse into this is the place to head. Maori cultural performances, which often offer a little bit of everything, are plentiful here.
9) Glacier Experiences – From Heli-Hiking to Champagne Picnics
If money supplies are dwindling you can simply walk to the face of a glacier or, if you have just inherited some money from Great Aunt Agatha, you can go the whole hog with a champagne helicopter flight and landing onto the furthest reaches of a glacier. The bottom line is glacier experiences of all kinds for all pocket sizes abound allowing you to hike on or around the glaciers, kayak the stunning lakes at their feet, go ice caving or climbing, camp out overnight on them, ski down them or even skydive over them.
Franz Josef and Fox are the two most well known glaciers (and the only two which reach down to the rainforest level) with townships and tourist hubs having grown up around them. However, there are more than 100 more. All of them are in the South Island though so that is where you'll need to head.
10) The Beaches – Take a Day…A Week…Or Months for Exploring
How do you like your beaches? Wild and dramatic and strewn with driftwood the size of trees? Swathed in crescents of white sands lapped by crystal clear pond-like waters? Tiny and tucked away in secret coves? The kind of place where dolphins cruise by regularly or penguins hop ashore? A perfect point break for a spot of surfing. Or perhaps you are the kind of person who doesn't like to share with anyone else and want it all to yourself? Whichever of the above you answered yes to, New Zealand has some of those and if we didn't happen to mention your ideal no worries – that probably exists somewhere on one of the islands too.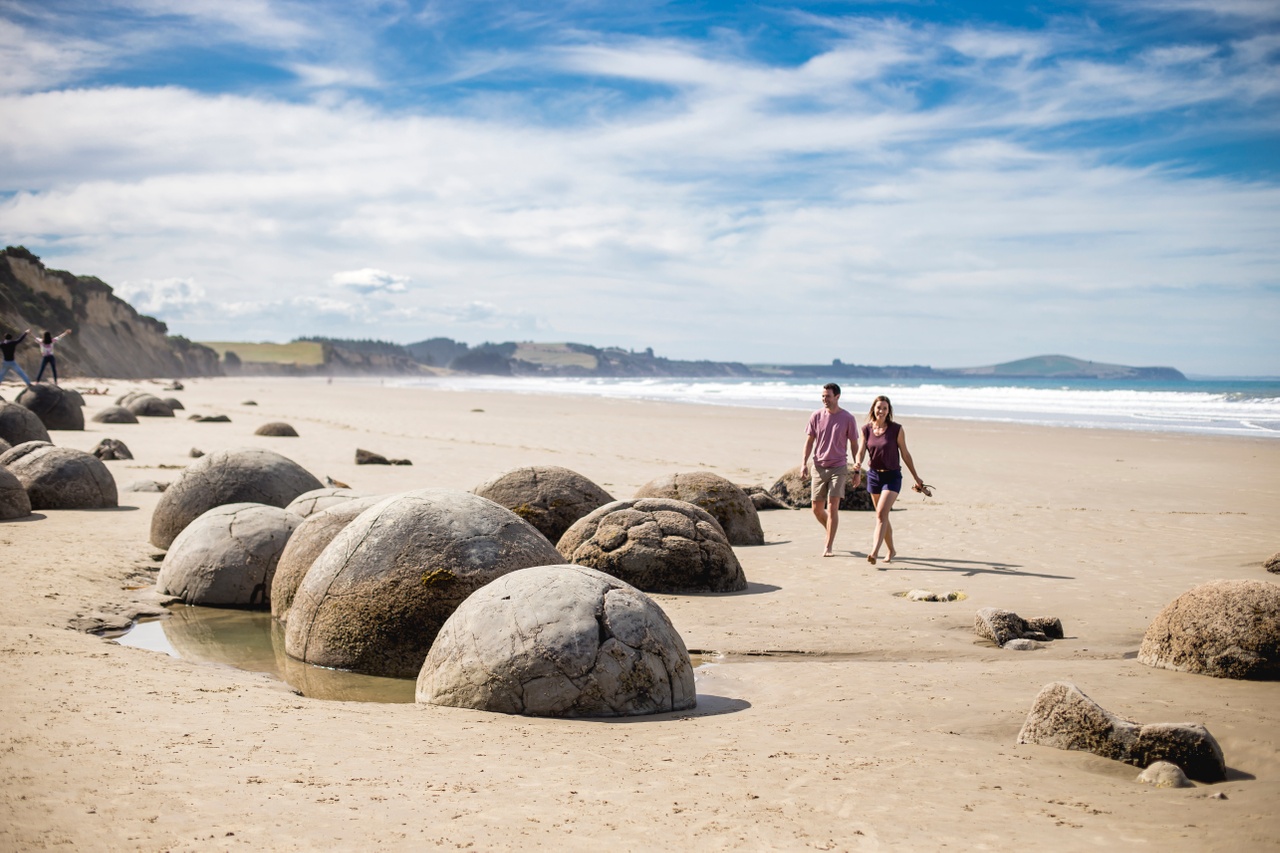 Whether you are the kind of person who likes to plonk yourself at a gorgeous beach simply to laze the day away soaking up the rays and reading a book or you prefer your beach time to be a little more active with a spot of swimming, snorkelling, diving, surfing or hiking the coast you will find your ideal with little effort. Many folk head to the Northland because the narrowness of the land here (which means you have a choice of east or west coast just a few miles apart) and a host of dreamily beautiful spots along with the sub-tropical climate make it ideal but beaches of the wonderful kind are literally everywhere in this country. If you have your own transport there is no knowing what gems you might unearth.