Japan's capital city, Tokyo, is a major metropolis which melds together both chaos and precision organisation while slotting ancient and decidedly sci-fi-like visions of the future side-by-side. Here you will find such imposing sights as ancient shrines and imperial palaces, have the opportunity to take part in traditional tea ceremonies or watch sumo wrestlers grappling with each other. But so too will you encounter a full-on manga culture, shopping areas guaranteed to satisfy even the most retail addicted, skyscrapers and towers of heady heights and groups of young things hip-hopping together in the parks.
In fact, Tokyo and its 13 million residents offers so much diversity it is better thought of as a collection of smaller cities, in total each offering something for everyone no matter how off-the-wall your preferences might be. In short, Tokyo is packed with enchantment and all about expecting the unexpected.
1) Cherry Blossom
While the breathtakingly beautiful cherry blossom displays of Japan are guaranteed to stop most foreign visitors in their tracks to gaze with wonder while find themselves experiencing strange stirrings of emotion, this season also has great significance for the Japanese. Known as 'hanami', Japanese folk by their thousands set out armed with picnics and refreshments to 'look at flowers' (which is what the word hanami translates to). In places, the trees in full blossom stretch like a pink sea as far as the eye can see while the ground is similarly pink-painted from the fallen blossoms.
Marked by a televised national forecast count-down, the blossoms' timing is of course subject to Mother Nature's whim although Tokyo tends to see its cherry blossom flowering around March and April which lasts for about 3 weeks.
Some of the city's top cherry blossom spots are –
Ueno Onshi Park
Asukayama Park
Meguro River
Chidorigafuchi Moat of the Imperial Palace
Sumida Park and riverbank.
Shinjuku Gyoen Park
Yoyogi Park
Inokashira Park
Koganei Park
2) Towers with a View
If you are a fan of gazing on city views from way up high you are a little spoiled for choice in Tokyo. Some of the city's towers and high vantage points are free while others will set you back a bit (and sometimes a lot).
The Tokyo Sky Tree – Tokyo's newest highpoint was opened in 2012 and its 634m (2,800ft) make it not simply Tokyo and Japan's tallest structure but also the world's second highest (only Burj Khalifa in Dubai out-measures it). It functions principally as a communications/transmitter tower but is also home to restaurants, a shopping mall and an understandably super-popular public observation deck.
Tokyo Tower – Although this iconic 1950s tower handed over its role as Tokyo's principal radio transmitter to the Sky Tree (and despite it being 300m shorter) the Tokyo Tower still retains its status as a major symbol of Tokyo; more specifically with relation to post-war reconstruction. Its Eiffel Tower-like lattice structuring gives it a distinctive look and lit up at night in shades of orange and white (which sometimes changes according to promotions or special events) it something to see. Take your pick from two observation decks set at different heights to get your 360° Tokyo and beyond panoramas or opt for a night view for something totally different.
Tokyo Metropolitan Government/City Hall – Soaring to 243m, this building was Tokyo's tallest when it was finished in 1990 (the Tokyo Tower is designated a 'structure' and not a building). Each of the twin towers has a 202m (663ft) observation deck, both of which are open to the public and free. If you get lucky and visit on a clear day you might get to catch a glimpse of Mount Fuji from the north wing.
Other options include the waterfront located World Trade Center Building at JR Hamamatsucho station, Tokyo City View in Roppongi Hills, the free to enter Bunkyo Civic Centre with its Mt. Fuji views and the Rainbow Bridge at Odaiba – especially for sparkling night views across the bay.
3) Shibuya Shopping & Nightlife
Technically Shibuya is the name for an entire ward of Tokyo but in reality it is mostly used to refer to the packed shopping wonderland area, restaurant central and night-time fun spots which spread from Shibuya Station and never sleep. Arguably the city's most well-known district and certainly one of its busiest, Shibuya is a potential retail overload for even the most hardcore shopping addict.
Some of the district's most famous streets include Center Gal – famous for its cutting-edge (from a Japanese point of view) fashion boutiques and nightlife – Koen Dori which leads to Yoyogi Park and Spain Slope.
Although there are all kinds of nooks and crannies and smaller options some of the Shibuya stores are so large they occupy entire buildings of eight floors or more. Others collect together outlets of just one company arranged into complexes such as the Shibuya 109 which has 100 shops over ten floors and of course there are also the malls.
Shibuya's most famous spot is the Shibuya crossing which you hit immediately on emerging from the station's Hachiko exit. Considered to be one of the busiest intersections on the planet, this flashing neon sign and video screen-surrounded place is a sight to behold when the pedestrian crossing light says 'go' and the swarms descend from seemingly more directions than you knew actually were directions.
4) Shrines & Temples
With religion still playing a major part in Japanese society and two principal religions or belief systems to factor in – Shintoism and Buddhism – temples, shrines and religious buildings are thick on the ground. Tokyo's two most famous are Asakusa and the Meiji Shrine.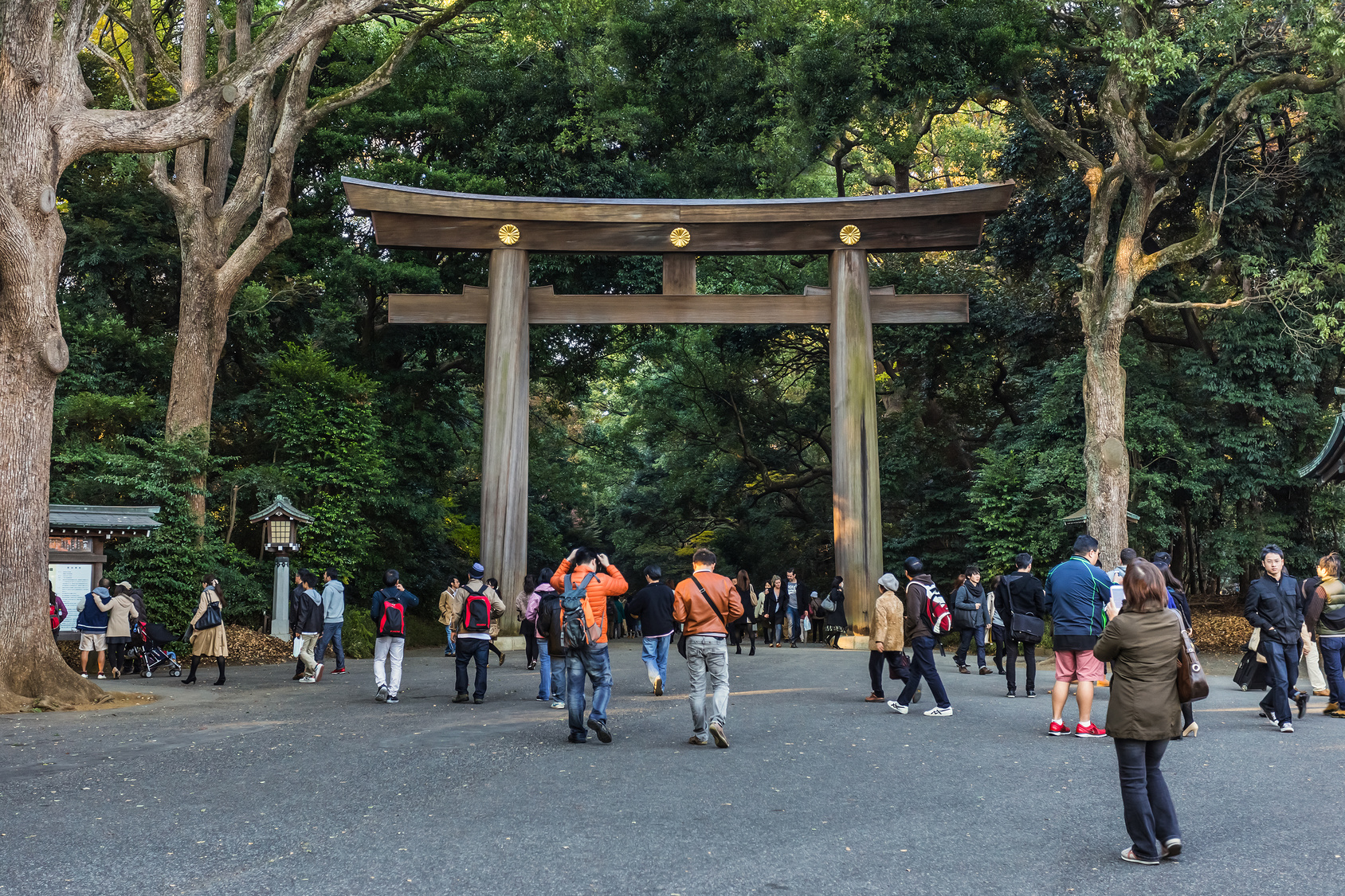 Meiji Shrine, Shibuya – The city's most well-known Shinto shrine and one of the country's most popular is free to enter, forest-surrounded and in every way a serene oasis amid the Tokyo tumult. You enter by way of an impressive 12 metre torii gate constructed of cypress wood 1,500 years old. If you stop by at the weekends you might get to see a traditional wedding procession led by Shinto priests.
Sensoji in Asakusa – This Buddhist temple complex ranks as one of the capital's most colourful and is also its oldest, dating originally from the 7th century AD. Millions of visitors enter the temple grounds every year through its Kaminarimon or Thunder Gate. From here the temple's inner gate can only be reached via a 200 metre strip of shops, vendors and food sellers – a feature which has itself been established for around 200 years. Most of what you see today, including the picturesque five-storey pagoda, is relatively modern as this temple was almost totally destroyed during WWII.
5) Imperial Palace & Gardens
Once the site of the vast shogunate's castle (of which little but walls remain), the Imperial Palace of Japan is set behind a series of walls and gates and is mostly off limits to the public. However, if you do want a small glimpse into imperial life you can tag onto one of the free tours which will escort you through an inner compound.
Completely open to be enjoyed by everyone though whenever they want is the lovely Imperial Palace East Garden – technically a part of the inner complex – which is the palace ground's principal park and also completely free to enter. Visitor numbers to this walled garden at any one time are limited which keeps the walkways and ponds peaceful. In short a tranquil oasis in the middle of Tokyo.
6) Cafes, Bars & Restaurants of the Themed, Concept & Unusual Kind
The beautifully bizarre (and sometimes unsettlingly unusual) is a concept you might encounter more than once on any visit to Tokyo or Japan but nowhere is this truer than with a certain section of its restaurants and bars.
Themed cafes are something of a thing here; there are of course the world famous cat cafes where you can go to hang out and play with cats. Also, on the same theme of animals, are owl, hedgehog and snake cafes as well as harmless sounding knitting or stationery cafes. However, these would all rank as totally mainstream compared to some of the choices on offer which range from the surreal to the worryingly weird.
For fine dining fans there is the Lewis Carroll themed 'Alice in a Labyrinth' and the Kawaii Monster Cafe with its four separate sections for a more casual dining choice while the 'Vampire Cafe' offers a treat for those in search of aperitifs or cocktails or snacks. Here you can rub shoulders with patrons sipping blood-red cocktails served with mini skulls amid candlelight flickering from coffins and a whole of shifting shadows and creepy corners. Then there is the 'Ninja Akasaka' restaurant where a mute, black-clad escort greets you before leading you over a drawbridge and into a secret dining room where your food is served by trained ninjas.
If you are just looking for a drink there is 'Vowz' – a relaxed bar run by a Buddhist monk who serves drinks with titles such as 'Infinite Hell' and 'Enslavement to Love and Lusts' while offering sermons or teachings at the same time.
Moving into a rather more unsettling side of things is the 'Kabukicho Robot Restaurant' where all of the show girls are androids or 'Alcatraz ER'. This latter is another of the concept restaurant choices, but this time the theme is evil mental institution (think One Flew Over the Cuckoo Nest) and the whole idea here is to creep you out, disturb you and otherwise leave you needing therapy for years to come. It all starts as you are handcuffed by a waitress/nurse, led through a lobby charmingly decorated with blood splatters and led into a filthy cell to choose your dish (if you still have an appetite).
7) Sumida River Trips
A fun thing to do which allows you to take in Tokyo from a different angle is a boat tour or cruise along the capital's Sumida River. Featuring as a highly important transport link for hundreds of years, this river runs through 27km of the city, passing under 26 bridges as it goes and then empties itself into Tokyo Bay.
There are several companies and tours offering such things as well as water buses and your choice of vessel for your river trip ranges from tiny to huge and from old traditional Japanese houseboats to uber-futuristic silver spaceship-like craft straight from a sci-fi movie.
There are also many choices for starting and stopping points with several piers but one of the popular routes is Asakusa to Hinode Pier which allows you to take in almost half of the bridges and a stop-off at the lovely Hamarikyu Gardens at the same time.
8) Sumo
With a history spanning centuries and dotted about with ancient traditions and ritual, sumo wrestling is Japan's national sport.  As Tokyo is home to the national hall of sumo – Ryogoku Kokugikan – any time spent in the city is a great opportunity to get up-close-and-personal with the sport and its leading players. As tourist experiences go it probably doesn't get more Japanese than this.
If you hang around the area in general you are quite likely to see sumo wrestlers sporting ceremonial garb or you can buy a ticket for an event which features not just wrestling bouts but also demonstrations and parades. If you happen to be in town in January, May or September you might get to catch one of the Grand Sumo Tournaments which span 15 days. Within the same building is also a sumo museum which you can nip into between bouts if you're interested.
9) Gardens & Parks 
If you want to enjoy Tokyo but still need a green space fix you are in luck. Dotted liberally around this heaving city are some wonderful parks and gardens which offer unexpected tranquillity and a break from the chaos. Three of the most beautiful, popular and interesting are listed below.
Shinjuku Gyoen National Garden – Especially lovely during cherry blossom time, these beautiful gardens are considered by many to be Tokyo's finest and worth a visit in any season. Gardens are separated into themed areas which include English Landscape, French Formal, Japanese Traditional (which comes complete with a teahouse) and the Mother and Child Forest.
Hama-rikyu – These gardens are easy to get to as they are one of the stops on the river ferry route. Once the private retreat of one of the Edo period's lords (an historic era of 1603 – 1868 AD), these popular gardens include a tidal pond into which juts a traditional tearoom.
Yoyogi Park – One of the principal haunts of Tokyo's young, hip and happening, Yoyogi Park has also got itself something of a reputation as an anything goes kind of place as well as being a regular meeting venue for all kinds of clubs. You might encounter hip-hop dancers practising their co-ordinated steps with troupe members, sports teams drilling, entire casts of plays going through their lines or perhaps just come face to face with manga fans in costume. All of this makes this particular park an entertaining green space to laze about in. There is also a weekly ex-pats/Tokyoites 90's hip hop party held here which has an entrance fee.
10) Sushi
Japan is something of a heaven for food connoisseurs with more Michelin-starred eateries in Tokyo than Paris and London added together. Yes there are rice and noodles, but there are also tons of dishes you won't find anywhere else in the world, with plenty guaranteed to be a totally brand new experience. Most people however are familiar with the raw fish cuisine known as sushi – one of Japan's greatest gifts to the food world and now big business just about anywhere on the planet.
As you might imagine the sushi in Japan itself is probably the best you will ever have and visiting the country without partaking would be like avoiding the Eiffel Tower in Paris. Your choices for where to eat it are going to be more numerous than you could cover in a year in Tokyo but most will tell you a visit to the Tsukiji Fish Market is a must. This happens to be the world's largest fish market and has a huge number of sushi vendors trying to tempt you to try their creations.