From fascinating wildlife found nowhere else on earth to white sand tropical islands surrounded by one of the planet's most valuable natural treasures – the Great Barrier Reef; Australia truly is a one-of-a-kind destination. There are few who are not familiar with certain Australian imagery long before they even set foot here. Whether it is the unmistakable silhouette of the Sydney Opera House at sunset or the haunting loveliness of Uluru/Ayers Rock turned scarlet by the rising sun, Australia is full of iconic sights which are instantly recognisable the world over.
Whatever you are looking for you are likely to find it here somewhere on this vast island made up of almost every type of landscape and environment. There is something for everyone whether you are travelling on a tight budget over an extended period or have planned a luxurious two week holiday. Beach bums, culture vultures, sophisticated city slickers, outdoor lovers, wildlife enthusiasts, history buffs, thrill seekers …come and get your fill. Travellers are drawn to Australia for 101 different reasons because in reality there are hundreds of reasons to visit. Here are just 10 reasons to visit Australia.
1) From Whales to Wombats – Australia's Incredible Animals & Birds
Australia is a country rammed with incredible and diverse habitats full of fascinating creatures, so it is little wonder that Australia's wildlife features highly on the 'reasons to visit' list of almost every tourist and traveller who comes here.  Wildlife is so plentiful encounters can take place with almost zero effort, even in urban areas. However, factor in that many of its animals and birds are endemic – that is, found nowhere else on the planet – and you have nothing less than a fantasy island for animal lovers.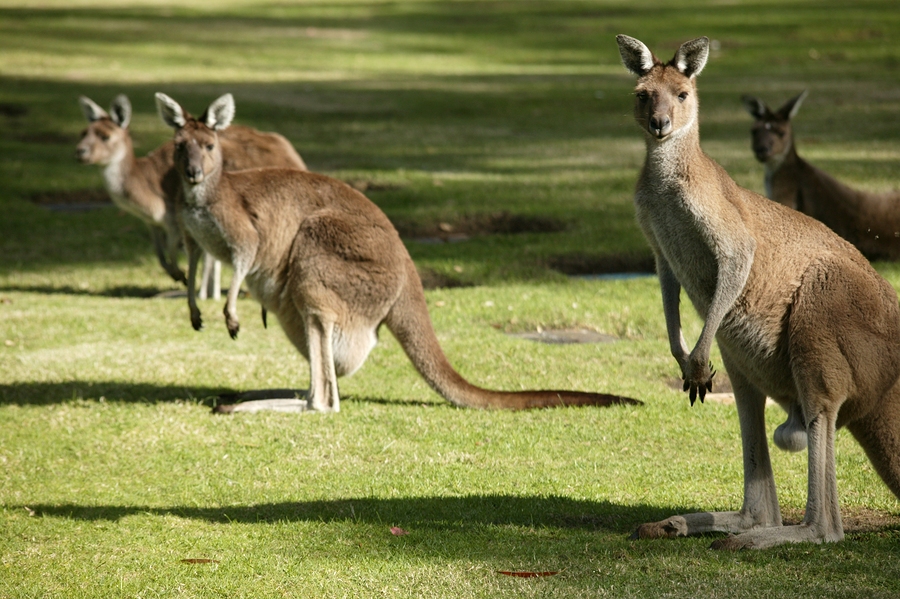 Kangaroo, koala and emu represent the instantly recognisable iconic symbols of this land's wildlife but there is so very much more than that. Wildlife experiences here might see you hopping aboard a boat to take in the crocodiles basking on the riverbanks, heading out at dusk or dawn in search of a wombat or a platypus, craning your neck to see a flock of enormous fruit bats fly overhead, watching a 2 metre monitor lizard – goanna in the local lingo – climbing a tree or snorkelling among myriad rainbow-hued fish species.  You can join up with some expert tours for chances of tracking down some of the more elusive species or head to known hot-spots for your own encounters
And talking of hotspots…although just about anywhere will give you opportunities for coming face-to-face with Australia's natural inhabitants South Australia's sanctuary-like Kangaroo Island is an extra-special gem in a jewel-encrusted crown. Here you can find so many of the 'must see' species all conveniently in one place.
2) One Country, 1000 Landscapes, Unlimited Experiences
Australia is so diverse and so vast it is like visiting several countries in one without the inconvenience of crossing borders. Each one of its states and territories is distinctly different and then each of these is further sub-divided into a whole other bunch of different again. Take Queensland for example; crammed within one state here you will find such varied delights as the Great Barrier Reef, a tropical north of rainforests and the idyllic Whitsunday Islands, national parks full of wildlife and hiking trails and a wealth of opportunities for exploring the indigenous culture.
South Australia on the other hand offers 18 wine regions, the spectacular Kangaroo Island and wonderful seafood while Western Australia has the World Heritage-listed Ningaloo Reef (the world's largest fringing reef), and a coast cruised by humpback whales and mighty whale sharks. Over in the east New South Wales has its dramatic Blue Mountains while way up at the top the Northern Territory is a principle stronghold of Aboriginal culture. Then you have the haunting beauty of the Outback which is home to Uluru – the country's most iconic natural attraction along with the Great Barrier Reef – incredible Aboriginal rock art sites, pink-coloured salt lakes and unbelievable rock formations. Also up for grabs are cosmopolitan cities with a coffee culture as strong as it gets anywhere in the world or beach communities packed with fun stuff to do.
Of course the whole is jam-packed with opportunities for activities, many of which fall into the once-in-a-lifetime category. This list is so vast it would take a series of books to cover it all but included in the possibilities are things as diverse as Easy Rider-type Harley Davidson coastal tours, shark cage diving, skiing, opal hunting, climbing the Sydney Harbour Bridge, mustering cattle on an Outback farm or trekking with camels.
The point is dream of a landscape and you can probably find it here. Visualise what you want to do there and that too will be possible somewhere in Australia.
3) Earth's Ultimate Natural Wonder – The Great Barrier Reef
It's the world's largest reef system, the planet's largest living organism and Earth's only natural phenomenon which can be seen from space. In short, the Great Barrier Reef is spectacular on a mighty scale. Comprised of 900 islands – most of the impossibly beautiful tropical variety – the Great Barrier Reef is without doubt stunning above the water. However, slip below its surface and among the 2900 reefs and prepare to be blown away by its magic. Here you will find a labyrinthine wonderland of corals, fish, sponges, turtles and dolphins in more colours than you previously knew existed.
Snorkelling and diving opportunities are plentiful and probably the most common ways to get amid this aquatic paradise. There are plenty of other choices on offer too though which include an underwater observatory at Townsville's Reef HQ, a submarine ride (and of course it is yellow) from Port Douglas, glass bottom boat rides or even a seabed stroll among coral gardens.
From experiences ranging from a few hours to a few weeks and targeted at those on tight budgets to those looking for ultimate luxury experiences, the majestically beautiful Great Barrier Reef has something for everyone
4) A Beach Bonanza
Australia doesn't just have beaches in beyond-count quantities it also happens to have variety and quality on a grand scale. And it would probably be hard to find any other country in the world which can boast this in quite the same way as Australia can.
Looking for tropical paradise? No problem – the white sand, turquoise sea and nodding palms variety of beach can be found here in endless forms.  But so too can be found high quality city beaches which offer safe and clean playgrounds for surfers, families, party animals or those who just simply like their beach time with a host of amenities.
The bottom line is whatever kind of beach bunny you are you will find your idea of ideal in Australia. Hidden coves, dramatic coastlines, places where the sands are free of all footprints except your own, isolated beaches which allow camping, cliff headlands for whale spotting, beaches to watch turtles hatch, vast desert-like dunes and so on.
Of course it will depend on personal taste but one beach which frequently appears in 'best beaches' lists of not just Australia but the world is the Whitsunday Islands' Whitehaven Beach which is so idyllic it matches exactly with most peoples' idea of tropical paradise.
5) A World of Wine, Craft Beer & Whisky
A history of wine production which stretches back more than 100 years, 60 wine regions and literally thousands of vineyards; all of this means Australia has established itself on the global wine map as a respected leader and its wines are well-used to receiving prestigious awards.
Little wonder then that wine and wine experiences are a big part of any visit to Australia with heaps of wine tours on offer.  Should you prefer to sample its delights independently and at your own pace there are endless places which throw open their cellar doors to visitors. Award-winning restaurants attached to wineries with breathtaking views are also an easy find if you need something to soak up all that wine-tasting.
If your tastes run more to beers you are also in luck as craft beer producers are also scattered liberally throughout the country. Perhaps more surprising is the fact that whisky drinkers are also catered for too. Head to Tasmania and its 11 distilleries to try a taste of award-winning whisky Down Under style.
6) Digeridoos, Dreamtime Desert Rock Art – A Wealth of Indigenous Culture Experiences
For many, one of the main reasons for travel is to experience different cultures and the history relating to them. If that sounds familiar you are in for a grand treat in Australia. The more recent history of this country with regard to European settlement and the days of its function as a penal colony are fascinating. However, the indigenous people of Australia can trace their history back at least 40,000 years. For the culturally curious this means not simply a wealth of historical jewels to explore but the opportunity of experiencing the many rich elements of a living culture.
Opportunities relating to Aboriginal culture can be found just about anywhere in Australia, including urban centres, but are otherwise so plentiful in certain parts of the country such as the 'Red Centre', Queensland's far north and the Northern Territory that you won't have to look too hard for exciting, colourful and decidedly different ways to spend your days. Experiences on offer range from those which take a few hours to those which last for days.
It is worth noting that some of the most rewarding and intimate experiences can only be had with an indigenous guide who will take you into permit-only places.
Overall, the menu of goodies includes such things as:
Dreamtime story experiences including the round-a-campfire starlit-canopy overnight camping type.
Guided walks through sacred places such as Uluru, Arnehem Land and the national parks of Kakadu, Mungo and Daintree which can include such things as learning about gathering wild food and medicinal plants or traditional hunting and craft methods.
Rock art sites and galleries such as the 20,000 year old carvings of the Murujuga on Western Australia's Burrup Peninsula,one of the world's biggest collections; the 600 stencils and 1300 engravings of the 'gallery' in Carnavon Gorge National Park with a surrounding boardwalk for super easy access; the three principal art sites of Ubirr in Kakadu National Park.
Watching or participating in ages old ceremonies or dance and music performances.
Trying your hand at various skills such as boomerang throwing, playing the didgeridoo, weaving or painting.
The Tjapukai Aboriginal Cultural Park in Cairns for easy access and heaps of learning and insight with a menu of day and night tours and exciting hands-on experiences.
7) A Taste of the Tropical
Australia is so vast that you are going to encounter a diverse range of climate types depending on where you wander including snowy environments where you can ski. However, past a certain point heading north you will enter the realms of the tropical, ­something which comes with all kinds of added extras.
Within this tropical zone can be found the beyond-compare Great Barrier Reef. The sunshine and temperatures of land and ocean which go hand-in-hand with tropical mean the diving, snorkelling and swimming to be had here is even more enjoyable while obviously offering the ideal climate for enjoying those coconut- lined white sand beaches which occur as a regular theme here.
Reef and ocean aside, the rest is part grasslands rich with wildlife, part desert with all kinds of out of this world attractions and part tropical rainforest of the ancient kind full of waterfalls, hot springs, naturally spectacular landscapes and more birds and animal species than even the most avid animal lover could hope to find.
The whole also happens to be a mighty playground for outdoors lovers with a menu of things to see and do which could keep you occupied for years. A handful of its many jewels include such things as a journey above the canopy on the Skyrail Rainforest Cableway, tropical island-hopping, crocodile encounters, extreme mountain biking, diving with whales, World Heritage listed Daintree National Park, 4WD safaris to Australia's northern tip, discovering the delights of Cairns, wilderness camping and plentiful Aboriginal cultural experiences.
8) Surf Culture as the Norm
Australia might not actually be the birthplace of surfing but it is a part of the culture so deeply ingrained it might as well be. If you hang around beaches enough you will get used to the sight of groups of school children whooping and wave riding their way through their school curriculum surf class. Pretty much any strip of coast which produces a wave will see at least one and sometimes hundreds of surfer types getting their kicks from dusk 'til dawn.
If you are happy to just sit, watch and marvel then head to Western Australia to see big (and for 'big' read massive) wave riders in action. However, coming to Australia without trying your hand at this national pastime is like giving the Great Barrier Reef a miss while you're here…unthinkable. And if 'learn to surf' happens to be on your bucket list then you are not going to have to look too hard to find endless opportunities for classes, one to one tuition or for signing up for a couple of weeks of intensive learning at a live-in surf camp.
9) Hundreds of National Parks
Australia has a whopping number of national parks – more than 500 in fact. Made up of mountains, deserts, rainforest, woodlands, mangroves, native bush, reefs and marine reserves these national parks cover millions of hectares and are the habitats of an enormous diversity of plant and animal life.
For many people just being in these magical places is enough, enjoying nature and marvelling at some of the spectacular landscapes and natural features nestled within their boundaries. However, they also come with an incredible menu of things to do for those who like to get active, those seeking thrills, those who want to get a bit more up-close with the things growing and living there or want to learn something new about the natural world and the country's heritage.
You might choose to safari off to some remote point, take a camel trek in the desert, kayak among the mangroves, watch dolphins at play from a boat, meet up with Aboriginal elders, trek wilderness areas in ancient rainforests, explore caves or snorkel with turtles at the Great Barrier Reef. The list of special adventures and experiences possible in these national park areas just goes on and on.
Several of these parks – or parts of them – are deemed so exceptional on a global scale they have been granted World Heritage status by UNESCO. Most states have a least one offering of such a park and include the Tasmanian Wilderness, the Northern Territory's Uluru-Kata Tjuta, Western Australia's Ningaloo Coast, Queensland's Gondwana Rainforests and New South Wales's Greater Blue Mountains.
10) The Best Natives You Could Hope to Find
This might sound a little obvious but Australia is full of Australians and a reason all of its own to visit this incredible island. Australians are sociable, friendly and as down-to-earth as it gets and your encounters with the locals are likely to be something which considerably enhance any time spent in Australia.
Living is easy here…or so they make it appear and being around such a laid-back approach to life is a perfect atmosphere of relaxation and fun for anyone on holiday or adventure travelling; it's hard not to be positively affected by it.  Whether you rock up to a beach, a national park camp site or hang around the cities Australians are quite likely to want to chat, spend time with you or simply invite you to join in the barbie. Wherever you go or whatever you do during your time in Australia your experiences with the folk who call it home are almost certainly going to enrich your travel memories.