While I sit and reminisce about my trip to Bali last summer (woe is me), I thought I'd list some of my top recommendations for your Bali packing list. During my 10 day trip in June, I visited Nusa Lembongan, the Gili Islands, Ubud and Seminyak; however, the items on my list should come in useful for travelling throughout Bali.
Bali (and the rest of Indonesia) use the same plug sockets as Europe, with two round pins. The voltage is also the same as here in the UK (220V), so you don't need to worry about packing a voltage converter in order to use your appliances from home.
While I didn't experience any rain during my time in Bali, dry bags are essential if you're going on snorkelling or diving trips. Pack a small dry bag inside your daypack for boat trips or use a waterproof phone case to keep your phone and other gadgets dry. My friend and I took a trip on a traditional Jukung boat with a local fisherman, the water was pretty rough and quite a lot splashed onto the boat, so I would strongly recommend packing anything you don't want to get wet inside a dry bag or using a waterproof case (ideally with a neck lanyard) for your phone.
Water is not safe to drink in Bali, so you will need to treat it before drinking. I saw quite a lot of waste plastic during my time in Bali, so if you want to do your bit for the environment and be a responsible tourist, I would recommend packing a reusable water filter bottle instead of buying bottled water every day. The Water-to-Go bottle removes harmful contaminants from water and allows you to drink tap water, as well as water from streams and rivers, due to its built-in purification filter.
While you see a fair amount of waste plastic around Bali, I was sad to see a tourist carelessly throw his empty water bottle into the ocean in front of an entire boat full of people. Another passenger gave him a good telling off…but the damage was already done.
While I'm cursed with skin that tends to burn if I so much as think about going out in the sun, I am one of the lucky few that seem to fly beneath the radar of mosquitoes (well, most of the time anyway). However, this wasn't the case in Bali, especially when we got to the Gili Islands and Nusa Lembongan.
The malaria risk in Bali is low, but Dengue Fever is an issue and there is currently no vaccine for this, meaning your only defence is to use mosquito repellent. Indonesia is also categorised as having a moderate risk of Zika virus, so you'll want to ensure you wear repellent during the day, as well as at night, as the mosquito that transmits Zika bites during the day. I would recommend a repellent containing 50% deet, but if you have sensitive skin Trek Sensitive repellent will offer the same level of protection.
Most of our accommodation in Bali had mosquito nets and we also used a mosquito plug-in to kill any mosquitoes that made their way into our room.
Cuts and scrapes can easily become infected in countries with hot climates, so make sure you pack a first aid kit for your trip to Bali. A kit containing the essentials such as bandages, dressings, plasters and anti-septic wipes is a good starting point, but you should also consider packing anti-histamines in case of allergic reactions to insect bites, diarrhoea relief, paracetamol and insect bite relief. Despite applying mosquito repellent, my friend still managed to get badly bitten on her legs, so having some insect bite relief was a big help!
While maybe not an essential for some people, this Bali travel guide is small enough to carry around with you during the day and is filled with useful tips and itinerary ideas. As we had only planned our first couple of days in Bali, we used the guide for inspiration and it was the main reason we decided to spend a couple of nights on Nusa Lembongan.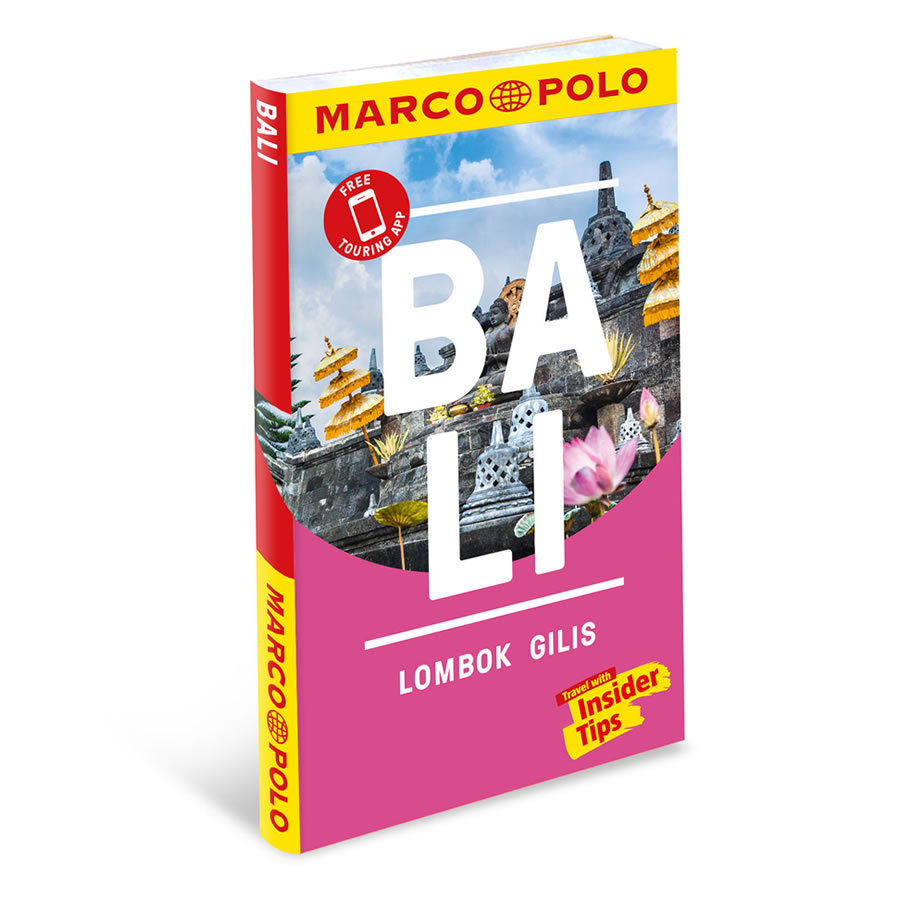 The Bali guide comes with a pull out map, as well as four tour ideas, which can be downloaded to your phone and used offline, so you don't have to get the guide out. You'll also find a section on useful Indonesian phrases, which can come in really handy when you don't have an internet connection to google how to say things.
Many travel backpacks come with a removable daypack. If your travel bag doesn't come with a daypack, I'd recommend bringing one along on your trip to Bali.
Daypacks are great for keeping all your essentials in during the day and mine came in particularly useful when I needed to carry my camera, purse, water and a change of clothes on a day trip to temples, Tegenungan waterfall, Tegallalang rice terraces, and Monkey Forest. In fact, I think it was most useful when it came to hiding any food I had from the monkeys!
If you're planning to climb Mount Batur on a sunrise trek, a daypack will prove invaluable. You'll find that most tour guides will provide you with breakfast, usually a boiled egg, banana and some bread, which you will need to carry with you for the duration of the trek. We brought our own snacks, as well as plenty of water and you may also want to bring a small travel towel as it can get pretty sweaty!
We found street lighting after dark to be an issue on parts of Gili Air and Nusa Lembongan, and while we never felt particularly unsafe, having a torch would probably have made it easier to see where we were going when we were walking back to our accommodation at night. The torches provided on the Mount Batur sunrise trek weren't great either, so having your own could come in pretty handy.
Given its proximity to the equator, the sun in Bali is strong. You should make sure you use a sun cream with SPF30 or higher (SPF50 if you have fair skin) and choose one with both UVA and UVB filters.
While many travellers like to bask in the sun, try and keep your sunbathing time to a minimum, especially when the sun is at its strongest, and cover up with loose and comfortable clothing where possible. Remember that mosquito repellent can reduce the effectiveness of your sun protection, so you should choose a higher SPF than normal to compensate for this.
Whether you're surfing, snorkelling, scuba diving or sun bathing at the beach, a travel towel is a Bali essential. I'd recommend a smooth textured microfibre towel if you're mainly using it for the beach, as sand doesn't stick to this type or towel as easily as the soft touch options. An XL or giant sized towel can also be used as a sarong or cover up in more conservative areas and when visiting temples.
Other useful items for travelling in Bali…
Flip Flops – You'll find that you sometimes have to remove your shoes before entering shops and the homes of locals. This isn't always the case, but wearing flip flops or shoes that are easy to remove makes it easier to take your shoes off when you need to.
Sarong – If you're visiting temples, you will need to cover up. Some temples have sarongs available to hire, but it's wise to have your own.
Trainers or Walking Shoes – If you're trekking during your time in Bali, make sure you have a comfortable pair of trainers or walking shoes
Underwater Camera – A must have for capturing your scuba and snorkelling experiences
Neck Pillow – The flight to Bali is long. One thing that makes it slightly more comfortable is a good quality neck pillow like the supreme snoozer.
Ear Plugs – Great for blocking out noise on the flight there. I also found mine useful on Gili Air when I was woken at 4am by the call to prayer combined with a chorus of crowing roosters!