An ancient walled city, hundreds of temples, a lively after-dark scene and a famous night bazaar – this and so much more make up what is now Chiang Mai and was once the capital of the great Lanna kingdom.
The area surrounding this wonderful city is dotted about with hill tribes, tea, rice and coffee plantations, jungle-swathed mountains and vast national parks which number royal palaces and high altitude temples within their list of many delights.
Whether you are looking for adventure or culture, intent on some serious retail therapy or just want to gorge yourself silly on wonderful food this 'Rose of the North' is a destination exceedingly hard to leave out of any Thailand itinerary. Here are just 10 reasons why.
1) Take a Tour…or Ten
There are few places which can boast quite such a jam-packed and diverse menu of tours as Chiang Mai. Temple exploration, elephant experiences (see the final word at the end of this article) and hill tribe visits make up the bulk of the tour offerings but there's heaps more.
If you are a fan of tours which come with a behind-the-scenes element you can choose from living like a rice farmer for the day, learning about tea growing or coffee production and visiting one of the many handicrafts producers to see everything from silks to silverware being made.
A wealth of transport options – rickshaw, bicycle, Segway, scorpion tailed boats etc – mean even similar themed tours are often vastly different while there are also all kinds of treats or unusual twists which might come as part of the deal. These include things such as a spot of Buddhist chanting or alms giving or maybe a city sights tour from the basket of a hot air balloon.
If that all sounds a bit too tame and you're in search of something rather more thrill-focused you're well-catered for too. White water rafting, adventure kayaking, abseiling and wilderness or mountain trekking are just a few of your options. At the opposite end of the scale, spiritual retreats and self-discovery options are a big thing in Chiang Mai so you'll have no trouble finding yoga, tai chi or meditation choices. And if you're in the mood to be pampered spas and massage are super common.
For those more culinary inclined there are Thai cookery classes, cuisine trail adventures by bike or a street food discovery experience.
If you're having trouble narrowing down your choices opt for a combo of one or more of the activities thrown in together or a tour with multiple activities included such as a temple tour, night market visit and Thai dinner all in one.
The bottom line, think of what you want to do – and you're allowed to go with obscure – and it's highly likely Chiang Mai can make it happen.
2) Hit the Temple Trail
Chiang Mai has been a bit greedy on the temple front – it has hundreds of them – so you're not going to see them all even if you wanted to. Chiang Mai's temples include the architecturally wonderful, the historically important, the tourist-crammed, those housing giant Buddhas and some perched on mountains. Although each has something to offer there are certainly those which deserve a place on the not-to-be-missed list.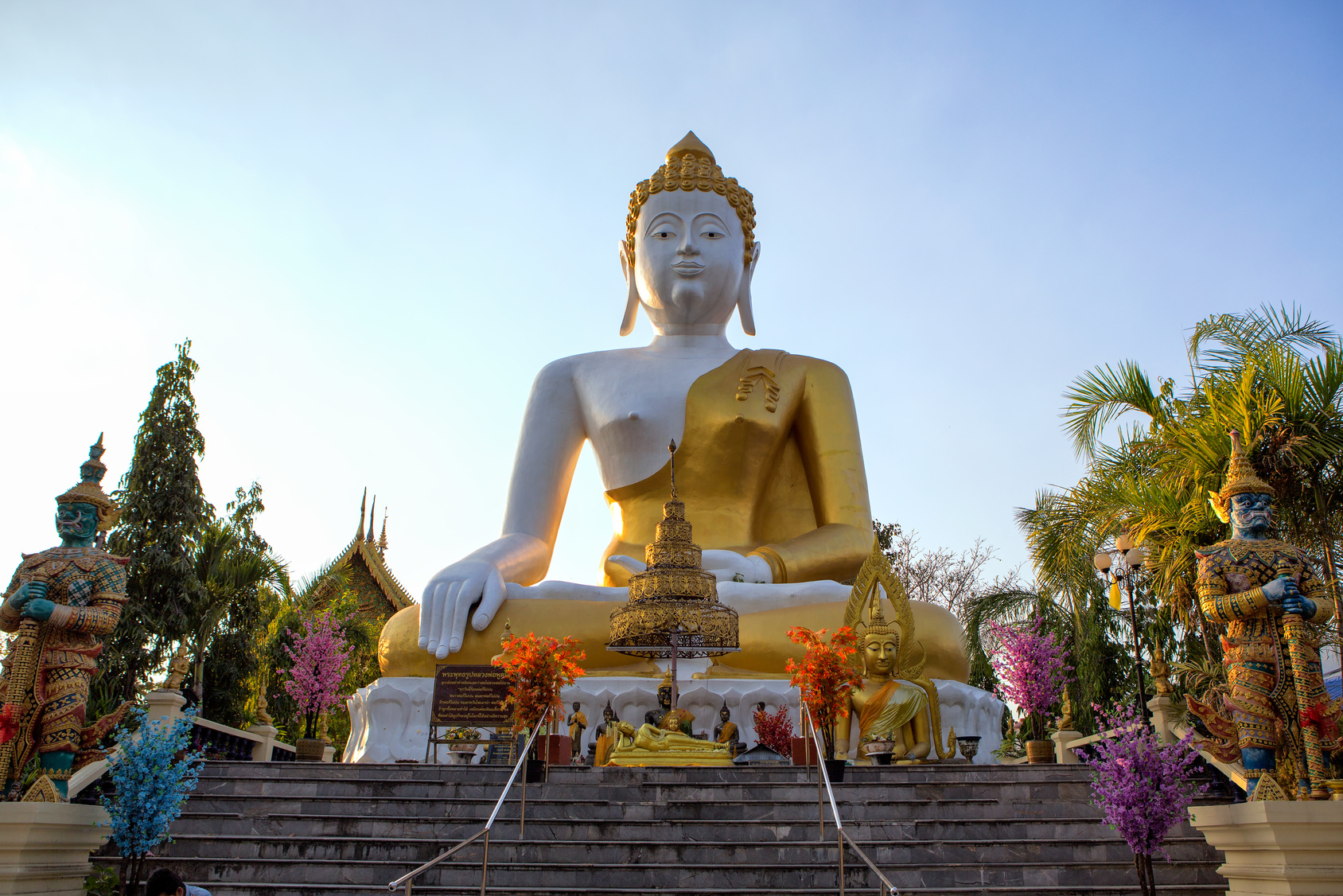 Wat Phra Sing – Dating from the 14th century, this often-visited temple's principal draw is the presence of some incredible murals.
Wat Chiang Man – Distinctively painted in red and gold and set with twinkling mirrored tiles, 13th century Wat Chiang Man is the city's oldest temple. Housed within are two Buddha images which although are almost certainly not as old as the 1800 and 2500 year old figures much bandied about are nonetheless impressively ancient.
Wat Phra That Doi Kham – If you're a fan of giant Buddha statues head to this temple – it houses the city's largest – 17 metres.
Wat Chedi Luang – Still impressively tall at 40 metres, the distinctive pagoda of this temple was actually twice the height you see it now before a 16th century earthquake toppled it.
Wat Phrathat Doi Suthep – If you only have the chance to visit one temple while in Chiang Mai make it this one. Glittering and twinkling like a sun-reflected beacon from its lofty mountain perch, 14th century Doi Suthep is both stunningly beautiful and magically atmospheric and about as sacred as it gets if you happen to be Buddhist. The soaring gold plated chedi is impressive, the internal murals stunning and the constant sound of bells being rung by visiting pilgrims moving.
For views to die for you have to puff your way up hundreds of steps or, if expending so much energy doesn't appeal, hop in the cable car.
3) A Cascade of Umbrellas – Ban Bo Sang Handicraft Village
In essence a market, the Ban Bo Sang Handicraft Village is not so much about retail therapy as it is about surrounding yourself with the visually stunning. Nothing short of a feast for the eyes, this colour drenched place features umbrellas which range from the tiny cocktail type to the vast patio parasol. Each has been hand-painted using all of the colours you know to exist with apparently several more you might not have previously been aware of. Also for sale are other exquisite goods and works of art which include extravagantly embellished fans. For those who find it impossible to leave without making a purchase the prices are reasonable.
If you happen to be around in January time your visit with the annual festival. At any time of year a visit to this kaleidoscope-colour drenched village is something special. However, once the village kicks into festival mood the special becomes off-the-scale spectacular. The iconic umbrellas are the focus but added to that are street fairs, exhibitions, cultural performances, processions and after-dark entertainments presented by lantern light.
4) Waterfalls, A Royal Palace & Monkeys – Doi Suthep National Park
Spread over a whopping 260 km² this national park is cloaked in forest and home to one of the country's highest mountains – Doi Pui. Dotted amid this natural splendour are countless waterfalls of the impressive variety, a summer palace belonging to royalty, a handful of hill tribe villages and the twinkling loveliness of a highly sacred temple – Wat Phrathat – which perches atop Doi Pui mountain. The park is also home to a diverse number of animals and plants including brightly plumaged birds, bears, porcupines and macaque monkeys
Whether things cultural, historical or natural float your boat you can have each or all here. While some of the spectacular waterfalls take a bit of getting to there are others which are easily accessible. These include Mae Sa Falls, Huay Kaew Falls which is a popular picnic spot and Monthathan Falls where the waters tumble down over several separate tiers.
If manicured beauty is more your thing take a stroll in the Bhubing Palace gardens where the air is full of exotic scents and your eyes will be assailed by riots of colour. When the royal family are not in town this park is open to the public and offers shops, restaurants and even a few accommodation choices if you want to linger a bit longer.
5) Night Bazaars & Walking Streets – The Buzz of Chiang Mai's Markets
Nothing says you are in an exotic location quite as loudly as a Thai market and Chiang Mai has a wonderful menu of such.
The Night Bazaar – Half outdoor, half undercover the sprawling whole known as the Night Bazaar is one of Chiang Mai's most iconic features. It is a vibrant maelstrom of stalls, vendors, handicrafts, souvenirs, colours, scents and sounds which no matter how many times you explore it seems to uncover a whole new section with every visit. Most definitely aimed at the tourist sector, much of what you will find here differs little from stall to stall but the atmosphere and experience can't be beaten. Even if you have no intention of buying anything the incredible variety of mega-cheap eats make it a rewarding outing and the entertainment and music are lots of fun to boot.
Sunday Walking Street – If you are really looking for a handmade Thai keepsake of decent quality this market is a better bet than the Night Bazaar.
Saturday Walking Street – A Saturday version of the Sunday Walking Street with a different venue, this modest-sized market is another option for those in search of higher quality souvenirs and gifts.
Warorot Market – If you prefer your markets less touristy and more Thai authentic head to the Warorot Market and rub shoulders with the locals stocking up on spices, tea, fresh produce, discount clothes, household wares, material and fireworks. The other half of the market on the other side of the street is full of fruit and flowers. In common with most Thai markets snacks and meals of the cheap and tasty variety are a big theme
6) Watch or Learn the Ancient Art of Muay Thai – Thai Boxing Experiences
Muay Thai or Thai boxing is not just simply a sport in Thailand but something so firmly rooted in its psyche and so essentially sacred to its people it verges on religion. The exact details of its beginnings are open to debate but that it is ancient is not questionable.
If you want to watch the experts and professionals slogging it out in the ring and the elaborate rituals which precede fights, you can do this at one of Chiang Mai's three stadiums. Some bouts have regular schedules each week while for others you will have to keep your eyes peeled for advertisement flyers which spring up around town.
However, simply watching is not enough for many people who head to Chiang Mai from all over the world to enrol on courses which last from days to months. Chiang Mai is littered with muay Thai gyms and even if you don't want to train or get in the ring yourself many of these can be visited on tours.
7) Incredible Photos & Hours of Fun – Art in Paradise
There are plenty who will tell you this is a kids' attraction – don't listen! There is no reason why having this much fun should be reserved for those under 10.
Essentially Art In Paradise is, as its name suggests, an art gallery and for that reason alone it is worth a visit to check out the beautiful pictures. However, the paintings here are no ordinary 2D art works but created using an effect known as trompe l'oei or trick of the eye which gives them extraordinary 3D aspects. What all of this adds up to is heaps of fun, hours of fascination and some unbelievable photos.
By posing in a certain way, people become part of the picture so you look as if you are cruising the skies on a magic carpet, swimming undersea or perhaps simply sprouting angel wings. Some incredible photos exist where visitors have been that extra bit creative or worked their imagination to its limits. Shrieks of laughter and abandoned giggling tend to be the main sounds you'll hear here. Be warned – this is highly addictive.
8) Ancient Times, Arts & Culture – Chiang Mai's Museums
Although wandering the streets of the historic Old City of Chiang Mai can at times feel like meandering through a vast outdoor museum the city has a few more specific offerings for the culturally inclined. These range from the miniscule and whacky to the impressively modern but each will allow the visitor a peek into the area's colourful and ancient history.
Chiang Mai City Arts and Cultural Centre – Housed in a building which is itself a lovely example of post-colonial architecture, this multi-media cultural centre offers two floors of exhibits with photos, videos, models and murals.
Chiang Mai Historical Centre  – Covering the mighty Lanna period of Chiang Mai's history from beginning to end, this bright and modern garden-surrounded building is packed with fun interactive displays and concise explanations so you can instantly understand what you are looking at. The lower regions house some temple ruins which were uncovered during construction of the museum.
National Museum – Made up of three floors, this educational museum showcases a wealth of artefacts relating to the Northern Thai cultures. Included within the displays are ancient Buddha statues, many wood carvings, arts, a variety of ages-old wares which were once household objects and photographs which show Chiang Mai through the decades.
9) The Exotic & The Erotic – Chiang Mai's Gardens
There are a handful of botanical or ornamental gardens around Chiang Mai. Here are just a couple of the main attractions.
Queen Sirikit Botanical Gardens – Thailand, perhaps surprisingly, isn't short on world-class standard botanical gardens of which Chiang Mai's Queen Sirikit Botanical Gardens is just one example. However, this is one of the longest established in Thailand and many would insist its best although its beautiful mountainside location does give it something of an unfair advantage over other gardens.
Natural forest and man-made environments have been lovingly and cleverly woven together and the whole is a landscape of fountains, bridges, trees and plants which are exhibited both outdoors and under cover. Of the latter one of the most fascinating displays to be explored is the mega-giant cacti garden.
Chiang Mai Erotic Garden – Yes, you did read that right – this Chiang Mai outskirts attraction is not simply a lovely garden but one filled with naughty art along with flowers and plants specifically chosen for their suggestive shapes or aphrodisiac properties. Blending the carefully cultured and the natural, the statue and sculpture-dotted whole is surrounded by lush green rice paddies with mountains making up the backdrop.
The entire project is the work of the charming and fun Miss Katai who is often on hand to act as personal tour guide to her visitors, something which many guests rate as their favourite element. Once you've giggled your way through the exhibits you get to have tea in the garden's teahouse – all included in the price of admission.
10) After Dark Fun & Nights on the Town
Although no-one would suggest Chiang Mai has anything for the serious partygoer on the scale of Pattaya or Bangkok it has to be said this city is exerting itself on an admirable scale to establish itself as a lively after-dark action destination.
There are two hot-spots – the Niman Road area which is where the locals tend to head and the Loi Kroh Road of the Night Bazaar area which is where the tourists tend to accumulate. The Niman Road is frequented by the young Thais who attend the Chiang Mai University and has something of a hip and happening vibe. The loud music venues here – which can thump out beats either electronically generated or live – are an eclectic mix of bar/restaurant/night club all plonked together. The area around here is a labyrinth of sois and a night time meander could have you stumbling across all kinds of Western-style clubs or live music spots and there are some great rooftop bars too.
For the greatest concentration of night-life venues the Loi Kroh Road area wins hands down. Leaning towards the raunchy at times, this conglomeration of bars, karaoke venues, pubs, clubs and entertainment spots works hard to tempt in the tourists with a menu of specials, promotions and the promise of all kinds of extras thrown in. For the beating heart of this anything goes area head to Tha Phrae Gate or the huge Chiang Mai Entertainment Complex. Within the latter entertainment complex can be found a muay Thai ring where party-goers can watch both exhibition and competition bouts and occasionally the spectacle of some boozed-up Westerner who has jumped in to try his luck.
A Final Word on Elephant Tourism…
The thing you will find in Chiang Mai in the greatest number after temples are elephant experiences. These range from a short elephant back ride through circus performances and onto week-long elephant camp experiences. So why aren't elephant experiences on a top 10 list of Chiang Mai things to do?
Many come to Thailand with 'have an experience with elephants' fairly high on their travel wish-list. However, before you decide to sign up for a tour or spectacle you might be interested to know a little more about the people who will be receiving your money. The majority of the elephants have been cowed into submission using training methods which are both barbaric and tortuous while the conditions many animals are kept in fall far short of anything which could be described as ethical.
So, should you give the elephant experience a complete miss? Absolutely not. Luckily there are outfits out there where emphasis is on animal welfare and conservation and not simply getting tourists to hand over their money. As reputable and respected organisations go, there is one which is way ahead of the pack – the Elephant Nature Park. This sanctuary and rehabilitation centre for rescued animals which is located 40 miles outside of Chiang Mai focuses on protection so elephant rides are strictly off the menu. What you get instead – as well as being able to sleep with a clear conscience – is a wonderful opportunity to spend some meaningful time with these majestic creatures, helping to hand feed them, care for them, bathe with them in the river and learn all about them. Experiences range from a few hours to a week and all proceeds are ploughed straight back into the essential elephant protection coffers.
Read more about elephant tourism here.