1) Mud, Music & Magic – Glastonbury
Although this music and folk festival has moved quite a long way from the ethos and intentions of its original concept, Glastonbury – the largest greenfield festival on Earth – is still something everyone should do at least once in their lifetime. For five days every year (with typically a break every five years) between 130,000 to 170,000 gather in a series of fields in the middle of the English countryside to listen to some of the biggest names in music on the planet and to explore a world of contemporary performing arts. For some reason known only to the gods of festivals Glastonbury more often than not sees rainy weather which tends to turn the rural surroundings into a mud bath of epic proportions. Which in turn (and also for some indescribable reason) seems to add to the fun and frivolity and general enjoyment for festival goers.
Glastonbury began back in 1970 when the hippy counter-culture movement was in full swing. These days Glastonbury has really morphed into something else entirely but the organisers still try and keep something of the original concept alive such as can be seen with the Healing Fields, various sacred spaces and the Peace Garden.
From a music perspective – and huge head-liners aside – no matter what your musical tastes you are likely to be able to indulge it here; from one man and his guitar/piano/didgeridoo etc in a tiny tent to stages of epic proportions. And if you tire of the music there is always theatre, comedy, film screenings, dance, circus and cabaret to keep you entertained.
For total Glastonbury immersion most festival folk camp here for the duration and camping options range from the decidedly decadent glamping choices to various fields aimed at different groups of people such as party animals, families or those in search of a bit of peace and quiet.
Once e free festival, Glastonbury these days is far from cheap and can make a sizeable dent in you pay packet. However, some life experiences are so unique it is hard to quantify their value; there are hundreds of thousands of people who will tell you Glastonbury is certainly one of those.
Where: Pilton, Somerset, England
When: June every year with a non-festival year every five years or so.
2) Sugar Skulls & Graveyard Vigils – Day of the Dead AKA Dia de los Muertos
The Day of the Dead is all about honouring all those loved and lost through death. And although the name and the theme might suggest otherwise this festival – although typically sacred and heartfelt – is anything but a morose and sombre affair. In fact, tears, it was said, made the paths of the departed ones slippery underfoot so this celebration focuses on joy. Departed loved ones come to visit so all the family gathers together to welcome them home.
First stopping off point for the spirits is the cemeteries and these are the places to be if you want to experience the full and incredibly stirring spectacle of this festival. Graves are elaborately decorated and long pathways of petals are often strewn from grave to family house to help the spirit find its way. All night vigils in graveyards are common where families will picnic, play music, sing and generally celebrate amid the light of hundreds of candles
Homes are also colourfully decorated in preparation for the dead coming to call; tables are set with places for the dead as well as the living and altars of favourite foods, flowers, offerings and personal things are set up. A common altar offering which you will see almost everywhere leading up to the Day of the Dead is a sugar skull. Usually inscribed with the dead person's name, some of these are exquisite works of art and should someone present you with such a gift (they are given to the living too) it is a mark of honour and respect.
Other Day of the Dead symbols seen everywhere are pan de muertos – a special type of bread only made during this period and, 'papel picado' – colourful perforated-cut paper garlands hung in strings and which are often left hanging in places long after the festival has finished. The images and life-size models of a well dressed lady skeleton in an elaborate hat you will see are La Catrina who can trace her roots back to Aztec times.
These days, although the more traditional practices continue to be observed, younger generations have made some crossovers with Halloween and you will see plenty of people in the streets with painted faces and costumes, quite often as Catrina.
As of 2016 Mexico City has its very own Day of the Dead Rio-type Carnival, inspired it is said by the opening scenes of a James Bond movie and widely predicted to grow to mammoth size in years to come.
Where: Although it originated in Mexico (and is where the most elaborate festivities are held) Dia de los Muertos is celebrated all over Latin America
When: Between October 31st and November 2nd.
Hot spots: Anywhere in Mexico but for something a little extra special head to Janitzio island in Lake Patzcuaro where the indigenous Tarascans stage elaborate Day of the Dead ceremonies with processions, graveyard vigils, dancing and fishermen on the lake with torch-lit boats.
3) A Totally Pointless but Wonderful Food Fight – La Tomatina
If food fights on an epic scale sound like your idea of fun head to Valencia in Spain in August and get ready for an hour or so of total mayhem. As unmissable world festivals go this one has to be one of the shortest – just an hour – but packed into that sixty minutes will probably be the most fun with fruit you will ever have in your life!
Dating from 1945, the folk of Buñol, Valencia have taken to the streets of their town every year to pelt each other with tomatoes although quite how it all began is a story which differs depending on who you are talking to. At some point in the festival's history word got out that THIS was a whole heap of fun and gradually more and more people made their way here to take part. Eventually the thousands descending on the small town became something of a safety issue and these days La Tomatina is ticketed to restrict participants to 20,000.
From early in the morning you will see plastic sheeting being erected over businesses and homes. Sometime around mid to late morning the trucks arrive with their hundred tonnes of tomatoes. Theoretically the first tomato is thrown once some intrepid individual has made it to the top of a greased pole to claim the ham prize. In reality it starts when it starts and once it has started it is basically a full-on crazy free-for-all.
In an effort to keep things fun and friendly the local council has a set of rules pertaining to the festival which include squashing tomatoes before throwing them, following any security staff advice and not tearing clothing. After an hour a starter pistol will indicate the end of the fight and fire trucks move in to start the hosing down operation. Most locals will offer the use of their own hoses to clean up the pulped participants.
There is basically no way you can stay clean at the world's most celebrated food fight so old clothes and waterproof cameras are essential. Many veterans also recommend goggles.
Where: Buñol, Valencia, Spain
The original tomato throwing festival has triggered off a few copy-cat events around the world including San Jose de Trojas in Costa Rica and Dongguan, Guangdong, China
4) Rainbow-coloured Madness – Holi
Lasting anything from two days to two weeks depending where you are, the Indian spring festival known as Holi transforms the streets of India into a riot of colour while an air of frivolity and fun pervades everything. A little crazy it might be but it is nevertheless a highly sacred festival for Hindus and marks a victory of good over evil with today's festivities meant to symbolise unity and harmony while marking a time for setting aside any personal conflicts. An ancient festival, Holi's exact roots are not known but it definitely dates back centuries and was present during the creation of certain Sanskrit texts written in the 4th century.
The affair kicks off with the more sombre side of things as folks gather around large-scale bonfires in which effigies of the demoness Holika are burned. Such symbolism represents casting out evil and the rituals and prayers which accompany the blaze enhance this idea.
The following day is when the madness and mayhem of throwing coloured powders and hurling water (anything from small containers to sprinklers is fair game) which most associate with Holi takes place. Whether tiny village or sprawling city, folk will take to the streets in the morning where things might start out fairly low key. However, by afternoon things have usually reached fever pitch and full-on partying is the order of the day. Everything you see – man/woman, child, beast, buildings and vehicles will be covered in rainbow colours. Music also plays its part with parades of musicians a common accompaniment to the colourful goings-on. Once the public free-for-all has run its course, families will retreat to houses to continue their celebrations privately.
Where: Holi is celebrated nationwide in India although the northern parts tend to have the wildest celebrations. Nepal also celebrates Holi.
When: Late February or early March – Holi begins on the full moon day in the month of Phalguna according to the Hindu calendar.
Hot spots: Mathura and Vrindavan – if you'd like to witness some of the more sacred rituals of Holi as well as a full-on powder party head to the neighbouring towns of Mathura and Vrindavan. Celebrations last a week here and include flower throwing rituals and processions.
Udaipar – elaborate Holi celebrations here hosted by the royal family include a highly colourful procession and performances by royal musicians and dancers.
5) The World's Most Famous Party – Rio Carnival
Generally accepted as the planet's biggest carnival, Rio's Carnaval brings together two million revellers per day every year for six days just before Lent. It is a mind-boggling bonanza of music and dancing in high energy parades and a visual spectacle of multi-coloured costumes ranging from the simply beautiful to the totally wacky. Although the float-cavalcades of the samba school parades are the carnival's most iconic aspect Carnaval is in total actually a cluster of mini festivals which might spring up just about anywhere in the city. These range from the precision organised to spontaneous outbreaks of dance and music without formality which are often the most fun.
Carnaval's pre-Lent celebration roots actually stretch back to what was originally a pagan festival although the concept of a Rio carnival with parades began in the 18th century. Today Carnaval's feel-good beat is distinctly samba but this didn't become part of things until 1917; the samba schools themselves date back to the 1920s.
Up until the 1980s Carnaval was a true street carnival but modern times have shifted the venue to the purpose-built Sambadrome which is a ticket-only spectacle. And it is no longer a free (or cheap) party….. or at least this is true of the main event. However, head to Rio during Carnaval and find yourself a street festival – something super-common in the city. Participation is totally free and open to anyone with the inclination to strut their stuff
Where: Rio de Janeiro, Brazil *
When: February/March for six days. The samba schools parade aspect takes place on the third and fourth days of Carnaval.
* Although Rio is without doubt Brazil's most famous carnival it is certainly not its only one and many will say not even the best. Held around February, Salvador de Bahia's six day reggae-themed festival names itself 'the largest party in the world' and is totally free to attend. Further north in the neighbouring cities of Recife and Olinda can be found other samba-beat open-air carnivals where anyone can take part if they have the initiative to design a costume.
When: The last Wednesday in August.
6) Masks & Masquerades – Carnivale di Venezia
Ranging from the decidedly bizarre demons of the Sardinian mamathones festival with its Pagan roots to the magic and enchantment of Tuscany's Certaldo street art festival held in a candlelit mediaeval hill town, Italians love their festivals. Visit any region around the summer months and find yourself amid more festivals than you will know what to do with. However, as these things go, nothing is quite as famous in Italy as Venice's winter carnival with its theme of masks and masquerades.
The history of Carnivale di Venezia is a patchy stop/start one but its original roots are thought to go back to the 12th century and mark a victory for power over neighbouring rivals. In the 18th century the whole thing was outlawed completely and wearing masks of any kind strictly forbidden. In the 19th century the carnival started to emerge again but didn't establish itself fully as a public spectacle until the 1970s. This re-emergence was in the most part due to a concerted effort of the government who felt the city's carnival best represented a way of showcasing Venice's art and culture.
Carnivale is all about masks – many of the astonishingly beautiful kind – and elaborate costumes reminiscent of 18th century Venetians. (In times past mask wearing in Venice was common as folk sought to hide their identities as they went about their business of intrigue or indulging vices.) The best bit of Carnivale is without a doubt watching this city – which, let's face it has more than a touch of the magical about it anyway – fill up with dancing, posing and strutting party-goers. The whole exudes an air of mystical surrealism and with the magnificent peeling-paint splendour of the city itself as a backdrop you are, with zero effort, transported back to a Venice of 300 years ago.
You can of course experience Carnivale mask-free but you will mark yourself as a party-pooper and besides it is all part of getting into the spirit. There are a ridiculous amount of mask shops to take your pick from which offer something for every budget – from cheap imports to exquisite treasures which are, simply put, works of art. Feathers, sequins, jewels, glitter and gilding are all possible. If you want to add a costume the most common choice is a cloak but there are a handful of places which offer costume hire with top-end options transforming you into a 18th century social butterfly.
There are a few mask styles that you will see over and again, many of which have actual names such as the long-beaked medico della peste. The stark white porcelain mask (sometimes gilded and beautifully decorated) known as the volto is however the most iconic and volto wearers tend to add a tricorn hat and sweeping cloak for general effect.
Besides the general posing and strutting and the best costume competition Venice's Carnivale is a packed calendar of parties and masked balls where costume is obligatory. If you fancy bagging yourself a ticket some of these will cost you a pretty penny while the most extravagant ball – the Valentine's Grand Masquerade Ball – had a price tag of around the 700 Euros mark in 2017.
Otherwise Venice's winter festival is a mix of pageants, processions, music and artistic performances.
Where: Venice, Italy
When: Around the end of January/beginning of February for about 2 weeks.
Hot spots: St Mark's Square is a hive of activity while if you want a chance to party with the locals head to Cannaregio or Dorsoduro after sunset.
7) Watery Mayhem & Sacred Rites – Songkran
Many Thai festivals seemed to be double edged – on the one hand sombre and sacred and on the flip side fun-loving parties. However, nowhere is this more evident and extreme than with Songkran – or Thai New Year; a festival which is as religiously significant as it gets but which will also see the streets of just about every town and city in Thailand turned into scenes of full-on water-fight mayhem.
However, whether your take is traditional or crazy the main theme is still water. In the first instance as a symbol of cleansing and in the second simply as the opportunity for throwing around copious amounts of water. While the more sombre side of things is something you will have to go looking for, the public party side is something you are going to get caught up in if you happen to be outdoors and whether you intend it or not. Expect to be anything from slightly damp to dripping for the duration of the day. Along with the water come coloured chalks and powders which might get mixed into the thrown water or stirred into a paste for daubing on the faces of passers-by or anything which moves.
The water-fight protagonists start early. Open-backed trucks and cars are loaded up with as many people who can cling on as well as water butts. As the day progresses it isn't unusual to see larger towns and cities gridlocked with such vehicles, most by this time splattered in shades of purple, pink, yellow and orange. Those that don't have access to a truck simply arm themselves with hose-pipes, water pistols with incredible ranges and buckets of water, wholly committed to the drench-or-be-drenched philosophy of the festival. No-one and nothing is out of bounds – you will be fair game whether you are a sharp-suit sporting businessman, someone taking your fruit home from the market, a tourist with an expensive camera or someone sitting in a car with an open window; the police, it has to be said, seem to be favoured targets.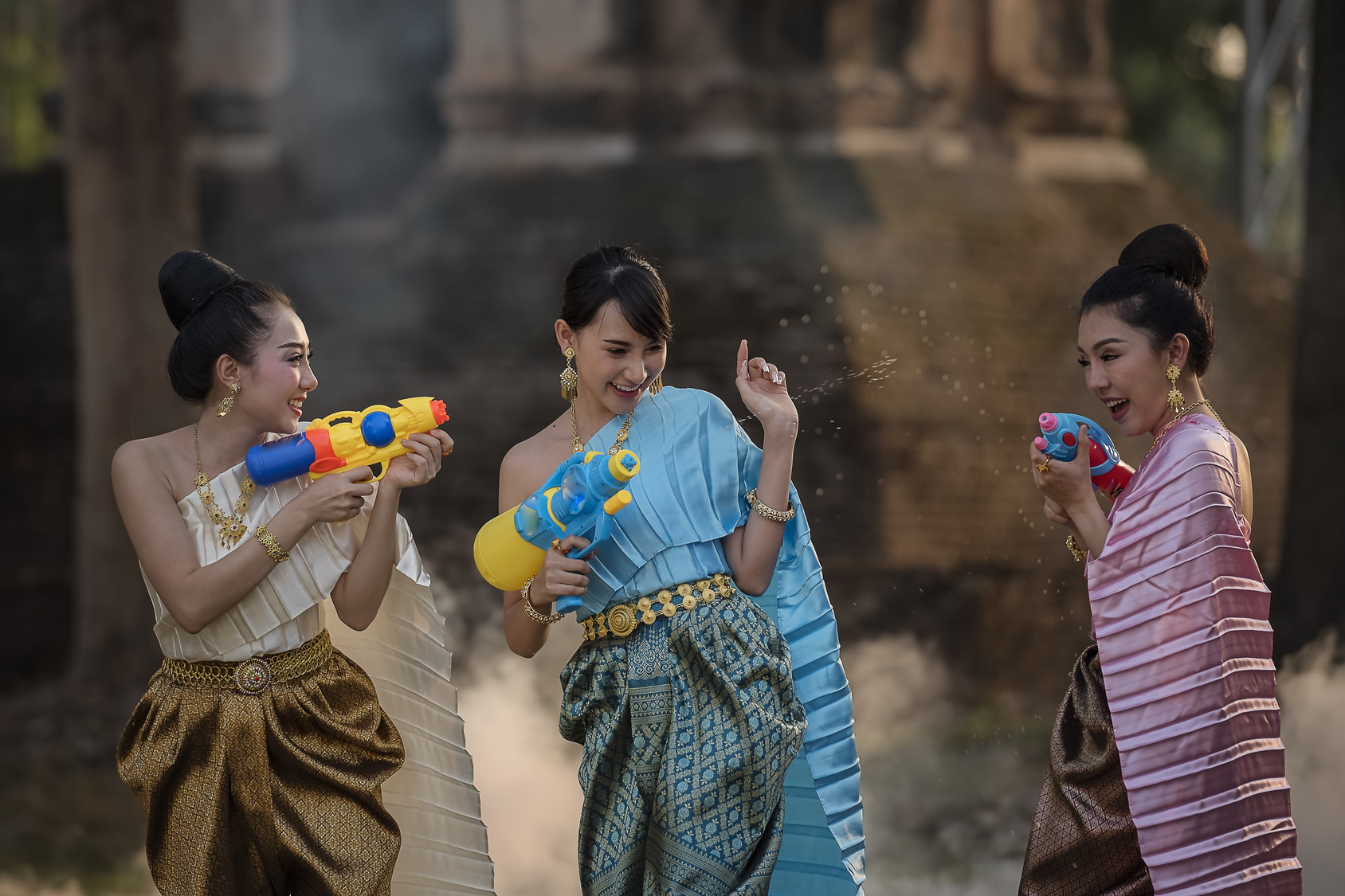 Water-fights aside, Songkran is a festival made up of merit-making ceremonies, Buddha statues being moved from A to B by saffron-robed monks with chanting processions in their wake and temple visits, often with the purpose of making food offerings to the monks. Homes and home Buddha images are cleansed and this same water is then sprinkled over others as a blessing. This idea of gently dowsing others with water is apparently where the whole water chaos comes from but having moved from less focused on the holy and rather more on the high jinks.
While for most foreign visitors the most well-known (and indeed to some the only known) aspect of Songkran is the often wild, no-holds-barred, fun-filled raucous water chaos the religious and devout side of things is also something worth experiencing and easily missed without some extra effort.
Where: Although Thailand's Songkran festivities are typically the best known and craziest, this festival is in fact celebrated in Laos, Cambodia, Myanmar, Sri Lanka, China, parts of Vietnam and India and even in Australia and the US where there are large Asian communities. It is only called Songkran in Thailand and Laos though.
When: Dates vary each year but Songkran most usually falls in April. Festivities last for a minimum of 3 days.
Hot spots: Thai touristy places tend to have some of the most full-on and mayhem-fuelled fiestas such as The Khao San Road in Bangkok and Patong in Phuket. Pattaya and Bangkok both keep Songkran going for five days while Chiang Mai (which has a huge decorated float element) in the north parties for a week.
For something a bit more religiously culturally focused head to Sukhothai – one of Thailand's ancient kingdoms complete with evocative ruins – where it isn't hard to find opportunities for observing the spiritual aspects of Songkran at their best.
8) Let the Good Times Roll – Mardi Gras
Sometimes touted as the 'world's biggest party', Mardi Gras is a five day celebration associated with incredible float parades and a period of parties of the hedonistic and wild kind. It falls just before Lent – the Christian time of abstinence, repentance, fasting and self-denial – and is a kind of let's-get-in-as-much-fun-as-we-can-before-then type of idea. Mardi Gras is French for fat Tuesday, otherwise known as Shrove Tuesday and although the celebrations now last for five days in total official Mardi Gras Day is this day.
Records show that some kind of Mardi Gras festival was being held in the last part of the 17th century and in 1875 Mardi Gras became an official state holiday in Louisiana.
The iconic and incredible floats of Mardi Gras are organised and manned by 'krewes'; some of these private organisations have been in existence for a long while, others are very new. The carnival's oldest krewe – the Mistick Krewe of Comus – has been around since 1856. Each krewe decides its float theme; a decision made at least a year in advance as this is often how long it takes to construct the floats and get the costumes ready. All krewes have very personal histories and stories and most veteran Mardi Gras goers will have their favourite krewe – perhaps one that is known for especially elaborate costumes, an all-female krewe, a family-orientated krewe, a krewe which always features a celebrity, krewes that throw out collectables and so forth.
Each day of the carnival sees at least one major procession while the parties, balls and masquerades continue throughout. Although each float is totally and uniquely different, one thing which all krewes have in common is that their riders will hurl a variety of things into the crowds. The most common items are cups, doubloons and strings of glitzy plastic beads which you will still see hanging where they landed out of reach over wires and high places all over New Orleans long after Mardi Gras has finished. The Krewe of Zulu are known for their hand-painted coconuts (the law forbids throwing these for obvious reasons) and if you happen to get your hands on one of these it is considered the greatest Mardi Gras treasure.
It can be easy to lose track of what is happening when with so many parades great and small but these days there is a free 'Parade Tracker' app which gives comprehensive schedules and maps and even allows you to track a krewe in real time.
Although the whole theme of Mardi Gras is something of reckless abandonment one definite is that come the stroke of midnight on Mardi Gras Day it all comes to an abrupt halt. After midnight Ash Wednesday and Lent begins. Mounted police strictly enforce this rule, even clearing out Bourbon Street which is where those intent on the most hard-core partying tend to congregate.
If you want to see the process of how floats and their enormous models are constructed or wander around a wonderland of giant-sized float props from years gone by, head to Mardi Gras World in New Orleans. This huge warehouse complex gives fascinating behind-the-scenes insight and allows you to see real artists at work.
Where: New Orleans, Louisiana, USA
When: As Lent moves its date every year so does Mardi Gras but it usually falls around February/March
9) A Sky Full of Lanterns – Taiwan
Although festivals and events involving sky lantern releases can now be found throughout the world Taiwan's Pingxi's Festival is widely considered the ultimately magical in such spectacles. It has earned itself a place on many lists of world's must-do and finest experiences such as those compiled by 'The Discovery Channel', 'CNN' and popular travel guide titles. In short, if you are not stirred in the extreme by this incredibly romantic and moving sight then you probably don't have a heartbeat.
These days the week long festival features all kinds of events such as light shows and music concerts but the undisputed highlights are still the lantern releases. These are staged over three days at different locations – the first two of which are the Jingtong Elementary School and Pingxi Junior High School. The festival's final venue – where typically the greatest number of lanterns is released – is Shifen Sky Lantern Square. The official sponsors hand out thousands of free lanterns for festival goers which ensures spectacular releases. Aside from these set releases it is also possible to launch your own lantern at a number of approved locations. Although people can and do release lanterns at any time the responsible sky lantern fan will follow the guidelines. These are the places which have official clean-ups and provide fire-trucks in case of accidents.
The roots of sky lantern releases stretch back thousands of years to a time when outlaws roamed the lands with lowland villages as their raiding targets. Villagers would flee and not return until they saw lanterns in the sky; the signal for 'all clear'.
Although the magical sight of watching thousands of sky lanterns drift across the night sky is reward enough for most people these little floating lights actually serve two other purposes. This festival marks the end of the Chinese New Year period and launching the lanterns en masse symbolises a powerful letting go of the past and embracing the future. The second purpose is a little more personal – each person who releases a lantern will first write wishes, desires, dreams or hopes on its sides before sending their lantern – and message – to fly free.
In case you are wondering quite what makes a sky lantern fly it is quite simple and along the same lines of how a hot-air balloon flies. Each rice paper lantern with its bamboo frame includes a kerosene soaked element which when lit burns steadily producing hot air which rises upwards taking the lightweight lantern with it.
Where: Pingxi, Taiwan
When: The 15th day of the lunar calendar's first month – this falls around February.