The revamped Osprey Transporter arrived at GY HQ back in Autumn 2017, so it's probably about time we reviewed Osprey's new and improved duffle, which they describe as 'Adventure-proof'. The Transporter is available in four different sizes, 40L, 65L, 95L and 130L, as well as 5 great colours with options to suit every traveller and outdoor enthusiast. In this review I will be testing out the Transporter 40 in Keystone Grey.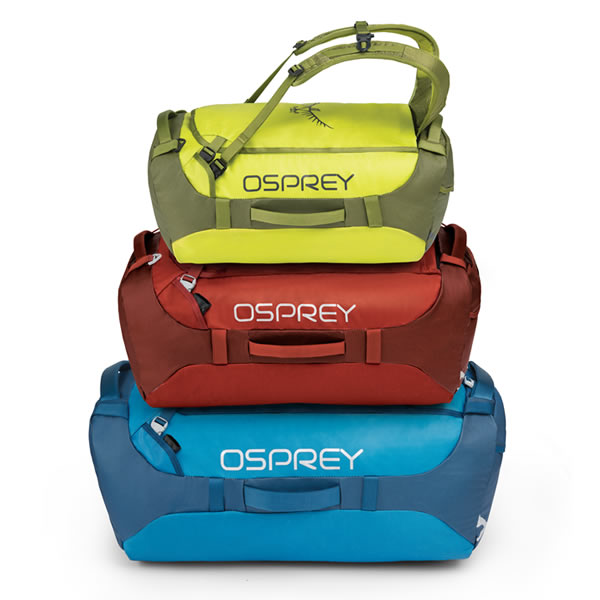 First Impressions
The first thing you'll notice about the Osprey Transporter is its compact pack size. While it opens out into a 40 litre duffle for travelling and outdoor adventures it also packs into a small storage case (27 x 21 x 10cm), so you can neatly pack it into a larger bag if you're not using it until later in your trip. The Transporter is perfect for travellers who need an extra bag for multi-day excursions during their trip and those who need to transport a lot of equipment, whether its photography, swimming, climbing or general travel gear.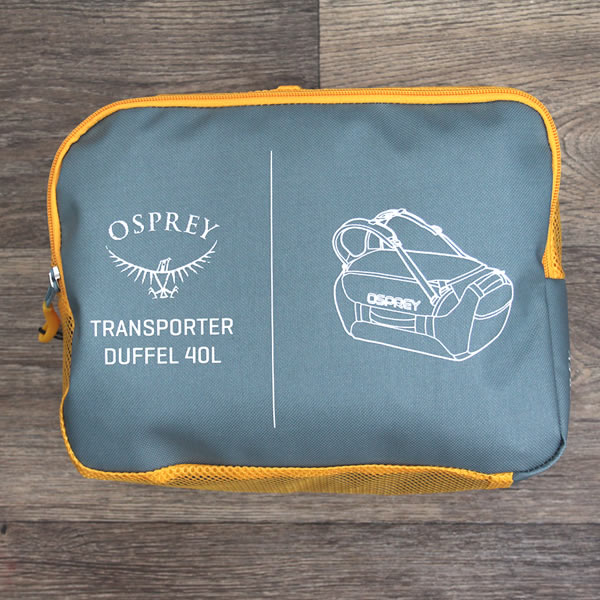 The choice of sizes make the Transporter a good option for most trips, whether you're about to embark on a weekend break or round the world adventure. There are 5 colours to choose from too, including black, kingfisher blue, keystone grey, sub lime and ruffian red (my personal favourite). Personally, I would opt for one of the brighter colours, rather than black, as this makes your bag much easier to spot on the airport carousel as it will stand out from other luggage.
One feature that sets the Osprey Transporter apart from your run of the mill duffle bag is the inclusion of a yoked shoulder harness, which can be tucked inside its own dedicated storage pocket when you're not using it. This adds to the versatility of the Transporter, as you can carry it like a backpack or duffle.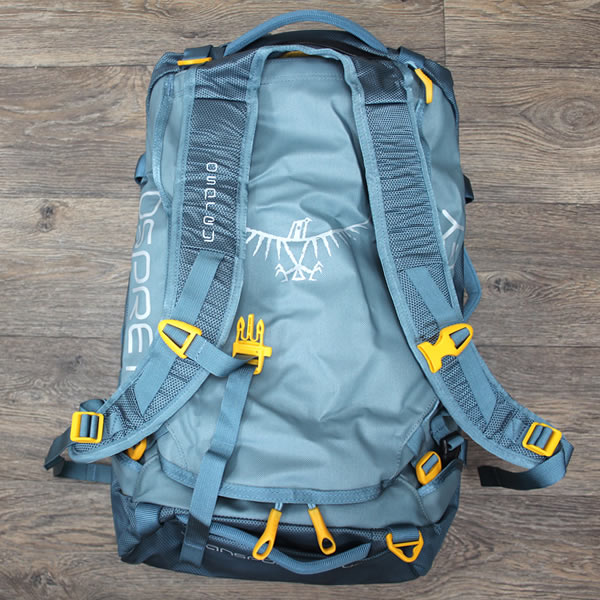 It's clear to see that this bag was designed to withstand harsh conditions and rough handling, with a high quality TPU laminated nylon construction, which is durable, lightweight and water-resistant.
Price
I certainly wouldn't class the Osprey Transporter as a cheap option, but it's reasonably priced for a piece of luggage from a premium brand. The Transporter has the following RRP's for its four models.
Transporter 40 – RRP £100.00*
Transporter 65 – RRP £120.00*
Transporter 95 – RRP £130.00*
Transporter 130 – RRP £150.00*
When you compare these prices to similar travel bags from Eagle Creek and Lowe Alpine, you'll find the prices are within the same range. Of course there are cheaper options out there, but if you want a travel bag that will stand the test of time, I'd probably put my money on the Transporter.
Construction
The Transporter is constructed from tough 0.2mm TPU laminated 800D nylon, which makes the bag weather-resistant and capable of withstanding some tough love when travelling or in the outdoors. The base feels nice and durable and is constructed from the same thick 800D nylon as the rest of the bag.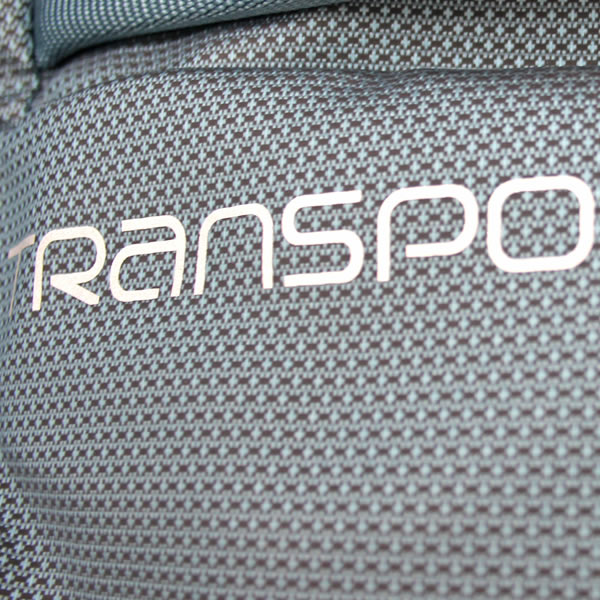 The zips are of a high quality come with easy grab zip pullers for easy opening and closure of the main compartment and pockets. The Transporter also features several buckles and clips for securing the opening of the bag and attaching the shoulder harness, these are constructed from a high quality plastic and seem unlikely to break easily.
The Technical Bit – Transporter Specifications
[table id=12 /]
Comfort Features
As mentioned previously, the Transporter comes with a yoked shoulder harness, which zips away into a handy storage pocket. The shoulder straps are designed for unisex use and are only slightly shaped, so women may find they dig in slightly around the chest area, however the adjustable sternum strap should somewhat alleviate this issue and is really easy to adjust with large 'arrow shaped' buckles that glide up and down the webbing straps. The straps also offer a good amount of padding and use airmesh material for added comfort and ventilation.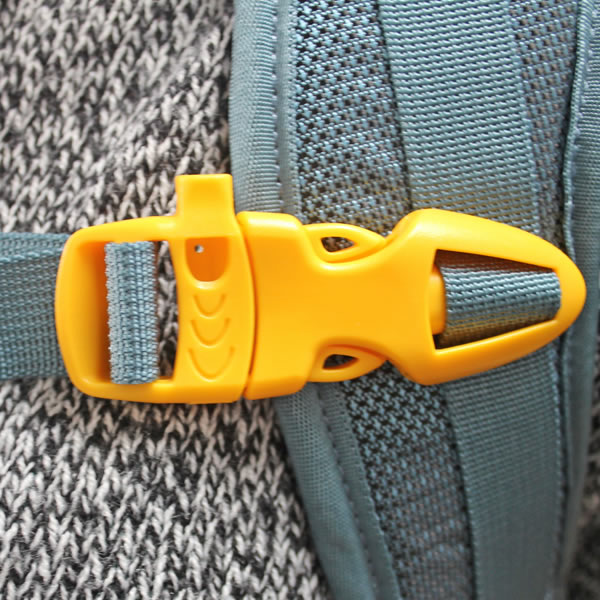 If you choose to carry the bag using the backpack straps, the lid of the bag will be against your back. While the lid isn't padded it is still relatively comfortable against your back, just make sure you don't pack anything near the top of your bag that may dig in!
One slight issue is the lack of hip belt, but this isn't commonplace for this type of bag and you won't find this feature on models from alternative brands. A hip belt would be beneficial for the larger sizes, as it would provide better weight distribution and reduce strain on your back, but it's really not an issue on the smaller 40 litre size or even the 65 litre option.
While the Transporter comes with backpack straps, it's worth remembering that it is still a duffle in essence, so the backpacks straps are more of an added bonus, which may be used on occasion. Many users may decide to carry it like a traditional duffle, using either the detachable shoulder strap or external grab handles, so the lack of hip belt on larger models isn't necessarily going to be a deal breaker for everyone.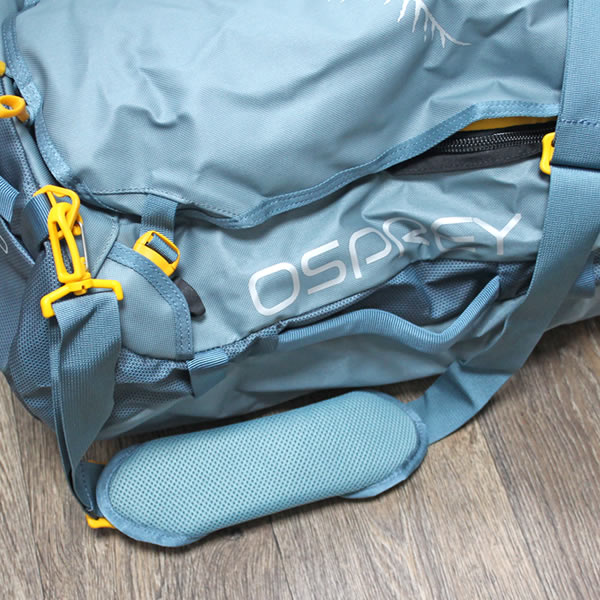 We've talked about the backpack straps, so it's time to focus on the alternative carrying methods the Transporter has to offer. The bag comes with four external grab handles, which are lightly padded for comfortable carrying, I would like to see a little more padding on these, but they would offer enough comfort when carrying the bag over short distances. If you want an alternative to carrying the Transporter on your back or by its grab handles, Osprey have included a detachable shoulder strap, which can be clipped to the sides of the bag. The shoulder strap is adjustable and comes with an airmesh padded sleeve, which is easy to slide up and down the strap.
Duffle Features
The Osprey Transporter has a simple, user-friendly design. There aren't a dozens of loose straps to get caught on airport conveyors and its features are all self explanatory and easy to use.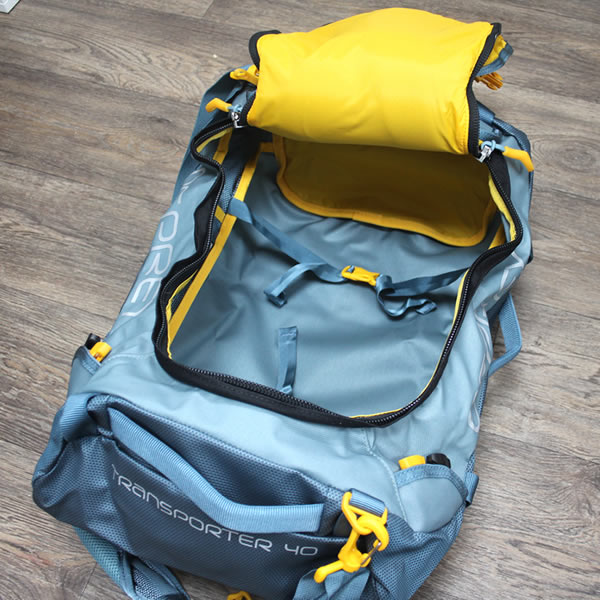 A U-shaped lid makes the bag easier to pack and allows for easier access to its contents without having to dig around. While many duffles allow your gear to move around, the Transporter comes with two adjustable internal compression straps to hold everything in place. I would also recommend using packing cubes, stuff sacks or dry bags to organise your clothes and gear, as this will keep your bag neat, make things easier to find and maximise the space inside the bag. The zips on the lid are lockable and will accept most styles of luggage padlock, so you can keep thieves out and ensure your belongings are kept secure.
In terms of storage the Transporter comes with one large main compartment, which includes an internal mesh pocket for accessories (28 x 24cm). There's also an external end pocket (27 x 16cm), which is great for storing items you need quick access to. The bag could maybe use a couple of extra internal mesh pockets for organisation, but if you're using packing cubes you probably won't need that many pockets.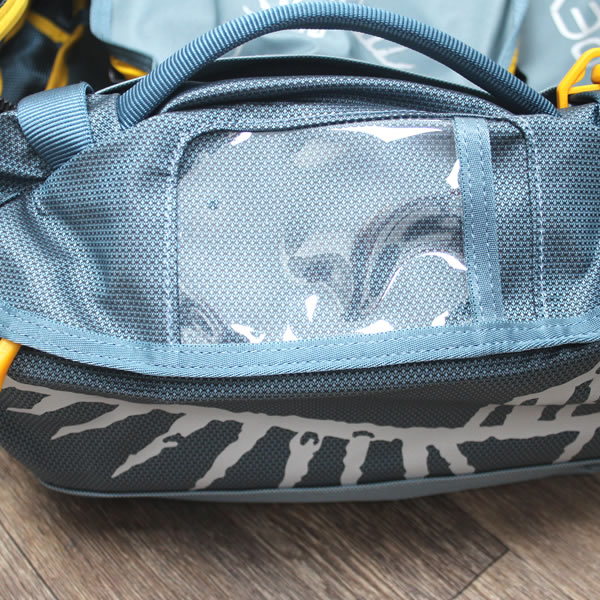 If you did want some extra storage, the lid pocket used to store the backpack straps could be used for storing a jacket or other items while the backpack straps are in use. If you're using the Transporter for travelling, the ID card holder located above the external end pocket will come in handy, as you can place an ID card or address label inside for easier identification of your luggage should it go missing.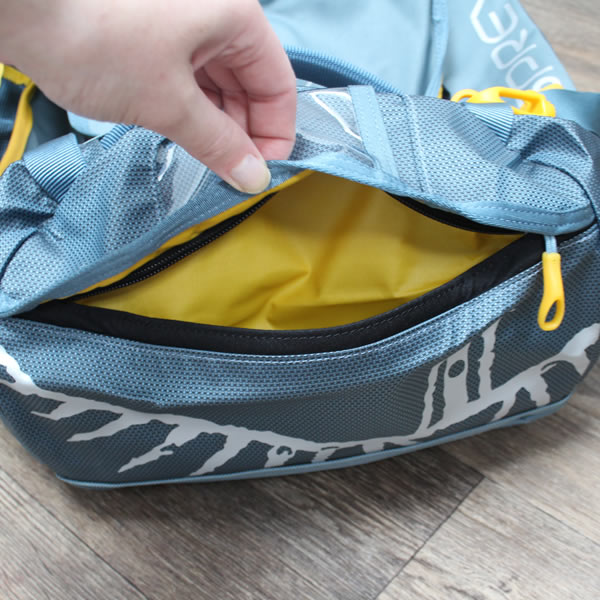 When you're not using the duffle it packs into a handy storage case, but like with most pack away duffles this can prove pretty tricky at first. It took me a few attempts to fold the duffle in the correct way to ensure it fit inside its case, however I imagine this will get easier with practice and you probably wouldn't be packing it away all that often if you're using it as your main luggage.
To summarise, here are the key features of the Osprey Transporter…
Backpack harness – packs away into lid pocket
Detachable padded shoulder strap
U-shaped lid entry
Lockable zippers
Durable & water-resistant fabric
ID card/Address label holder
Internal mesh pocket
External end pocket
4 x grab handles
Sternum strap with emergency whistle
40L – conforms to EU maximum carry-on luggage size
Summary
A duffle wouldn't generally be my first choice when it comes to travelling, but due to its hybrid design, the Osprey Transporter has made me think twice. This duffle and backpack hybrid is a more durable option compared to standard travel backpacks and is well suited to adventure travel, especially if you plan on travelling off the beaten path in more remote locations.
Whether you're jumping on and off boats, planes or trains, the Transporter is easy to grab, throw over your shoulder or wear on your back, and is capable of withstanding the knocks and bumps you come to expect when travelling. As the Transporter is constructed from thicker fabric, it holds its shape better than a standard backpack, making it easier to pack. The thicker fabric also adds another level of protection to your luggage, giving you peace of mind that your gear will reach your destination in one piece!
The price tag is reasonable for a duffle of this quality, which is built to last and a good investment for travellers who are planning on extended periods of use and regular trips over the years. The Transporter is a versatile piece of luggage which can be used for anything from camping and climbing trips to backpacking around the world and city breaks.
*Prices correct at time of publishing and may be subject to change.