Tiny little tropical Ecuador is often used as little more than a hopping off point for the must-see (and Ecuador-owned) Galapagos Islands. Surrounded by Brazil, Peru, Chile and Argentina, most travellers tend to head to those more glamorous and well-documented destinations and bypass Ecuador completely, thinking that each of those countries has more to offer.
Well, there is no denying each is considerably larger but therein lies a huge part of Ecuador's appeal. It has idyllic beaches, Andes mountains, live volcanoes and Amazon jungle – the main things which draw people to this part of the world – but all contained within a relatively confined area. In fact, Ecuador encapsulates and represents all things Latin American in one bite-size portion. Natural wonders and cultural treasures abound while of course the undeniable jewel in the already sparkling (but underestimated) Ecuadorian crown are the Galapagos Islands already mentioned.
Ecuador is divided into three distinct mainland bands made up of coastal lowlands to the west, Andean highlands running down the centre and Amazon to the east – keeping the general geography simple. In reality, the detail is far more than that and Ecuador is packed with things to see and do; surf towns full of tanned types and Caribbean vibes, remote jungle tribes who are still cut off from civilisation, living museum Quito with its exquisite colonial architecture and plenty for the adventurous including white-water rafting, climbing, trekking, kayaking and more.
Visa Requirements
No matter which corner of the planet you hail from, Ecuador allows most to enter its borders visa-free or under the visa-on-arrival scheme and stay for 90 days. There are a handful of countries whose citizens have to obtain visas in advance so it is worth checking what the rules are before you head this way.
What's the Weather Like in Ecuador?
As is always the case around equatorial regions which offer terrain in a wide  altitude range, quite what you'll get on the climate front in Ecuador will depend on where you are and what time of year it is. The weather menu ranges from bakingly hot with high humidity to many-layers-needed chilly which can make knowing what to pack clothes-wise a bit of a headache if you want to explore all of it.
There are no spring, summer, autumn and winter variations either – just the wet or rainy season and the dry season. The dry season runs from around July to November, the wet season from December to June. Rainy season – contrary to popular belief – does not mean it teems down all the time. Although at time rains can indeed last all day or night, the most common pattern is a violent but brief downpour after which the sun comes out for the rest of the day.
How Safe is Ecuador?
The majority of the thousands of travellers who come here every year report trouble-free adventures and a warm welcome by the local folk. However, more serious or violent crimes such as 'taxi kidnapping', robberies at ATMs and so forth do occur in Ecuador and sometimes tourists are the target. It is fairly easy to avoid or at very least significantly minimise the chances of becoming a statistic though if you do a bit of homework before visiting this wonderful country.
Areas around the Colombian border in the north are generally considered no-go zones. Otherwise it is always good practice – no matter which country you are in – to ask for advice about areas to avoid. Hostel staff, fellow travellers and locals can all give you the words-up here. Additionally, it is not advised to hike alone anywhere in the country.
Things flair up quite regularly with regards to civil and political issues. Resulting protests and demonstrations may be peaceful or spill over into throwing and burning things big and small so keep away from these events and areas at such times.
The biggest problems are those of petty theft and pick pocketing with some definite red zones and high risk situations and areas. These include the streets of Quito in general and its metro, belongings left unwatched on beaches and bus journeys both short and long distance. Just to get it all in some perspective in case paranoia keeps you away from this must-see destination…..Ecuador ranks as a healthy 76 on the Global Peace Index – the scale which measures (among other things) the safety and crime levels of 162 countries. The US almost always scores worse while the UK is just 29 places ahead.
Accommodation
Just as with almost everywhere else in South America, Ecuador has a wonderful variety of hostels and cheap backpacker budget-friendly places to lay your head and get mingling with your fellow travellers. Typically speaking, hostels in Ecuador come out more favourably price-wise than almost all of its more glamorous and more visited cousins such as Brazil, Peru and Argentina and it is about on a par with Colombia. Standards are typically good with all the facilities you are likely to need unless you're super-picky and if you are prepared to pay a few pounds or dollars more you can get some truly great digs for under US$12 a night away from the bigger cities. In general, you will have a choice of dorms and private rooms while air-con tends to be an additional cost extra.
What's the Food Like?
With a few notable exceptions such as Peru and Mexico, Latin America in general doesn't register as a heavenly destination for the foodie-passionate and Ecuador is no exception to this rule. However, that doesn't mean you won't find all kinds of treats everywhere and any number of things which might be brand new additions to your foods-I've-tried-in-my-life list. The traditionally or typically Ecuadorian food choices will vary considerably from region to region.
In all of the tourist areas you will find restaurants catering to European and Western tastes and even international name chains; the prices you'll pay in such places will always be the highest. Otherwise quite what you'll find with regard to choice, quality, hygiene and cost varies hugely. If you're not a fussy eater and prepared to hunt around a little you will easily find meals for a couple of dollars.
Local places often offer up set or combo almuerzo (lunch) or plato del dia which will typically be cheap as chips and very substantial. These usually consist of a soup (soups are a big thing here), a meat main and a dessert.
A few specialities and commonly found foods to try include –
Cerviches – a seafood dish found all over Latin America, the Ecuadorian version tends to be served with plantain chips or popcorn
Locro de papa – a type of soup with mainly potatoes (papas) as well as avocado and cheese
Empanadas – great for an on-the-go snack, these meat or veg-filled pastries are usually fried or more commonly baked
Encebollado – another soup, this time of the fish and tomato type, usually found in the coastal regions
Roasted or fried guinea pig (cuy) – often served on a stick
Hostels typically come with some kind of kitchen so preparing your own meals is the way many travellers go, at least some of the time.
Language
Spanish is the official language but you will find several indigenous languages still spoken as a first language in many of the more tucked away mountain villages. English is not that widely spoken and even in the tourist areas you won't always find this option unless you pay out the big bucks for the higher end tourist hotels.
Many have travelled this country with no Spanish at all and had a whale of a time but there is no denying that making some effort to master even just the basics of the local lingo is going to enhance your experience considerably, to say nothing of making life a lot easier. If you are set on taking the language learning a little further, Ecuador is a great place to take some classes – they are mega-cheap here, even on a 1:1 basis. Quito particularly has a wealth of language learning options with both individuals and private academies catering to those who don't even know what hola means to those looking to build on existing language skills at every level.
Money
Keeping things nice and easy for its visitors from the US, Ecuador has the US dollar as its official currency. ATMs are everywhere and you'll have no problem locating them in the tourist hubs or cities. If you intend to head out to somewhere a little more isolated you might need to check what the situation is in advance and stock up on cash before arrival.
Getting Around the Country
As is true for most other parts of Latin America, your cheapest transport option for journeys both local and further afield is the chicken bus. In Ecuador these tend to be single-decker coaches. Colourful paint jobs still reign supreme but compared to some other Latino parts these can be quite comfortable. However, remember these buses stop constantly to pick up passengers, once the seats are full the aisles are then crammed and journeys can seem to be tortuously interminable.
Higher comfort buses – occasionally called 'luxury' – connect everywhere, are aimed at the tourist market and are a wise choice for the longer journeys (and many of the journeys are longer because of the state of the roads). Here you will get extra leg room, air-con (usually turned to arctic-cold), probably a TV (blasting out something which might be either highly annoying or highly entertaining) and a toilet.
There are buses which cross international borders but these tend to be expensive and offer no real advantages over getting a bus to the border and then another from the other side.
Taxis – typically yellow for official cars – are a common means of getting around in the towns and cities. Rates are cheap although you will pay more in the evenings. Some will have meters but they are not always used unless you ask for them to be switched on. Generally, agree your price before setting off to avoid problems and never get into a car unless you are happy it is a licensed vehicle.
If you're short on time, domestic flights can often be a feasible means of getting from A to B. Check out LanEcuador, Tame, Avianca (formerly Aerogal) and Saereo online deals.
The Best Things to See & Do in Ecuador…
As with all of Latin America, what constitutes 'best' and 'must see' will depend on your own personal taste but here are a few of the perennial favourites for Ecuador.
Wildlife Experiences & Amazon Adventures
Taken on a per square kilometre basis, nowhere on the planet can match Ecuador's biodiversity. Just to give you a tiny idea – there are over 100 species of hummingbird alone and Ecuador is home to around one sixth of all the bird species found anywhere in the world.
Almost a third of the country is given over to Amazon rainforest environments – home to rare river dolphins, monkeys, tapirs, toucans, parakeets, anacondas and ocelots to name just the tip of the animal kingdom iceberg. Factor in the rather enormously important element of the UNESCO World Heritage-listed Galapagos Islands and you will start to see this is no ordinary destination for the wildlife lover. This is the land where Charles Darwin's 'Theory of Evolution' was born and the remote Galapagos Islands are packed with wildlife which includes giant tortoises, sea lions, penguins, marine iguanas and more rare birds than you can count. Some insist these islands offer the greatest nature spectacle anywhere on Earth.
If you want to get Amazon adventuring, the gateway for tourists is Tena while any number of tour companies will arrange to get you out to the Galapagos. Other wildlife notables include the Amazon's Cuyabeno Wildlife Reserve with its 15 species of monkey and Yasuni National Park. This latter is a good bet for all those who, for whatever reason, can't get out to the Galapagos and has some incredible multi-day and night trek opportunities.
Idyllic Beach Time
For a hippy-haven vibe with shoulder to shoulder surfers head to Montañita, which many call Ecuador's Goa. Otherwise, expect a distinctly Afro-Caribbean feel and any number of lovely beaches and settlements which might offer something lively or at the other end of the scale something rather more Robinson Crusoe castaway-like.
Quito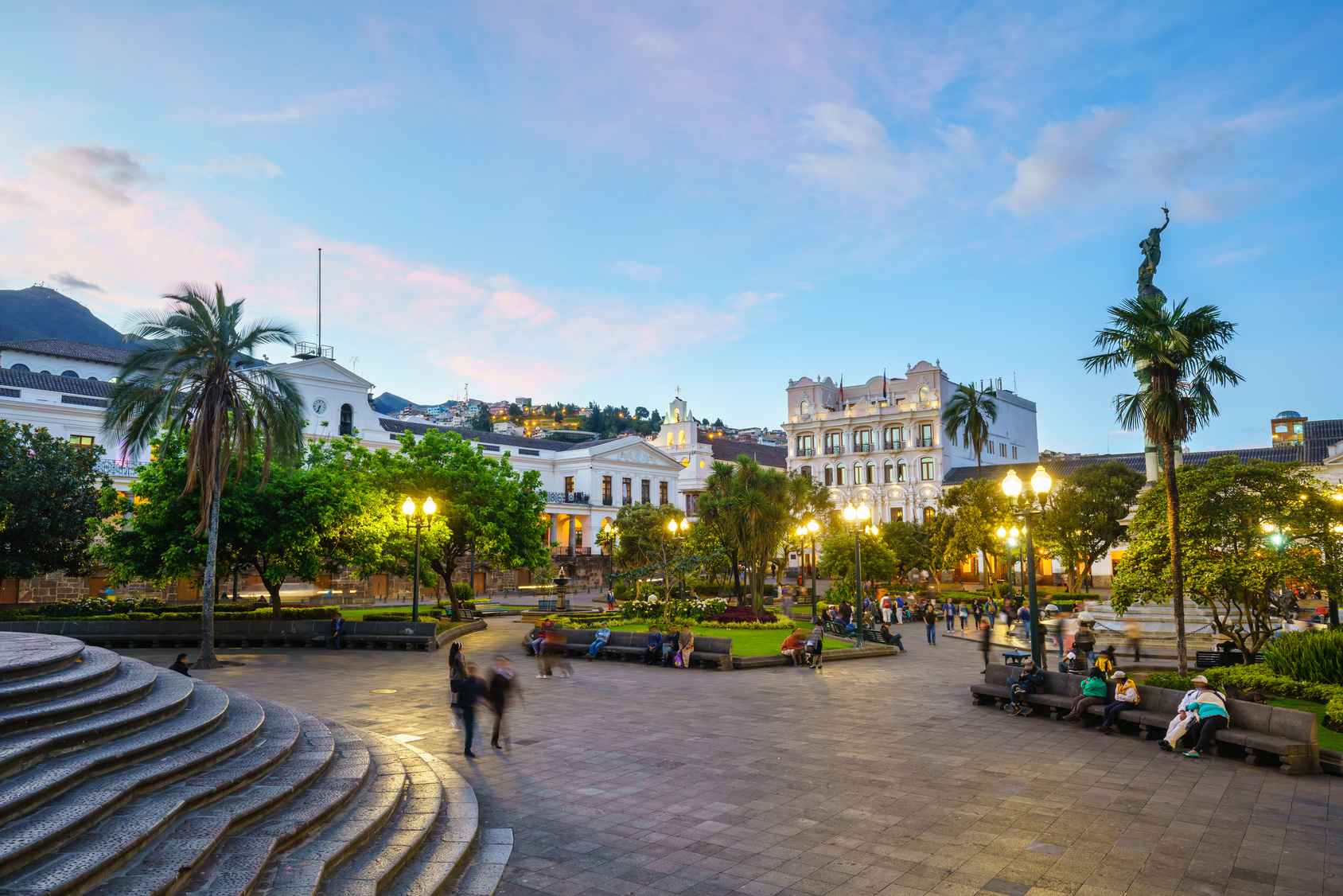 Ecuador's capital Quito has been described as an open-air museum and well might it be. UNESCO-listed, this colonial treasure (which was also part of the Inca Empire) is a labyrinth of churches, plazas, tiny streets which weave up, down and round and makes up a whole which offers an incredible place to get wonderfully lost in.
Hiking
Ecuador has heaps of hiking options catering to both strolling day-hikers and hard-core multi-dayers alike. One of the most lauded and raved about hike is that of the Quilotoa Loop. The lake which this trail circumnavigates is full of blues and greens; the whole is full of breathtaking views which make this 3 to 4 day hike worth every minute of the effort it takes to compete against the challenges of the altitude. Cotopaxi – one of the world's highest active volcanoes and home to the rare phenomena of a tropical glacier – is another popular destination for hikers. Several companies will get you out here from Quito on a day trip for a range of guided hikes or you can opt into the downhill mountain-bike run from top to bottom.
Nariz Del Diablo Train Ride
Running between Alausi and Sibambe in the Andes is the 'Nose of the Devil' train line, which offers both a glimpse of an incredible feat of engineering and acts as a platform from which to take in amazing view after amazing view. In order to make the steep ascents/descents possible – climbing more than 500 meters in less than 12 km – the track appears to double-back on itself in a wonderful zig-zag of tracks.
Festivals & Fiestas
There's probably not a country in Latin America without a great helping of festivals (something which Latinos tend to do incredibly well) in its annual calendar. However, taking size into account, Ecuador really does seem to have overdosed somewhat on the party front and every month you can find something about to kick off somewhere. Some of the fiestas are day affairs while other might run for several days and nights, with an ever building crescendo into the final night of celebrations. You can find indigenous-flavoured festivals around Ambato or Guaranda or if you like sand between your toes while you party head out to one of the beach resorts during a festival day.
Otherwise, celebrations tend to be heady mixes of centuries-old Ecuadorian traditions blended with Colonial/Catholic influences and Afro-Caribbean rituals in varying quantities. The results are often quite quirky and highly original. Expect parades, music, food and dancing as standard and any number of other possibilities as extras.
Tick Off a Bucket-list Item
Galapagos Islands and Amazon aside, other popular bucket list possibles for Ecuador include scuba diving, surfing (either learning or taking in some world-class breaks as an experienced rider) and white water rafting. Apparently, Tena is one of the top destinations in the world for white-water rafting experiences.
Swing at the End of the World
Last but not least, we come to one of Ecuador's most novel attractions, which certainly isn't for the faint of heart! The swing at the end of the world is located at La Casa Del Arbol in Baños, a seismic monitoring station for nearby active volcano, Mount Tungurahua. The swing is attached to a tree branch and doesn't feature a safety harness or net…So travellers choose to swing at their own risk!