Being a little removed from the usual Thailand/Cambodia/Laos/Vietnam Southeast Asia backpacking circuit, the Philippines often seem to get overlooked when planning gap year itineraries. However, if you happen to be in this corner of the world you really should think about making that little bit of extra effort to get to this country of more than 7000 islands, absolutely crammed to bursting with the naturally magnificent.
The Philippines can be separated into three main island groups which are Luzon in the north – home to the nation's capital – the stunningly beautiful and nature-rich Visayas in the centre and Mindanao in the south where you will need to head if you want to immerse yourself in the indigenous cultural side of things. Dotted around the archipelago can be found almost 40 volcanoes, beach after beach which rank as off-the-scale-stunning, diving of the world class kind and some truly unique experience opportunities such as snorkelling with whale sharks.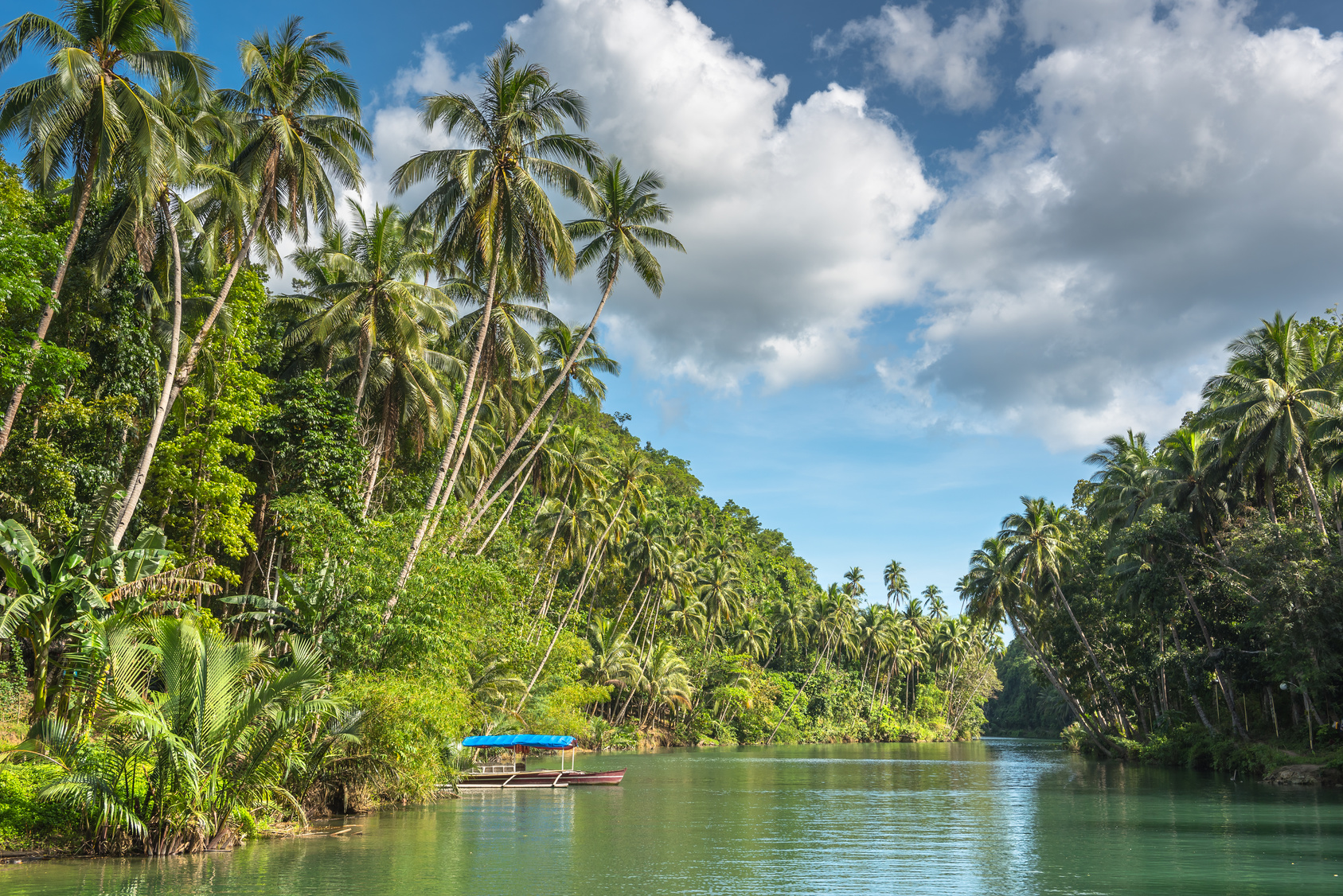 Aside from the bleached white sands and turquoise sea vistas which you are unlikely to ever get tired of, extra special landscapes also include the ancient and highly picturesque rice terraces of Banaue, the fascinatingly conical mounds of Bohol and a subterranean river so special it has been granted a place on the 'New 7 Wonders of Nature' list.
Culturally the Philippines are a marvellous melting pot of their own indigenous culture – of which there are at least a hundred separate groups – splashed about with the influences of other nations which have come and gone throughout the country's history. This is a country which was occupied by both the Spaniards and the North Americans – both of which have left obvious marks – while there are all kinds of other mixes thrown into the cultural pot which include that of Chinese, Japanese, Indian, Italian and those of Arab nations. Food, religion, dance, language, architecture and traditions come in any number of guises thanks to this multi-coloured history. Additionally, such a diverse culture means hardly a day goes by without somewhere in the Philippines holding a religious, historical or uniquely local festival of some description.
In short, the Philippines has so much going for it no matter what you are looking for.
Visa Requirements for the Philippines
There are a few exceptions but passport holders of the majority of countries can visit the Philippines without a visa for 30 day stays or can obtain a visa on arrival for up to 60 days. Extensions, which typically last for 6 months at a time, can be quite easily obtained and can actually be repeated over and over should you be so inclined for up to 3 years. It is worth noting that the visa proviso for proving onward travel (usually a plane ticket) from the Philippines is being more and more heavily enforced. If you can't prove you have a leaving date you might be refused entry.
Weather in the Philippines
No matter what time of year you visit the Philippines you are going to have warm weather and plenty of humidity with temperatures ranging around the 25°C to 32°C mark with the months of March, April and May typically the hottest ones. If you are at raised elevation though or in the mountainous parts you will experience lower temperatures than these listed here. These are tropical parts, close to the equator and they are islands to boot which means their weather is heavily affected by the ocean which at times creates little pockets of micro-climate variations. For example, certain places have frequent rainfall no matter what time of year it is.
In line with other tropical places there are really only two seasons – the wet one and the dry one. January to May is the dry season (and also the months with highest tourist traffic) while June to October is when the wet season falls. However, just as it can rain in the dry season, the wet season doesn't mean it is tipping it down the whole time, day and night. Typhoon season runs from June to December and of recent years the Philippines have suffered badly here with high loss of life and chaotic destruction. While it pays to be aware of such forces of nature it also makes no sense to become paranoid about it (unless you are the sort of person who becomes paranoid every time you step out of your door); typhoons are unpredictable…as is life.
Are the Philippines Safe?
As a developing country there are a few health risks in the Philippines such as the presence of rabies, hepatitis A and B and Japanese encephalitis. There is even tuberculosis present in some more remote rural areas. Mosquito-borne disease-wise you will find dengue everywhere but the malaria risk, although present, is not high. All-in-all it pays to make a visit to your doctor or health clinic before setting out on your adventures to get some advice on which vaccines are recommended for travelling in the Philippines and get the low-down on any current health risks.
With regard to personal safety there are a few things to be aware of. This is a poor country and generally speaking wherever this is true in the world you will find petty theft and pick-pocketing to be a problem. And this is also the case with the Philippines, particularly around the bigger cities although violent robberies are rare.
Another common feature of poorer countries which attract Western travellers is the presence of scams. Some of these will rob you of little more than your time (and perhaps patience) while others might have a profound negative effect on your finances. It pays to find out about the most common current scams because, although some are as old as the hills, many new ones are being continuously conjured up and some of them are amazingly clever. Do some homework before arriving and on arrival ask the advice of your hostel/guest-house staff or fellow travellers for what to be aware of.
Gangs involved in drugs and weapon trading and otherwise organised crime groups are present in the Philippines and this fact is much bandied about. This kind of information along with reports of drive-by shootings and the like no doubt put many off travelling here, imagining the streets are just teeming with marauding undesirables. However, this kind of criminal activity is present in many Western countries too – probably yours – and as a general rule problems are between groups and don't involve tourists.
What are my Budget Accommodation Options?
Like just about everywhere else on the backpacker circuit, the Philippines has a wide choice of hostels which offer both dorm beds (always the cheapest option) and private rooms for friends, couples or anyone who wants privacy. However, there is plenty more on the budget accommodation menu for backpackers in the Philippines which might be comparable or even cheaper than the hostel options. These include such things as budget-end hotels, guest-houses, huts and bungalows.
Typically speaking, accommodation in the Philippines is super cheap – a standard dorm bed will be around the US$5 – $8 mark – and you might even be able to splurge a little on something relatively luxurious for a few nights should the travel-jaded bug kick in at any stage. Getting a private room with its own bathroom for around the US$10 or even less is easy. Fans are typically included as standard but you might have to pay extra if you want air-con and prices rise a little around the super popular places such as the stunningly idyllic Boracay.
It is worth mentioning that the Filipinos are known as an incredibly hospitable nation – a reputation justly deserved. If you choose to lay your head in a family-run guest-house you might just find yourself being treated either like royalty or one of the family.
What Can I Eat & Drink in the Philippines?
Thanks to the incredible melting pot of cultural influences quite what you might come across food-wise in the Philippines is incredibly diverse. Along with the very Asian flavours here you might also encounter Spanish, Portuguese, Malay, Indian, Mexican, Mediterranean and North American cuisines at their most authentic.
The most famous and commonly found Filipino fare is a huge variety of chicken and noodle dishes which include such things as chicken adobo and all kinds of barbecued chicken. You will also come across 'Kare-Kare, a traditional Philippine stew with a thick savoury peanut sauce. Kare Kare usually contains stewed Oxtail, and often pork leg, beef stew meat and tripe – Seafood and vegetable variations can also be found. Generally speaking, Filipino culinary delights are not as hot spice-wise as their Thai and Vietnamese cousins but still have plenty of different taste sensations going on.
As is true of almost everywhere in South-East Asia, street food is abundant and often the tastiest and cheapest too despite all kinds of bad rap around food hygiene issues that it gets. There are of course the healthier ones and the awful ones but if street food really was as dodgy as so much of the scaremongering tells us the locals would be dropping by the hundreds in the streets.
You will find Western food in restaurants and also some of the best known mega-chain companies present such as McDonalds, KFC, Pizza Hut and Taco Bell but typically this type of fare will be higher priced. Otherwise, you can expect to eat very cheaply in the Philippines whether it is from a food cart or in a cafe or restaurant.
Am I Likely to Have Any Language Problems?
Filipino or Tagalog is the native lingo but English – the second language – is not just widely spoken but spoken to a high standard (albeit often with an American accent) thanks to the US legacy of English schools. Much business is conducted in English and additionally, American culture is also somewhat sought-after and prized so movies, TV and music in the English language are common. All of this just adds to the increasing numbers of fluent English speakers and is helping to create what has become almost at times a bilingual nation.
Younger Filipinos are now creating their very own street-speak which is a hybrid of Tagalog and English known as Taglish Try and pick up a couple of these phrases and you will earn yourself instant kudos. Having said all that, if you intend to explore some of the more remote parts you might well encounter areas where no English is spoken. Learn the basics of please, thank you, hello, goodbye and a couple of strategic phrases and you will be welcomed with open arms or at very least be regarded as a respectful traveller.
Money Matters
Filipino currency is the peso and although you might occasionally find someone willing to accept US dollars the peso is the only form of currency accepted throughout the country. Credit and debit cards are widely accepted at the larger shops, outlets and travel establishments although minimum purchases almost always apply. Otherwise, expect to conduct all your transactions in cash.
There are thousands of ATMs in the Philippines but that doesn't mean they always have money in them. Sometimes they will be restocked regularly but at other times they might be without money for days and on rare occasions weeks.  If you are headed out somewhere a little off the beaten path you might want to check in advance if there are any cash machines there and also make provision for any cash machine present being devoid of money
Getting from A to B in the Philippines
With the Philippines strung out as a country over thousands of islands you might think getting around would prove to be a bit of a hassle and costly. However, nothing could be further from the truth. Filipinos themselves need to travel between islands for many different reasons and the transport network in place is cheap and regular.
Flights are of course the quickest way to cover ground and with a wealth of domestic carriers this mode of transport can often be as cheap (or even cheaper) than a bus or ferry. Cebu Pacific and Philippine Airlines are the best known and probably the biggest but there are also Air Asia and Tiger Airways for some of the smaller destinations and any number of more local carriers (Amanpulo in Palawan for example).
Trains, including sleeper trains, are possible for a couple of routes out of Manila while buses of all classes from hot and uncomfortable rust buckets to luxury are commonplace with any number of routes operated by a large number of companies; almost universally this latter is as cheap as it gets.
Within the cities, towns and urban areas you will find a large number of taxis. As always, be sure to use the licensed vehicles and ask for meters to be turned on at the beginning of a journey.
Something you will almost certainly encounter – and probably many times over – during your Filipino wanderings will be the wonderful and super-kitsch Jeepney. Always the cheapest option and the locals' transport of choice, these pimped out and often crazily-decorated vehicles are a left-over from the US jeeps of WWI, modified by the Filipinos.
Other modes of localised transport you might encounter are traysikels (motorised), pedicabs (pedal-power) and rickshaw (a generic term which could mean motorised or human-powered).
Last but not least on the transport option front are the boats and ferries which make up a well-established and regular network run by many different ferry companies and individuals to get you to most of the places you might want to go. Prices vary depending on the boat size and comfort and it is worth mentioning that the cheaper boats are often overloaded. In the past, this practice has resulted in tragedies and loss of life.
Things to See & Do in the Philippines
The Chocolate Hills of Bohol – Spread over an area of around 50 square kilometres/20 square miles –  are a seemingly endless vista of just under 2000 hills which might not sound especially remarkable until you realise that each of these mounds is almost perfectly symmetrical. Green coloured at certain times of year, the grass becomes brown in the dry season hence the 'chocolate' part of their name.
The Puerto Princesa Subterranean River National Park – The stunning river here and the bat-inhabited caves it wends its way through are one of those special creations of Mother Nature which no amount of pictures or prosy descriptions can do justice to – you just have to experience it for yourself. Suffice it to say they are magical enough to have claimed their place on the 'New 7 Wonders of Nature' list.
Palawan -The off-the-beaten-track island of Palawan has been a little greedy on the natural beauty front because it is home to the Puerto Princesa National Park listed above while also claiming some of the country's loveliest beaches as its own. The beach towns are prettily island-perfect while coral reefs are abundant here and are home to such creatures as dugongs and manta rays for some exceptional diving and snorkelling.
The Banaue Rice Terraces – This World Heritage listed place has such iconic imagery you will see it represented over and again on tourist literature. But why World Heritage listed? Well as picturesque a scene as they paint, these vast rice terraces' true value lies in their lineage which spans back 2000 years. No-one is quite sure how these terraces would have been carved straight out of the mountain at a time when heavy machinery hadn't even been thought of.
Swimming with whale sharks – There are a handful of places in the world where you can swim with the planet's largest fish and one of them is Donsol in the Philippines.
Snorkelling and diving – Rainbow-hued coral reefs and underwater gardens teeming with multi-coloured marine life are a common thing around the Filipino islands so little wonder it has become such a magnet for those interested in snorkelling and diving. Diving outfits and world-class sites are beyond count and if you want to learn to dive the Philippines offers some of the world's cheapest ways to do just that.
Beaches, beaches and more beaches – If you are simply looking for the embodiment of the tropically idyllic in which to laze away your days then the Philippines is it. Places such as Boracay with its white sands and sparkling crystal-clear aqua waters has become a beach lover's hotspot but there are tons more just like it if you want to go exploring. Puerta Galera, Pagudpud, Botolan, Zambales, Malapascua and the list just goes on and on.
For a real once-in-a-lifetime adventure, camping out on an uninhabited desert island all by yourself is not just done here but incredibly easy to do. Pick a captain to boat you out (some-one you trust to come back and get you too!) and then spend a night or two playing at Robinson Crusoe.
Activities – There are heaps up for grabs besides the obvious swimming in perfect oceans and the diving and snorkelling we have already mentioned. On the menu are caving, mountain biking, rock climbing, sea kayaking and island exploration, surfing, stand up paddle boarding, trekking, white-water rafting and quite a lot more.