A first aid kit is an essential for most travellers, appearing on almost every travel kit list you're likely to come across when preparing for your trip. In this post we run through our 5 best first aid kits for travelling, helping you to decide which one is right for you and your style of travel.
1) Best All-rounder:

Solotrekk Travellers First Aid Kit
This kit contains the staple components you'd expect to find in a first aid kit with the addition of travel-specific medical items including; anti-bacterial hand gel, burn gel, insect repellent wipes, chlorine water treatment tablets and a pack of diarrhoea relief capsules (an item no traveller should be without!) The kit comes in a black ripstop storage case with two internal pockets to help organise its contents.
Pack size: 15 x 10 x 5cm | Weight: 210g
2) Best for Remote Travel & Volunteering:

Lifesystems Deluxe First Aid Kit
The Solo Traveller kit is the most comprehensive first aid kit available from the Lifesystems range, designed for extended trips to remote locations and travellers visiting developing countries. It contains all the essential first aid components, but is also equipped with sterile needles, syringes and an IV cannula (18G) to treat more serious injuries. These items are essential should you require emergency medical treatment in a developing country or remote destination, where sterile medical equipment may be in short supply or of a questionable quality.
While it's a little bulkier than some of the other kits on this list, it contains pretty much everything you'd need and there's still plenty of space to add personal medications and items such as anti-histamines and insect repellent. The kit has a well thought out design with a quick-find system to keep its contents organised and you can even hang it up for easier access.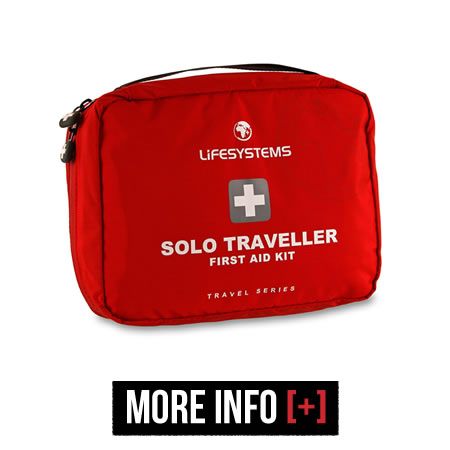 Pack Size: 19 x 14 x 9cm | Weight: 505g
3) Best for Size & Weight:

Solotrekk Pocket First Aid Kit
This compact first aid kit is the best when it comes to pack size and weight, which is an important factor for travellers. The Solotrekk Pocket kit is designed to give you the essentials without taking up too much space in your backpack, and is the perfect first aid kit for travellers who are considering saving space by leaving their first aid kit at home.
While it's not exactly a comprehensive kit, it contains plasters, swabs and a couple of dressings, as well as a conforming bandage and some other essential first aid items to treat minor cuts and scrapes. The kit comes in a small neoprene pouch, which offers protection for its contents and even features a handy carabiner clip for attaching to your backpack or your person!
Pack Size: 12 x 9 x 3cm | Weight: 85g
4) Best for Adventure Travel:

Lifesystems Waterproof First Aid Kit
Designed to treat injuries sustained from water sports and general outdoor activities (trekking, kayaking, rafting, canoeing etc), the Lifesystems waterproof first aid kit is made from tough waterproof material and has a roll-top closure to protect its contents from the elements. The kit benefits from the Lifesystems Quick-Find system and you can also hang the kit up for easier access to its contents. As with all their larger kits, the waterproof first aid kit provides enough space to top it up with your personal medication and medical items you require for your trip.
As well as a selection of bandages and dressings, the kit also contains blister plasters, paracetamol, a thermometer and burn gel, handy additions you don't tend to get in more basic first aid kits. The kit contains 3 types of bandage with a crepe bandage for muscle sprains, triangular bandage to create an arm sling and an open woven bandage to secure wound dressings. Perfect for the more adventurous traveller!
Pack Size: 29.5 x 16.5 x 8.5cm | Weight: 500g
5) Best for the Essentials:

Care Plus Compact First Aid Kit
Care Plus have developed their compact kit with Tropicare and a large Dutch NGO (MEMISA), drawing on the experience gained by MEMISA's doctors in the tropics. It contains items recommended for general travel first aid, including essential components for treating wounds.
The kit is aimed at people who like to travel light and those who pursue outdoor sports and activities. It's also suitable for use by 1 or 2 people, so is a great choice if you're travelling with a friend. If you want to save space in your backpack, you can easily attach the kit to bike handle bars or your belt using the velcro attachment.
Pack Size: 16.5 x 11 x 7cm | Weight: 235g