Caribee describe the Jet Pack 65 backpack as a lightweight and versatile travel pack, loaded with features found in more expensive packs. This certainly makes the backpack sound appealing to travellers wanting quality features, without breaking the bank…but how good is the Jet Pack range? Well, we're about to find out!
First Impressions
Ok, first things first, my overall first impressions of the bag. On first glance, I was a little sceptical that this was actually going to be as 'feature packed' as described, as it has a pretty simplistic design. The backpack comes with a detachable daypack which is attached by zip, this can sometimes make the daypack difficult to attach when the main pack is packed to capacity, as the zip can buckle.
The yellow contrast on the handle is a tad garish, but I can also see it having it's benefits when you're trying to spot your bag in arrivals. In terms of appearance, the bag scores pretty well for me – although I wasn't overly keen on the 'Jet Pack' stitching on the daypack, which looks a bit child-like, but that's only a small complaint.
One thing that makes this pack really attractive is the RRP of £119.99 (we've managed to knock it down to £99.99), which is pretty reasonable considering it comes with features of the more expensive packs, such as interlocking zips on all it's compartments and a rain cover. Although, I feel that Caribee's Mallorca range have a higher quality construction compared to this pack and pricing is pretty similar.
The Technical Bit – Backpack Specifications
Now for the technical bit, the Jet Pack's specifications…
Dimensions: 65cm x 34cm x 24cm
Weight: 2.8kg
Capacity/Volume: 50 + 15 = 65 litres
Back System: Adjustable ladder lock design
I thought the backpack seemed to feel a little bit lighter than the specified 2.8kg, so I weighed it on our scales and it weighed 2.42kg. This is a bonus as it's lighter than the Mallorca 70 backpack (2.8kg) and popular Vango Freedom 60+20 backpack (3.14kg), which both offer similar capacities and features.
The main bag can hold 50 litres of gear and the daypack holds 15 litres. To help put the size into perspective, I packed the main compartment with a 3 season sleeping bag, which measured 27cm x 22cm when fully compressed, and still had lots of room for clothing and accessories.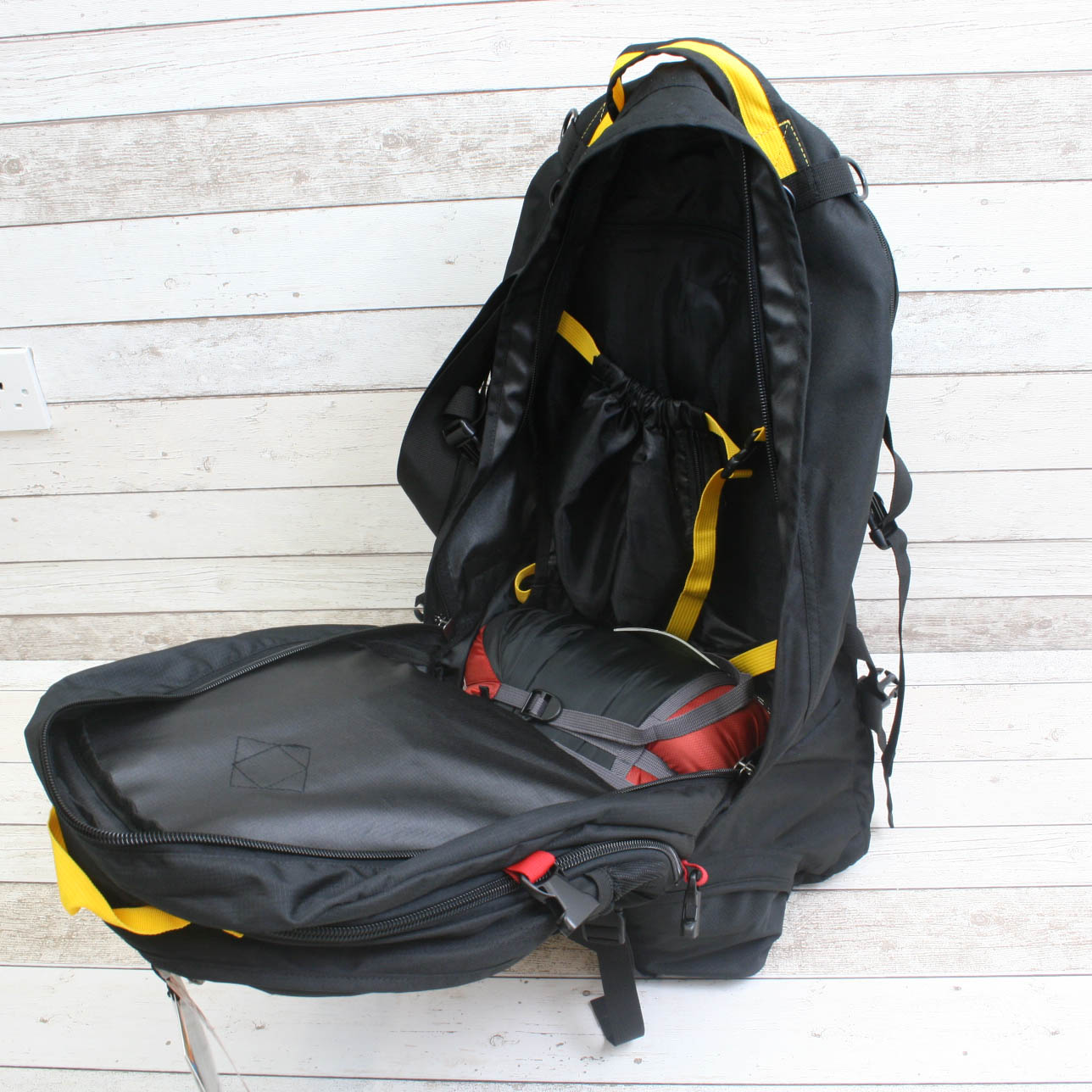 Back System & Comfort Features
The back system on the Caribee Jet Pack 65 is a ladder lock style with a Velcro adjuster strap and several horizontal webbing straps for adjustment of harness height. This isn't my favourite style of back system (see Vango Freedom review!) as they always seem to be a little fiddly at first, until you finally get the hang of it. But I guess you only need to adjust it once, so not a great problem in the big scheme of things. Caribee have provided a really useful pack fitting guide on the label of the backpack, so this should help when beginners are trying to adjust the backpack to the correct height, more manufacturers should definitely consider including one with their backpacks. Good work Caribee!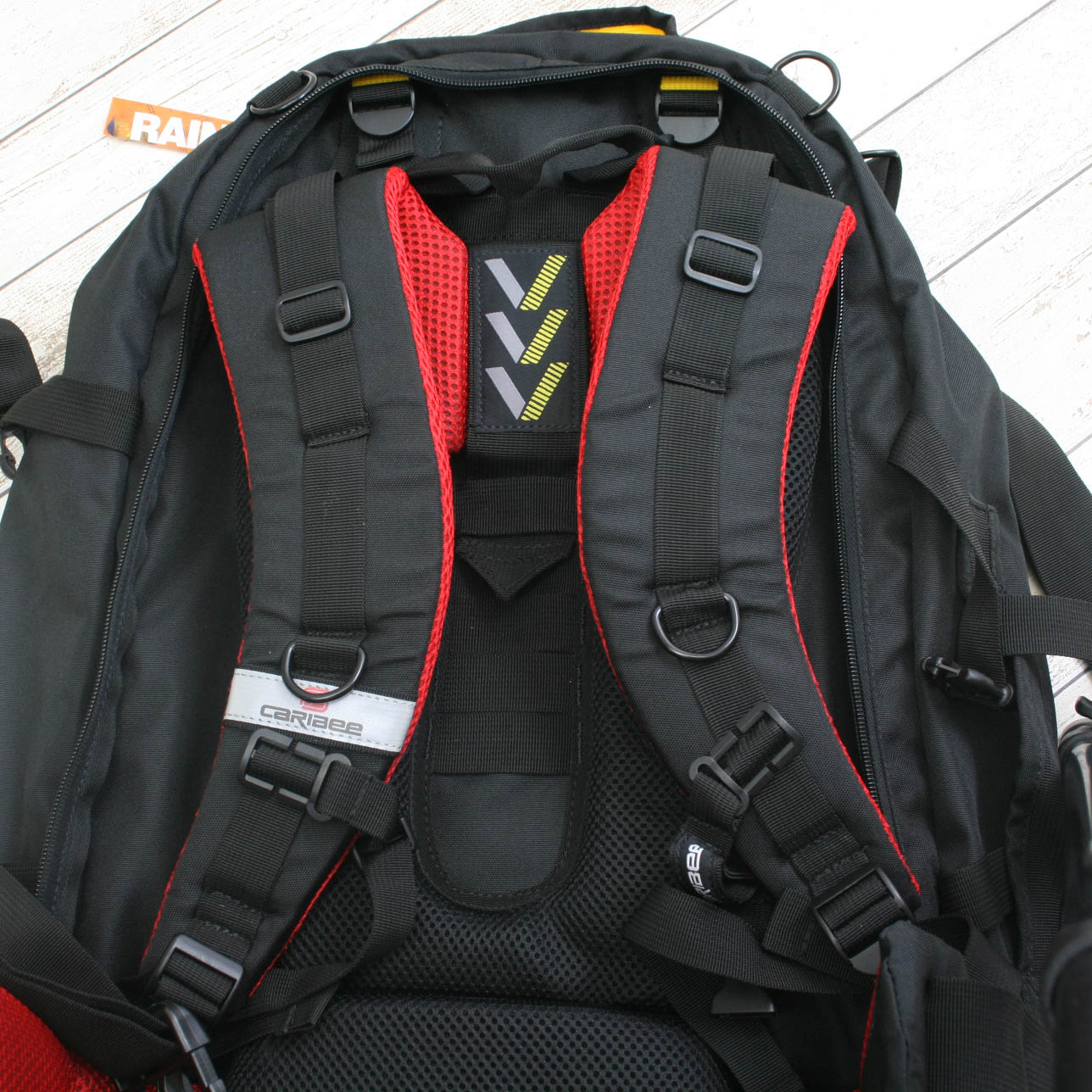 I wasn't overly impressed with the feel of the fabric on the shoulder straps, there's no arguing that they are sturdy and would hold their own when the pack is full, but they would benefit from softer air mesh material as the material used is scratchy and uncomfortable. After a bit of use the straps may give a little, but I wouldn't recommend having bare skin against the mesh padding on the shoulder straps. But saying that, there are not many bags on the market which you would want to wear against bare skin, so this is not really a black mark against this bag.
The hip belt is very flexible with not much in the way of reinforcement, like higher end packs such as the Lowe Alpine TT Tour. Without reinforcement, the waist belt would probably not provide as much support when you're carrying heavier loads and may prove uncomfortable over time, compared to the more technical bags. But if you are unlikely to be hiking with the bag then I reckon this bag will do its job.
I really liked the facility to attach the daypack to the main harness. This would be a really handy feature for travellers visiting places such as South America and South East Asia where pick pocketing can be an issue. The daypack can be hooked on to plastic 'D' hooks on the backpack's main shoulder straps, so you don't have to worry about buying carabiner clips to attach it to your straps. The back system on the daypack also features softer air mesh material on the lumbar section of the back system, as this would be placed directly against your back, the soft material should provide a good level of comfort when carrying the bag. It also has space in the middle for air to circulate more freely, which will help prevent your back from sweating.
Backpack Features
The backpack comes with some useful features for travellers. The first one that can be noticed is the detachable daypack, which you would expect to find on most travel backpacks. This has a 15 litre capacity, lockable zips on the main compartment and a zipped front pocket. It also comes with water bottle pockets on the sides and has clips for attaching it to the main shoulder harness. There are pros and cons to having a zip attachment to the main bag, the pro would be that it is more secure than clip attachments but the con would be that it can be a bit tricky to attach when your backpack is full.
Both the main compartment and base compartments of the backpack come with lockable zips, which have an interlocking design and housing that will fit most styles of luggage lock.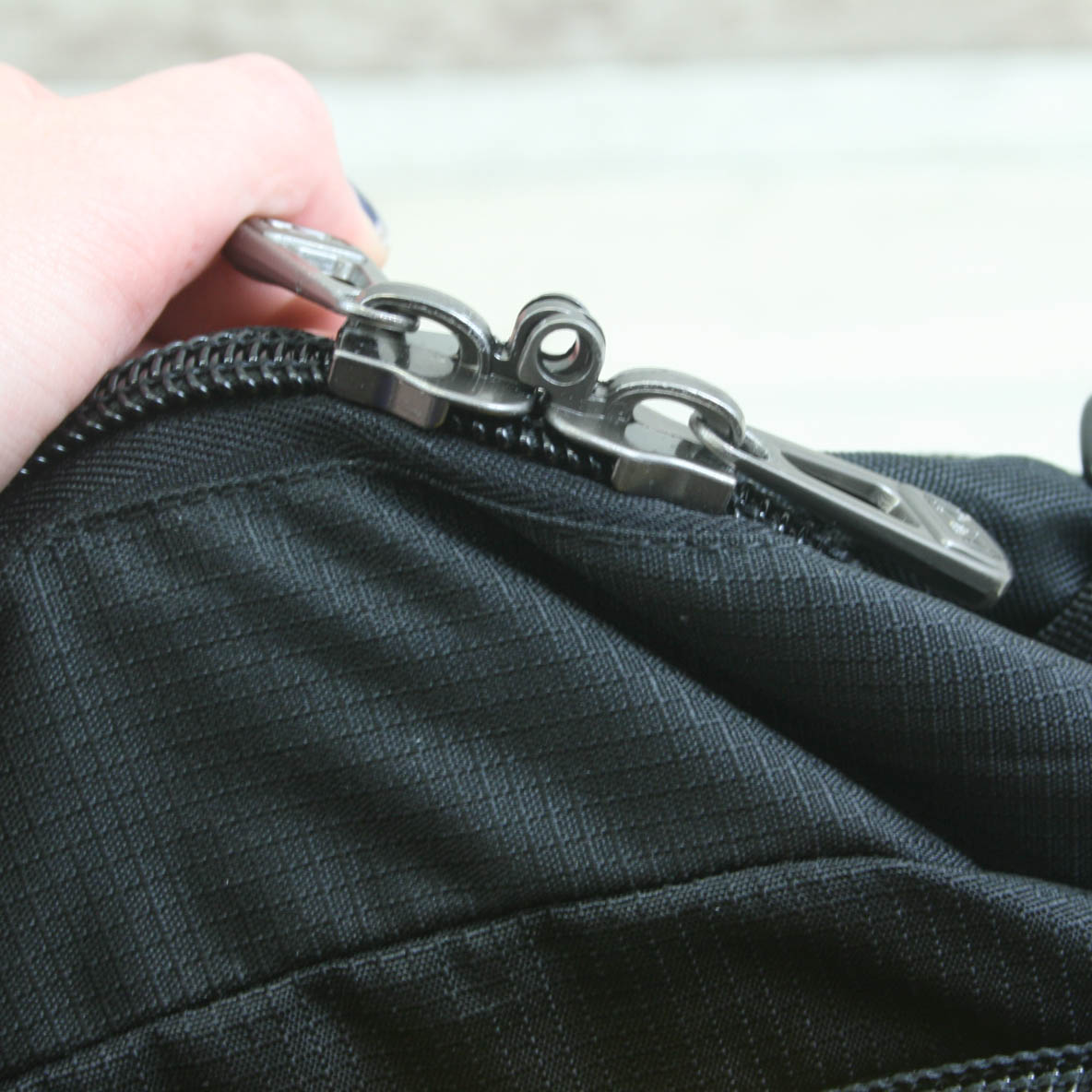 If you're a stickler for organisation, the main bag can be split into two sections with a drawstring divider (Caribee's website states this is a Velcro divider, for some reason?!) or if you're happy to have your luggage in one large section you can open the divider up. The backpack also has internal compression straps, which have a bright yellow colour, this could be useful when you're trying to find something in your pack in poor lighting or dark conditions. The compression straps also come with a wash bag attached, which would maybe be better if it had a mesh panel for ventilation, but Hey! Its a nice added feature you don't find on many other bags, so who am I to complain!
Another feature the backpack comes with is a high visibility rain cover in yellow. Depending on your destination, you may or may not find this handy during your trip, but for those travelling to countries during the rainy season it will no doubt be a welcome addition. If you decide not to use the rain cover, it won't get in the way, as it has it's own storage pocket at the base of the backpack.
Summary
All in all a good quality backpack for the price and it comes with some useful features that you would maybe only expect from a higher end backpack. I also like the fact that you can get the Jet Pack in pink, as well as in a larger 75 litre size. My only real issue with the backpack has to be the back system, the quality of the shoulder straps isn't as good as it could be and I doubt the hip belt's stability and ability to provide support if used over long periods. I wouldn't recommend the backpack for multi-day treks or long periods of carrying, but it would certainly be an option if you're simply carrying it from hostel to hostel.