DISCONTINUED LINE
The Vango Freedom has now been discontinued by Vango and replaced by the Vango Quest 65
This week we're looking at the Vango Freedom 60+20 travel backpack in purple, giving you our thoughts on the popular travel pack from leading outdoor brand Vango! First and foremost, it's probably worth mentioning that the Freedom has had some bad press over the years due to quality issues with previous models back in 2010. The issue was purely with the seams of the pack, which would split on some models when the bag was filled to capacity – not so great when you're half way around the world! Luckily this is no longer an issue after an upgrade to materials, construction and styling of the Freedom range. So is the new Freedom up to scratch? Let's find out…
First Impressions
When the Vango Freedom arrived at Gap Year Travel Store HQ in early 2013, we were overall impressed by the new design which appears much more stylish and contemporary compared to some of the previous models. It's kept many of the same features including a side opening design with twin zips and zip off 20 litre daypack. Vango have removed the bungee cord attachment from the front of the daypack, which I personally think makes the bag more aesthetically pleasing, however, this was quite a handy and practical feature to have for attaching small items and accessories to your pack – so they maybe should have included it on the new model.
The Freedom is available in two colour ways, purple or black. I chose to take a closer look at the purple version as it is one of the few remaining coloured travel packs on the market, after Gelert discontinued their red and blue colour ways of the Jet Set, with many other manufacturers now following suit.
In terms of construction, I can see a big improvement in quality of materials and overall build. Vango have used a durable and abrasion resistant polyester material for the body of the bag, which should fare well when travelling.
For the quality and features the backpack offers, I'd say the current price point of around £80.00 is pretty reasonable for backpackers who don't want to break the bank, but still want a pack that will last for the duration of their trip. It's got a heftier price tag than previous models but this helps to restore confidence that the Freedom has improved in quality and performance over the years.
The Technical Bit – Backpack Specifications
Here are the backpack's credentials for your perusal, we understand that sometimes giving a backpack's size in litres doesn't help give you a real impression of sizing, so hopefully this information should help!
Dimensions: H65cm x W35cm x D20cm
Weight: 3.14kg
Capacity/Volume: 60+20 = 80 litres overall
Materials: Excel 600 denier ripstop polyester – superb strength, abrasion and tear resistance
Back System: Quick Adjust (ladder lock design) with air mesh padding
Back System & Comfort Features
As this pack is possibly aimed more at the female backpacking and travel market, I'm surprised that Vango didn't think to make the back system a little more female friendly by making the back length shorter to accommodate the shorter female torso or by making the shoulder straps a little more comfortable and contoured. Being fairly tall myself I didn't really have any issues with getting the backpack to fit me relatively comfortably, but I feel a more petite woman may struggle to get a comfortable fit, which is where a female specific back system would come into it's own.
On first impressions, the back system looks relatively easy to adjust to suit your height, with a ladder lock design and Velcro adjustment. However, I feel that you would have to play around for a while before you were totally comfortable with adjusting it and it can be a little fiddly at times when you're trying to pull the quick adjust Velcro through different sections. I do find all ladder lock style back systems pretty fiddly, though, so this isn't an issue specifically related to the Freedom. The air mesh padding on the shoulder area, shoulder straps and waist belt is a nice addition for comfort and will no doubt help reduce a sweaty back in hot climates, but when I pulled the pack on to my bare shoulders, I found it a little scratchy and uncomfortable on my skin. Although this could easily be remedied by wearing a t-shirt!
While the padded straps and waist belt add cushioning and comfort while you're carrying the pack, they are pretty flexible and don't have much reinforcement compared to higher end alternatives. The lack of added stability and reinforcement in the hip belt would seriously make me doubt this pack for long treks, so I would only really use it for short term carrying to get my stuff to the hostel, then I would just zip off the daypack and use that for day to day stuff.
Backpack Features
The Vango Freedom 60+20 has a good sized main compartment with compression straps for holding your clothes in place. Vango have also added a special draw string gaiter that aids in keeping your stuff compact and where you want it to be. It also features three pockets which would maybe have been better if made from a mesh material for storing laundry, this is a common feature on many other travel packs that I have always found useful.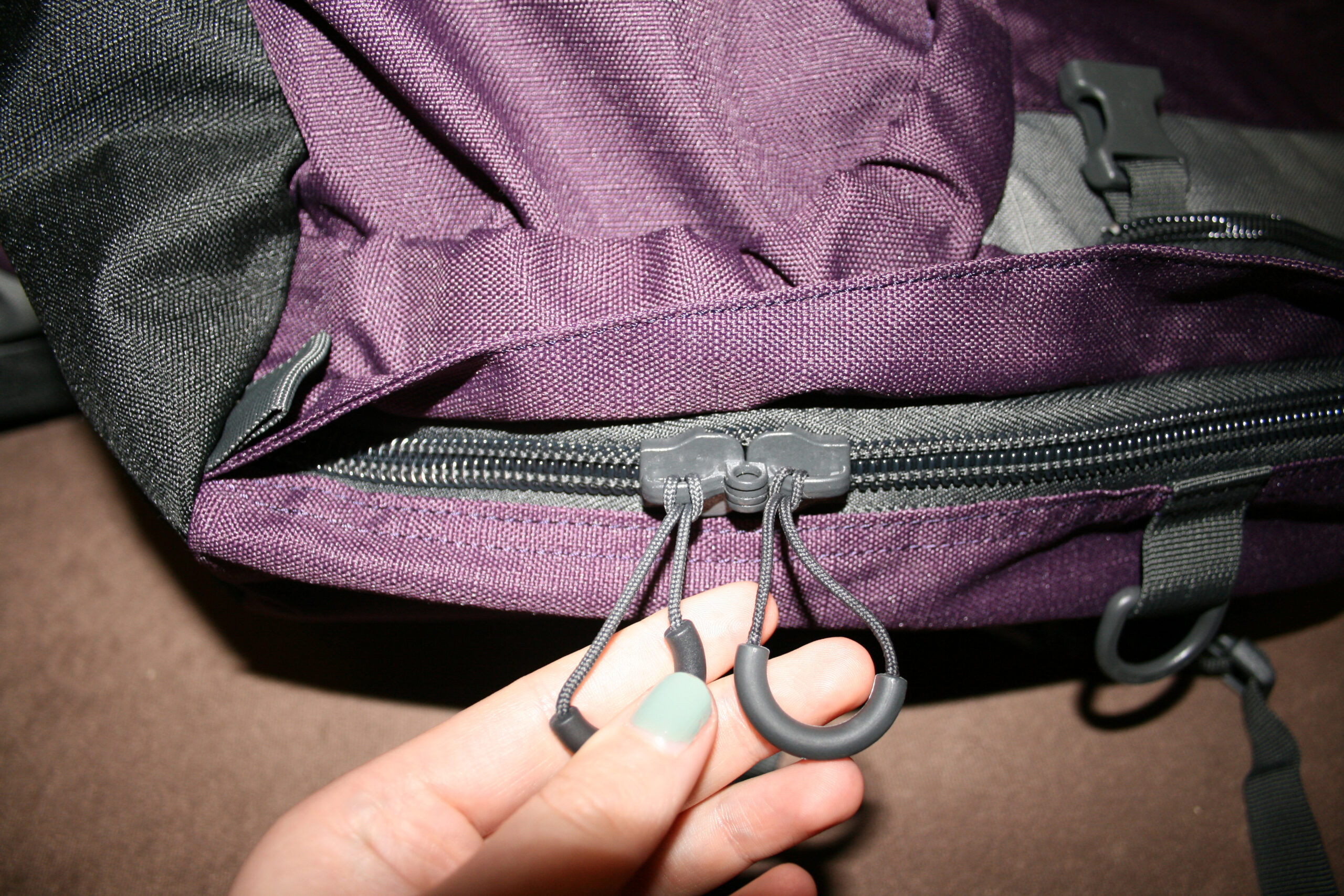 The main compartment has a side opening similar to that of a suitcase and has twin zips which can be locked to make it more secure, the zips also have handy zip pullers on them to make them easier to open and close.
Another feature of the Freedom is it's high visibility orange lining, which is designed to make it easier to find your stuff in poor light, however, I don't think this is really a necessary addition to the backpack and looks a little too garish for my liking. I can see the benefits to an extent, though, so I could understand some people finding this to be a useful feature of the pack.
The backpack also includes a zip flight cover, which covers and protects the shoulder straps during flights and has it's own storage pocket at the base of the backpack. A feature I would have loved to see on the new Freedom model is a rain cover, which rivals Gelert have included with their Jet Set range of travel packs. I wouldn't say that this is a deal break perse, as you can buy one for around £6-7, but the inclusion of one with the Freedom would definitely be a handy little addition!
You can also carry the Freedom on your shoulder like a holdall if you prefer as it comes with a detachable padded shoulder strap. The shoulder strap is stored inside a discreet pocket at the side of the backpack which could be used for stashing valuables and other bits and pieces while you're using the strap.
Daypack Features
With a 20 litre capacity the daypack provides a little more packing space compared to other travel backpacks on the market and also includes an internal organiser with multiple pockets and a key ring attachment. The daysack is also hydration compatible, so you could store a water bladder inside and feed the drinking tube through the special port at the top of the bag – a great feature for people who enjoy walking or for those who want to keep hydrated in hot climates without having to carry a water bottle around in their hands! If you didn't want to use the hydration feature, you could always feed your MP3 headphones through the port.
Another thing I loved about the daypack was that it could be attached to the main backpack's shoulder straps for added security, using the special clips on it's straps. This may not seem all that important and you may not even utilise this feature but it's definitely a nice option to have, especially when you're travelling in countries with a high crime rate.
Although the daypack's zips don't have the special interlocking design of the main pack zips, you could still easily secure them with a luggage lock.
Summary
Overall, I'd say that the Vango Freedom is good value for money and incorporates a lot of the key features a traveller would look for in a travel backpack. In terms of comfort, it would provide a reasonable amount of comfort for short periods of carrying, so if you're planning on carrying your backpack for long lengths of time, this may not be the pack for you. Comparing the new design to previous models, it's plain to see that the construction is far superior and the styling is much more attractive and contemporary, I love the purple colour way and feel it is a big step up from their previous plum version in terms of appeal.
I did find the back system adjustment a little tricky at first, but like with any new gadget or accessory it's fine once you get used to it.
As previously mentioned, Vango have made the Freedom in two colour ways. Black, which is available in a 60+20 & 80+20 size and purple, which is only available in the 60+20 litre size. I would've loved to see the 80+20 made in the purple colour way too, but my guess is that the 60+20 litre size would appeal more to the female market than an 80+20 which may have been a little too big for some.
A good travel backpack for travellers who want a quality pack for their trip without having to spend in excess of £100, the Vango Freedom is a good choice for 3-6 month trips and has a great range of features for organisation and comfort. For travellers who plan on taking part in multi-day treks, I would definitely recommend going for one of our top loading rucksacks or possibly a higher end travel backpack from brands like Lowe Alpine.