The Caribee Fast Track was introduced back in 2005 and has been a firm favourite with the Gap Year Travel Store team and our customers for a number of years. 2016 sees the introduction of the 4th generation Caribee Fast Track, which has just landed at GY HQ. Caribee have made a few minor tweaks to the existing black version, but replaced the platinum model with a navy blue colour way. When I first heard about this change I wasn't overly keen, but when the new blue Fast Track arrived, I was pleasantly surprised. Who knew the blue and yellow colour combination would work?! (Well, Caribee did, obviously)
First Impressions
As mentioned above, the most noticeable change on the new Caribee Fast Track is the colour. While blue wouldn't normally be my colour of choice for a piece of luggage, I can certainly see the appeal of this colour way, as it would be hard to miss on the airport carousel. The blue is also a little less garish than the manufacturer's image depicts. As with the previous model, the Fast Track 75 looks robust and is constructed from durable nylon fabrics. Another update Caribee have made was to strengthen the Fast Track range at certain stress points, so I'm optimistic about the new version's durability. In terms of appearance, it's really not a huge departure from the previous model, but it looks sleek, stylish and reliable.
The increase in price is a bit of a disappointment, as this used to sit within our mid-range. The new Fast Track has an RRP of  £189.99*, which puts it up there with our high end wheeled backpacks, such as the Osprey Meridian and Eagle Creek DoubleBack. It certainly doesn't look out of place alongside these packs, but it may suffer slightly when pitted against these better known travel pack brands.
The Technical Bit – Backpack Specifications
We've touched on some of the features of the Caribee Fast Track 75, but let's take a closer look at its credentials. I've listed some of the key specifications below…
Dimensions: 68 x 40 x 26cm
Weight: 4.4kg
Capacity: 75L (60 litre main bag + 15 litre daypack)
Back System: Fixed length with padding
Material: Nylon
Comfort Features
The Caribee Fast Track 75 comes with a padded back system, which is fixed. Not many wheeled backpacks come with an adjustable shoulder harness, and to be fair this one is pretty comfortable considering you can't adjust its length. You can, however, tighten the shoulder straps for a more secure fit and the shoulder straps come with metal hooks for clipping them into place, which makes them more durable and less likely to break during your trip compared to plastic clips used on many rival backpacks. I feel the hip belt is possibly a little too flexible and could use some reinforcement for added support when carrying heavier loads.
After trying out the shoulder harness, I can confirm that the wheels stand a good distance away from your back and the addition of the wheel covers (located in the hip belt) will keep any dirt from the wheels off your back.
The padded areas against your shoulders and the padded lumbar support make the bag more comfortable to carry compared to some of the other wheeled packs I've come across, such as the High Sierra and Eagle Creek DoubleBack, which don't offer much in the way padding on the back panel. There are also spaces in between the padded areas, which will allow air to circulate more freely, which can only be a good thing in hot climates!
Backpack Features
The Fast Track has an overall capacity of 75 litres (also available in a larger 85 litre size), which consists of a 60 litre main bag capacity and 15 litre detachable daypack capacity. Where most wheeled backpacks tend to use a zip to attach the daypack to the main bag, Caribee have used five quick release QR buckles, this makes the daypack much easier to attach to the bag when its full, as zips can be tricky and even buckle when the bag is packed out. The daypack also clips to the main shoulder harness using durable metal clips, which is a good feature for unknown areas and those with a high crime rate.
The inside to the Fast Track is great for travellers looking for organisation solutions, as it includes a panel of organiser pockets in different styles and sizes. The largest pocket (25 x 25cm size) has a zip fastening and could be used to store dirty clothes separately from your other luggage, then there's a sleeve style pocket (12 x 26cm), zipped mesh pocket (16 x 14cm) and a small mesh pocket (13 x 11cm). The mesh used on the mesh pockets is also of a good quality, which many backpack manufacturers have now started using on their packs, so won't snag easily.
Caribee have also included a 'waterproof compression toiletry kit', which is basically a removable waterproof toiletry bag that attaches to the internal compression strap's buckles and can be unclipped for using in the shower or bathroom. It features two large pockets with waterproof material, so you can store toiletries inside without worrying about getting other items in your backpack wet. It also has an external mesh pocket, which can be used for other toiletries and accessories.
Another great thing about this backpack is that it has a separate base compartment, which can be used for storing shoes separately from your clothes. This can also be combined with the main compartment using an optional zip divider. Zips to the base and main compartment have interlocking style zips, so you can use most styles of luggage lock to secure them.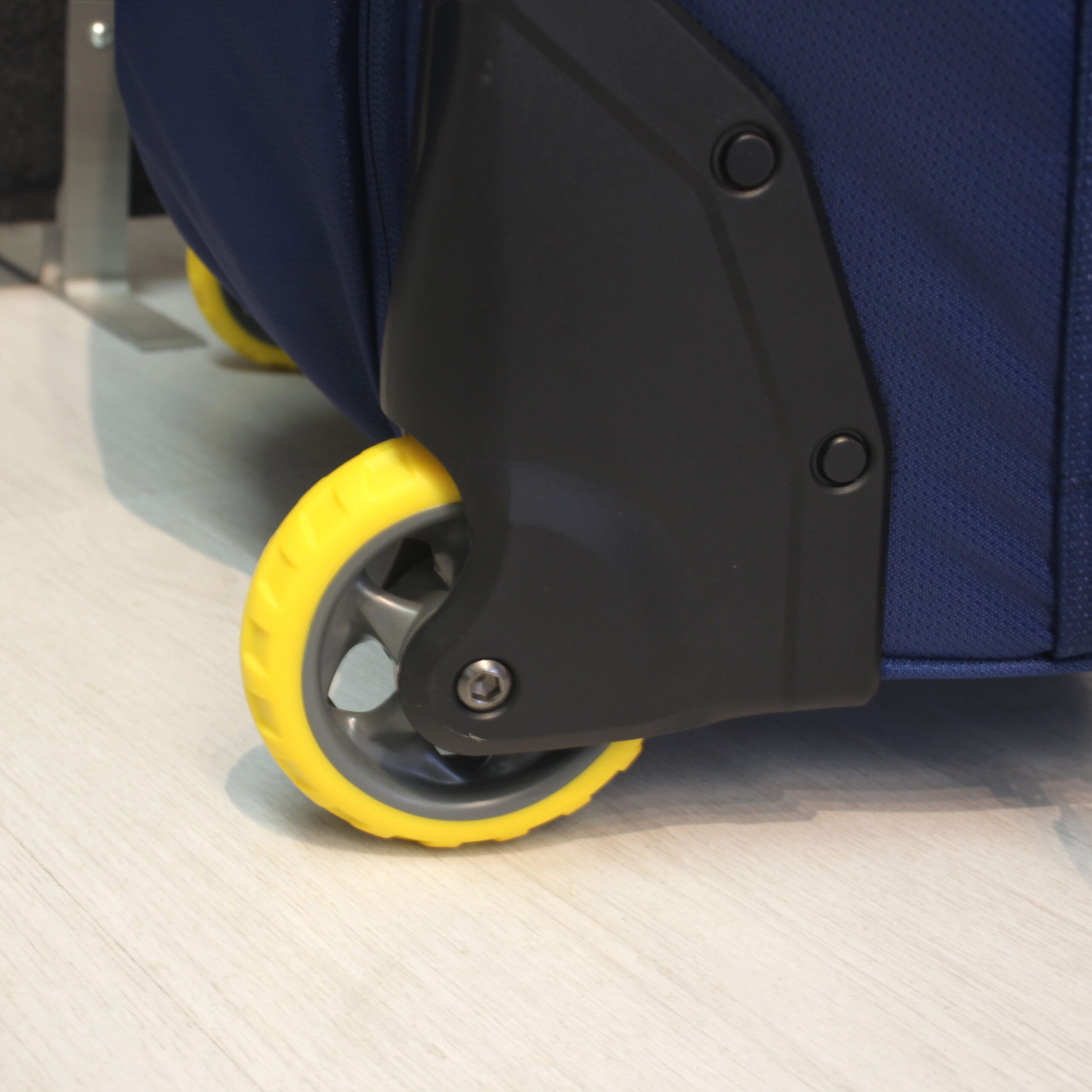 The wheels are described by Caribee as 'oversized all terrain wheels', and they certainly look durable enough to withstand most surfaces. As with any wheeled backpack, I would always much prefer to carry the bag on my back when terrain became too rough, so I never really get the opportunity to test out wheels on uneven, difficult terrain…I imagine the Fast Track's wheels would fare well though.
The wheel chassis does seem to add a fair bit of weight, as the Fast Track weighs 4.4kg before you've even packed it. Possibly not a huge issue if you aren't too limited by your luggage allowance, but this could deter some travellers who are looking to pack light. The backpack also comes with a push button aluminium trolley system, so you can easily unzip and extend the aluminium towing handle to wheel the bag along.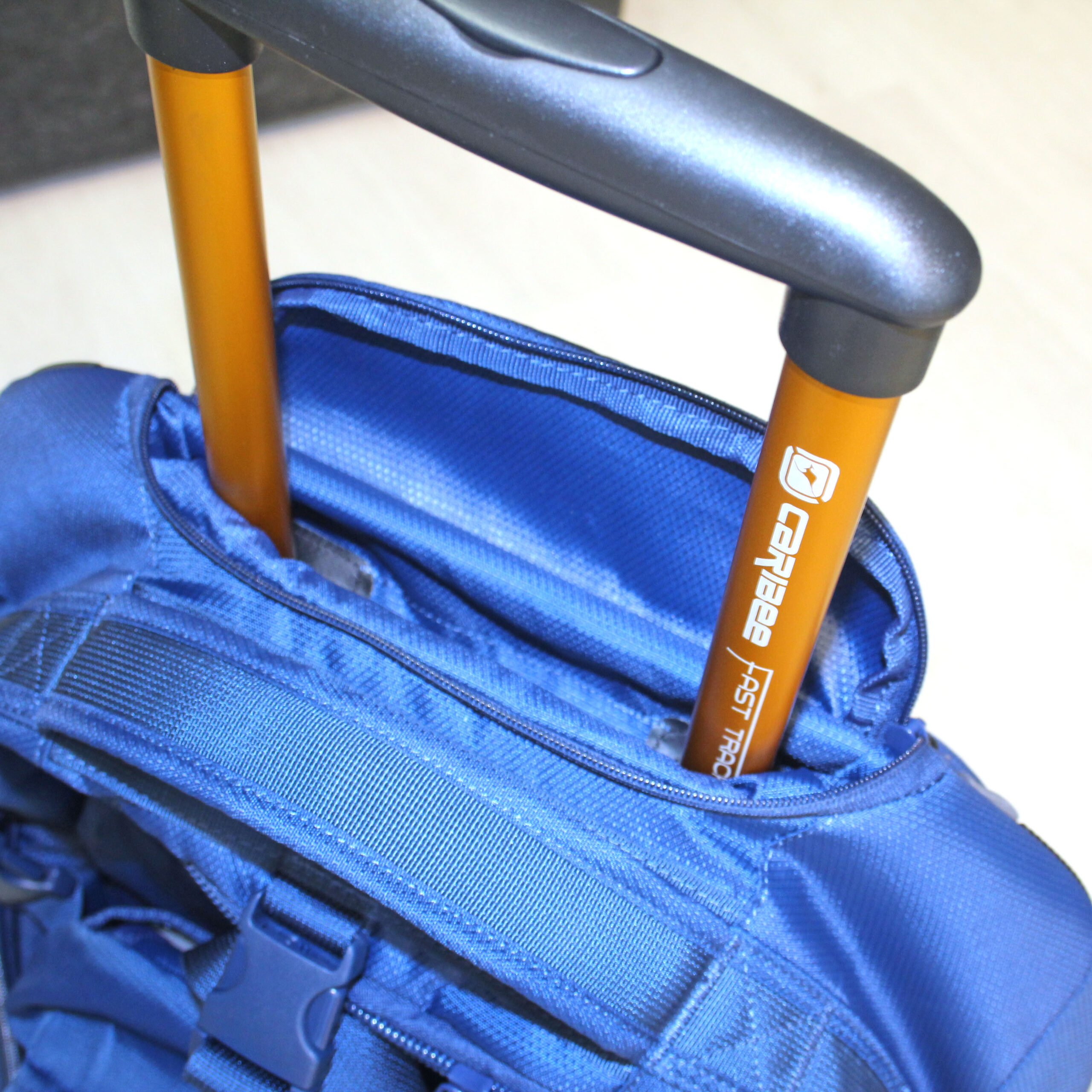 Daypack Features
The detachable 15 litre daypack can be easily unclipped from the main bag and used for hand luggage and general daily use when travelling. It features a small front zipped pocket and a spacious main compartment, with internal organiser pockets, as well as a hydration bladder pocket (you could use this for storing other items if you didn't want to use the hydration feature). As well as having the dedicated water bladder pocket, there's also an opening at the top of the bag to feed the hydration tube through, which would be great for hands free drinking on excursions and walks in hot climates. The Daypack includes two external mesh water bottle pockets as well, a useful feature, but I think these should be constructed from the same mesh as the internal pockets to reduce the risk of snagging.
Summary
All in all, The 4th generation Caribee Fast Track 75 is a solid travel pack, offering a good range of features for travellers who like plenty of storage and organisation options. As mentioned previously in the review, The Fast Track is a little heavier compared to other wheeled backpacks on the market, but with the durable wheel chassis and fabrics, I feel a little extra weight is a small price to pay for having a reliable backpack, especially on longer trips.
Although I was sceptical about the navy colour way at first, I think the blue and yellow work well together and make the pack easier to spot at the airport. I'm glad to see that Caribee have kept the wheel covers, as this a feature I've always loved and found extremely useful! The price increase for 2016 is a shame, as I think it may push travellers to choose a different pack if they're on a budget. However, it's clear to see that the bag has undergone some structural changes, with reinforced stress points and the materials look much more robust compared to the previous model. Certainly a contender if you're in the market for a top of the range wheeled backpack for your travels.
*prices correct at time of publishing