The Osprey Farpoint is the latest addition to our travel backpack range, so I thought I'd take a closer look and review its key features, to help you decide whether or not it's the travel pack for you! The Farpoint 55 & 70 both come with the same features, but offer different packing capacities. For this review, we will be looking at the Osprey Farpoint 70. Osprey state that the Farpoint is their lightest travel backpack yet, with the Farpoint 70 weighing just 1.78kg for the M/L back length and 1.70kg for the S/M back length. It's no secret that I'm a big fan of all things Osprey (in fact, it's kind of a running joke here at GY HQ), but let's see if this pack meets my high expectations…
First Impressions
The Farpoint 70 has a simplistic appearance and comes in Volcanic Grey (also available in Caribbean Blue & Jasper Red), which is neutral enough to appeal to both male and female travellers. In terms of the construction, the backpack is constructed from 210D nylon mini hex diamond ripstop 600D packcloth material, which looks and feels durable enough to ensure the pack doesn't fail during your trip. Although the materials used on the Farpoint are robust, the pack still maintains a modest 1.70kg weight for the S/M back length and 1.78kg weight for the M/L back length. Osprey champion the Farpoint at their lightest travel backpack yet, making it a good choice for travellers who are concerned about their backpack using up a large fraction of their luggage allowance.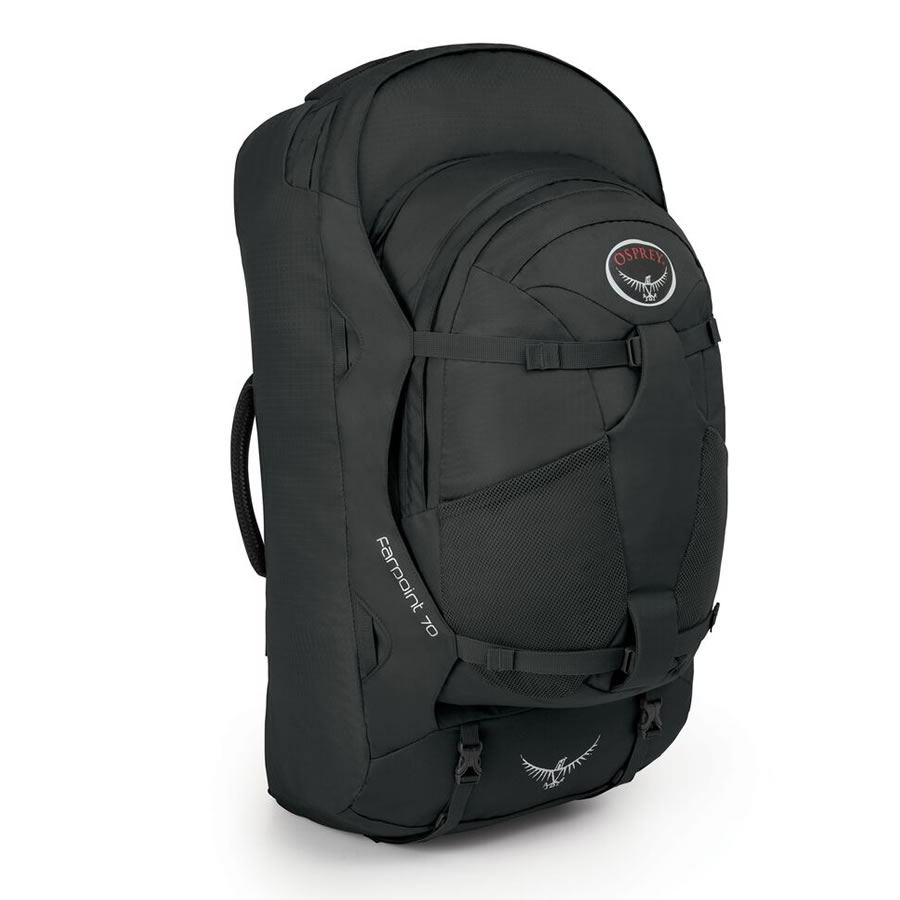 In terms of pricing, the Farpoint 70 sits within our high end travel backpack range, with an RRP of £130.00* and we're currently selling this at £109.99*. Although this backpack is a little more pricey compared to some of the other backpacks in our range, it still comes in cheaper than backpacks from brands such as Deuter and Lowe Alpine, whilst offering a similar quality of build and a good selection of travel related features.
The Farpoint is available in two back lengths, S/M and M/L. I would recommend the S/M back length for shorter travellers and women, and the M/L for taller travellers and men. The back system itself is fixed, but as you'd be buying the backpack in either a S/M or M/L back length you would hopefully manage to select the right back length for you, then simply adjust the shoulder straps, hip belt and load stabilisers to ensure it gives the most comfortable and supportive fit for your requirements.
The Technical Bit – Backpack Specifications
I've mentioned a few points about the Farpoint's construction and weight, but here are the backpack specifications to give you a little more information.
Dimensions: 65 x 33 x 34cm
Weight: 1.70kg (S/M) | 1.78kg (M/L)
Capacity: 67 litres (S/M) | 70 litres (M/L) – overall capacity including daypack
Back System: Die-cut spacer mesh harness and hip belt (fixed)
Material: 210D Nylon Mini Hex Diamond Ripstop 600D Packcloth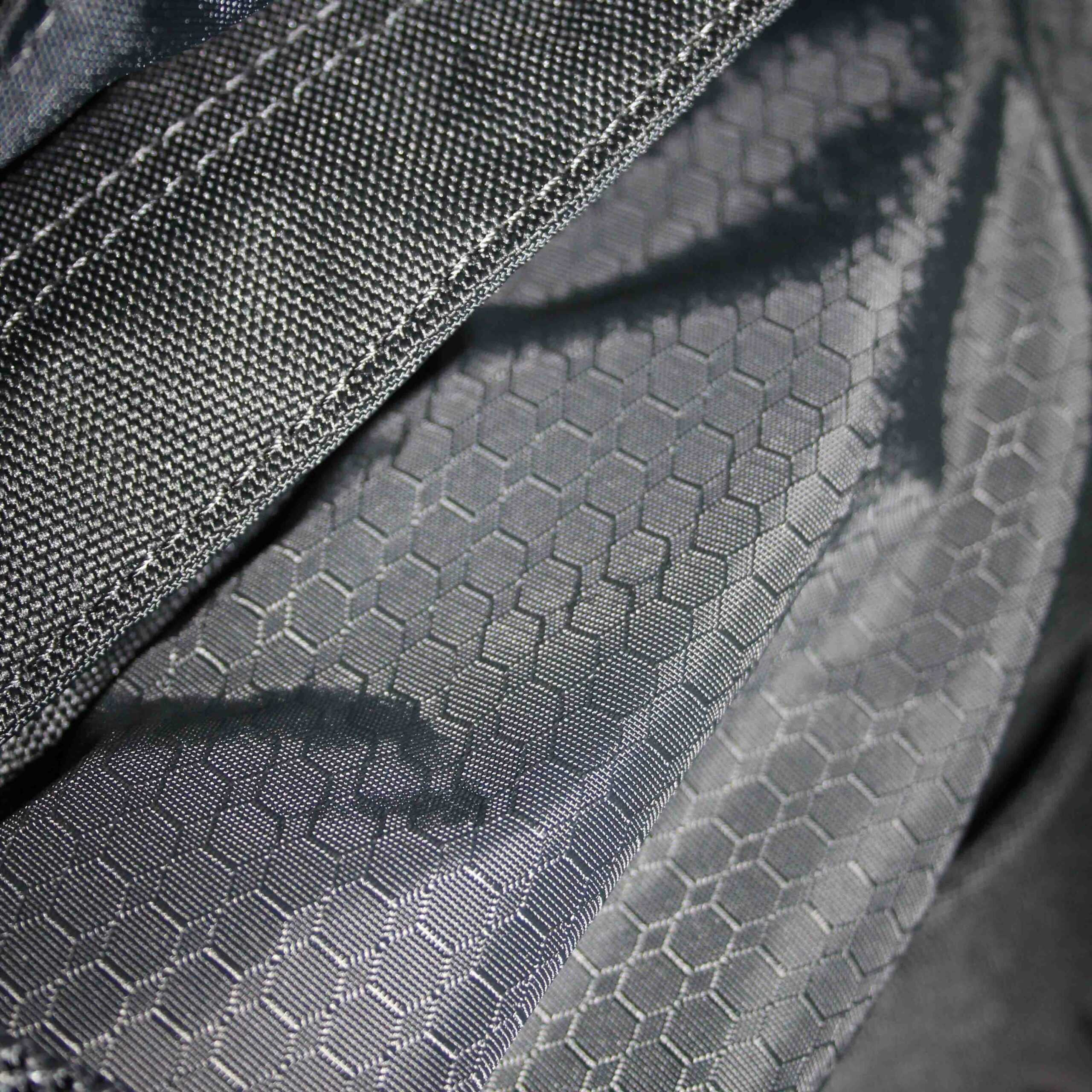 Comfort Features
As mentioned previously, the back system on the Osprey Farpoint 70 does not have an adjustable back length, which some people may find odd for a pack with this kind of price tag. However, many high end brands now make backpacks in both a longer (male) and shorter (female) torso length, so you just need to select the right back length for you, and then adjust the hip belt, shoulder and stabiliser straps.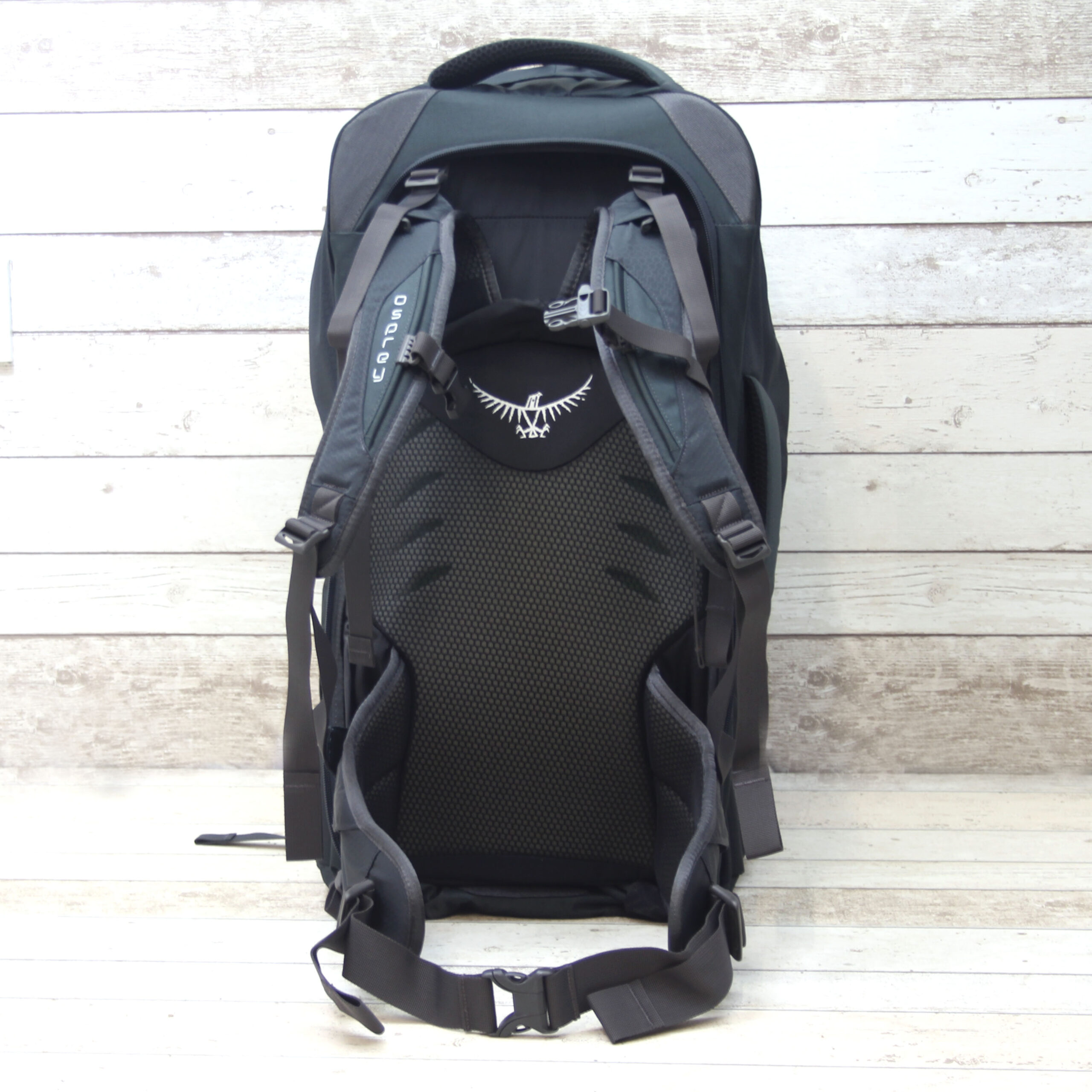 Although the back system doesn't have an adjustable length, it is well padded on body contact points to provide comfort for the user and the lightweight frame keeps the bag's weight to a minimum. The Die-cut spacer mesh design consists of foam material with cut out sections to aid ventilation; this is covered with two layers of fine mesh material. The spacer mesh padding is located on the shoulder straps, hip belt and back panel where the backpack meets with the body. The back system also includes a sternum strap, which can be slid up or down to stop it digging into your chest.
When analysing a back system, I always hone in on the hip belt, as this is the part of the backpack which should be carrying the majority of the bag's weight. The hip belt on the Farpoint offers a good amount of padding and seems rigid enough, without being uncomfortable. The only change I'd consider would be possibly introducing some extra reinforcement to make it sturdier for travellers carrying heavier loads…Then again for a backpack of this capacity, the current hip belt would probably do the job!
Backpack Features
From looking at the Farpoint 70 specifications earlier in this review, you will see that there is a very slight difference in capacity between the S/M and M/L back length. This shouldn't be a major concern, as you would barely notice a difference of 3 litres and from sitting the backpacks beside each other, it isn't a noticeable difference. The S/M length has a 67 litre overall capacity and the M/L length has a 70 litre overall capacity, which both include the 13 litre daypack. So for the S/M you get a main backpack capacity of 54 litres and for the M/L you get a 57 litre capacity.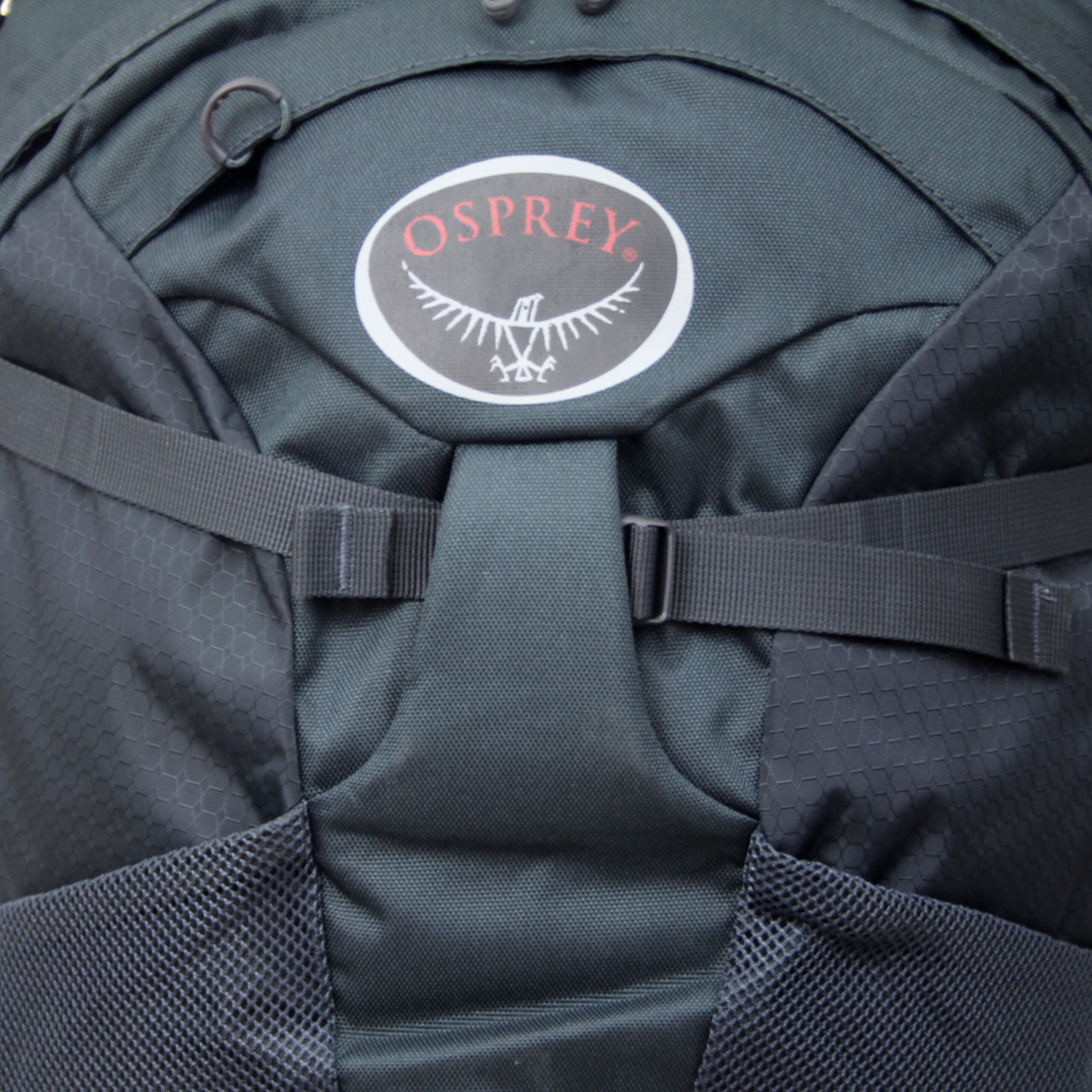 The daypack uses a kangaroo style attachment to attach it to the main harness. It also both zips and clips to the front of the main bag, so there is less risk of losing the daypack in transit, and thieves would also find it more difficult to steal. Speaking of security, the Farpoint also features interlocking zip housings on both the main backpack and daypack zips to help keep your luggage secure.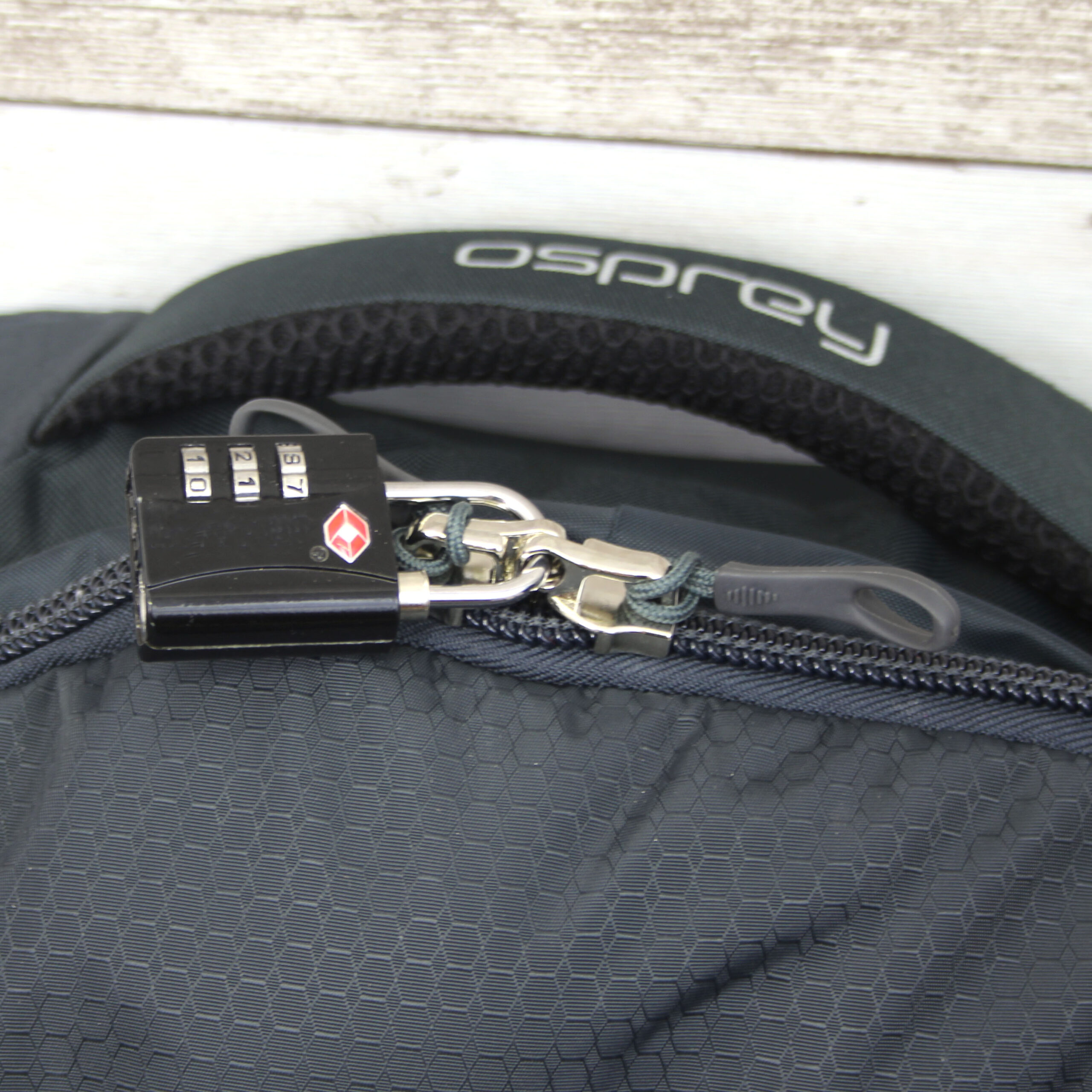 The main compartment has the zippered side style opening you'd expect from most travel backpacks and includes two internal compression straps, which are useful for keeping your clothes compressed and as neat as possible when travelling. Osprey have also included a large mesh zippered pocket, which measures 46 x 29cm, making it a good size for storing laundry or for using to store other items separate from the rest of your luggage. Zips on the main bag and daypack have good sized pullers, which are nice and easy to grab when you want to open either bag. Another nice feature of the Farpoint is the luggage ID window, which is located on the inside of the zipped back system flight cover.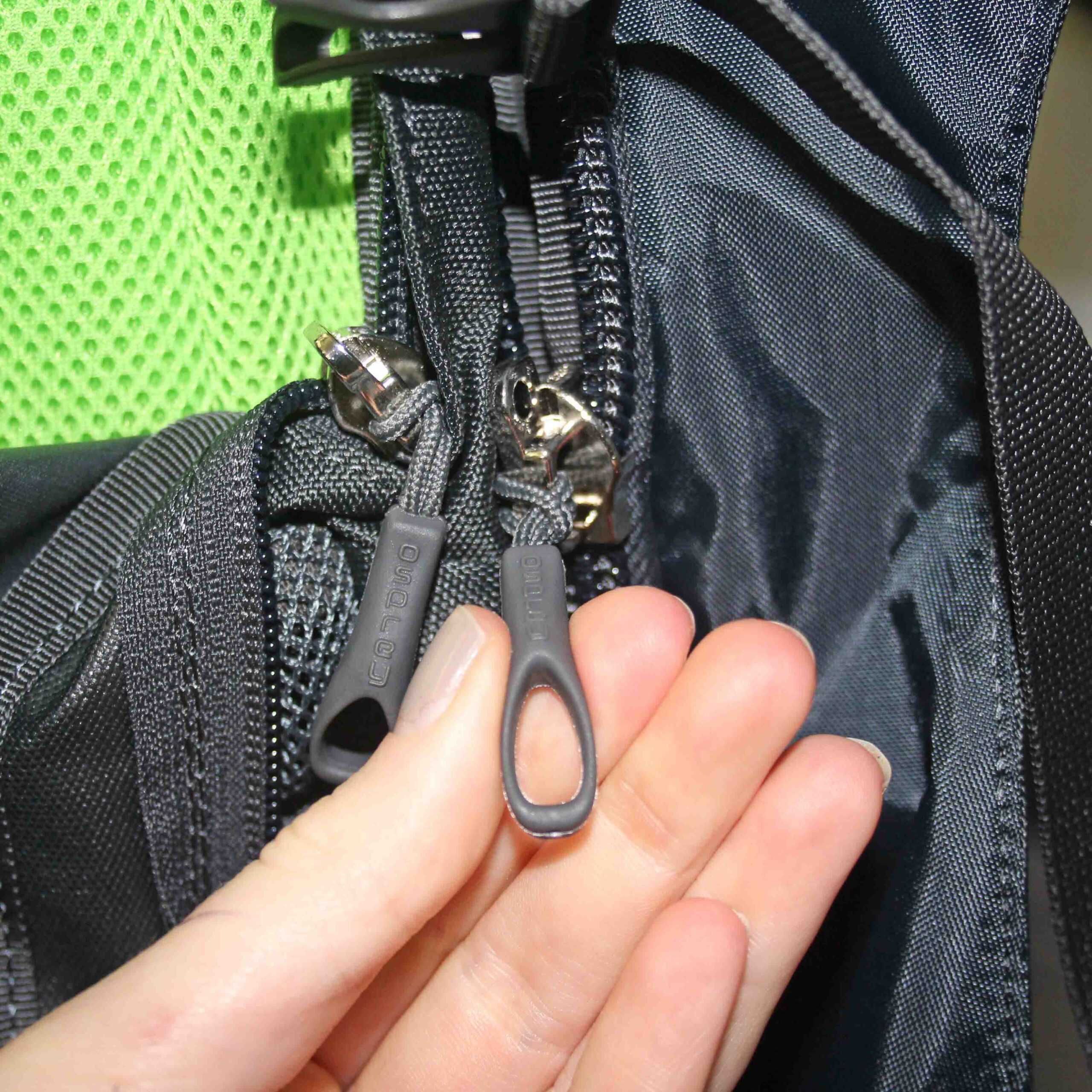 For transporting bulkier items such as sleep mats, you can use the external and removable sleeping mat straps located at the base of the backpack to secure your gear to the outside.
Daypack Features
The daypack provides a 13 litre capacity and includes a padded tablet pocket inside the main compartment (34 x 28cm size) and zipped organiser pocket (24 x 28cm in size).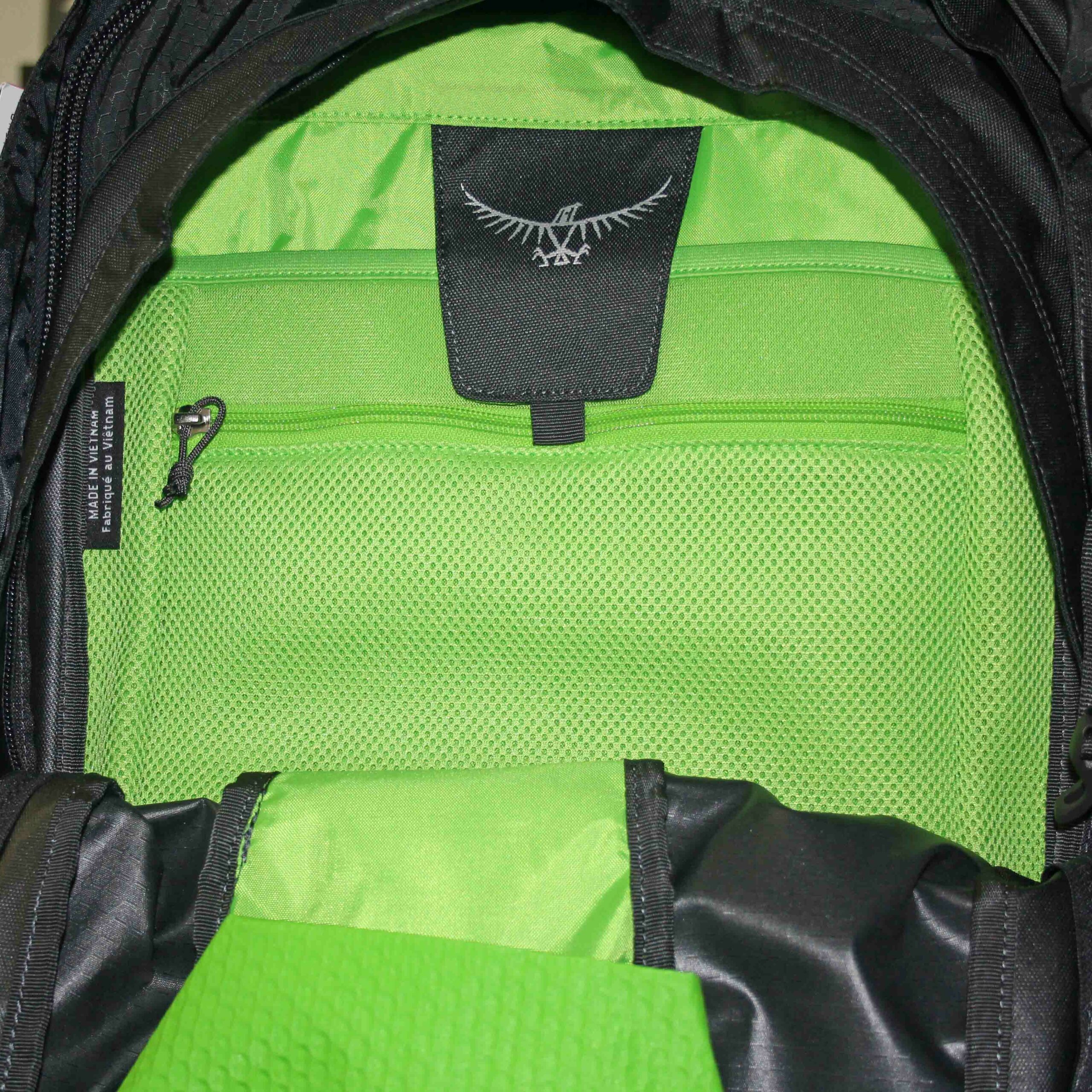 You also get a small top pocket with a lining suitable for storing electrical items such as a phone or MP3 player and it also includes a key clip. The outside of the daypack includes two mesh pockets, which can be used for holding water bottles and the back panel and shoulder straps are padded with the same Die-cut spacer mesh material as the main shoulder harness.
Daypack Specifications:
Dimensions: 44 x 29 x 23cm
Weight: 0.50kg
Capacity: 13 litres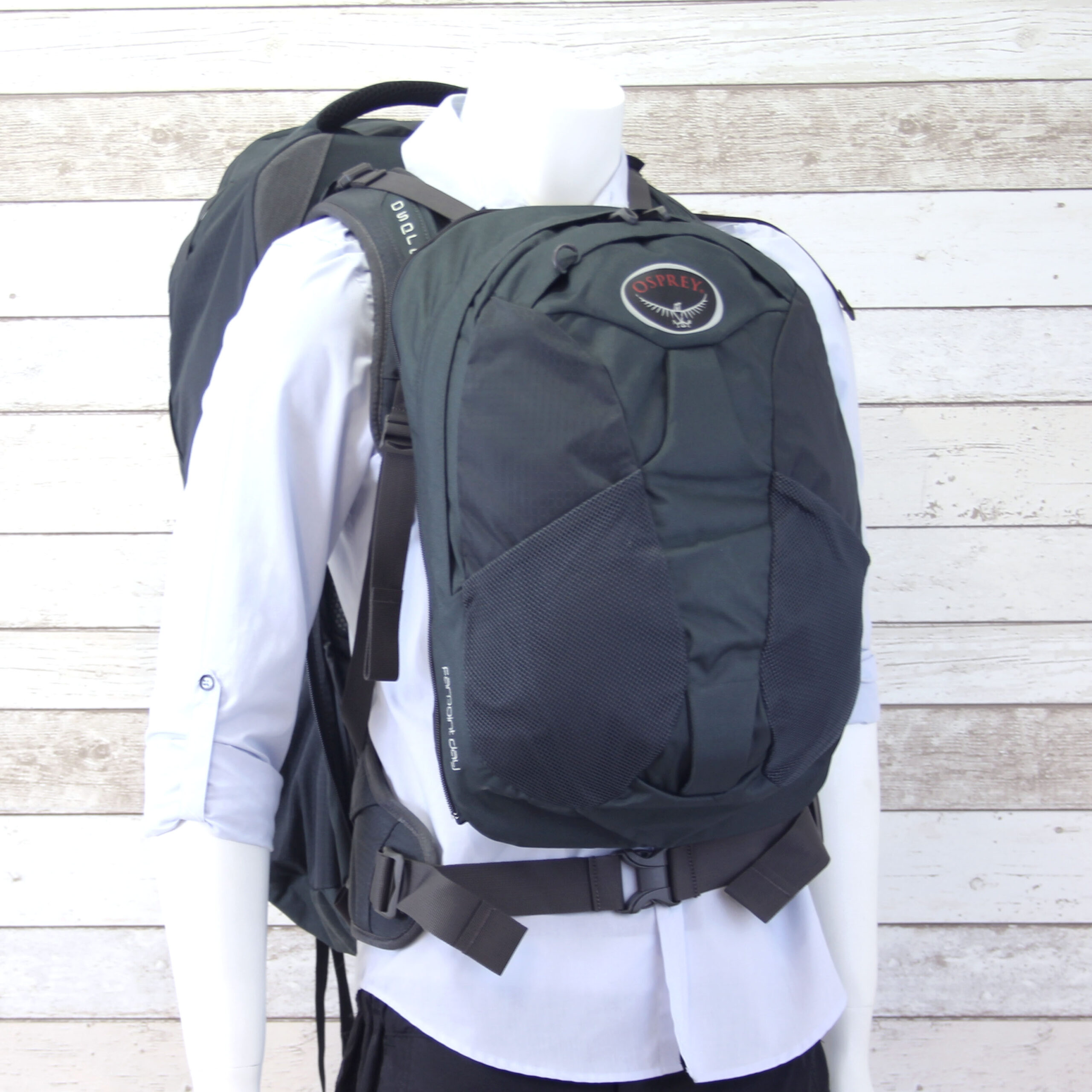 Many travel backpacks give you the option of attaching the daypack to the front of the main backpack's shoulder harness for added security, and Osprey have included this popular travel related feature in their Farpoint range. The clips for attaching the daypack to the main harness even have their own tuck away storage to help prevent damage. As well as both zipping and clipping to the front of the main backpack, I also noticed a small buckle near the base of the zipper, which allows you to clip the zip into it once you've secured it to the front of the backpack.
Summary
I'd heard a lot of rave reviews of the Osprey Farpoint before it arrived here at GY HQ, and on closer inspection, I'd have to say I agree that this is a quality pack for travelling. It ticks all the boxes for me, with a lightweight design, plenty of travel related features (including the all-important security features) and a comfortable back system. As with any higher end backpack, the price may be a little bit off-putting, particularly if you're on a budget…As many travellers are! One thing I will say is that if you're taking a longer trip or you travel regularly, an Osprey pack is worth the investment and will pay for itself over time.
*prices correct at time of publishing