We currently stock two different brands of 'anti-mosquito' sleeping bag, including the Snugpak Travelpak and Vango Planet ranges. However, the Snugpak Travelpak was the first sleeping bag of this type that we introduced to our range. In this review I'm going to take a closer look at the Snugpak Travelpak 2 model, discussing its key features, strengths and weaknesses.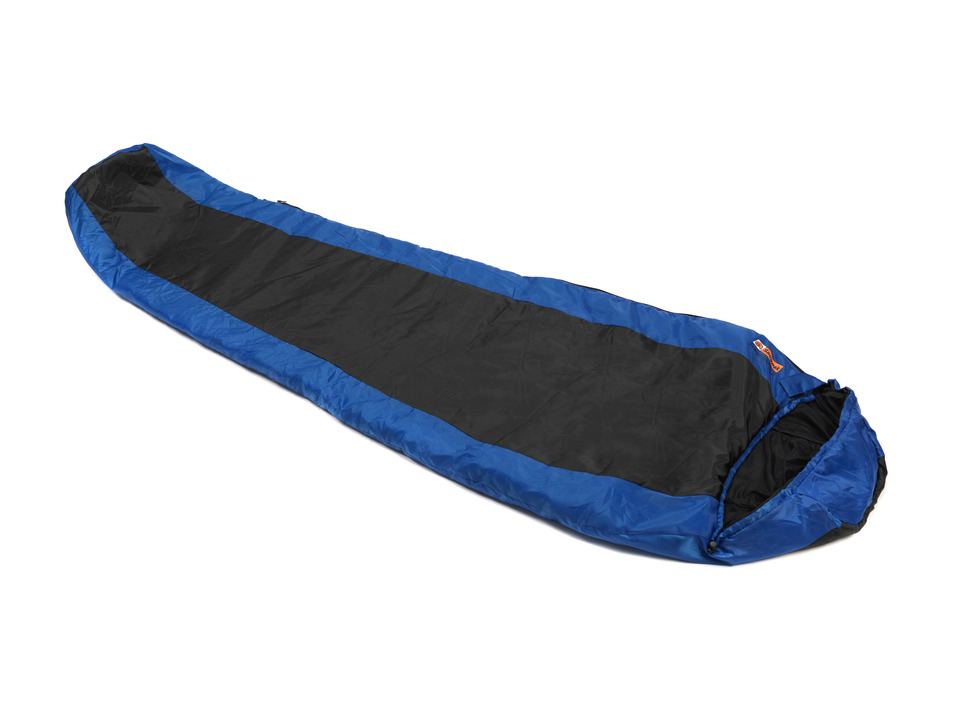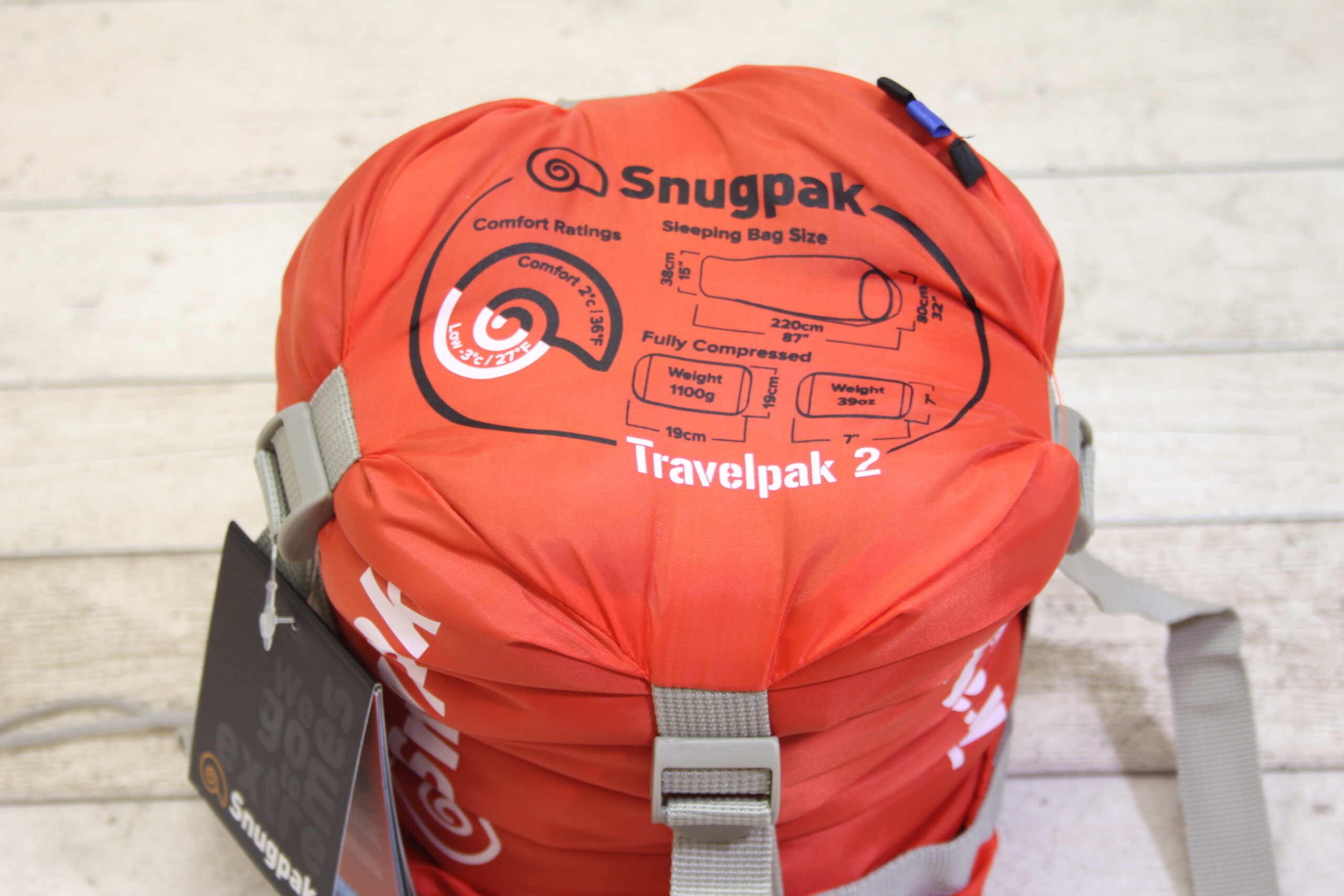 Sleeping Bag Specifications
As with all our travel gear reviews, we'll start with the Travelpak 2's specifications.
Season Rating: 2 season
Comfort Temperature: 2°C
Extreme Temperature: -3°C
Open Size: 220 x 75 x 38cm
Pack Size (compressed): 19 x 19cm
Weight: 1100g
Insulation: Travelsoft – 100% polyester
Lining: Paratex Anti-bacterial – 100% polyester
Shell: Hex Ripstop – 100% polyester
Good Alternatives
In terms of its competitors, the Travelpak 2 has the same weight as the Vango Planet 100, weighing in at 1100g. This is a reasonable weight for a 2 season sleeping bag, although you can also get a slightly lighter 2 season sleeping bag from Snugpak's travel range in the form of the Jungle Bag. The Jungle Bag comes in a more spacious rectangular shape too, so if you like a sleeping bag with a less restrictive feel, this may be a better option for you. You can check out our review of the Snugpak Jungle Bag here.
How Heavy is it Really?
A common question we receive from our customers is related to sleeping bag weights. Sometimes sleeping bags can seem a little heavier or even lighter than the weight stated on the sleeping bag's specifications. The reason for this is that manufacturers generally give a 10% tolerance when filling the bag, which means it can be a few grams over the specified weight or a few grams under, but this is never a noticeable difference. As I always like to weigh each sleeping bag I review, I put the Travelpak 2 on our warehouse scales and the reading was 1170g, so was slightly heavier than specified on the tag. However, this is still a lightweight and compact sleeping bag for travelling.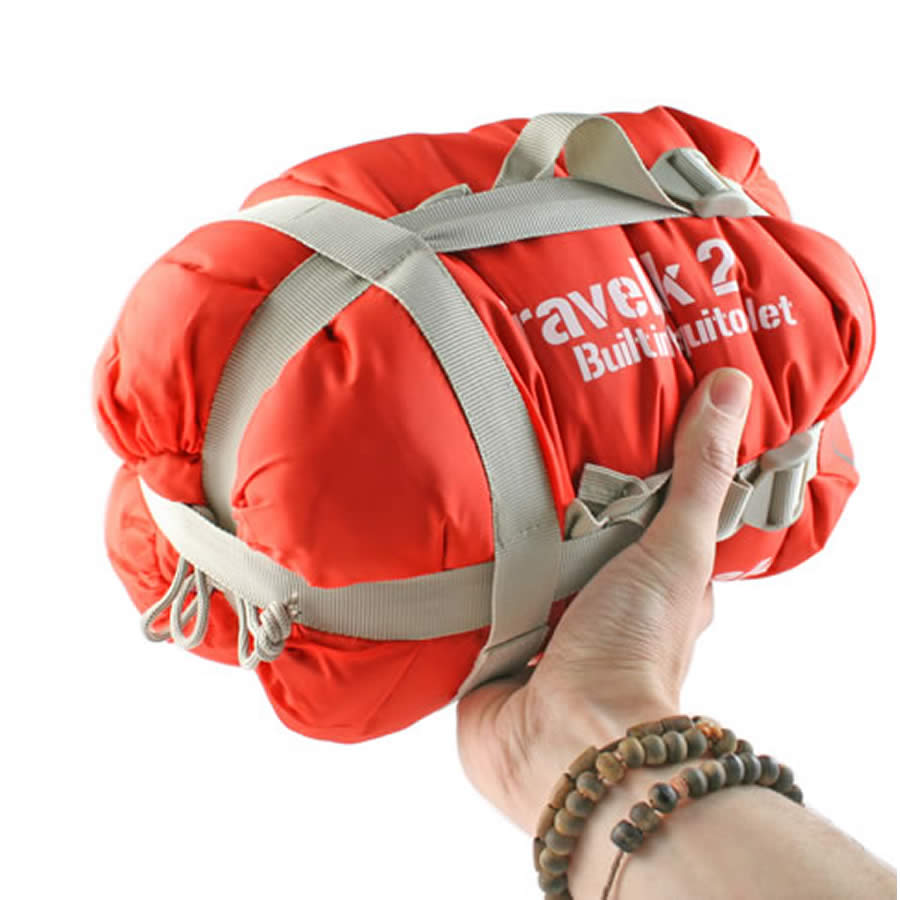 I compressed the sleeping bag myself to test how small it would pack down to and can confirm that Snugpak's specified pack size of 19 x 19cm is accurate. You may even get it a little smaller by removing the sleeping bag from the compression sack and re-packing it before compressing it. On a purely aesthetic note, I really like the blue and black colour way and think the sleeping bag would look even better on a whole if the compression sack matched the colour of the sleeping bag, rather than coming in the orange colour. Obviously this doesn't have anything to do with the sleeping bag's performance, but I just like things that match, as do many other consumers.
Key Features
Moving on to the main event, the key features of the Snugpak Travelpak 2. As the name suggests, this sleeping bag was designed with travelling in mind, making it a suitable choice for backpackers, travellers and gappers. At first glance, the features that you'd expect of a travel sleeping bag are evident, with a compact pack size and low weight. Snugpak have also included other travel related features to add to its appeal and performance, these include anti-bacterial fabrics and a built-in mosquito net.
Anti Bacterial Materials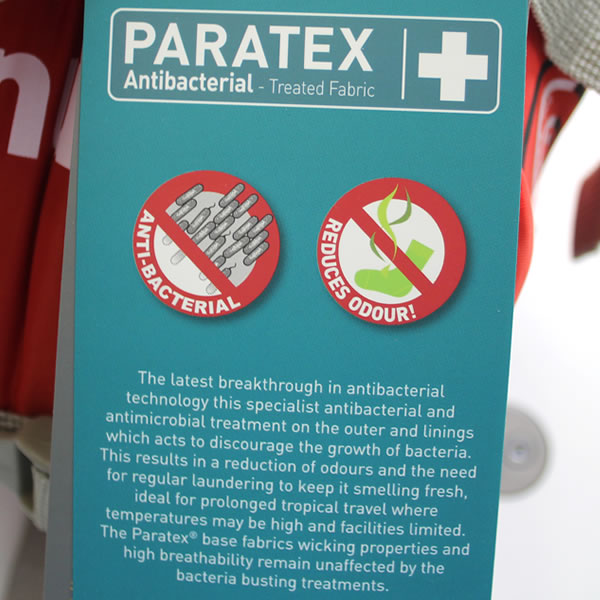 Snugpak have used Paratex treated fabric for the lining and outer shell of the sleeping bag, which helps to discourage the growth of bacteria which can lead to odours and even mould. This is a particularly useful feature for travel to tropical climates where bacteria can breed easily. Paratex is an anti-bacterial and anti-microbial treatment that reduces odours and the need to wash your sleeping bag often, which is great for backpackers who will struggle to clean their sleeping bag during their trip. Of course there's the option of using a liner to keep the lining of your sleeping bag fresher and clean, but after a while the liner will need to be washed, unless it is also treated with an anti-bacterial agent. Snugpak also state that the fabrics maintain high-wicking properties for breathability and comfort, even with the use of the Paratex treatment.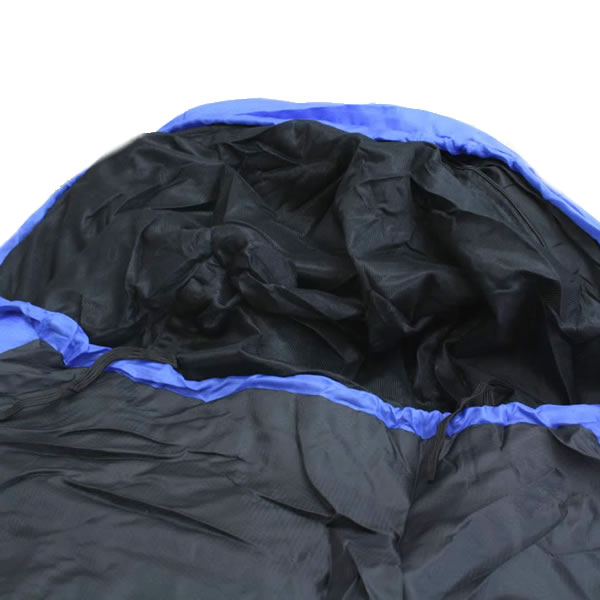 Built in Mosquito Net on Hood
I think describing a mosquito net as 'built-in' can sometimes make people think they'd have no choice but to use the net, but this isn't the case with the Travelpak 2. The mosquito net comes with a two-way zipper, so you can open it from the inside and outside of the sleeping bag. The net can be fully unzipped and stored in a dedicated storage pocket inside the sleeping bag if you're in conditions where you don't need to utilise the net feature of the sleeping bag.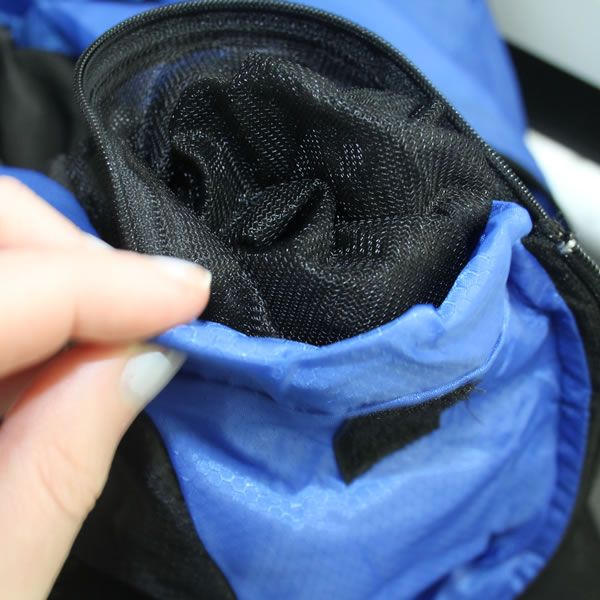 You can also use the net to keep bugs out of your sleeping bag during the day by zipping it up, that way you won't find any insects waiting inside your sleeping bag for you on a night! The net isn't treated, so won't stop mosquitoes from landing on it, but it still offers a barrier between you and biting insects. I'm not sure how many people would want a treated net sitting on their face anyway. If you were travelling somewhere with a risk of Malaria and other tropical diseases such as Yellow Fever & Zika, I would suggest sleeping under a treated mosquito net in addition to using this sleeping bag, as it would offer a greater level of protection.
Other Key Features
The zipper on the Travelpak 2 has a two-way function with a sturdy Snugpak branded zip puller. Instead of featuring two zip pullers with one on each side, the zip puller simply slides to the side you wish to open it from. In terms of ease of use, the zippers glide smoothly and won't catch on the lining of the sleeping bag due to the chunky zip baffle. Another feature many people have come to expect from travel sleeping bags is an internal security pocket, this can be used to store your mobile phone, passport, currency and other valuable items, and Snugpak have included this common feature in their Travelpak range.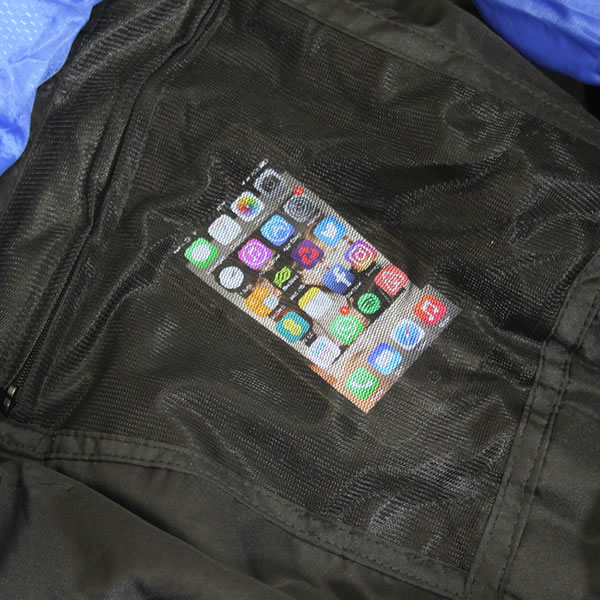 As previously mentioned, the Travelpak 2 comes with a compression sack for storage. The compression sack features a 4-way compressing system to make the sleeping bag more compact and easier to store and carry in your backpack. It compresses to the specified 19 x 19cm fairly easily and the compression sack itself is made from durable materials, so shouldn't damage easily!
Comfort Features
The comfort of a sleeping bag is obviously a concern for the user and Snugpak have taken this into mind, they are the experts in sleeping bags after all. The Travelpak 2 comes with a 2 season rating, making it suitable for use in warm climates and will keep you comfortable down to 2°C. You could use the sleeping bag for camping outdoors in warm climates abroad or indoors in slightly cooler conditions. The sleeping bag also comes in a mummy shape for greater heat retention and includes both zip and shoulder baffles to keep out drafts and retain body heat. The adjustable hood is also fitted with a drawcord for easy adjustment and will help prevent heat loss through your head, one of the main parts of the body we lose heat from. Even though the sleeping bag comes in a mummy shape, the overall length of 220cm, shoulder width of 75cm and foot width of 38cm shouldn't feel too restrictive.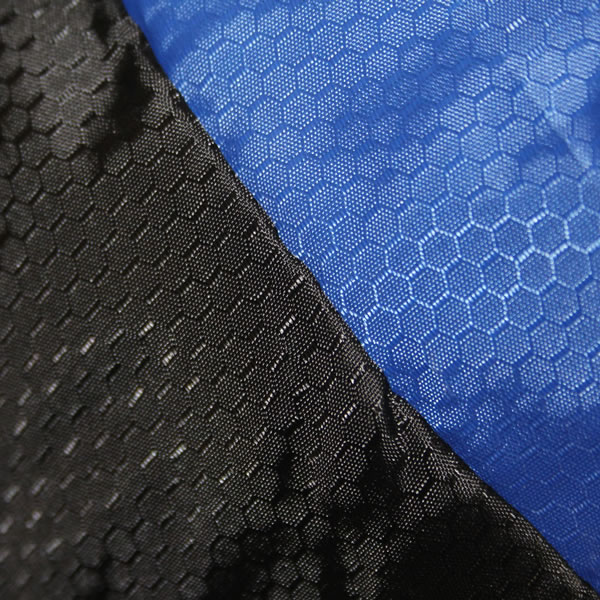 The outer  hex ripstop fabric material is treated with Paratex anti-bacterial treatment and is designed to be lightweight. As the fabric is ripstop, this helps reduce rips and tears from spreading and causing more damage if you're unfortunate enough to snag your sleeping bag. The outer fabric is also water repellent, which makes it great for outdoor use and helps to reduce the risk of the insulation getting wet, keeping you dry and comfortable. The insulation used inside the sleeping bag is made from high loft fine fibres, which are designed to be easy to compress, which explains why this sleeping bag compresses to a small size. The insulation is also lightweight, another property that makes this a great travel sleeping bag. Both the lining and outer materials are made from 100% polyester, but the lining is much softer than the durable outer shell. The sleeping bag's polyester lining is also treated with Paratex and has a smooth texture that would be comfortable, even against bare skin.
Summary
The Snugpak Travelpak 2 has an RRP of £39.95, so won't break the bank if you're on a budget and need a warmer sleeping bag for travelling. Compared to its main competitor, the Vango Planet 100 with an RRP of  £55.00, this option comes in much cheaper. As mentioned earlier in the review, I really like the colour and overall style of this sleeping bag and think it comes with all the features you'd expect from a travel sleeping bag. However, I personally prefer the Jungle Bag from their travel range, as it has a rectangular shape and can also be opened like a blanket, whilst including many of the same features as the Travelpak 2. It's also slightly more compact & lightweight.
The Paratex treatment is definitely this sleeping bag's main draw for me as it is featured on both the inner and outer fabrics for optimum freshness. I also think the low profile mosquito net pocket down the side of the zipper is a nice touch and will help prevent damage or loss of the mosquito net when you choose not to use it. Although the outer shell doesn't have the same soft touch feel as the Vango Planet range, it is extremely durable and you can tell it is of a high quality, the water repellent finish is also something you don't find on many travel sleeping bags. The Travelpak is available in 1, 2, 3 and 4 season options for travelling in different climates.