The Vango Freedom has been one of our best-selling travel backpacks for as long as we can remember. 2018 sees the introduction of the next generation of Freedom, enter Freedom II, with new colour ways, fabrics and features. As the Freedom has remained largely unchanged for the last couple of years, a design overhaul is pretty exciting, if a little nerve-racking…so let's see what exactly has changed.

First Impressions
One thing that remains unchanged is that the Freedom is available in either a 60+20 or 80+20 litre size. In terms of colour ways, the previous model was available in black or purple (60+20 size), which have now been replaced with grey/blue, grey/green and blue options. The 80+20 model only comes in two colour options, with a choice of grey/blue or blue.
Personally, I think Vango could have just offered two different colour ways across the range rather than three, as there isn't really too much of a difference between the two grey options. The grey/green uses a deeper blue on the trim, which is a little less 'in your face' compared to the blue trim on the grey/blue model.
The Freedom II uses Vango's new Protex 4:2 fabric, which is designed to be lightweight and extra durable. The new materials look to be of good quality and Vango have given the pack a reinforced base for added durability with a PU coated front panel water-resistance. On reading the new specification, it seems that Vango have managed to make the Freedom II slightly lighter than the previous model at 2.92kg (the old model weighed 3.05kg), which is always good when you're trying to get as much out of your luggage allowance as possible!
Price
Likes its predecessor, the Vango Freedom II sits within our mid-range of backpacks and is perfect for travellers who want a good quality backpack for travelling, without breaking the bank. The 60+20 model has an RRP of £100.00 and the 80+20 model has an RRP of £120.00. The RRP's have jumped up a little bit compared to last year's model, but as the Freedom II uses more premium fabrics (and manufacturing costs have increased) the price increase is understandable.
Construction
One of the key changes to the Freedom is the use of Protex 4:2 fabric, which is strong, durable and specifically designed for long-distance travel. The fabric comprises 2 PU coatings on its inner layer, a layer of 420D ripstop polyester and 4 PU coatings on the face of the fabric for increased durability, abrasion and water-resistance.
The Freedom II also benefits from a reinforced base, a feature the previous model lacked. This is huge improvement as a stronger base gives you peace of mind when carrying heavier loads, as the bag is less likely to fail. The zips are also of a good quality and glide along when you open or close the bag, without catching on the lining.
The Technical Bit – Vango Freedom II Specifications
Here are the specifications for both Freedom II models, including; dimensions, weight and capacities.
[table id=9 /]
Comfort Features
The back system remains the same as the old model, with a Quick Adjust (QA) back system. The QA back system combines a contoured alloy frame for load distribution with a ladder lock adjustment, which allows you to move the shoulder straps up or down to suit your height/back length.
The hip belt and shoulder straps are also padded with AirMesh material, allowing air to flow and keep you cooler whilst you're wearing the bag. While some mesh material used on back systems can be a little 'scratchy', the AirMesh used on the Freedom II is fairly smooth and unlikely to be uncomfortable against your skin. The hip belt could possibly use a little more reinforcement for added support, but should offer enough stability unless you're carrying excessively heavy gear.
Backpack Features
Vango have kept the full length zip opening from the previous Freedom model, which allows you to unzip the bag right down to the base and open it fully for easier packing and access to your luggage. The separate base compartment has been removed, so you now get one large packing compartment for your gear, but you can easily use packing cubes and dry bags to separate and organise your gear if you need to.
The main compartment includes two compression straps, which help to compress the contents of the backpack and hold them in place. Then there's the addition of the drawcord gaiter, which helps to further compress and protect the contents of your backpack. The old model featured 3 internal pockets inside the lid, which have been replaced with a single large zipped pocket (30x30cm) for laundry or accessories. Many backpacks on the market tend to use mesh for their internal pockets, as this is more breathable and also makes it easier to identify what you've packed inside. However, a polyester fabric has been used on the Freedom's internal pocket…Hardly a major issue, but mesh would have been more practical.
In terms of capacity, the Freedom II 60+20 comes with a 60 litre main bag, whereas the 80+20 comes with a larger 80 litre main bag. Which one you should choose will depend on the length of your trip and how much gear you're taking. The 60+20 litre model should be suitable for most backpacking trips, but if you're travelling for a year or more or have a lot of equipment to pack, we'd recommend the 80+20…However, petite and shorter travellers should try and stick to the smaller 60+20 litre model to prevent straining or injuring their back.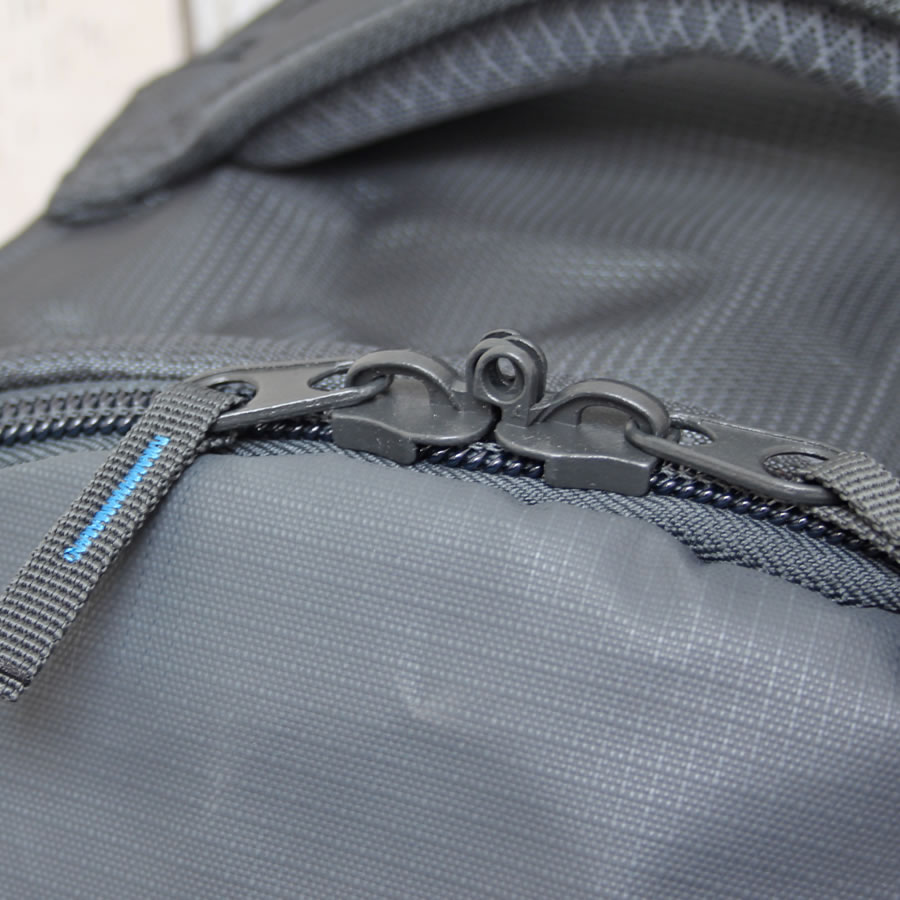 Of course, security is a key concern for travellers, so it's good to see that the Freedom II comes with interlocking zips to keep the bag and its contents secure. The backpack harness also zips away for flights, using a handy protective cover, this stops the straps from getting caught and reduces the risk of damage in transit. When the backsystem is zipped away behind its protective cover, you can use the external padded top and side grab handles to haul the bag over short distances, or to load it on and off boats, buses, trains and other methods of transport.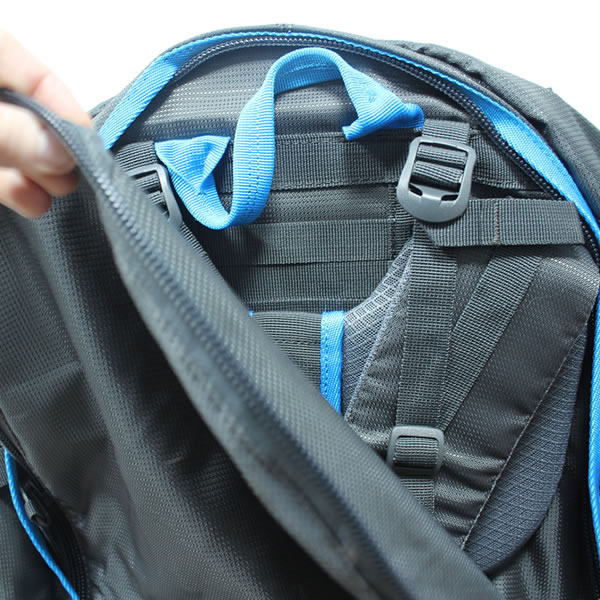 While the Protex 4:2 fabric offers a degree of water-resistance, you'll still need a rain cover if you're travelling during rainy season or want to be able to protect your backpack and its contents in the event of unexpected downpours. Sadly the Freedom II doesn't include a rain cover, but you can easily buy a large Vango rain cover separately, which is compatible with both the 60+20 and 80+20 model.
Daypack Features
Dimensions: 41 x 30 x 16cm
Capacity: 20 litres
Weight: 675g
As with many travel backpacks, the Freedom II comes with a removable daypack, which can be used for day trips when you reach your destination or you can use it as a carry-on bag for flights. As you'll probably be using the daypack more frequently during your trip, its good to see that Vango have improved the daypack by giving it a padded AirMesh back panel and additional padding on the shoulder straps. They've also mimicked the reinforced base from the main bag for added durability.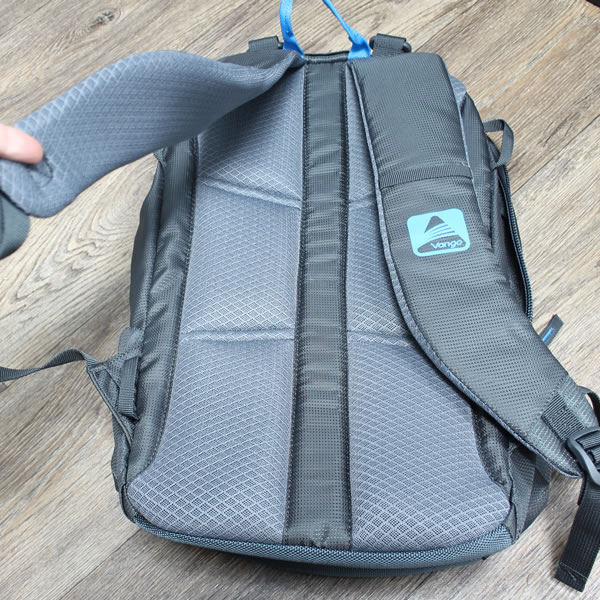 The daypack has a 20 litre capacity with plenty of room for packing liquids and emergency clothes when you're using the bag as hand luggage. The twin compartment design makes it easy to separate and organise daily essentials or travel documents/passports etc and the two internal mesh pockets inside the front compartment also help with organisation. You also get a zipped front pocket with a smaller internal pocket, which is great for storing items you need quick access to.
If you're the more active kind of traveller, the daypack will also cope well with day hikes and adventuring off the beaten path. This is not only due to its durable construction and comfortable back panel, but its hydration compatibility. You also get two external stretch water bottle pockets, which are constructed from Protex 4:2 nylon fabric, rather than mesh, meaning they're less likely to catch or snag.
The daypack could be improved with the addition of lockable zips, but if push came to shove, you could easily pass a padlock through the zip pullers to lock them together. However, Vango have considered the security concerns of travellers by making it possible to clip the daypack to the front of the main backpack harness. This is particularly useful when travelling in countries with a high crime rate and in pick-pocket hot spots, as well as in crowded areas where it can be difficult to manoeuvre.
When you want to attach the daypack to the front of the main bag you can do so by using the side compression buckles, which thread through loops on the outside of the daypack. A clip and buckle fastening is often preferable to a zip when your bag is packed to the brim, as zips can buckle and become difficult to to fasten.
Summary
When we first heard that the Vango Freedom was receiving an update for 2018, we were a little sceptical. However, once the Freedom II landed at GY HQ our concerns were alleviated. Of course Vango could have played it safe by churning out the same black and purple Freedoms they have for the last couple of years, but where's the fun in that?!
What we have here is a stylish travel backpack with colour ways that will appeal to both male and female travellers. The fabrics have improved, with the use of innovative Protex 4:2 which offers the perfect combination of low weight and durability, making it ideal for travelling. It's a shame Vango didn't include the detachable shoulder strap from the previous model, however I can't see that this feature was used all that often, and was more of a 'nice to have' than something that directly affects the performance and functionality of the bag.
Vango are a trusted outdoor brand and their Freedom II backpacks even come with a 2 year warranty* (can be extended to 3 years when you register your bag with them), giving you peace of mind during your trip. The Freedom II is a great mid-range backpack for travelling, well suited to most backpacking budgets and styles of travel.
*Information & prices correct at time of publishing and may be subject to change.