The Contour and Sherpa rucksacks are long-standing Vango favourites, designed for multi-day backpacking and expeditions. Both rucksacks are recommended by the Scouts and DofE and are well-known in the outdoor market, but what are the key differences between the two and which is the right rucksack for you?
In this review, I talk you through the key differences between the Vango Contour and Vango Sherpa to help you make an informed decision when choosing a rucksack for your next expedition or backpacking adventure.
1) Back System
The most noticeable difference between the Vango Contour and Vango Sherpa is the back system. The Contour comes with a QuickAdjust (QA) back system and the Sherpa comes with a Self-Adjust back system (SA).
Contour – QuickAdjust Back System
As the name suggests, the QuickAdjust back system is quick and easy to adjust. The back system features a ladder lock adjustment with a velcro tab, which allows you to select the correct back length and adjust the back system before putting it on your back. To measure your back length, locate the C7 vertebrae (knobbly bit at the base of your neck) and Iliac crest, then measure the distance between the two. This back system is particularly good for growing bodies, making it a good option for DofE participants and Scouts.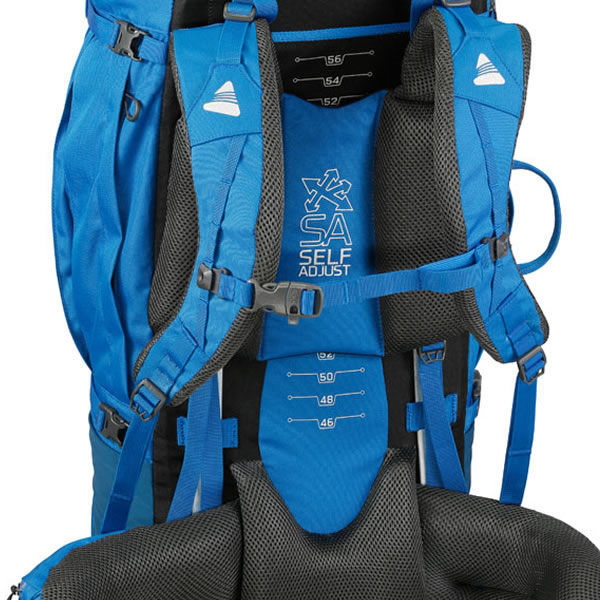 Sherpa – Self-Adjust Back System
The Self-Adjust back system is built on two contoured alloy bars, which allow the back system to slide up and down to find the correct fit for you. This style of back system enables you to adjust it while you're wearing the rucksack using the two adjustment tabs. The alloy bars also help to distribute weight more effectively for more comfortable carrying of heavier loads.
2) Main Compartment
While both rucksacks come with a traditional lid entry and a zipped entry point at the base, the Sherpa comes with an internal draw cord divider for separating and organising your gear. The Contour features one large compartment, which can be accessed through the lid or base of the rucksack.
3) Features
The Contour and Sherpa have many features in common, but there are a few differences in this category too. The Sherpa comes with more pockets and storage options compared to the Contour including:
Front pocket with water-resistant zip –  store a map or small accessories.
Hip belt pocket with water-resistant zip – store your mobile phone, snacks and any other small accessories you need easy access to.
Daisy chain accessory attachment points & elastic sleep mat attachment (found inside external lid pocket) – attach equipment & accessories to the outside of the rucksack
4) Sizes
The Contour is available in a 50:60S and 60:70 size, whereas the Sherpa is available in a 60:70, 60:70S and larger 70:80 size. The Sherpa also has a 65 litre option, which comes with fixed side pockets, so the options are a little more varied in the Sherpa range.
Given the sizes available, the Sherpa would be better suited to longer backpacking trips and trekking expeditions where you need to transport more equipment.
What features do they have in common?
As mentioned above, the Contour and Sherpa have several features in common. Both rucksacks are available in a shorter back length, which is designed for women, shorter men and younger users who are likely to have a shorter back length.
While both rucksacks have different back systems, both styles offer a good level of ventilation and padding for carrying comfort and are capable of transporting heavier loads, earning them their 'trekking rucksack' status.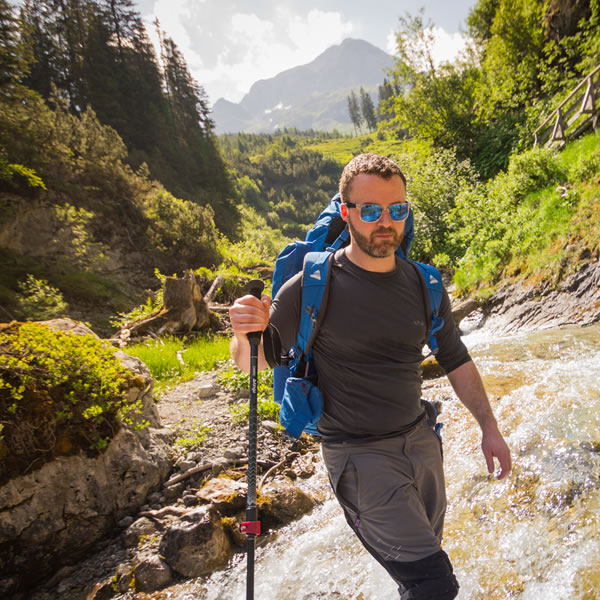 Both rucksacks are designed to carry kit including a tent, sleeping bag and food. They are also both recommended by DofE and Scouts, so you can rest assured that both rucksacks are of exceptional quality and are well suited to general backpacking, multi-day trekking and expeditions.
Here's a list of features that the Vango Contour and Sherpa have in common…
Durable fabric – Excel 420D honeycomb polyester/600D polyester
Adjustable back system with ergonomic hip belt
Shoulder fit guide – shows when the rucksack has been correctly adjusted
Sternum strap with emergency whistle
Expansion side zip pockets x 2 – adds extra 10 litres of packing space
Pro-weave side pockets x 2
Lid with draw cord gaiter
Internal & external lid pockets
Side compression straps
Hydration compatibility
Webbing grab handle
Ice axe/walking pole attachment
Explore Our Range