Packed with millions of people, gridlocked by traffic and scorched by oppressive heat, you might wonder why Bangkok is one of the entire planet's most visited cities. Quite what especially appeals to each individual varies but there are some elements which ensure it not only keeps travellers coming but continuously tempts back those who have been here many times before. Essentially this is a capital city where east doesn't just meet west but collides with it spectacularly. At times Bangkok can be as generically modern as it gets, but woven into the whole are a thousand reminders that you have arrived somewhere quintessentially tropical and exotic.
Where many places in the world have the ability to stimulate the senses Bangkok goes to a whole other level and blasts them. Within the space of a few hours you can have taken part in a Buddhist prayer ceremony led by robed monks to watching a drag cabaret performance so fantastical it will have your eyes out on stalks.
Experiences come in every form and for every kind of taste. Wander temple complexes and royal palaces where millions of mirrored tiles or elaborate gilded surfaces dazzle in the extreme; explore state-of-the-art shopping centres which are vast enough to satisfy even the most retail-addicted; drink in the sights, sounds and smells of markets – including the floating kind – which have been selling wares in the exact same place for centuries; head out after dark to sample a scene infused with everything from the wildly hedonistic to the elegantly refined. Culture vultures and history buffs will be so spoiled for choice they won't know where to start, while food lovers will think they have died and gone to heaven.
Bangkok's spell is woven by combining elements of its fantastical structures, its raw charm and ceaseless energy, its riot of colours and a very real warmth which exudes from its people. Bangkok can be exhausting but it is impossible not to be touched by it and for some it is the start of an intensive love affair; indifference is not an option here.
Here is a list of 10 things to do in Bankok to get you started.
1) Chinatown – Crocodiles & Lanterns
It is impossible to ignore the exoticness of Bangkok – practically every sight, sound and smell of this city is infused with it. However, to ratchet things up on the culturally fascinating scale an extra notch head to Bangkok's thriving Chinatown district – Yaowarat. Dating from the late 1700's it is one of the world's biggest Chinatown districts. Amid the wonderful bustling chaos here can be found Chinese temples and ornate shrines, historic wooden shop-houses and intriguing markets with red lanterns aplenty swaying in the city air. At night a forest of blazing neon signs flash Chinese characters in every colour. The magnetism is hard to hard to ignore and as a result this area is a firm favourite with Bangkok's visitors.
For lovers of Chinese food this area is a goldmine and as might be expected it is the best place to head in the city for authentic Chinese restaurants. You can also add into the culinary mix endless choices for street food which comes in such a variety it could keep you going for months. Otherwise quite what you might find here to feed your appetite ranges from old-age tea-rooms to parlours straight from 1930s Shanghai.
The temples are all worth an explore – or at least popping your head into – for different reasons. Wat Chakrawat is one of the most popular for Western visitors because the temple's pond is home to crocodiles. This has been a temple constant since a few decades ago when a crocodile was recovered from the city's river and brought here. This actual crocodile still lives at the pond albeit as a stuffed exhibit in a glass case.
If you happen to arrive in town during Chinese New Year – the date moves every year but is around February -you can expect something extra special. Chinatown goes into manic overdrive with a multitude of food fairs, street entertainment including traditional lion and dragon dances and an air constantly infused with the smell of burning incense.
2) Bangkok's Nightlife – Roof-top Bars & Red Light Districts
While it is generally not hard to find a good offering of night-life choices in any capital city, Bangkok seems to take things to a whole new level. So legendary is this aspect of Thailand's principal city that many travel here for this reason alone. No matter whether your tastes run to the elegantly refined or the decidedly seedy, Bangkok has something for everyone and is also home to a long-established LGBT scene. On the menu of possibilities are ultra-modern electronic dance clubs with laser shows and big-name international DJ's, live music entertainment in a variety of musical genres, traditional culture shows, quirky cabarets and lavish ladyboy extravaganzas so over-the-top they will melt your eyeballs.
If you are a fan of the high-life you can live that literally in Bangkok which – so it is often claimed – has more rooftop bars and venues than anywhere else on the planet. Plenty of these come with incredible 360 degree views thrown in and take the guise of everything from classy cocktail spots to hedonistic dance-party venues.
Where adults-only spots are concerned you can expect to find anything a vivid imagination can conjure up with possibly quite a few additions that would surprise all-comers. These truly anything-goes places are often so rammed with people you might start to wonder if there is anyone left partying elsewhere in the city. Hot-spots of this kind are Silom's Patpong and the Nan Plaza in Sukhumvit. While those wanting to explore the naughty side of their nature do indeed venture here it has to be said that there are also a large number of Western tourists who simply come to gawp and snigger at the mind-boggling goings on rather than sample the delights.
Also in the list of after-dark possibilities are shows which range from the family-friendly traditional dance kind to the cabarets and drag acts which are not intended for the eyes of the innocent. For the former make your way to Siam Niramit or for the latter head to the internationally famous Calypso Cabaret. Here you can prepare to be dazzled by the unbelievably fantastical costumes of the singers, dancers and comedy acts.
Backpacker central's absolute heart is the Khao San Road. A chaos of markets, cafes and places to eat and drink, this area is lively 24/7 but at night things can head into the terrain of crazy and raucous. Sunlight is replaced by the rainbow light of neon signs and hordes of folk intent on finding fun jostle for space. The sound is not so much music as a cacophony of noise as each bar amps up the volume to drown out its neighbours. The competition is fierce to tempt in the would-be customers with all kinds of promotions offered – all of which ultimately means the potential to get very drunk very cheaply is everywhere. Besides the fixed places there are also VW vans with funky paint jobs converted into mobile cocktail bars and fried scorpion-on-a-stick street vendors. If this wonderful chaos all starts to get too much duck through the alley to the parallel Rambuttri which is like Khao San Road for the discerning.
3) Golden Mountain – Lush Greenery & Tranquility in the Heart of the City
While much of Bangkok is all about wonderful chaos, careening tuk-tuks and bustle there are some oases of calm too if you know where to look. One such spot of absolute tranquillity, surprising isolation and lush greenery is Phu Khao Thong, also known as Golden Mountain. This man-made mount is in effect the temple grounds for Wat Saket – one of the city's oldest temples – at the very summit of which sits an elegant stark-white, golden-spired chedi.
Most people head here understandably to make the climb to the top which can be done via the hundreds of shallow steps making up a stone staircase which spirals around the mound to ease the steepness of the ascent. While typical Bangkok climbs for a view can be draining in the tropical heat that of Wat Saket offers such loveliness along the way you will hardly notice. The whole is overhung by plants and trailing vines while at various intervals and sideways stopping-off points can be found tiny waterfalls, Buddha imagery and fragrant flower gardens. The accompanying natural soundtrack is one of bird song interspersed with the gentle chiming of prayer bells and the overall air wonderfully enhanced by the frequent passing of saffron-robed monks.
If you find yourself out of puff halfway up there is even a lovely little cafe where you can get your breath back. The white-washed summit with its glittering chedi is often wonderfully free of other tourists and the breeze which tends to blow up here sets the hanging bells chiming as you take in the stunning 360 degree views.
Often missed by visitors intent on the climb, the temple itself is at the base of the mount along with an extremely atmospheric cemetery, said to house the ashes of about 60,000 plague victims. As a sacred place, don't forget you will need to be appropriately dressed – knees and shoulders covered – to make this visit.
4) Tours A to Z – Ayutthaya to Zip-lining 
While taking a tour or two might typically feature on a foreign visitor's itinerary the possibilities in Bangkok are so incredibly extensive and varied you are going to be spoiled for choice. The majority of tours are of the general sightseeing kind which take in all the main attractions such as the principal temples, the Grand Palace and so on. Many aim to include hidden gems too which you would be unlikely to stumble across if you go solo. However, quite how you do such exploring through a tour comes in a variety of forms with tuk-tuk, boat, bike and foot all possible means of skipping from place to place. Tours are also further divided into day and night which offer such contrasting experiences you could almost believe you have explored two different cities.
As the Chao Phraya River plays such a culturally and geographically significant part in Bangkok life water-based tours are something of a big thing with your tour vehicle possibilities including sailing craft, rice barge or longtail boat. Ranging from an hour to days, options also include sunset and dinner cruises with floodlit temples forming the scenic backdrop or a visit to one of the city's iconic floating markets.
If adventuring is more your thing you also have plenty of choice with rainforest canopy ziplining and 4×4 jungle exploration just a couple of the possibilities. There are also any number of day tours which head out of Bangkok to visit wider-area wonders such as culturally-immersive countryside experiences, the ancient Siamese capital of Ayutthaya and the Death Railway at Kanchaburi where you can visit the famous 'Bridge Over the River Kwai'.
Other tour types include such things as food tours, watching a bout or two of Muy Thai – the ancient and sacred traditional boxing – enjoying shows ranging from traditional song and dance to over-the-top cabaret or a slice of pampering with spa and wellness packages. For the super-picky and in the rare cases where nothing on the vast menu of choice appeals there is even the possibility of tailor-making a tour according to your own exact requirements.
5) The Grand Palace – Bedazzlement by the Bejewelled
If you have limited time in Bangkok you will almost certainly have to be selective with your places to visit. However, whatever else you scrap from your list it is unthinkable that one of these would be the Grand Palace. From the very first moment of stepping under the palace's surrounding and imposing walls to enter this vast site prepare to be greeted with an array of sights so fantastical it can at times be almost overwhelming. Your first impression will be one of bedazzlement as twinkling and glittering surfaces reflect the sun's rays. As you get nearer to each surface, column, doorway, overhanging-roof and stupa you will realise that the whole is intricately detailed and the glittering effect produced by gold-leaf, glass and millions of mirrored tiles arranged into exquisite mosaics.
A huge part of this complex's charm comes from a decidedly eclectic and almost patchwork effect which has resulted from a series of expansions, rebuilds and additions which have taken part over various centuries depending on the whims of the king sitting on the throne at the time. Today, and since the 1920's, royalty no longer call the Grand Palace home although once-upon-a-time the court made up of guards, concubines, princes, princesses and so forth was once so populous it was nothing less than a city within a greater city. The present day palace still serves as the venue for state occasions and royal functions as well as featuring in the list of the world's most visited tourist sites.
Wandering the temples, halls, pavilions, courtyards and gardens crammed with statuary, chedi, and structures can be spectacularly disorientating even armed with a map. But getting lost is all part of the experience – all kinds of seeming dead-ends lead to tucked away gems. You might find yourself gazing up at a spangled ceiling or into the face of a demon guard or perhaps passing through fluted columns and discovering a throne. In order to get a greater understanding of what is being gazed upon and the palace's fascinating history many choose to take advantage of the guides available while those more inclined to wander at will can rent audio tour equipment.
Among the palace's many treasures there is none more sacred than the 14th century Emerald Buddha (which is by-the-by actually jade) – the nation's most revered Buddha icon – housed in its own complex in Wat Phra Kaew. The complex is also home to a handful of museums.
In a city of incredible sights the Grand Palace still stands as an undisputedly clear winner and no matter how many pictures you have seen before visiting here you are still going to be blown away by the dazzling opulence, spectacular beauty and sheer scale of this fantastical place.
6) Workshops, Classes & Courses – Learn Something New in Bangkok
Thailand is a great destination overall for learning new skills both fun and serious and when it comes to an incredibly diverse menu of choices it doesn't get any better than Bangkok. Some of the options are a little more obvious and commonplace such as Thai cookery or massage but there is also a whole other world of possibilities which include themes ranging from Thai dancing to jewellery making.
Without doubt the most commonly found types of classes and courses involve Thai cookery, massage and Muy Thai. The art of crafting authentic Thai food dishes with their intensity of flavours and textures is something which appeals to both the culinary curious and those who have a serious interest in cookery. Cookery schools are plentiful, offering everything from workshop days to weeks of intensive learning. One element of Thai cookery classes which is especially appealing to Westerners is the shopping aspect. Typically you will accompany your Thai teacher into exotic markets and tucked-away places from which tiny vendors supply their produce, something which is a whole cultural experience in itself.
Massage is also an incredibly popular skill to learn for Thai visitors and although you won't struggle to find willing teachers and establishments the school at Wat Pho – the Temple of the Reclining Buddha – is considered the mother of them all. It is the country's centre of traditional medicine and Thai massage learning with a history stretching back to the 1950s.
Muay Thai – otherwise known as Thai boxing – is a martial art both ancient and of incredible national importance in Thailand, almost akin to a religion. Many people travel to Thailand with no other purpose than to enrol in muy Thai classes and to learn the intricate skills of this sport by studying under the best fighters and trainers in the world.  Those intent on serious mastery embark on programmes lasting for months but there are also opportunities for a simple try-your-hand one-off session and of course everything in between.
Otherwise quite what else you might find regarding learning new skills covers a wide range – there really is something for everyone and for every skill level, from total beginner to those looking to improve on existing knowledge. The menu of choice includes all kinds of art forms – from the more conventional such as water-colour painting or ceramic painting to the more unusual such as calligraphy and Thai garland or paper sculpture creation. Also possible are leather working, jewellery-making and design, Thai silk weaving, Thai dancing, and natural soap-making.
7) Floating Markets – Colour, Culture & Cauldrons
While Bangkok offers some truly wonderful markets ranging from the 24 hour Pak Klong Talad flower market with its riot of colour and fragrances to the vast eclectic delights of the Chatuchak weekend market nothing quite piques the interest of the visitor like the famous floating markets.
So iconic are these scenes that images of the picturesque wooden boats sitting low in the water and piled high with exotic fruits, vegetables, flowers and foods grace a vast amount of tourist literature. While pictures offer a taste of what is to come experiencing it with your own senses adds an un-missable dimension as you watch the straw-hatted boat-owners expertly weaving around each other.
As food is an intrinsic element in any gathering of people in Thailand, these floating markets are no exception. Some are rigged out with bubbling cauldron-like pots on board or precariously balanced grills which serve up seafood on skewers and noodles amongst other things while others dole out fresh coconut juice.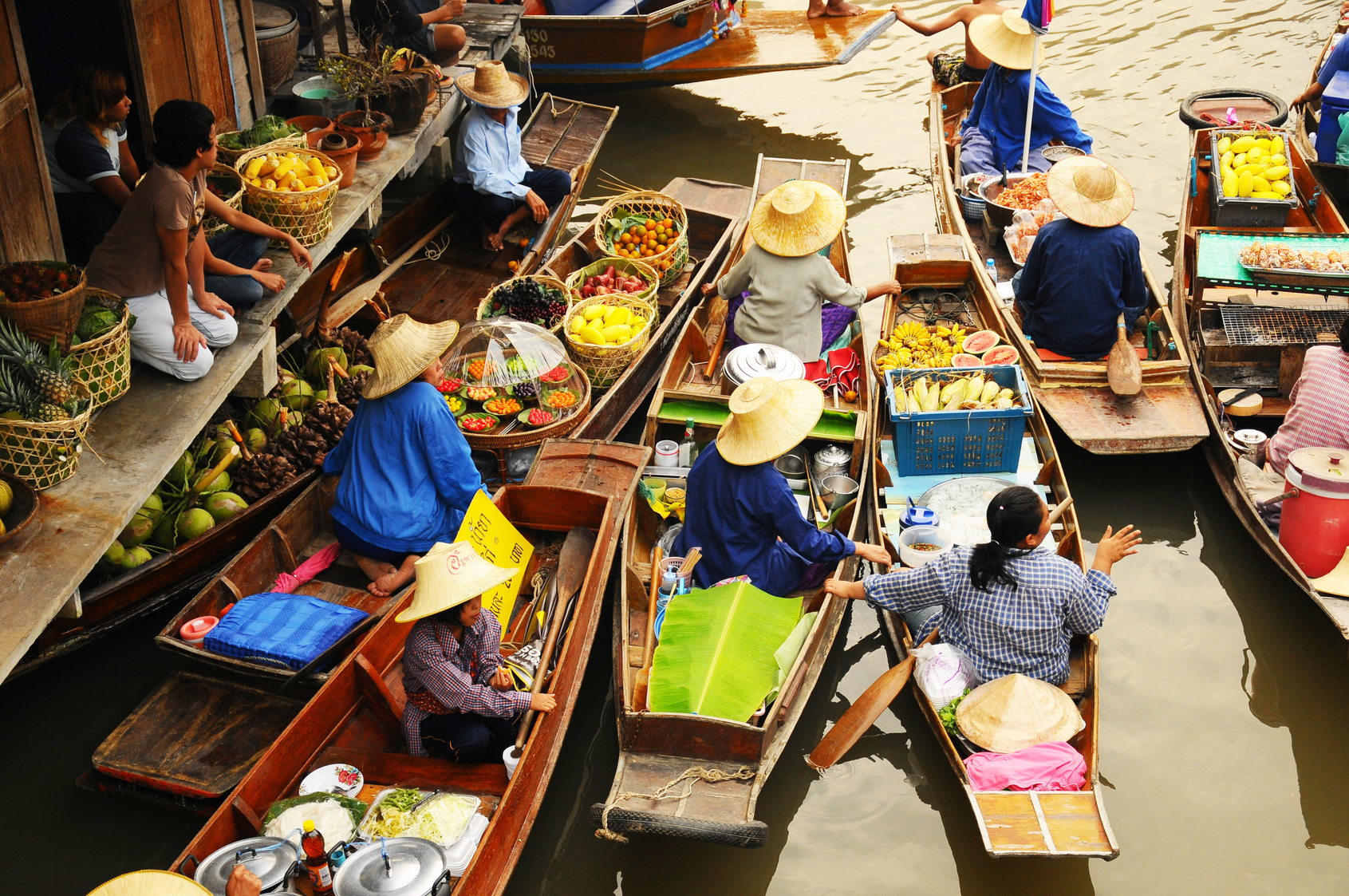 Floating market tours are offered by the bucket-load and are a convenient way for Bangkok visitors to sample this experience. However, such tours tend to only head to a few of the options so if you want something a little more authentic you will have to make your way DIY style. For a chance of being the only tourist in sight head to Khlong Lat Mayom. Other floating market options scattered both close to the centre and a little further afield include Amphawa (one of the most included on tours), Taling Chan, Bang Ku Wiang and Tha Kha. Damnoen Saduk is perhaps the most visited of the floating markets by foreigners as it is the most heavily featured on tours. So, although it is the original mother of all the city's floating markets, it tends to be the most touristy.
8) Wat Pho – Bangkok's Most Visited Giant Buddha
Wat Pho temple complex is so huge it ranks as one of the country's largest as well as one of Bangkok's oldest. However, these details are not what make this temple one of the capital's most visited sites. That is due to a building tucked into one corner known as the Viharn Phranorn and the fact it is home to a reclining Buddha so large it almost appears to be trying to escape the confines of its location. The gold-leaf covered image is a whopping 46 metres long and unlike large standing figures which soar off into the air the vastness of this one can be fully appreciated by walking its length.  The feet – which are mother-of-pearl encrusted – measure 5 metres on their own.
As most come here simply to pay their respects to this impressive statue in the Temple of the Reclining Buddha and then leave the rest of this incredible complex is often only lightly peppered with visitors exploring its other treasures. The Wat Pho complex's whole is a collection of ornate pavilions, halls, towering chedi, a small museum and some lovely gardens. It is also home to a collection of ancient knowledge epigraphic archives made up of inscriptions, murals, tablets and texts of such global historical significance they have received recognition through a UNESCO World Heritage programme. While you will need a guide to fully appreciate the content their beauty and detail are obvious to everyone.
Another highlight is a collection of Buddhas so vast it is one of the nation's largest. These hundreds upon hundreds of images of every shape and size are part of a 1000+ collection amassed by King Rama I during his drive to salvage sacred images from temples destroyed during the 18th century Burmese invasion. Often arrayed in seemingly endless lines these golden Buddhas are an impressive sight.
9) The Chao Phraya River – Khlongs, Cruises & Canals
It is impossible to be in Bangkok for very long without noticing the vast body of water which bisects it….  the Chao Phraya River. While it is an unmissable natural feature this waterway has also played a huge part in the entire Bangkok story which stretches from its ancient beginnings to the present day. Today watercraft of every size, form and purpose are constantly busy on the water – from ferries commuting locals to work to barges transporting cargo upstream. Branching off from the mighty river is an intricate labyrinth of canals and inlets which has given rise to Bangkok sometimes being referred to as the Venice of the East.
Getting out on the water in some form during your time in Bangkok doesn't just give you a different perspective but can quite possibly take you to parts of Bangkok you would otherwise never know existed.
The easiest and cheapest way to do things is to take advantage of the huge Chao Phraya Express network of boats and ferries which run three or four times per hour. The company operates several different routes which serve both tourists and locals and can be boarded from a total of 30+ piers spaced along the riverbanks. Some of the boats' routes cover a large portion of the river which makes for a wonderful whistle-stop tour of some of Bangkok's main sights if you stay on for the whole journey. If something looks like it needs closer inspection you can hop-off to take a look and catch another boat when you have finished exploring. If you just want to cross the river to get to some of the temples you can do so for less money than it costs you to make a visit to one of the city's public toilets.
Tourist boats – a little less frequent than the Chao Phraya Express – are another way to go about getting some river time. These also serve a number of piers and have the added bonus of pointing out what you are seeing as you glide by the riverbanks. Otherwise boat tours come in many guises from longtail boat trips to dinner cruises. If you want to escape the busy river and explore the canals and khlongs it's only possible with smaller boats as many of these waterways are narrow and shallow. You can either negotiate a private deal with a driver from one of the piers or alternatively there are plenty of canal route tours up for grabs. The Thonburi khlongs are a doorway into a whole other Bangkok virtually untouched by tourism. Here you will pass temples, traditional wooden homes, modern houses and stilted shacks which seem held together with nothing more than hope, all mixed in together. The smaller khlongs will also deliver sights of people going about their uncomplicated daily waterside lives washing themselves and clothes in the river and offering cheery greetings as you pass by.
10) Wat Arun/Temple of the Dawn – A Feast for the Eyes and a Dizzy Climb
With a prominent position on the banks of the Chao Phraya River and a distinctive outline of a soaring spire surrounded by four smaller spires Wat Arun – once a royal temple – instantly becomes a familiar sight to all who visit Bangkok. Additionally, after dark, it is spectacularly lit which makes it hard to miss. From a distance this temple – known to Westerners as the Temple of the Dawn – can appear almost drab, bereft of the glittering aspect of other temples. However, all those who take a closer look realise not only is this temple very different to the capital's others but stunningly beautiful. Many consider Wat Arun the most beautiful of all Bangkok's temples, if not in the entire country, and, once explored, it isn't hard to understand why. Virtually the whole of this temple is encrusted with mosaics made up of porcelain pieces and coloured glass. The detailing is so elaborate you could spend long hours trying to take it all in.
Each of the spires' or prangs' bases comes complete with unbroken circular processions of carved figures which appear to be holding up different layers of the structure. Represented here are warriors, demons, animals and more – each decorated differently to its neighbours and producing an overall stunning effect. Where the architecture is free of figures you would be hard-pressed to find more than a few inches of space not decorated in some way using plain and painted china shards, shells and glass. The story goes that most of the china used here once served as ballast in the China to Bangkok trade ships of that time. Added into the whole are further Buddha images and some decidedly bizarre-looking statues.
It is possible to climb the soaring central prang but this is not one for vertigo sufferers. The ascent is made by way of an external stone staircase which gives steep a whole new meaning. For the bold however the reward is an incredible Bangkok view which takes in both Grand Palace and Wat Pho across the river.