1) Uluru/Ayers Rock
The huge, solitary sandstone rock formation known as Uluru is so iconic it is instantly recognisable to people from all over the world. Seemingly placed in the middle of nowhere, this UNESCO World Heritage listed site – which includes the surrounding area as well as the rock itself – is home to an exciting world of waterholes, caves and ancient art.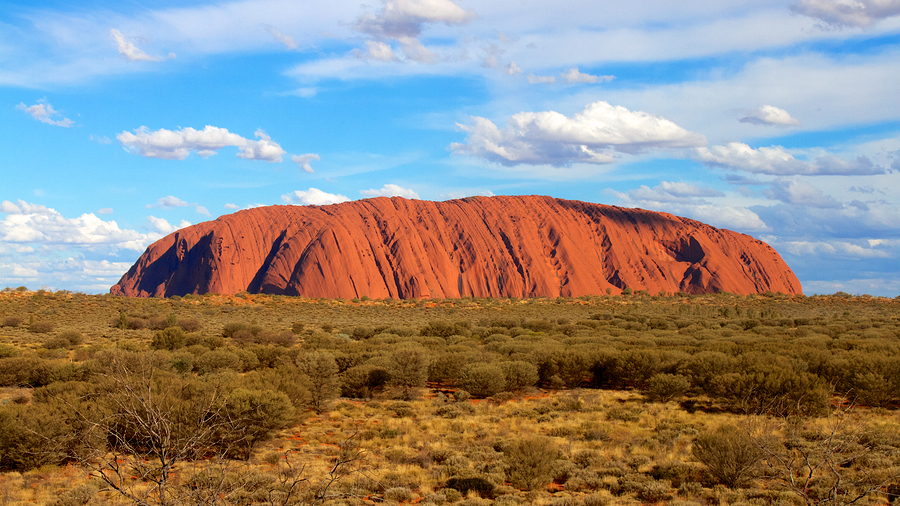 Sunrise and sunset are widely considered to offer the most magical viewing times – this is when the rock glows in reflected shades of vermilion and tangerine.
Climbing the rock is possible but it's your call whether your conscience allows it; Uluru is sacred to the local Aboriginal people who ask that visitors enjoy the area without scaling the rock's heights.
2) Aboriginal Experiences
Whether you are looking for total immersion or merely a glimpse into this rich culture you will have opportunities by the bucket load here. With a history stretching back 50,000 years or more, the Aboriginal culture of Australia is a jewel-spangled tapestry of myth, dance, music, art and an intimate relationship with the land.
Ancient rock art – of both the easily accessed and the hidden treasure variety – is peppered liberally around the country as are opportunities for indigenous-led tours. Here anything is possible – learn to fish using age-old methods, try your hand at some Aboriginal style painting, go foraging for food which you will then learn how to prepare, craft your very own spear or sit around a camp-fire listening to 'Dreamtime' stories.
3) The Great Barrier Reef
Dive, snorkel, ride in a glass bottom boat, take an overnight cruise – it doesn't matter how you do it – just make sure you do it. The world's largest reef – which just happens to be the earth's only living organism viewable from space – stretches for a whopping 2500 km (1,500 miles) along and beyond  the Queensland coast.
The beaches and waters of this area – especially the Outer Reef – are heart-achingly beautiful but if you duck your head below the surface you are going to find yourself in an aquatic wonderland bursting at the seams with colour and biodiversity. Stare into the eyes of a turtle, swim alongside elegant manta rays and be bedazzled by hordes of rainbow coloured fish, starfish, sea urchins and corals. The reef is also home to more than 30 species of whale and dolphin so keep your flippers crossed and you might get lucky there too.
4) Swim with Whale Sharks
Although the word shark may strike terror in the hearts of many you have nothing to fear here – these docile plankton filtering creatures, which can measure up to 12 metres (41 feet) plus, are one of the ocean's gentle giants. All the same, knowing you're not on the menu is unlikely to prevent a heart-stopping moment or two as you catch a snorkel-masked eyeful of this behemoth heading towards you with its mouth open – a mouth that can measure up to 1.5 m (4 ft, 11 in) across.
Snorkelling with the planet's biggest fish is not something you will forget in a hurry and it's all possible at Western Australia's Ningaloo Reef – the biggest fringing reef in the world.
5) Sydney Harbour Bridge Climb
If you're into scaring yourself silly from a great height the opportunity to scale one of Australia's most iconic landmarks is a must. The Bridge Climb offers a few ways to get yourself high above the hustle and bustle of the metropolis which range from fast-as-you-can challenges to more leisurely paced ascents and climbs suited to the nervous. There are even special event climbs such as the Mardi Gras Disco Climb where you can celebrate your achievement by shaking your thing under a flashing disco ball perched 134 m above Sydney.
However you do it the 360° panoramic views of Sydney, the Blue Mountains and the Pacific Ocean are guaranteed to leave you breathless. What's more – you also get to choose your time of day with dusk and dawn climbs being especially popular.
And in case you're thinking this is an adventure only for the super-fit you may like to know that the bridge's oldest climber was Mrs. Chris Muller aged 100.
6) Get an Adrenalin Fix
There's any number of ways to get your pulse racing in adventure loving Australia and no visit to this country is quite complete without at least one sampling of the extreme. On the menu are bungee jumping, skydiving, great white shark cage diving, white water rafting, scuba diving, hard core bush camping, zorbing, jet-boating, camel-rides and a few more adrenalin-junkie-friendly choices.
Just think of the posts you'll be able to make on FaceBook.
7) Take a Food Tour
If your idea of a food tour conjures up images of silver-haired stuffy tourists you've never been to Australia. The Aussies love their food and wine and they live in a land which produces some of the finest versions of both, found anywhere on the planet – from straight-from-the-ocean seafood to artisan crafted beers – this is nothing short of the gourmets' and the gourmands' dreamland.
Food tours come in a mind-bogglingly wonderful range – from tours completely geared to serious choc-o-holics to experiences which will see you tossing another shrimp on the barbie as you watch the sunset on the majestic Uluru.
For something truly different you can opt into one of the food foraging tours. Along with discovering you own free dinner, you may encounter all sorts of native flora and fauna while learning heaps about the history, culture, myths and geology of the world around you.
8) Kangaroo Island
Just 15 km south of Adelaide lies what is often heralded as South Australia's jewel in the crown – Kangaroo Island. Yes, there are kangaroos here – no prizes for guessing that one – but this pristine island is also home to many more of the iconic and must-see categories of Australian wildlife. This includes platypus, wallabies, echidnas, koalas, goannas, possums, fairy penguins…….and that's just the tip of the ice-berg.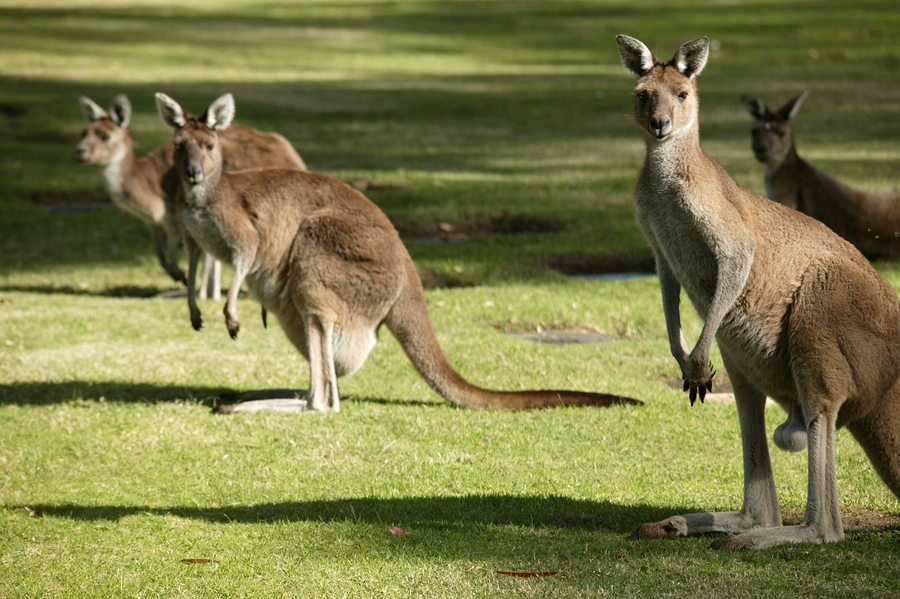 Deserts, beaches and forests make up this 150 km long natural idyll where more than 33% of its land is given over to national park or conservation areas.
Whether you're intent on watching the world's smallest penguin – the fairy or little blue penguin – waddle ashore or swimming with dolphins – it is all possible here. Also on the menu are caves to explore, snorkelling with rare-as-rocking-horse-teeth leafy sea-dragons, sand surfing giant dunes or simply soaking up the sun on one of the beautiful beaches.
9) Explore Kakadu National Park
You can't go far in Australia without stubbing your toe up against a national park and all of them have their own special something. However, World Heritage listed Kakadu National Park in the Northern Territory has all sorts of special treats within one – albeit vast – area.
With its Aboriginal history stretching back 50,000 years, this park is set amidst a landscape of weather-carved towering escarpments, vast savannah plains, lushly forested woodlands and verdant wetlands. Here you can visit rock-art galleries, swim beneath cascading waterfalls, watch sunbathing crocodiles, cool yourself in idyllic waterholes and otherwise immerse yourself in this region's stunning natural beauty.
10) Take a Surf Lesson
In a country where surfing is so much a part of the culture it is on the curriculum of all coastal-based schools, taking a surf lesson is almost a compulsory part of any Australian trip. Should you decide to try your hand at board-riding there are uncountable numbers of surf schools and coaches ready and willing to get you up and having a ball. Although not all of Australia's 50,000 km of coastline is surfable there are great swathes of beach and reef which offer plenty of choice for all comers – from the total beginner to the kamikaze pro.
If you want to be sure you're getting the best instruction rather than trusting your safety in the hands of some chancing beach-bum, check out which Australian surf schools or instructors have been properly accredited/approved at www.sasurfschools.com.au