1. Wat Rong Khun – The White Temple, Chiang Rai
No matter how temple-jaded you get in Thailand – and it will happen – the stunning White Temple will blow you away. This free entry temple, which incorporates orthodox Buddhist teachings along with some very modern and quirky twists, is a cross between a fairytale castle and a sugar-frosted wedding cake which will dazzle you figuratively but quite literally too. The pure white colour scheme combined with a gazillion mirrored tiles means gazing upon it on a sunny day is almost impossible without sunglasses.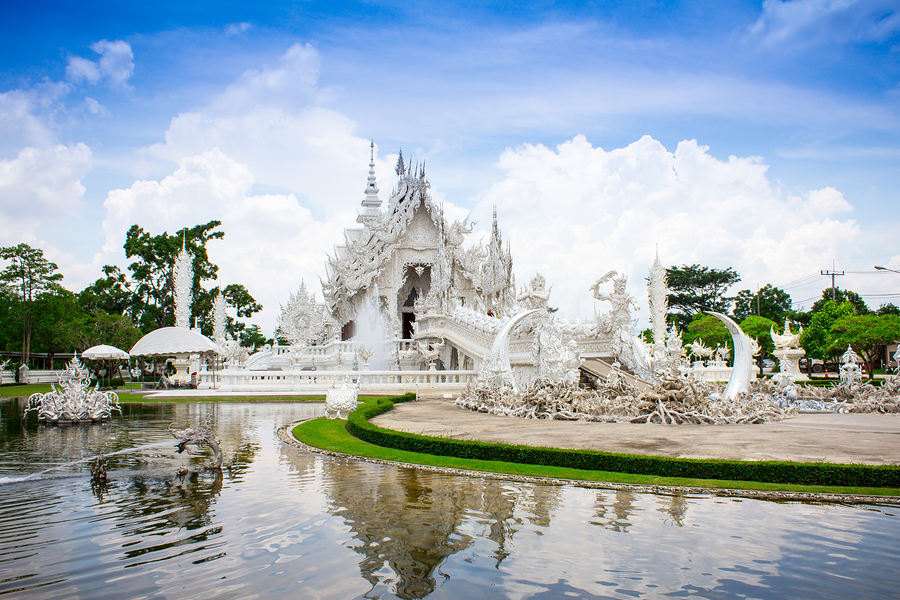 The temple itself is approached via a pathway across a lake from which sprout hundreds of disembodied ghostly hands clutching skulls, while the bridge in front is guarded by demons and mythical creatures – all in white of course. Once inside the temple it appears much as any other when facing forward but turn to the giant mural on the back wall and pick out Harry Potter, Neo (The Matrix), Superman, Hello Kitty and others.
In the grounds you will find all sorts – 'Predator' pushing himself through the grass, railings topped with grinning skulls and wishing trees complete with thousands upon thousands of inscribed tin ornaments which tinkle in the breeze. Last but not least are the golden toilets, perhaps the most opulent way to spend a public penny in the whole world.
2. Ko Tarutao (Tarutao Island)
Thailand has countless idyllic islands – many of which have become party central which is great if that is what you're looking for. However, if you dream of experiencing how the Thai Islands were before the crowds arrived and hanker after some Robinson Crusoe castaway-like days head for Ko Tarutao where the only thing you'll be sharing the beach with most of the time will be the monkeys.
Complete with the Thai island trademark of dazzling white beach fringed by turquoise and emerald toned crystal clear waters, you can camp right on the sand here and even hire the tent. Alternatively string a hammock between swaying palms or rent a little cabin.
There is one canteen-like restaurant on the island where you can buy meals and one tiny shop which seems to open only when it feels like it (intermittently) or has something to sell (sometimes) so make sure you bring what you need from the mainland.
Better get there quick though before the secret is well and truly out.
3. Do Some Voluntary Work
If the idea of cultural immersion and interaction with locals are things which motivate your travels consider doing some voluntary work. This gives you instant access to many things which you'd never find with simply your tourist or traveller hat on. There is often the chance to live with a local family for instance where you will suddenly become not just a close-up observer but part of how daily life unfolds for the people who call Thailand home.
No matter what your age or skill set there is voluntary work out there which will suit whether you want to commit to just one day or several months. Steer clear of the lots-of-placements-here-but-pay-us-tons-of-cash-first type companies and instead look for genuine and worthwhile free or low cost options which can be found through websites such as www.truetravellerssociety.org, www.independantvolunteer.org and www.ecoteer.com
4. Learn to Dive
Thailand is one of the cheapest places on the whole planet to learn to dive and with a host of reputable dive outfits along with some of the best diving spots in the world it probably doesn't get any better.
One of the most popular spots is beautiful Ko Tao which has more budget options than you can shake a stick at while live-aboard dive courses bound for the idyllic Similan Islands, which lie off Thailand's east coast, are also an option although more pricey.
If you're strapped for time or cash then consider one of the 'try dives' offered all over which won't get you qualified but will get you gazing in astonishment at the underwater world through a mask.
5. The Grand Palace, Bangkok
It's highly likely that your Thai adventure will start in Bangkok and there is no better way to introduce yourself to the wonders of this country than through the Grand Palace. The official residence of the Thai kings for 150 years, the complex is made up of too-many-to-count buildings, halls, pavilions, temples and courtyards and much of it on such a grand scale it becomes almost overwhelming. Constantly aglitter as millions of glass mosaic tiles catch the sun, the elegance and opulence of the Grand Palace complex will hit you every time you round another corner leaving you unsure which way to look first and almost bringing on a sensory overload.
A ticket for the Grand Palace will also give you entry to the Wat Pho next door – Bangkok's oldest temple – in which you'll find an enormous reclining Buddha.
6. Have a Thai Massage or a Fish Spa
If you're thinking gentle relaxing massage you may want to give this a miss or head to Sweden instead; Thai massage will leave you feeling marvellous and kink-free but can feel a little brutal at the time. But you have to try it at least once if only so you can talk about it. Alternatively, should Thai massage not appeal, opt for a fish spa in which you sit with your legs dangling into an oversized fish tank while its inhabitants nibble away at all your dead skin cells leaving your feet silky smooth.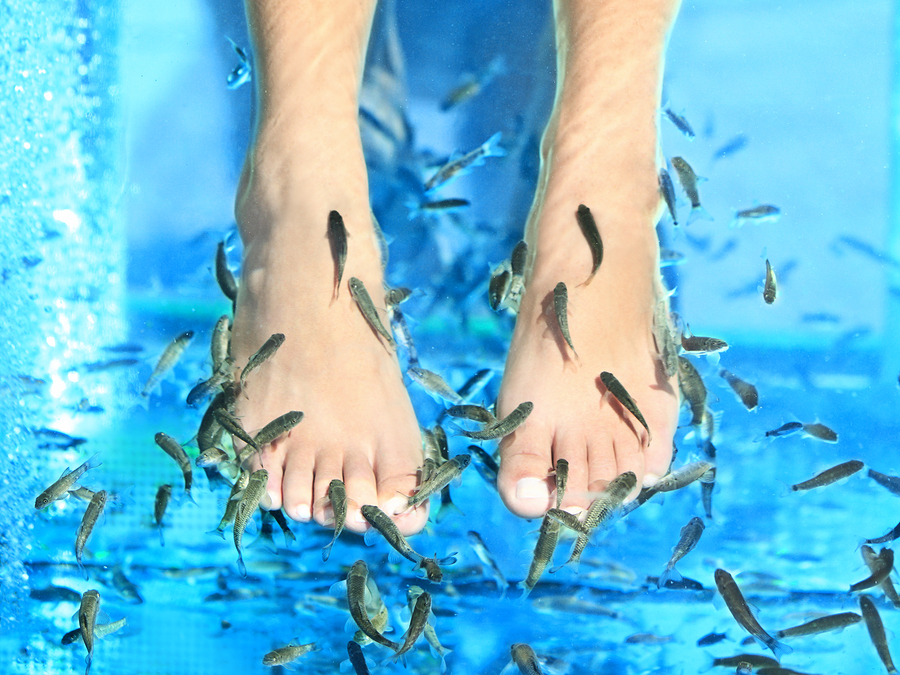 7. Sample the Street Food
Many Westerners become a little squeamish on the subject of street food, convinced it's a fast-track to food poisoning. If this was in fact true then Thai folk would be dropping like flies because they eat here all the time. We understand that a scorpion on a stick may be a step too far for many but if you avoid street food altogether you're going to be missing out big time. Always the cheapest and regularly as good as it comes, Thai street food typically offers the most authentic culinary experiences. General rule of thumb – if you see a queue of locals at a stall chances are it's safe and it's delicious.
8. Thai Boxing/Muay Thai
To those more used to Western-style boxing Muay Thai can appear to be a bout of anything goes in a flurry of hands, elbows, knees and feet, too fast for the eye to follow. In Thailand, Muay Thai is almost more religion than sport and any male of any age who has any level of skill in this area will flaunt it like a badge of virility. Live bouts can be viewed everywhere and should you feel so inclined you can even take a course.
9. Kanchanaburi
Anyone interested in WWII history should spend some time in Kanchanaburi – the site of the famous bridge over the River Kwai. This bridge was part of what is now known as the 'Death Railway – a project undertaken by the Japanese occupiers using forced labour made up of British, Dutch, Australian and American prisoners of wars and impressed Asian civilians. Exact numbers of deaths from disease, malnutrition, brutality and accident are not known but run into many thousands.
Kanchanaburi is home to the excellent JEATH War Museum, the quirky and somewhat random War Museum, the highly rated Thailand-Burma Railway Centre and the poignant War Cemetery. A little further afield is 'Hellfire Pass' – a deep railway cutting made by hand through rock by POWs and totally worth the trip.
10. Night Bazaar, Chiang Mai
Even if there is nothing you want to buy a wander along the 1 km of the super-colourful night bazaar in Chiang Mai is a must. Expect your ears to be assailed by music and the sounds of travellers haggling their way to a bargain while multitudes of coloured lights hang everywhere and the air is filled with the aromas of a hundred different types of food being cooked and served.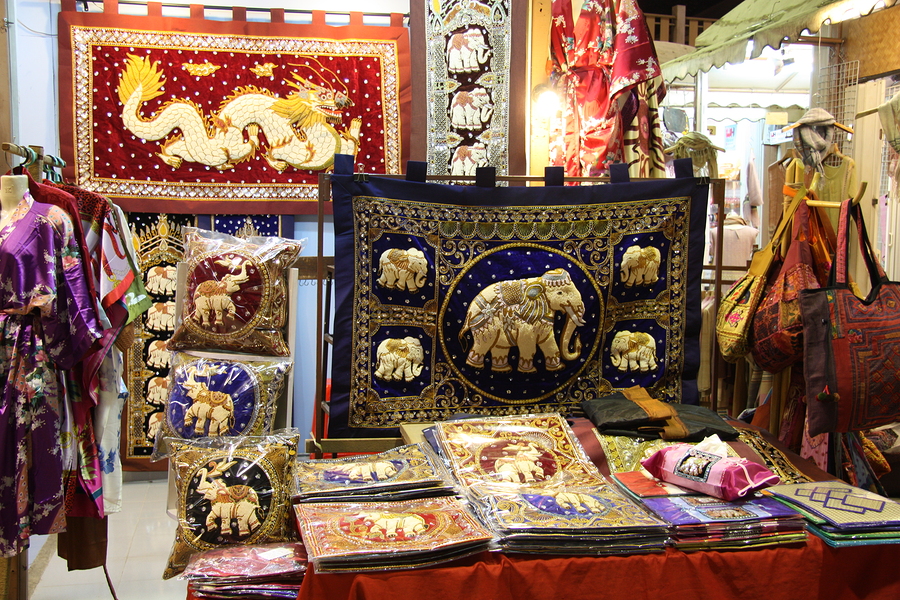 If you are tempted by the Thai crafts and local goods or the jewellery, belts, bags, clothes and (mostly fake) designer goods then be aware that haggling is almost compulsory and definitely part of the whole experience……just remember to smile.