The USA is enormous. Cradled within its vast boundaries is every type of natural splendour and terrain possible – pristine wilderness, gleaming beaches, snow-topped mountains, other worldly deserts, spectacular natural features and formations, forests which stretch over areas as big as countries and a whole lot more. It is also home to some of the most instantly recognisable cities on the planet – San Francisco, New York, Las Vegas, New Orleans and so forth.
Factor in such things as some great regional food, a hugely welcoming people, some seriously iconic destinations for music lovers and enough activities to feed a thousand bucket lists and you may start to see what is so great about the USA.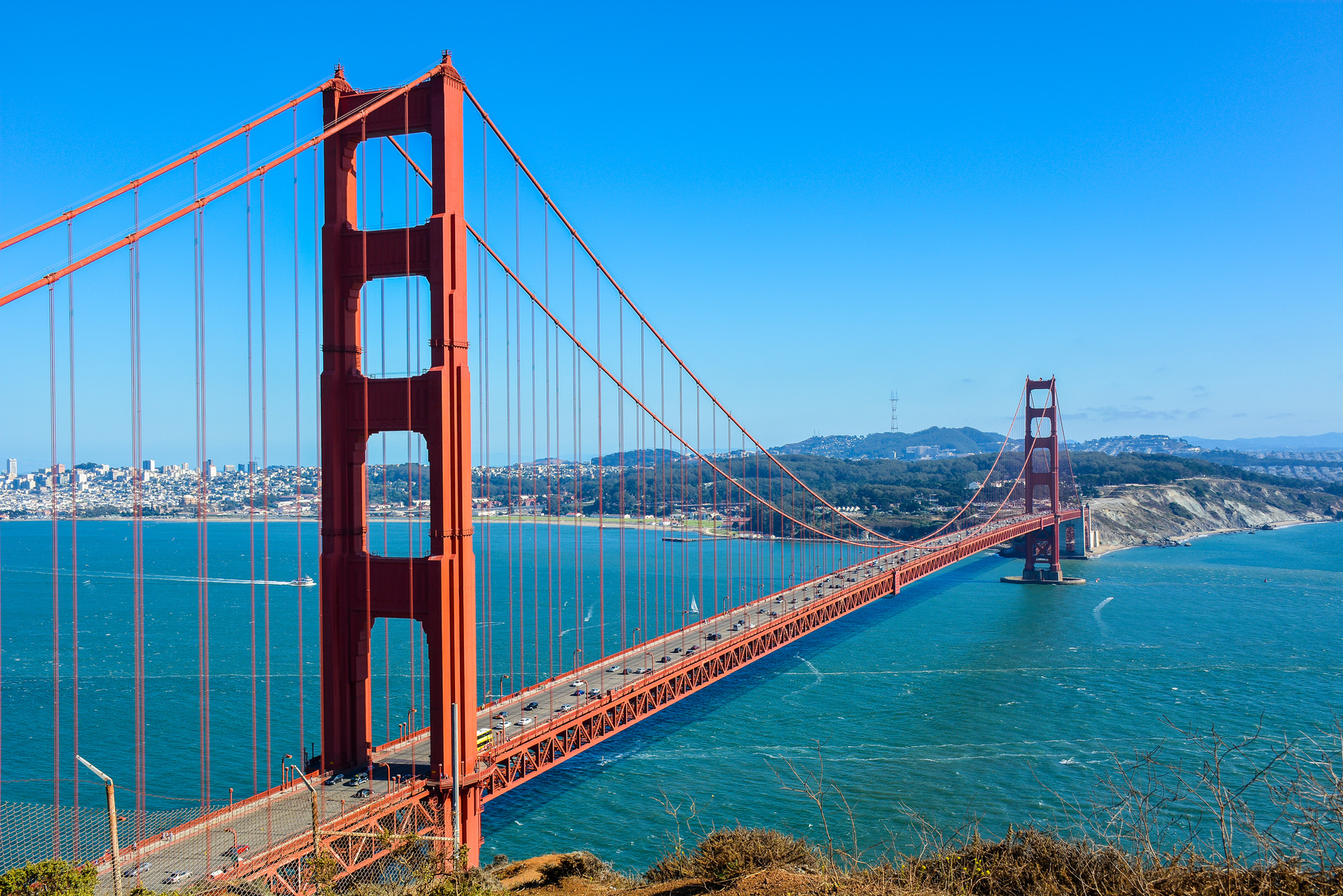 Yet still the USA is seldom visited by the backpacker and globally nomadic set and there is a very simple reason for this – backpacking here is typically hard and expensive. There is no defined tourist infrastructure, cross-country public transport is at best highly limited and costly and in the majority of cases totally absent and hostels, although present in the cities, are not a big thing here. In other words, each of the things most important for a backpacker (who typically by definition is someone travelling on a budget) are in short supply.
However, if you are a city slicker and only intend to hit the major metropolises or are prepared to make some extra compromise and effort (especially if you can hire a car) the United States can still be a dream destination.
Visa Requirements
Up until relatively recently gaining entry into the USA for foreign visitors was something of a confusing and laborious process. However, in 2009 the Electronic System for Travel Authorisation (ESTA) was introduced and made everything a whole lot easier.
This visa waiver programme allows citizens of a multitude of countries – including the UK, New Zealand, Australia and many European nations – to enter the US for a period of up to 90 days. ESTAs must be obtained at least 72 hours before travel and the online process is both fast and cheap. You don't even need to travel with an ESTA copy as all records are stored electronically.
The majority of airlines will not allow passengers to board flights to the US unless they have an ESTA. Additionally you must have proof of onward travel out of the states and the financial means to support yourself while there. Although you might not be asked to show these, random checks are made in both instances.
ESTAs are valid for a continuous 2 years which means you can leave the United States and re-enter under the same ESTA.  If you wish to remain longer than 90 days you will have to apply for a visa – a process which can be drawn out and time consuming. If you are intending to use the re-entry condition under the ESTA programme to get round this by crossing a border and coming back in be warned – neither Canada or Mexico typically count as 'leaving the country' so you will have to exit to somewhere further afield.
Medical Costs – Travel Insurance is a Must!
The United States has the highest medical costs in the world. Very real stories abound of families having to sell homes in order to finance life-saving operations and treatment courses for loved ones. Additionally, many US citizens without adequate health insurance live in constant fear of getting sick – both with regard to non serious illnesses and accidents or graver health problems.
It is therefore essential you take out appropriate travel insurance which covers medical costs. Even something as simple as breaking an arm here can add up to thousands of pounds or euros. Because medical costs are so high here the insurance premiums tend to be a little higher too compared to other destinations in the world. Most European companies categorise their cover as 'Europe', 'Australia and New Zealand', 'the rest of the world excluding the US and Canada' and 'the rest of the world including the US and Canada'.
Weather, Climate & Weather-related Hazards
The United States is far too huge to sum up its weather in a few lines. Every region and state varies and sometimes varies on a grand scale while seasonal variations can also be enormous in just one location. If what the weather is doing while you are in the States is something which could make or break your time there it makes sense to check out the specifics with regard to the time of year you'll be travelling and where.
The US is prone to hurricanes and sometimes with catastrophic results as was seen in 2017 in the Florida region and Texas and in 2005 in New Orleans with wide-scale flooding, destruction and loss of life. The hurricane and tropical storm season runs normally from June to November and the areas most prone lie in the country's south-east corner.
Tornadoes can occur at any time of year and are especially common in 'Tornado Alley' whose core includes Oklahoma, Kansas and northern parts of Texas.
Some parts of the US are prone to white-out blizzards in winter while in summer the driest areas can be prone to wildfire.
TV reports and local authorities will always have the latest news and advice for how to deal with any of the extreme weather problems mentioned here.
Safety Matters
Without getting into the messy debate about gun ownership in the USA it has to be said that the country doesn't score too well on the Global Peace Index. It ranks 114 out of 163 nations. However, there are many contributing factors to this ranking and as a general rule most US visitors not only have troublefree visits but don't even witness problems of any kind beyond perhaps petty theft.
In order to keep yourself safe it is important to be aware of any no–go areas in any city you arrive in; something your hostel or hotel staff will be able to help you with.
The USA does have a fair few dangerous animal species including poisonous snakes, bears, mountain lions and alligators. If you are planning to get into the natural areas there will always be local advice you can tap into or warning signs in higher risk areas
Accommodation – City Hostels, Camping & Couchsurfing
Almost without exception, the favoured budget backpacker's accommodation of choice is a hostel. And that is a bit of a problem in the USA because not only do they not really exist outside of the cities but nor do any other relative low cost choices either. The best a budget traveller can hope for in the smaller towns or non–urban areas is motels and low–end hotels. In short, that means a huge chunk of your travel funds will go on accommodation, although there are a couple of options such as camping and Couchsurfing which will keep the costs down.
The Hostel Question
In the cities hostels exist but the choice is usually limited and the lack of high numbers of competition keeps the prices relatively high. The average price for a dorm bed in the US would buy you a dorm bed in Asia for a week or more.
The other perhaps surprising thing about such an advanced high–tech modern country is the standard of the hostels which simply put is often below par or disappointing. And as the whole hostel concept is really not something fully embraced or understood hostels are often sadly lacking in facilities or those little touches which mean so much to a traveller.
Do great hostels exist in the USA? Most definitely but as they are not the standard it might take some hunting them down. The best of the bunch are usually Hostel International (HI) who have more than 50 hostels in the States. Typically they are not one of the cheaper options but you get a lot of extras for your money such as breakfast, TV rooms, sometimes a pool, kitchens, common areas, gardens, onsite cafes or bars, laundry facilities, books and boardgames and more.
You can buy an annual membership which will save you money once you have stayed 6 or more nights in total in any HI hostel. Annual membership also comes with a few other benefits and is valid in HI hostels worldwide.
Motels & Low-end Hotels
Although 1001 movies may have put you off the idea of motels which tend to be depicted as dens of vice or creepy the truth is motels are often cosy and comfortable places. They can work out cheaper than a dorm bed, especially if you are travelling as a couple or with a friend and tend to come with coffee making facilities and breakfasts as standard. They may even have a swimming pool.
Although many motels are independent outfits there are also some chain providers such as Days Inn, Super 8, Holiday Inn, Motel 6 and Americas Best Value Inn.If you are driving, highways are often punctuated liberally with roadside discount hotels. And just in case you are wondering the main difference between a hotel and a motel is usually in the amenities provided. Motels tend to be more basic and usually cheaper.
Camping
Campsites are typically the cheapest option and in many parts of the USA there are huge areas of public lands where you can camp without paying a cent. All of the national parks have inexpensive sites too (either in or around) where the level of stunning in the locations of many will blow your mind.
There is also a 'Camp in My Garden' scheme which sees locals offering up camp land or backyards for a small fee. However, unless you have a car there is absolutely no way to get to them. The costs are added to again if you have to buy your camping gear although there are places where it can be rented as an alternative.
Couchsurfing
What is now the enormous global bed–for–free network known as Couch Surfing all started right here in the USA. A huge number of hosts can be found all over the country and as other alternative budget accommodation choices are few to none it is much used by travellers in America.
Food & Drink
The Cost of Eating
While travel and accommodation costs are not much of a friend to the budget backpacker food is another matter. If your tastes run to gourmet it might be a little more costly but otherwise fast food outlets, bakeries, cheap diners, roadside cafes and sandwich shops are all falling over themselves to get your custom.
The other thing to be taken into account here is the portions – simply put they are enormous and at times can verge on alarming and even downright overwhelming. However, what this means for you the thrifty traveller is that many meals – with a little help from a supplied doggy bag and willing waiter – will actually serve as at least two and sometimes even three or four meals….if you don't mind eating the same thing several days in a row.
Even mid–range restaurants can appear low cost especially for visitors from some European countries. Prices in the cities will always be higher – and sometimes way higher – than those in surrounding rural areas as is indeed true of just about anywhere in the world to a lesser or greater degree.
Many backpackers are accustomed to preparing their own food as a way to keep travel costs down. Of course the same applies in the US in theory but bear in mind that many hostels don't even have kitchens and you certainly won't have cooking facilities in any of the other accommodation options.
Added Costs – Tax & Tipping
As the cost of eating is typically more backpacker friendly than other expenses it can be easy to get a little carried away on first reading a menu. However, it is important to remember that the price you see is usually not what you will actually end up paying. First there is the compulsory sales tax which will differ depending on what state you are in but is calculated as a percentage of the price. Then there is the whole subject of tipping – a totally integrated part of US culture (see below for a little more on this) which in many places is added to the bill automatically.
Regional Cuisine & Local Specialities
Almost every state in the US has some kind of food or dish which they claim as their own. In some cases the regional cuisine is especially notable and different such as with the Cajun dishes of New Orleans and Louisiana. One example of a regional speciality is found in Illinois and known as a 'horseshoe'. This plate of heart attack inducing cholesterol and carbs which typically comes in a behemoth–sized portion is thick bread layered with French fries, meat and smothered with a cheese sauce.
How to Get Around – Transport Options in the USA
The US is a nation of car owners. The only people in the country who don't have them are the very poor and the travellers. In essence what this means is if you plan to stay in the cities you'll be fine but anything else is going to be challenging to impossible without  a car. Even getting to relatively near city surrounds via public transport usually can't be done and if you have long distance travel in mind you will be faced with limited choice that is expensive or no choice at all.
By air – As the distances between destinations can be so enormous in the States flying is always going to be your fastest option but it can be very expensive. Some destinations on the other hand can be cheaper to get to by air than by any other means especially when using international hub airports like Miami, New York and Houston.
There are more than 20 regional airlines in the US as well as the international flyers so you can often find deals and discounts, especially if you book well ahead.
Trains – The bottom line is trains simply don't go to a lot of places although coastal areas tend to be better covered and Amtrak do have some cross country journeys. Train travel is typically more comfortable and scenic than bus travel although generally more expensive and flights are often comparable in price or even cheaper than train tickets.
Long distance trains are operated by Amtrak and if you intend to do a lot of train travel you can save money by buying one of their passes.
Bus – As with the trains, the most extensive networks are centred around coastal areas. It is worth knowing that pretty much the only folk using longer distance buses are people with very limited funds and travellers. As a result, buses often depart and arrive from some truly dodgy areas of towns and cities and depots are typically unsavoury places patrolled by police and security. Keeping an eye on your belongings is not just advisable but essential.
Overall, although bus travel tends to be the cheapest of all the options it is still far from low–cost if you want to go long distances and can easily involve fares of three figures.
Greyhound is the major player, covering major towns and cities and typically travelling on highways. You will have to transfer to local bus networks to get anywhere smaller. Online fares are always cheaper than counter–bought tickets and there are occasionally mega–deals up for grabs.
Trailways are also a big bus concern along with MegaBus and BoltBus which principally operate coastal networks.
All of the major bus companies offer incredible long distance $1 fare deals which are great in theory but getting your hands on them is another matter. It is all in the timing and technique and the internet is full of articles on just how to snag yourself a 100+ mile ride for $1 if you are interested.
Car – As we have said several times already, having your own car is really the only way to go if you want to get outside of the bigger cities and towns. There is no other way to get off the beaten path. If renting a vehicle is a possibility for you of course the great American road trip is an iconic journey and you will have total flexibility to go exactly where you want on nobody's schedule but your own.
If costs are shared and there is more than one of you renting a can often be the cheapest way to go (depending on your age for the insurance premium and underage surcharges) as fuel is cheap. There are heaps of hire companies to choose from. Do be aware however of one–way fees if your pick–up and drop–off destinations are not the same and remember some of the driving distances are vast.
Even if you have originally set out solo finding a rideshare companion is usually not too difficult. Pin up a note in your hostel. There are usually plenty of fellow travellers suddenly discovering it is impossible to get anywhere out of the cities without a car and looking for a ride with shared costs.
Hitchhiking –Hitchhiking is really not an option and is actually illegal in some states. There have been some major incidents regarding hitchhike safety although ironically and contrary to what you might think it has typically been the driver and not the hitchhiker who has been attacked.
The Tipping Culture
Probably nowhere else in the world is tipping as standard or quite as widespread as it is in the US. Other cultures understand tipping per se but it is often very different. In the UK, for example, many service users will only tip when they receive attention which goes beyond the expected norm. In the US it is something akin to obligatory – certainly from an ethical standpoint. Forgetting or deciding not to tip someone here is seen as the height of rudeness and tight–fistedness. It is worth remembering that if you have ANY intention of returning back to somewhere you didn't leave a tip you can probably wave goodbye to any kind of service with a smile in the future.
Tipping exists in many cultures, as we have said, but only for a handful of services. In the US you can add whole other groups into the mix. So who do you tip?…Anybody who provides you with any kind of a service, from carrying bags to car repairs, tour guides to taxi driving and from bar tending to beauty salons. How much?…A good default percentage is 15% to 20% but there are exceptions such as a bar tender which tends to be $1 a drink.
You can of course refrain from tipping for the whole of your US travel adventure but there are going to be times when doing so and the reactions you will get are going to take some real fun out of your time here. So unless you have a hide of leather you will need to factor tipping costs into your overall budget and it can add to it considerably at anything between 10 per cent to 20 per cent of the base charge. You might also like to know that in many of the industries for which tipping is the norm – such as waiting at tables – employers are allowed to pay below average wages, so without tips staff in these jobs would be working for next to nothing.
Making your Money Go Further – A Few Money Saving Schemes
Backpacking is all about keeping the costs down so here are a handful of money saving schemes –  some of them already mentioned – which might help you stretch the travel funds a little further.
National Park Passes – If you are intending to visit several national parks get yourself an annual pass. After park 4 you will essentially be gaining free entry if you are on foot or bike. Additionally, all fee–charging national parks have a few free admission days throughout the year, the dates of which are detailed on their websites.
HI Hostel Membership – As already mentioned hostels – and even more so decent standard hostels – can be a bit tricky to hunt down in the USA. Typically ahead of the pack is the network of Hostelling International hostels which come with all kind of extras as standard. An annual membership starts saving you money once you have spent more than 6 nights in total in any of their 50 hostels in the USA or anywhere else they are found in the world. There are also other benefits to membership which could save you even more money such as discounted car rental and deals on Trek America tours.
City Tourism and Sightseeing Cards and Passes – Most of the major cities operate a system of city passes which entitle the holder to free or reduced entry to a multitude of places. On the face of it they can often seem expensive but if you want to see a lot of sights they are going to save you a fortune. The New York Sightseeing Pass for example includes 90 separate attractions including the biggies like the One World Observatory, the Empire State Building and the Statue of Liberty and has a wide range of museums, tours, restaurants and entertainment options besides. It also allows you to fast track at certain attractions meaning you don't have to stand in lines for hours to get entry.
Transport Discounts and Passes – Again, as already mentioned, transport costs in the US are not what could be typically described as budget friendly. However, if you do some advance itinerary planning and know you will be using, for example, the trains a lot for long distance travel you can save money investing in an Amtrak Pass.
Most of the major bus companies have discounts and deals including the famous $1 deals. Check their websites for current offers.