Since history began there have always been those places on the planet which have ranked as safe, not so safe or as complete no-go areas. This is still very much true in the 21st century and these days there are all kinds of nasties and factors to add into the whole equation when considering where is and where isn't safe to travel to and around.
Sometimes countries suffer from bad reputations which are fully deserved while in some cases the bad name might have once been justified, now isn't anymore but the rep just won't go away. In some cases the bad rep has never actually been justified but comes from some mysterious unknown source. So, how do you really figure out where is safe and where it isn't? Well, there just happens to be an annually published report called the Global Peace Index (GPI) which ranks the world's countries in order of peacefulness and therefore, generally speaking, safety.
All kinds of things are taken into account to produce these statistics which include crime rates overall and murder and violent crime figures but broadly speaking the main themes are levels of safety and security, the presence of domestic or international conflict and levels of militarisation. The list has a total of 163 countries and is updated annually. Each of the countries listed here have made it into at least the top 55 – many much higher – and although the ranking of several will probably come as no surprise to you we bet some others will. And just in case you need some frame of reference, the 2016 ranking for the USA is 103 and for the UK is 47. 
1) New Zealand – GPI Rank – 4
What you can't find in this amazing country would be a far quicker read than what you can. Whatever you are looking for, whatever amazes and moves you, whatever your interests are, it is highly possible you can have it here with bells and whistles on. New Zealand features commonly on the gap year circuit, not least of all because it is widely accepted to be the adventure capital of the world. From bungee to base jumping and from shark cage diving to skydiving – the adrenalin activity menu is extensive while such things as hiking, biking, kayaking, surfing, stand up paddle-boarding and 101 other possibles are almost everywhere.
Add to all that stunning beaches, possibly the warmest welcome you are ever likely to have anywhere, a fascinating Maori culture to take a glimpse into, scenery of glaciers, fiords, rainforests, lakes, mountains, waterfalls and so forth as well as being 'Middle Earth' for Peter Jackson's LOTR and Hobbit movies and what more do you need to hear.
The fact that New Zealand ranks as the fourth safest country in the entire world is just the icing on this magnificent cake. Some folk still leave their doors unlocked here in the cities at night and violent crime always makes headline news on the occasions it happens because it is such a rare event.
2) Albania – GPI Rank – 54
Ask many people to guess the safety ranking of Albania (if they even know where it is) and you are unlikely to get very favourable answers. However, beautiful Balkan Albania falls well inside the list of countries which rank as 'high' for states of peace and deserves a mention and recommendation for so many reasons. It often gets them too from the likes of the Lonely Planet and The New York Times who sing its praises. Effectively off the travellers' map entirely due to its self-imposed isolation until relatively recently – when government tendencies swung from communist to democratic – Albania has so very much going for it.
For starters the beaches and hidden coves are that kind of turquoise sea-lapped lovely which tends to keep most of us smiling while those with a cultural leaning will find a mind-bogglingly fascinating rich historical canvas to explore, daubed liberally by many centuries of cultural melding and overwriting. A great big mixing pot with elements of Turkish, Greek, Roman and Illyrian stirred in have meant several UNESCO World Heritage listed sites which include such delights as the Illyrian Tombs of Selca e Poshtme, the ancient amphitheatre of Durres, the huge Greek/Roman archaeological site of Butrint and the Ottoman influenced Berat – known as the city of 1001 windows.
And if stunning beaches and globally significant historical sites are not enough to keep you interested perhaps the menu of activities possible here will. Take your pick from sea kayaking, white-water rafting, mountain-biking, paragliding and hiking and trekking for every level of fitness. Add to the whole stunning scenery and the naturally resplendent (about 33% of the country is covered by forest) and the chance to spot such wildlife as wolves, bears, boars and golden eagles in their natural habitats and we are really not quite sure why this country isn't overrun by visitors. Perhaps you should get in quickly before the secret is really out.
3) Japan – GPI Rank – 9
Coming in the top 10 of safest countries in the world, Japan is often written off by travellers as too expensive. However, with a little knowledge of what is up for grabs – including the discounted rail travel for tourists scheme – this amazing country, where ancient and modern collide, could and should really be on every gap year taker's or world traveller's itinerary.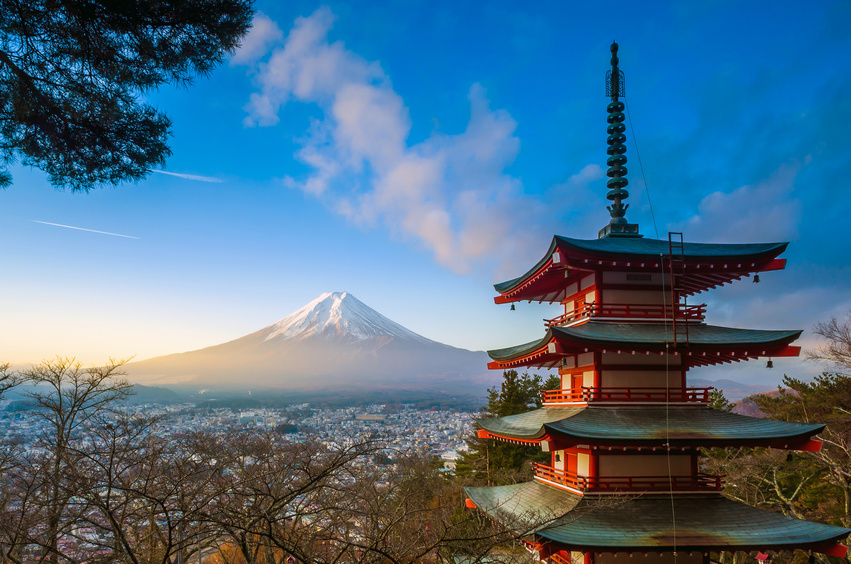 Besides being just about as safe as it gets anywhere on the planet, your rewards for venturing here include seas of cherry blossom, stunning scenery including mountains for skiing and hiking, incredible cuisine, Zen gardens of great beauty and tranquillity, ancient shrines and temples, snow monkeys and a culture as colour-splashed and unique as it comes.
4) Iceland – GPI Rank – 1
Iceland is the peace index's equivalent of the All Blacks in rugby – both claim over and over again the number 1 spot. Besides almost negligible crime rates, Iceland is an island which means no having to deal with petty border disputes or any of the problems which tend to come along with having unsavoury or noisy neighbours.
Otherwise, this is the land of unpronounceable names (don't worry – almost everyone speaks English), where the sun never sets in summer and many of its citizens have firm beliefs in the presence of the 'hidden people' (elf type creatures to you and me – scoff at your peril). You can add to that an incredible and otherworldly glacier-filled landscape dotted around with huffing volcanoes, erupting geysers and other delights of a geothermal wonderland and top it all off with the off-the-scale amazing Northern Lights spectacle. Iceland might be a little pricey for long stays for the backpacker set but as a stop-over it is unbeatable and incredibly safe.
5) Costa Rica – GPI Rank – 3
With the exception of Chile, Costa Rica ranks as the safest country of Latin America, coming in at a healthy 33 and where to even begin when discussing the charms of Costa Rica. The downside is Costa Rica ranks as the more expensive side of Latin American travel along with parts of Belize, Argentina and Brazil although there are ways to keep the costs down if you know a few tricks.
Costa Rica – as one of the first Central American countries to receive foreign visitors looking for experiences and sights beyond their normal day-to-day parameters – has a well developed infrastructure making life super-easy. English is more widely spoken than just about anywhere else in Latin America, transport links are extensive and places to stay and tours come by the bucket-load. Wildlife experiences perhaps top the must-do list here and little wonder this is the case when you learn a few facts with relation to the country's biodiversity. Making up just 0.1% of the planets land mass, Costa Rica claims a whopping 5% of all species present on that very same planet. Around a quarter of all of Costa Rica's territory is given over to national parks – larger than any other country.
And quite what you can see in these parks includes any number of exotic and vibrantly coloured bird species as well as monkeys, sloths, armadillos, caiman, poisonous tree-frogs and so much more. If wildlife spotting grows tiresome just head out to any number of beautiful beaches simply to laze away your days or get active with a spot of surfing.
6) Madagascar – GPI Rank – 38
Typically speaking the African nations don't score exceptionally well on the Peace Index with only a handful making it into the high states of peace categories (and none in the 'very high') and these include Botswana, Zambia and the island off the east coast of Africa known as Madagascar. Sitting in the Indian Ocean, Madagascar – which comes in at 38 on the index – is the world's fourth largest island (228,900 sq mi) and as biodiversity hotspots go this one is scorching. Along with Ecuador's Galapagos Island, there is probably nowhere else on Earth which draws the nature passionate and professional botanist and zoologist with such force. More than 90% of the wildlife found on former French colonised Madagascar is present nowhere else on the entire planet.
Along with the incredible and unique wildlife and natural UNESCO World Heritage-listed reserves, habitats and terrains which collectively are the island's main trump card, Madagascar has a few other incredible sights and experiences. These include the Avenue of the Baobabs – a stand of enormous trees – which many rank as one of the top natural wonders in all of Africa. Also on the menu are kayaking, diving and  windsurfing along with a glimpse into a culture made up of many ethnic sub-groups with an incredibly diverse set of beliefs, traditions, arts and song and dance. Just to keep things nice and simple, anyone from anywhere can get a visa on arrival for up to 90 days, which is free if you want to stay for 30 days or less.
7) Canada – GPI Rank – 8
We couldn't hope to cover even the tiniest fraction of what Canada has going for it here. For starters the country is huge. To give you some idea…..the east coast of Canada is far closer to the UK than it is to the west coast of its own country. Outside the big cities Canada is sparsely populated which means heaps and heaps of pristine wilderness and an enormous adventure playground.
Just to add another fat tick to all its other ticks in the plus column, Canada ranks in the top 10 of safest countries and you are far more likely to fall victim to a killer view than face any other type of human created danger here. Quite what you spend your time doing is up to you but possibles include kayaking with killer whales, skiing, surfing the Great Lakes, canoe safaris which take you on multi-day camping adventures and hiking the Trans Canada Trail….if you have a couple of years to spare to complete its 21,500 km
8) Chile – GPI Rank – 27
Country safety and prosperity can often go hand-in-hand and such is the case with Chile. As one of the wealthier and most stable of the South American countries it has earned itself a top 30 place on the Peace Index but the reasons to travel here go way beyond just that.
Incredibly long and thin, Chile stretches for 4300 km from mid-South America right down to the continents tip. Within that vast swathe it covers an incredible variety of terrain types and geological features which include dunes and deserts, forests, lakes, salt flats, volcanoes, lush wine-producing valleys, geysers and hot pools, enormous glaciers, fiords, beaches (both remote and the more popular) and the Andes Mountains. Wilderness on a grand scale and the wonderful are common and what's more, pristine and untouched are the watch words here; things which get harder and harder to find on a planet so pillaged by humans and their machines of progress.
Highlights tend to revolve around the stunning coast – particularly the Vina del Mar coastline – or the national parks such as Torres del Paine National Park while the remote Easter Island with its ancient and iconic sculptures is not to be missed. Add into the whole a rich history and a colour-splashed and intriguing culture along with 90-day visa free entry for passport holders of many countries and it might start becoming clear why Chile is a must for both the adventurously curious and the safety-conscious.
9) Malaysia – GPI Rank – 30
Lacking the party and beach reputation of Indonesia's Bali and a little removed from the Thai/Cambodia/Laos/Vietnam circuit of South East Asia Malaysia can often get missed from the travel itinerary. However, apart from having plenty going for it from a backpacker's point of view, Malaysia also ranks considerably higher on the Peace Index than Laos, Vietnam and Indonesia and very much higher than Thailand and Cambodia, coming in at a highly respectable 30.
Malaysia is a heady mix of ancient and modern and a glorious historical canvas which has been painted on by any number of different cultures who have left their mark and influence by way of traditions, beliefs, art, architecture and language. Both the ancient Asian empires and the Western colonisations of the Portuguese, the Dutch and the British have all played a part.
Such a marvellous melting pot has produced a heavenly destination for foodies – whatever flavours find favour with your personal palate are probably here with Chinese, Indian and Thai dishes the most commonly found. Food aside, Malaysia's main sees and dos include her beautiful islands – especially those of the east coast Perhentian group if you like your destinations tropically idyllic and mostly undiscovered – along with the tea plantations of the Cameron Highlands, the incredibly chaotic but exotic Kuala Lumpur and the astoundingly lovely Malacca with its wonderfully kitsch flower-covered rickshaws and Portuguese forts and cannons. Otherwise you can explore national parks of jungles, rainforest, mountains and mangroves and both scuba diving and white-water rafting are popular here.
10) Slovenia – GPI Rank – 10
Once part of the country known as Yugoslavia, little Slovenia is today the epitome of healthy economy and democratic stability with the highest per capita GDP in Central Europe. All of this tends to promote a happy and prosperous population generally speaking and results in a top 10 place on a list of the world's safest countries. It also happens to be bordered by other countries – Austria, Italy, Croatia and Hungary – which all make it into the top 40 themselves. For the traveller it is a lovely mix of the naturally beautiful and the opportunity for adventure and fun experiences.
Its cities serve up a cultural mix of Austrian baroque and Italian Roman on the architectural interest front while the tiny capital of Roman-founded Ljubljana is just pure picturesque delight. Nestled among mountain scenery you will find such things as the lovely lake and castle of Bled. Mother Nature has been generous too with such jewels as the vast and cavernous UNESCO World Heritage listed and stalactite adorned Skocjan Caves, the emerald-watered Soca Valley and the Logar Valley Natural Park which has been described as "a land of incomparable beauty". Those who like to get active have a choice of hiking, skiing, canyoning, mountaineering, caving, rafting and paragliding. Europe is so often missed off the backpackers' and gap year takers' must-see country lists which means missing out big time. Certainly where such super safe gems as Slovenia are concerned.