Mosquitoes present a whole host of problems for travellers, from painful and itchy bites to much more serious, life-threatening diseases. So whether you're visiting a country with a high risk of Malaria or often find yourself the main course on an insect's menu, ensuring you have taken steps to prevent bites and insect-borne disease is essential to keeping you healthy during your trip.
Prior to departure, you should discuss vaccinations you may need as well as antimalarial medication with your GP or local travel clinic. They will be able to advise you on whether or not you will require vaccinations for diseases such as Yellow Fever and Japanese Encephalitis, as well as which antimalarial medication would be best suited to you if you're travelling to an area with a high Malaria risk.
As well as vaccinations, medication and mosquito repellent, you should also consider a mosquito net for your trip. When you're sleeping, you're pretty much a sitting duck, just waiting for the mosquitoes and other insects to come and make a meal out of you. Mosquito nets provide a protective barrier to keep mosquitoes and other insects away from you while you sleep and come in a range of styles to suit all types of accommodation, from hostels to camp sites.
Introduction to Mosquito Nets
The type of mosquito net you will require all depends on your accommodation, for hostels and hotels you would be able to use most styles of net but if you're camping you will find ridge and freestanding options will be the best option for you.
Mosquito nets are available in both treated and untreated options, with treated options often impregnated with an insecticide such as Permethrin or Deltamethrin to repel mosquitoes and stop them from landing on your net and trying to find their way inside.
Most mosquito nets will specify how many holes they have per square inch of fabric, this usually ranges from 156 through to 400, with 400 commonly being used for midge protection. You'll find that nets with a higher hole count will not be as breathable as nets with a lower hole count, this is because the holes are much smaller and will not allow as much air to pass through and circulate inside the net – great for keeping even the smallest of insects out but not so great for keeping you cool while you sleep! The World Health Organisation states that mosquito nets should not be less than 156 holes per square inch.
Types of Mosquito Nets
We've listed the different styles of mosquito net available, with pros and cons for each type.
Type of Net

Pros

Cons

–          Easy to hang with  single or twin hanging points

–          Compact pack size

–          Lightweight

–          Suitable for most accommodation

 

–          Limited space inside the net, which is not ideal for claustrophobic travellers.

–          Can prove uncomfortable where air conditioning isn't available.

 




–          More space compared to wedge styles

–          Easy to hang – 2 hanging points

–          Great for sleeping outdoors

–          Compact & lightweight

–          Not as spacious as other styles, making them warmer to sleep in.

 

 

–          Spacious internal area, allows better air circulation for comfort

–          Often available in a double option

 

–          Difficult to hang – 4 points

–          Heavier and less compact compared to wedge and ridge nets

 

Bell

 

–          Easy to hang, requires only 1 hanging point

–          Spacious internal area for better air circulation

–          Often available in a double option.

–          Bulkier pack size compared to other styles

–          Heavier than other styles

 

–          No need for suspension points

–          Suitable for indoor and outdoor use

–          Models available with built-in groundsheet, great for keeping crawling insects away

–          Bigger pack size compared to other styles

–          Heavier due to poles/frame

–          Limited space for air circulation, resulting in warmer sleeping conditions
Wedge nets tend to be the most common and popular choice due to them being easier to hang and their compact and lightweight design, these features make this style of net a great choice for backpacking, where pack size and weight are of paramount importance.
If you're travelling as a couple, you may want to opt for a box or bell net as these are easy to find in a double bed sized option.
Many mosquito nets will come with hanging kits, which usually include items such as screw in ceiling hooks and cord for attaching your net to suspension points in the ceiling or wall. If your net doesn't come with hanging accessories, Lifesystems have a special mosquito net hanging pack that has everything you need to make hanging your net a less stressful affair.
How to Hang a Mosquito Net
Many travellers often ask the question, "how do I hang a mosquito net?" and worry about how they will manage to do this when they arrive at their hostel or other accommodation.
The truth is, most hostels and hotels in tropical countries and mosquito infested areas will be equipped with suspension points for you to hang your net from, be it a wooden beam in the ceiling or hooks that have already been installed. If you are concerned about this, it's worth taking some screw in or suction hooks with you, as well as some cord or string to attach your net to the hanging points.
Here are some tips on how to hang your net…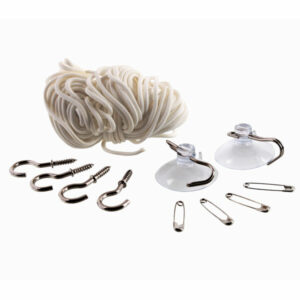 1) Pull your net out of it's stuff sack or case and spread it out on your bed, this way you can easily locate the hanging point(s).
2) Check the ceiling or walls for good suspension points, this could be a hook, beam or light fitting in the ceiling or wall. If you're outdoors, your suspension point will most likely be a tree or tree branch!
3) It's a safer option to attach your net's hanging points to hooks and pins by using cord or string, that way the net's material won't snag and allow insects inside.
4) Tuck the bottom of your mosquito net under your mattress or sleeping mat, making sure there are no gaps that insects could climb through.
These simple steps should help you create a safer sleeping space for the night and keep mosquitoes and other insects at bay. A good mosquito repellent with DEET should be used in addition to your mosquito net for the highest level of protection!
View our range of travel mosquito nets here.